Electric Wheelers is reader-supported. Although we independently research and test products, we may receive a commission on purchases made from our chosen links. Read more…
Which is the perfect hoverboard for heavy adults? Scrolling through the different hoverboard models out there, we are likely to focus on the design, the speed limit, the battery life, etc. Often, we forget to inquire about the weight limits that the hoverboard is designed for.
Actually, the long-term usability, safety, and durability of your board are largely dependent on the hoverboard's max weight and weight limits. Here are 5 hoverboards for heavy adult riders, along with a few common concerns of the riders.
Top 5 Hoverboards for Heavy Adults
Swagtron Swagboard Outlaw T6
Best hoverboard for 400 lbs adult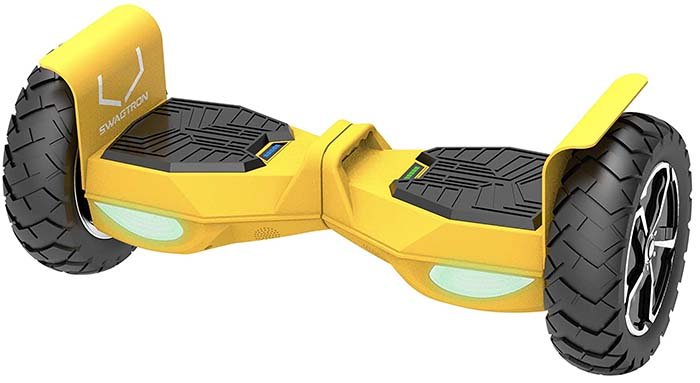 MSRP: $350
Hoverboard Weight: 32 lbs | Max Payload: 420 lbs | Wheel Size: 10″
The Swagboard Outlaw T6 is an off-road hoverboard coming with dual 300-watt motors and large 10-inch tubeless tires that enable the board to carry up to 420 pounds with great ease. Its powerful motors and tires allow the hoverboard to handle various terrains, including dirt, grass, loose gravel, and mud.
The only hoverboard for adults 300 pounds or more we could find.
Plus, the motors have enough torque to allow the board to carry the rider up a 30-degree incline. The Outlaw T6 can go to speeds of up to 12 mph while delivering a 12-mile range when it's fully charged. It may feel a bit heavy to some users as it weighs around 35 pounds, but its sturdy wheels and the built-in Bluetooth speakers make it a great pick.
600W Motor
Top Speed: 12 mph
Max Range: 12 miles
Hill Grade: 30 degrees
Rugged Tires for Off-Road Riding
Bluetooth
---
OneWheel XR
One-wheel hoverboard for adults 250 lbs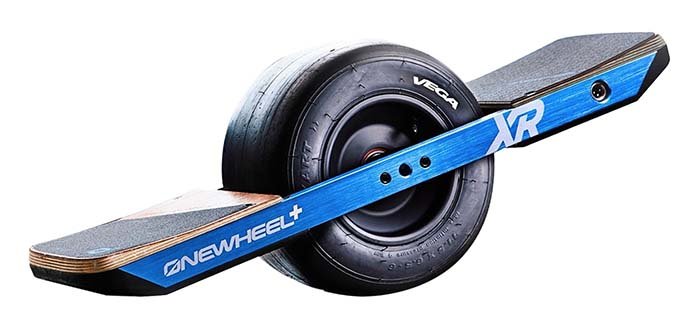 MSRP: $1,799
Hoverboard Weight: 27 lbs | Max Payload: 275 lbs | Wheel Size: 11.5″
The OneWheel XR is a wonderful way to indulge in some city snowboarding during the summer and spring. It offers a range of 12 to 18 miles and a maximum speed of up to 19 mph, while also being surprisingly easy to ride. The wide, 10-inch wheel on the board can ride challenging terrains, ranging from pavement to dirt paths, while the axle works as a heat sink for the board. It comes with a built-in hypercore brushless motor and is controlled via foot pads instead of a remote.
Smart LEDs on the deck act as headlights or taillights depending on the riding direction of the board. It has a very user-friendly app with great features – speed, distance traveled, battery life, and digital shaping that lets the rider choose between different cruising profiles. It's an awesome pick for heavy-weight riders when it comes to riding different surfaces without any troubles.
Motor: 750W
Top Speed: 19 mph
Max Range: 18 miles
Charge Time: 1-2 hours
OneWheel.com
---
Gyroor Warrior
Off-road hoverboard for heavy adult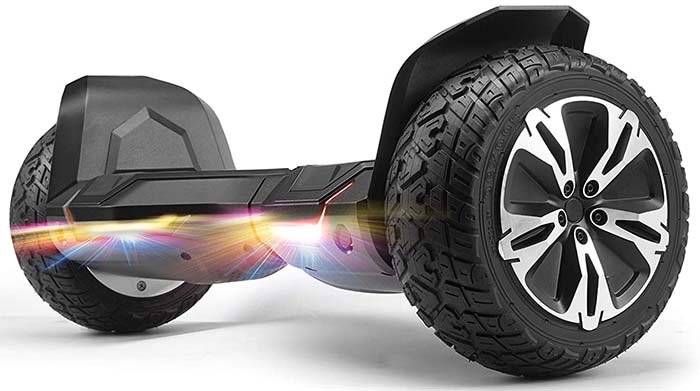 MSRP: $399
Hoverboard Weight: 30 lbs | Max Payload: 265 lbs | Wheel Size: 8.5″
Another excellent value hoverboard, the Gyroor Warrior delivers a top speed of 9.95 mph and can travel up to 9.5 miles in a single charge. Weighing around 30.8 lbs, the board features 8.5-inch pneumatic tires and two 350W motors which provide the model a decent acceleration.
Its durable and efficient tires make the board ride smoothly on smooth pavements and difficult terrains like grass or trails with equal ease. Speaking of the design, the Gyroor Warrior looks gorgeous in its blue and red finish while also being amazingly safe to ride. You have also got a built-in Bluetooth speaker that's a lovely addition for those who like to enjoy some music on the go.
700W Motor
Top Speed: 10 mph
Max Range: 9.5 miles
Charge Time: 2 hours
Water-Resistance: IP54
---
Hover-1 Titan
Popular hoverboard for 250 lbs adults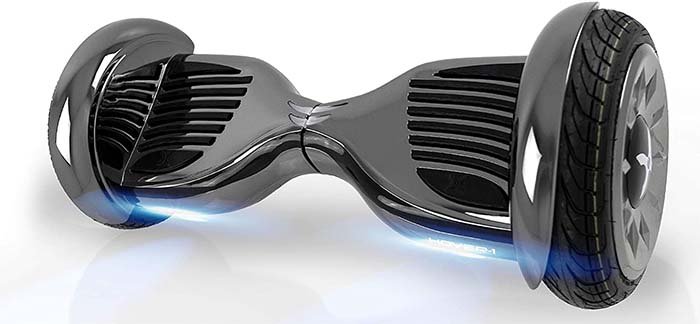 MSRP: $280
Hoverboard Weight: 28 lbs | Max Payload: 265 lbs | Wheel Size: 10″
Hover-1 Titan surely steals the show with its shiny modern design in several colors including pink, blue, and gunmetal. It ensures a stable ride with its wide 10 inch wheels. The Hover 1 weight limit is solid 265 pounds. The LED headlights keep the rider's path well-lit, while the built-in battery indicator informs you of the battery charge levels.
Each of the dual motors delivers 250 W, letting you ride up to 8 miles at a top speed of 7 mph in a single charge, wherein the battery takes around 4.5 hours to charge fully. You can monitor the battery life and range through the mobile app of the scooter and use a GPS to map out your travels on the app. Lastly, it comes with Bluetooth speakers to make your rides a bit more fun.
Motor: 150W
Top Speed: 7.45 mph
144Wh Battery
Max Range: 8.4 miles
Bluetooth
---
Halo Rover X
Heavy-duty hoverboard for big adults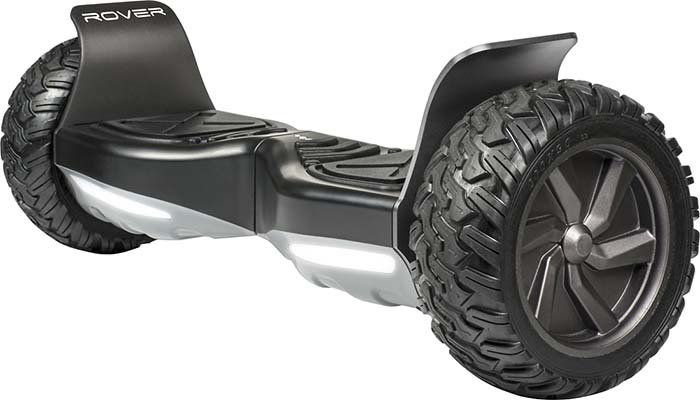 MSRP: $997
Hoverboard Weight: 32 lbs | Max Payload: 260 lbs | Wheel Size: 8.5″
A marvelous off-street hoverboard by Halo which normal price is almost 1,000 dollars. This model is equipped with great protective features, a very effective battery, and training modes. It derives power from 800 watts dual motors, allowing it to run up to 10 miles in a single charge.
The immense capabilities of the model's ride-assist generation make sure it always stays upright while going to a maximum speed of around 10 mph. It's one of the best boards for riding on grass. Rover X also comes with an IPX4 certification that makes it a water-resistant hoverboard. If you are a beginner and want to learn a hoverboard, the Rover X with its training mode for new riders is the perfect choice for you.
800W Motor Power
Top Speed: 10 mph
Max Range: 10 miles
Charge Time: 2-3 hours
Haloboard.com
---
FAQs
How much weight can a hoverboard hold?
Weight limits differ with the size of the hoverboard, wherein the inches are measured by the wheel size of the board and its corresponding weight limit.
The 8.5-inch boards suit heavy riders and hold about 265 lbs. However, the 10-inch is suited for higher weight limits and some models can support up to even 400 pounds.
Why do hoverboards have weight limits?
The hoverboard weight limit is a major detail in its design and directly affects the working of the board as well as the user's safety. All boards out there specify their minimum and maximum weight limits to assist the choices of the rider and work as a means to inform what stays on the board and what doesn't.
What happens if I exceed the maximum weight of a hoverboard?
It is highly recommended not to exceed the maximum weight capacity of a hoverboard. The manufacturer's guidelines are specified to ensure safety and the best riding experience. Only a few pounds over the limit may make the gadget not operate at its full capacity and affect the speed. It may make the battery die faster than expected. Too much extra weight can damage the board, damage the axle and the logic board, as well as crack the hoverboard in half.
Do hoverboards have a minimum weight requirement?
Generally, hoverboards come with a minimum weight requirement of 44lbs which is crucial to the functionality of the hoverboard. The machine comes equipped with certain sensors that make sure it doesn't turn on if the user is under the specified weight minimum.
How much does a hoverboard weigh?
The exact hoverboard weight is entirely dependent on the specific size of the model, its construction, material, and features. However, an average hoverboard weighs around 25 lbs. Heavier hoverboards may go up to 30 lbs.
What size hoverboard should I get?
Always make sure to go for a hoverboard that supports your weight. You can easily prevent any safety risks or board damages by making crucial weight adjustments and picking the right tire size. Never go for a hoverboard if you weigh more than the weight limit of the board.
---
Conclusion
It can be rightly stated that picking a board that's apt for you in terms of hoverboard weight requirement is very crucial. Although it may not seem a major spec on hoverboards, weight limits can dramatically affect the overall performance of your board while also having an effect on the rider's safety.
You surely don't want those small bumps on the road to crack your hoverboard or compromise the riding speed of your board because it's not designed for you. All it takes is to go for the right tire size and carefully access the maximum and minimum weight limits specified by the manufacturers.
Read also: