Electric Wheelers is reader-supported. Although we independently research and test products, we may receive a commission on purchases made from our chosen links. Read more…
Extremely fun to ride, hoverboards are surely a one-of-a-kind personal transportation system that comes with a dash of adventure.
While hoverboards are amazingly popular with kids, the best manufacturers out there haven't failed to develop some surprisingly efficient models for grown-ups.
Top-notch mobility and great performance are coupled up with some wonderful features to make them perfect for adults.
Not only they have got to offer outstanding riding experience, but also exciting integrations like Bluetooth speakers, gorgeous LED lights, sleek constructions, and tires strong enough to handle a range of terrains.
The excellent capabilities of adult hoverboard models out there definitely make them much more than vibrant-looking toys for kids.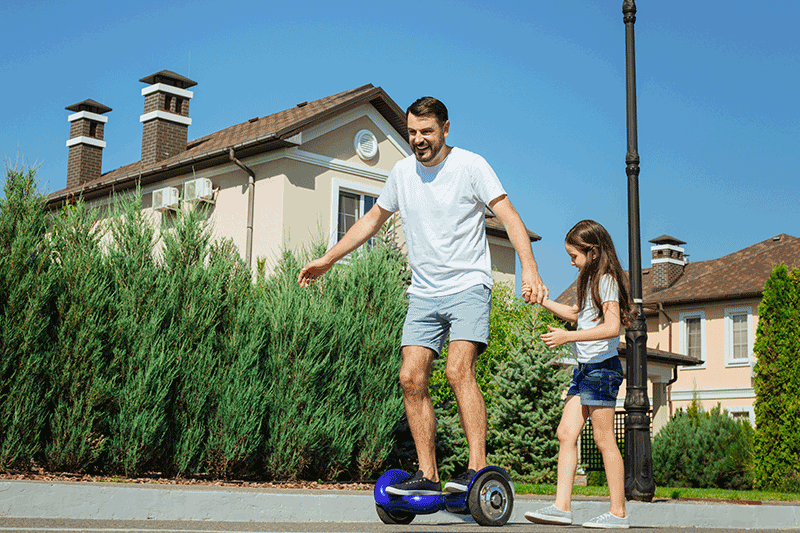 Hoverboards for Adults vs Hoverboards for Kids
Adults are mostly looking for hoverboards that have:
higher weight limit;
longer travel distances;
higher speed capabilities;
extended battery life.
The top makers in the market don't disappoint you with specialized models that focus on each of these. Some may wonder that it must cost heaps of dollars to get all those amazing features and an excellent all-terrain experience.
However, you would be delighted to scroll down and check out some of the most wonderful hoverboards that have it all while sticking to an affordable price range. Here are the 7 Best Hoverboards for Adults that combine self-balancing with loads of fun!
---
Best Hoverboards for Adults
Related: Best Hoverboards for Heavy Adults
Halo Rover X
Highly rated hoverboard with fire-safe battery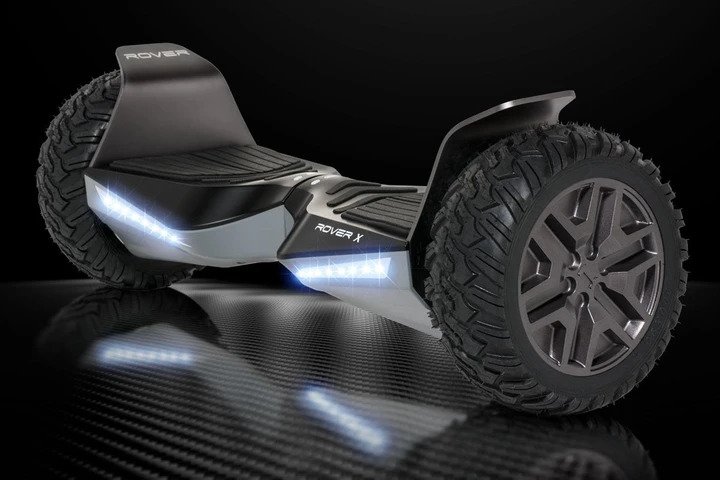 Check Price from HaloBoard.com
One of the most powerful all-terrain beasts, the Halo Rover X 8.5 inch is all about advanced engineering that offers outstanding speeds and great durability.
Capable of easily carrying up to 260lbs, it has a top speed of 10mph and can go 10 miles when fully charged. The large wheels can withstand the toughest riding surfaces.
The battery of Halo Rover X lasts twice that of most comparable boards.
With 800W of pulling power, the board can travel inclines as steep as 20 degrees, while the UL 2272 safety certification makes it totally secure.
Additionally, it's waterproof and water-resistant to offer all-weather riding, making it the best hoverboard for adults without a doubt.
---
Gyroor Warrior
Sturdy and durable off-road hoverboard for adults
If off-road hoverboarding is your thing, the Gyroor Warrior is one of the best options falling under $350!
Its great self-balancing mechanism and speedy motor make it perfect for various terrains, including gravel, grass, mud, sand, and rough roads.
Plus, the LED lights make it safe during the nighttime, which is only an add-on to its sturdy UL2722 metal and aluminum construction as well as shock-absorbing tires.
It also offers a child mode that lets you control different features, while the adult mode is apt for grown-up riders.
Other must-mentions are the Bluetooth speakers, a 700 Watt motor, a short charge time of 2 hours, and a speed of 10 miles per hour.
---
Gotrax SRX Pro
Affordable all-terrain hoverboard
The self-balancing technology on the SRX Pro is efficient enough to let even the absolute beginners get a hang of it easily.
The built-in gyroscope ensures that the foot pedals remain level even when the rider isn't standing on the board, while the large 8.5-inch rugged tires are apt for different terrains.
Overheating or other safety issues are no concern with this board and it comes with a motor system of 500 Watt. Capable of carrying up to 220 pounds, it can go almost 7.5 miles per hour and takes 3 hours to fully charge.
If you are comfortable with a slower riding pace to cherish longer travel time, this one is your perfect choice. The LED lights are a bonus when riding in the dark.
---
Swagtron Swagboard Pro T1
Hoverboard from a well-known brand
Speaking of safety, a great design, and reliability, Swagtron surely makes a mark with this model.
While the Swagboard Pro T1 doesn't have too fancy features, it's perfect for a novice rider and comes with 2 riding modes. The conservative mode has some handling and speed limits, while the advanced one lets you perform hoverboard tricks and ride much faster.
Also, it's no more than 22 pounds in weight which makes it lighter than many similar boards out there. Easily withstanding a weight of up to 220 pounds, the Pro T1 travels 12 miles in a single charge.
Definitely a great hoverboard without breaking your wallet.
---
Jetson All-Terrain Hoverboard
Designed to handle more adventurous off-road rides
Although this Jetson hoverboard is really affordable, it still has wonderful features and that super sleek construction.
The hoverboard is equipped with all-terrain 6.5-inch rubber tires that sport LED lights and are durable enough to provide a smooth ride at all times.
Jetson hoverboard comes with a load capacity of 220lbs, while the dual motors of 300W each let you reach the top speed of 7 miles per hour. The maximum range of this hoverboard is 7 miles.
With this hoverboard, you can easily ride on rough terrain too.
---
Hover-1 Hoverboard
Top-rated hoverboard for adults with IPX4 water-resistance
Here's a marvelous choice for riders who are looking for handy riding modes and great user-friendliness.
The maximum mile range is around 9 and you can achieve a max speed of 9 miles per hour almost effortlessly. When out of charge, all you need to do is plugin the hoverboard for just a matter of 2.5 hours and it gets running again.
The charging time of Hover-1 is just 2.5 hours
The 400W powerful motor makes it stand out and lets you ride on bumpy terrains too. The Bluetooth speakers provide a fine sound and can be easily paired with your smartphone, while the solid construction makes the hoverboard amazingly durable.
---
Gotrax Nova Pro
Hoverboard with eye-catching lights
The Nova Pro by Gotrax is powered by dual brush-less 200W motors that provide it a 15-degree climb and a speed of 6 miles per hour.
It features a 93.6Wh lithium-Ion battery that lets you ride for 45-75 minutes when fully charged. The exact time may vary with the terrain and the rider's weight.
The 6.5-inch rubber wheels have got LED lights to make your rider safer in the dark. Bluetooth speakers add some music to your rides, while the self-balancing system of this hoverboard even lets you rotate a full 360 degrees.
It meets UL2272 safety standards and is easily able to carry a weight of up to 176 pounds.
---
FAQs
How much money is a hoverboard?
Hoverboard prices start from around $100 and go up to around $500. However, you can probably find some pricey model for $1,000. Also, some cheap hoverboards without safety certificates can cost you less than $100.
As you can see, the price of a hoverboard can vary quite a lot. Here are the factors that determine the cost of a hoverboard:
Speed
Range
Motor wattage
Battery capacity
Charging time
Safety certifications
Weight and payload capacity
Brand
Additional features
When were hoverboards invented?
Although hoverboards were popularized by the movie Back to the Future already in the year 1985, the first real hoverboard was made in 2013. American businessman Shane Chen filed a patent for a similar device and launched a fundraising campaign. Soon after that hoverboards gained huge popularity.
Which hoverboards are safe?
You should always buy hoverboards that are compliant with the UL 2272 safety standard.
At first, a lot of manufacturers started selling hoverboards that were not inspected for safety or quality. There were many news reports about hoverboards overheating and catching fire.
Thanks to Underwriters Laboratories (UL), there are now safety tests for hoverboards and other self-balancing scooters. If you buy a self-balancing scooter with a UL stamp on it, you can be sure the safety risks are minimized.