Varla's Pegasus is an excellent scooter with a superb balance of power, features, price, and quality. Recently, Varla released the 9" pneumatic tire version over their 8" solid tire variant.
The original Pegasus had good navigation capability. However, it had a slightly rougher riding experience.
The new Pegasus' pneumatic tires provide increased cushion, perfect for climbing onto or navigating rough sidewalks and other surfaces.
However, we're sure you are wondering whether there is any additional information you need to know about Varla's new Pegasus. Keep reading to learn more!
Electric Wheelers is reader-supported. Although we independently research and test products, we may receive a commission on purchases made from our chosen links. Read more…
Varla Pegasus Review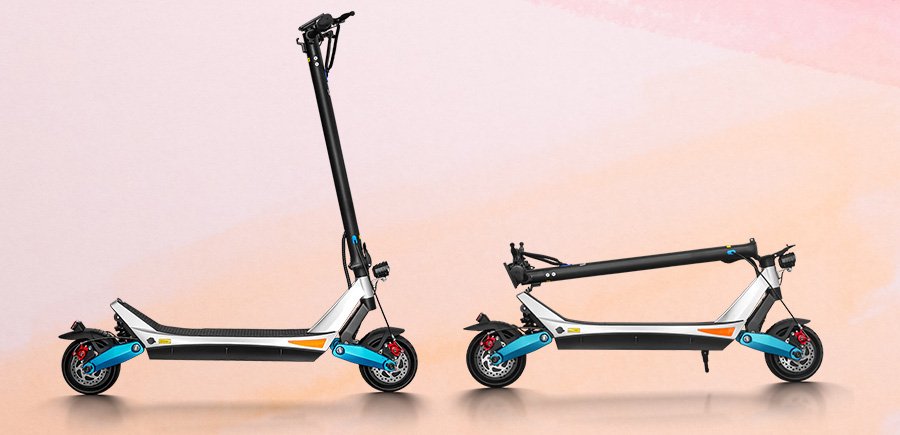 Motor: 2x500W |Top Speed: 28 mph |Battery: 15.6 Ah (749 Wh) |Max Range: 28 miles
Pros and Cons of Varla Pegasus
Varla Pegasus Performance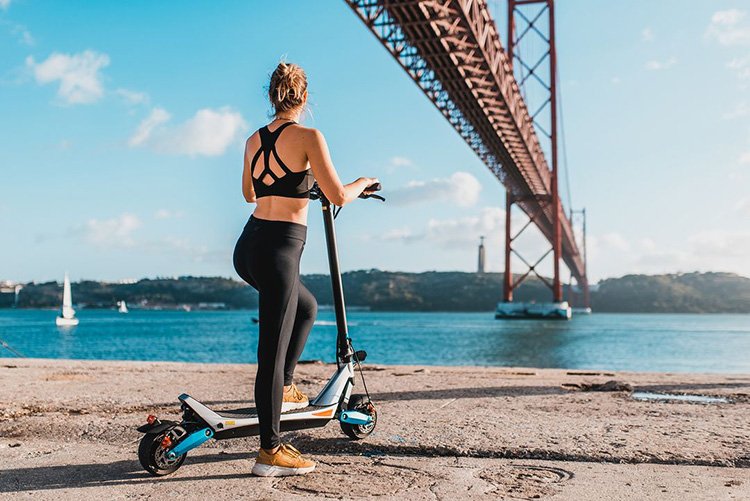 Motor and Speed
The Pegasus has a 500W motor on both wheels. The dual motor can provide 1600W at its peak power output and is powered by speed controllers (2x20A) that always maintain optimal performance.
The motors enable the scooter to reach 28MPH speeds and provide 25Nm or torque, allowing it to climb 25-degree slopes easily.

The scooter provides excellent value for money and reliable features, especially at its price point. For instance, the scooter can go from 0-15mph in 2.6 seconds and climb steep hills easily, which is incredible. Riders who buy this scooter should take care when accelerating since the experience can be a bit strong for new riders.
You may begin by practicing with the scooter in areas with few pedestrians and less traffic before riding it on busy streets. You can also switch to a single motor to lower the acceleration (to prevent accidents) and power consumption (to ride longer distances).
748WH Battery
The Pegasus has a 48V/15.6Ah lithium-ion battery that can power the scooter for 28 miles. The scooter has 78 units of high-energy-density lithium-ion batteries meant to power your long-distance requirements.
Additionally, the scooter has a BMS PMU or intelligent battery management system that protects the battery during operation and indicates its health.
Dual Brakes
Varla Pegasus has dual brakes that provide safe, smooth, and sudden braking. The dual discs offer better heat dissipation making them last longer and have better braking performance. The brakes provide high-end braking performance, allowing riders to stop quickly and safely, especially when riding in traffic or during emergencies.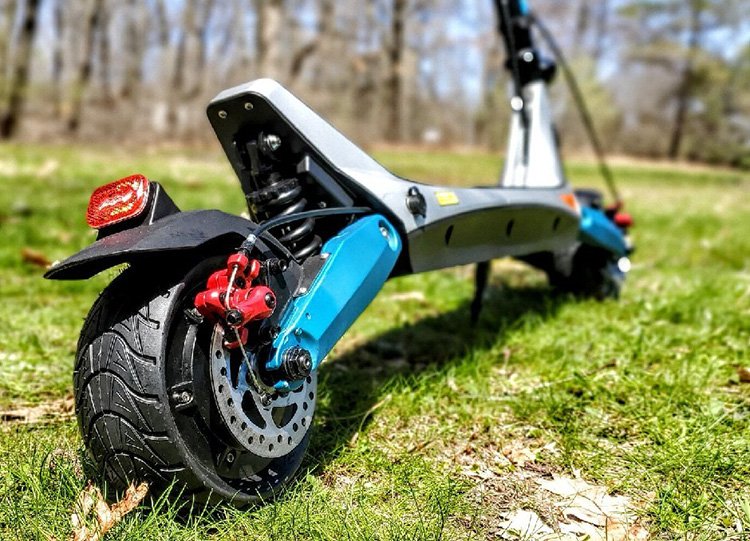 However, one thing you should do after purchasing your scooter is check whether the brakes work appropriately. For instance, your scooter's rear or front brakes may drag, causing the scooter to have an uneven and unstable braking experience. You can solve this issue by adjusting the caliper yourself or seeking the services of a trained professional.
Tuning the caliper provides unparalleled braking capabilities, allowing you to stop within short distances. However, Varla claims they've resolved the brake tuning issue, but it's better to check your scooter's brakes before using them in traffic or crowded areas.
Varla Pegasus Features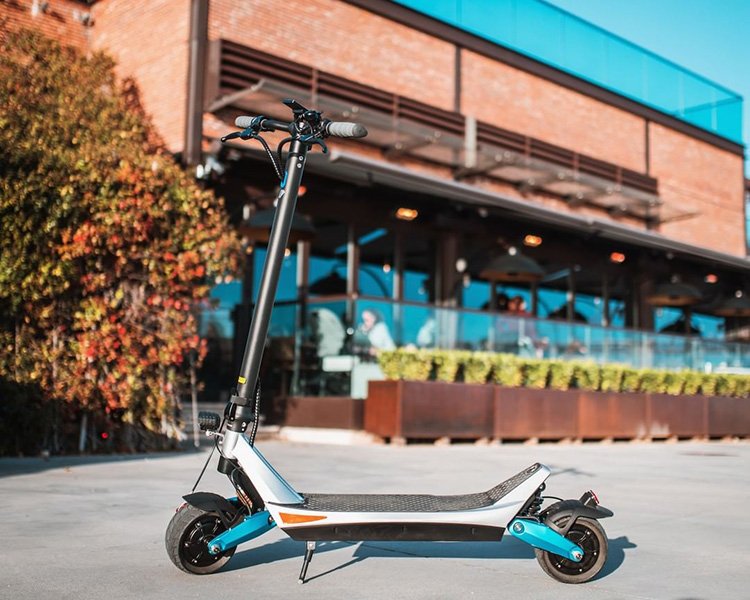 Deck and Frame
The Pegasus has a 6.7-inch deck which is wide and provides enough room for riders to stand with both feet side by side. Additionally, it has rear and front fenders that protect riders from mud, water, and debris when riding in rainy conditions.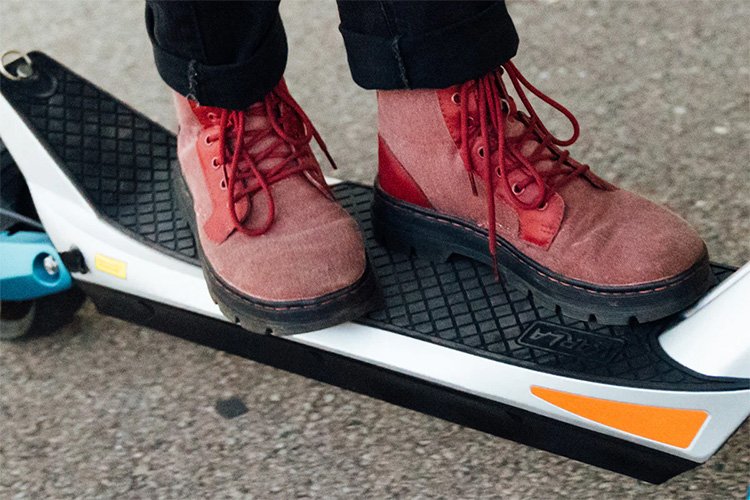 The Pegasus is a good scooter with dual suspension and a magnesium+aluminum alloy frame. The scooter has a 280-pound maximum payload capacity with a silicon deck pad material and is recommended for riders between 4'1" and 6'7".
Dual Suspensions
The Pegasus has front and rear suspension that absorbs any discomfort caused when riding on rough and bumpy surfaces. The scooter's dual shock absorption works independently to make riders feel more stable. It also helps the rider experience a safer and more comfortable ride.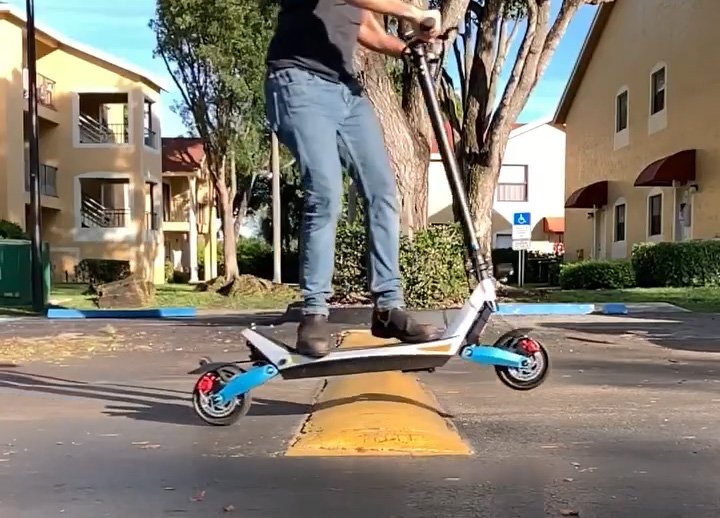 However, you'll notice that the Pegasus has a stiff suspension. It means the scooter's suspension is perfect for aggressive riders who prefer doing stunts, hard stops and starts.
However, the scooter is not great for individuals who prefer smooth rides on average to poor roads. The scooter's suspension is too stiff to effectively absorb any shock transferred from its small wheels. 
Handlebar and Display
The cockpit of the Pegasus has a good view and is equipped with a super bright, 4.6" smart LCD display. The easy-to-read display works great even in the sun and shows vital information you need to see, including the range, remaining battery, and speed.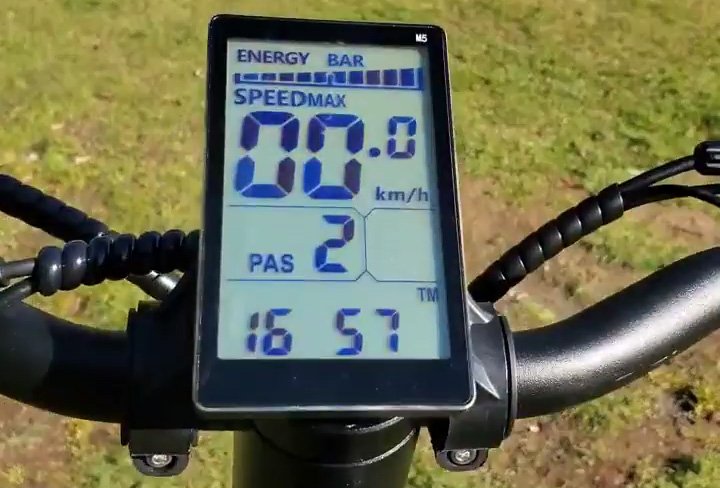 The scooter has a thumb throttle, allowing you to accelerate by quickly pushing the accelerator with your thumb and two brake levers that activate the scooter's brakes. The scooter has good cable management, making it look decent and manageable during transportation.
Wheels and Tires
While the original Pegasus has 8-inch solid tires, the new version has pneumatic 9" tires that provide better ride quality when offroading. The tires are cushier and have more treads, providing a better experience on rough surfaces. Especially when combined with the scooter's rear and front springs, which add more shock absorption capabilities.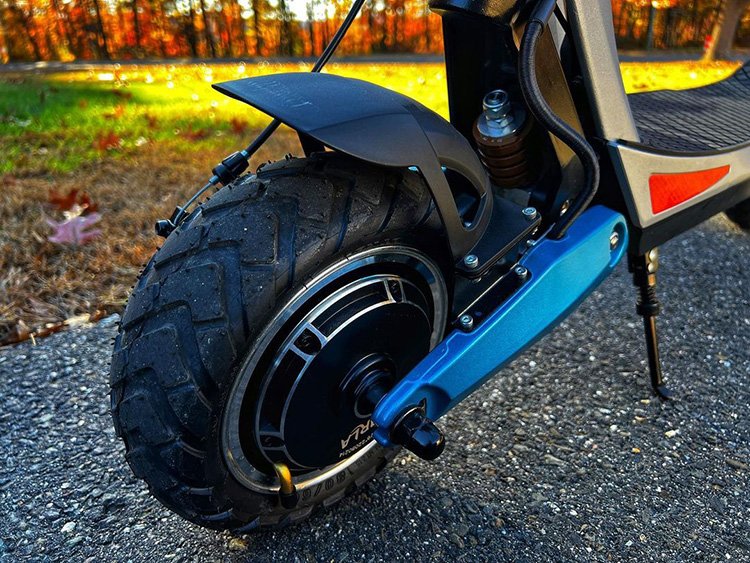 Varla designed the original Pegasus for on-road riding, which is why they incorporated solid tires designed for riding on smooth surfaces. Whereas you can use the newer Pegasus on and off-road, you should remember that its tires are less durable and can get punctured by sharp objects.
Varla states that the Pegasus' pneumatic tires are of better quality and are designed with a grooved surface that provides a better grip. Varla also says the tires are pressure and abrasion resistant, durable, and lightweight. The tires are easy to install and disassemble and provide additional cushioning.
Which Tires to Choose?
You could choose the original version with solid tires if you plan to use your scooter on relatively flat and smooth surfaces or for daily commutes and don't want to worry about flats.
You should opt for the newer version if you have some off-roading and dirt-riding adventures in mind. Remember, both options are available.
Lights
The Pegasus has dual LED lights (taillight and headlight), perfect for illuminating your way and reminding others of your presence, especially at night.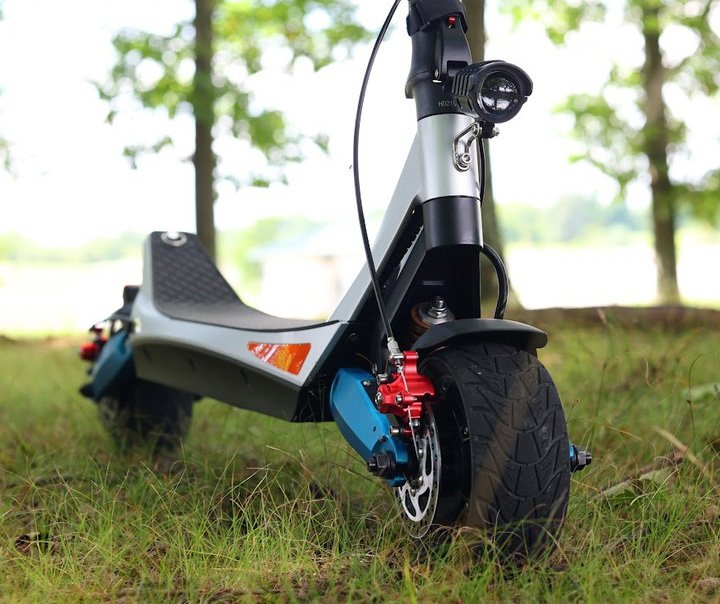 The scooter has bright headlights that will help you see the road more clearly when commuting at night, but you should test the light to see whether it's bright enough and screwed on well. It also has a taillight that lights up (red) to remind other vehicles of your position and keep you safe.
Portability
The Pegasus has an upgraded stem lock, allowing you to fold and unfold the stem in three simple steps. However, the latch can be difficult for some people to open even when adjusted unless they have strong hands.
The scooter has a stem latch at the rear that you can lift with the stem down. However, we advise you to refrain from lifting it this way because it tends to fail after a few uses, even though you get a spare ring.
However, it still comes in handy, and you can use it to secure the stem and keep it from moving from side to side.
Varla Pegasus Review Conclusions
Whether the Pegasus will work for you will depend on how you feel about its features, like the suspension, and whether you are ready to make a few adjustments. The Pegasus' dual motors give it a competitive advantage over other scooters, primarily because of its acceleration and hill-climbing ability.
Read also: Overview of All Varla Electric Scooters
Varla's Pegasus is an excellent scooter with several benefits and versatile tire options that fit either rider.
Varla Pegasus Specs
| | |
| --- | --- |
| Motor | 2x500W Dual Motors |
| Top Speed | 28 mph |
| Battery | 48V 15.6Ah (749 Wh) |
| Max Range | 28 miles |
| Recharge Time | 7-8 Hours |
| Brakes | Mechanical Discs |
| Suspension | Dual Shock Absorption |
| Weight | 66 lbs (30 kg) |
| Weight Capacity | 280 lbs |
| Tires | 8″ Solid/9″ Pneumatic |
| Lights | Front and Rear LED |
| Hill Grade | 25 degrees |
| Dimensions | 50.4″ x 20.9″ x 50.4″ |
| Folded Dimensions | 50.4″ x 20.9″ x 20.5″ |
| IP Rating | N/A |
| Display | LED |