Electric Wheelers is reader-supported. Although we independently research and test products, we may receive a commission on purchases made from our chosen links. Read more…
Are you interested in the Nanrobot scooter? Want to know what makes the Nanrobot electric scooter the best choice for off-road adventures? If yes, you are in the right place.
If you want to know more about this high-performance electric scooter, you can consider going through the following Nanrobot D6 review.
Nanrobot D6+ Review

Nanrobot D6+ is a folding off-road electric scooter that comes with many ergonomically designed controls.
This scooter is quite heavy and bulky but the folding mechanism makes it a bit easier to store.
Also, it's not a cheap e-scooter but compared to some other leading names in the industry, it is quite affordable.
Nanrobot D6+ electric scooter is more than just a regular commuter.
With advanced features like off-road tires, 2,000 watts of power, hydraulic disc brakes, and electronic braking this Nanrobot scooter is perfect for some wild off-road riding. Also, you will appreciate the front and rear suspension, because it can help you to enjoy the roughest terrains.
Nanrobot D6+ Video Review
Nanrobot D6+ Specs
| | |
| --- | --- |
| Motor | 2 x 1000W Brushless Dual-Drive |
| Battery | 52V 26Ah (1352Wh) Lithium-Ion |
| Recharge Time | 10-12 hours (5-6 with 2 chargers) |
| Max Speed | 40 mph |
| Max Range | 45 miles |
| Brakes | Front and Rear EBS Disc Brakes |
| Suspension | Front & Rear Hydraulic Spring Shock Absorbers |
| Weight | 77 lbs |
| Weight Capacity | 330 lbs |
| Tires | 10″ Off-Road Pneumatic (Air) |
| Lights | LED Front, Rear, and Side |
| Folded Dimension | 52 x 11 x 21 inches |
| Display | Digital LCD with USB Port |
| Charging Ports | 2 |
Motor and Speed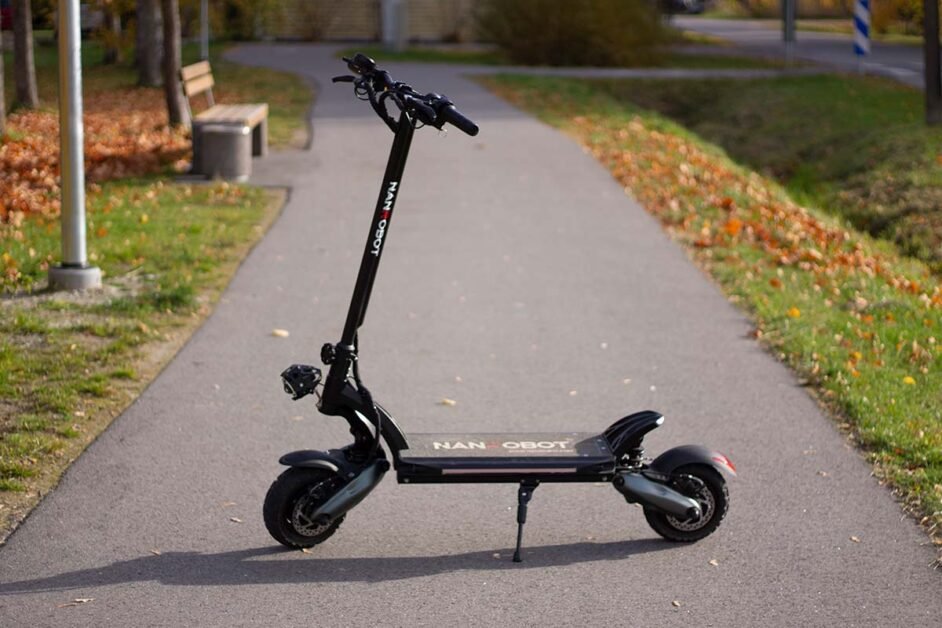 Nanrobot D6+ features two hub motors. Each motor will have 1,000 watts of power, so when combined, your electric scooter will have 2,000 watts of output. It is quite impressive since many high-end scooters like Emove Cruiser or Ninebot Max have just 1 (and less powerful) motor. However, Kaabo Mantis has also 2,000 watts of power and some Dualtron scooters have even more power. But the end cost will be much more.
Nanrobot D6+ is a 40mph scooter.
The motor of the D6 makes it incredibly fast, and you can get the top speed within a matter of seconds. By the way, the top speed of the D6 is a solid 40mph (72km/h). It takes less than 7 seconds to accelerate from 0 to 30 mph. When riding at such speeds, be very careful and definitely wear protective gear.
Even if the speed is incredibly high, it is stable due to its pneumatic tires.
Nanrobot D6+ has several power modes:
Turbo
Eco
Single-Drive
Dual-Drive
It is useful to use Eco mode when you want to save battery. Also, when just cruising around on city streets, there is no need to use dual-drive. Then you can easily switch to single-drive mode.
Related: Nanrobot N6 Review
Battery and Range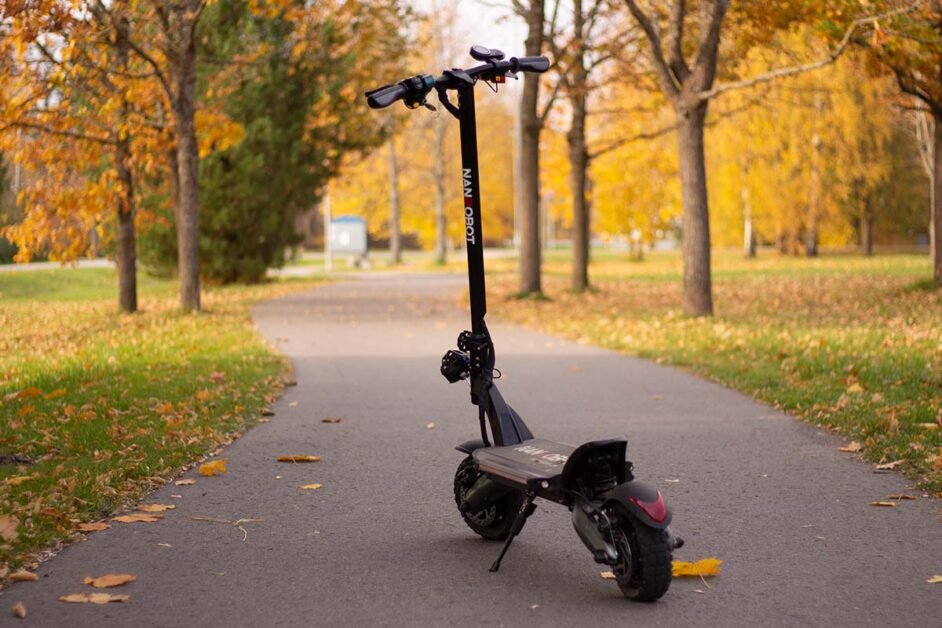 Your D6+ will come with a massive 52V 26A lithium battery. That gives you a whopping 1,352 Wh of battery capacity, which is enough to get a maximum range of 45 miles. As you probably know, the range will depend on a lot of factors like riders' weight, speed, type of terrain, etc. The good news is that the advertised range is very realistic.
I have tested this Nanrobot scooter in turbo mode. After riding about 20 miles with full throttle, the scooter had about 40% battery left. Very impressive!
There are two charging ports. However, the package will come with one charger. If the battery gets completely empty, it takes 10 hours to fully charge. To be honest, it is a bit much and you can consider this as one of the downsides of Nanrobot scooter. However, if buy another charger, you can reduce the charging time to just 5 hours.
Brakes and Lights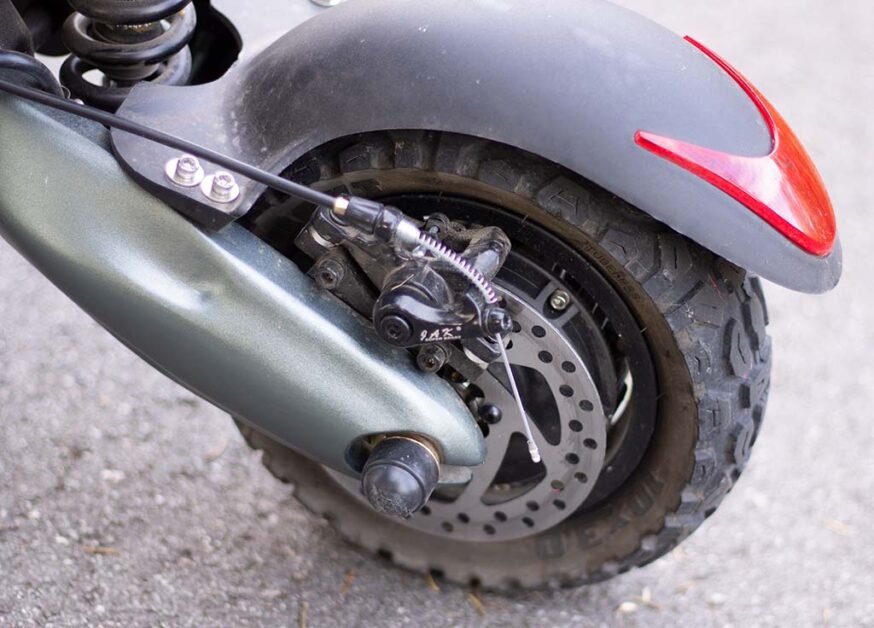 As stated earlier, the D6 has powerful motors, which means you will need good brakes to stop your vehicle whenever needed. Otherwise, the scooter is so potent that it can throw you off. Thankfully, you will not experience such problems.
When it comes to brakes, it features disc brakes and electronic braking. Hydraulic disc brakes are available for an extra $200.
For me, standard mechanical disc brakes have plenty of stopping capability. Even if you do not use electronic braking, you can bring your scooter to a halt. But the electronic braking will make the overall stopping incredible. Also, you can adjust the braking in the settings.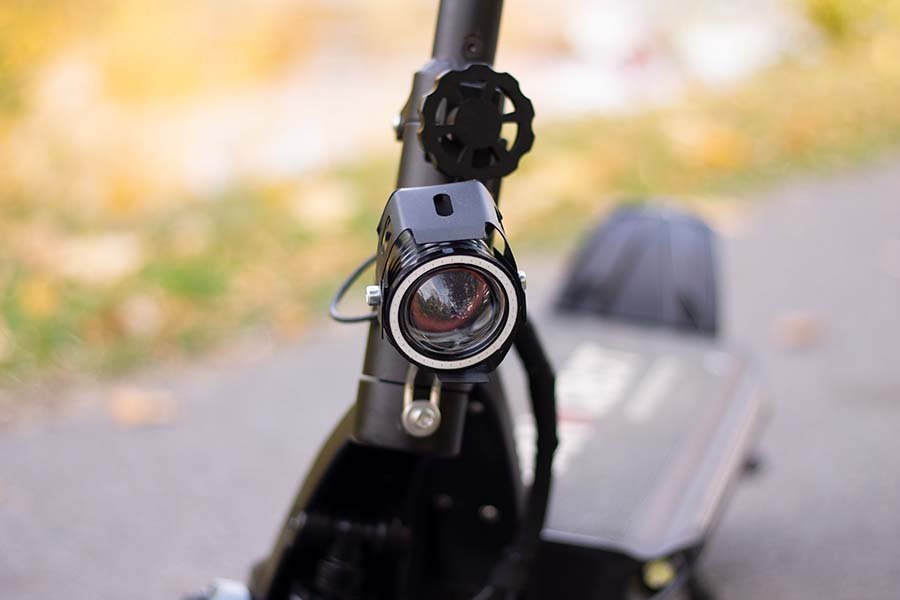 You can also enjoy your off-road adventure when it's dark. The electric scooter features many integrated lights to light up the roads. Ultimately, you can ride safely, and other motorists will be aware of your scooter as well. It features rear signal lights, an appealing sidelight, and brilliant LED headlights.
Tires and Suspensions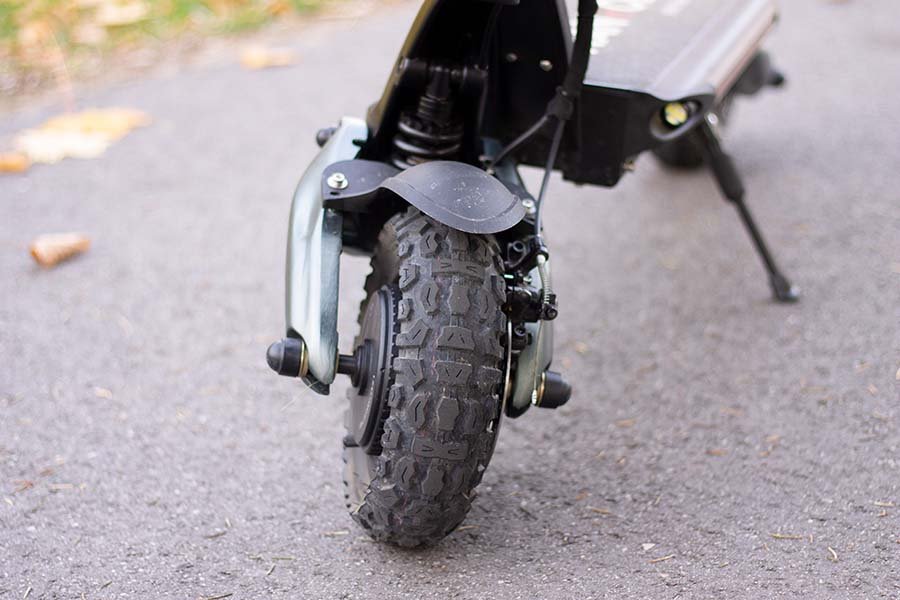 The scooter comes with 10-inch pneumatic off-road tires. These tires will help with fantastic grip and outstanding rolling efficiency. The durable and quality-made tubed tires will offer an enhanced driving experience with enhanced stability on any surface.
Additionally, the scooter will have spring suspension in its rear and front. The powerful suspension can tackle gnarly terrain. Apart from that, it is capable of good-sized jumps. You will have smooth riding even in adverse conditions. Also, there is no noise from the springs when riding on a bumpy road.
Those both together can improve your ride quality and support your adventures.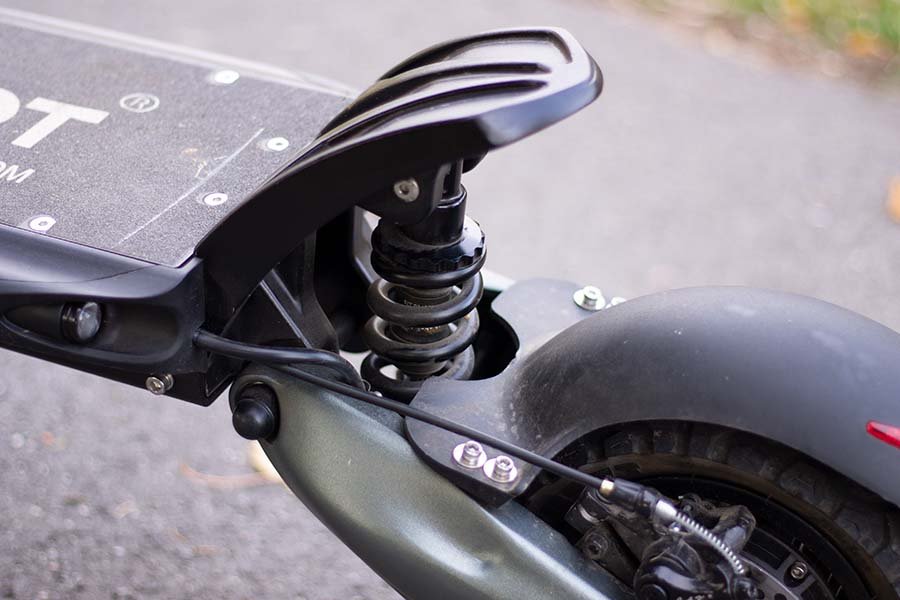 How do you adjust the suspension on a Nanrobot D6+?
Suspensions are easily adjustable. You can set the softness to your personal preference. To do that, you need a 55-62mm spanner wrench. Just rotate the adjustment ring, which is on top of the suspension spring. To make the suspension stiffer, rotate the ring clockwise. If you rotate the adjustment ring contra-clockwise, you can make the suspension softer.
Usually heavier riders like it when the suspension is stiffer and lighter riders like it to be soft. But there is no right or wrong. Test it out and adjust it to your own preference.
Get $60 Off With Exclusive Code: ElectricWheelers
Frame and Cockpit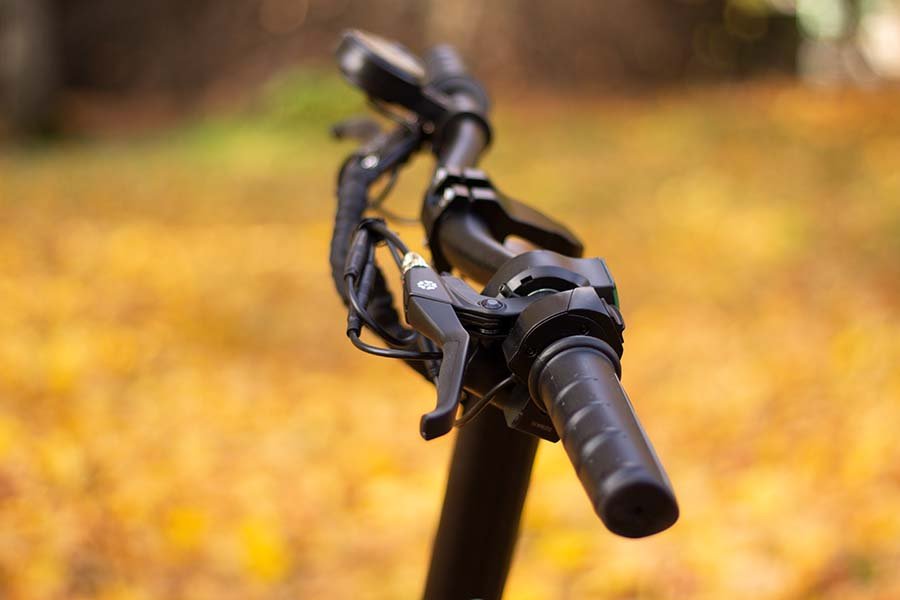 Nanrobot D6+ features an aluminum alloy body. Also, it weighs 77 pounds, which makes it a quite heavy scooter. However, it is foldable, and that ensures easy storage. The fold mechanism is worth mentioning. Yes, it comes with two-stage locking. That means the scooter will not collapse when one lock does not work.
Apart from that, it has a 9 inches wide deck. That means you will have sufficient space to keep your feet while tackling rough terrains. Lots of scooters have a very narrow deck and you have to put one foot in front of the other. With Nanrobot you can easily keep your feet side by side, which makes riding much more comfortable.
The wide deck will also ensure that you have a correct posture while controlling your scooter. It can enable you to navigate bumpy roads and take longer rides effortlessly. Also, the deck has rubbery material padding to offer increased traction. The scooter can support up to 330 pounds.
Is Nanrobot D6+ Waterproof?
Nanrobot D6+ is not waterproof. It has IP53 water-resistant rating, which means it can withstand some splashes and maybe some very light rain. If possible don't use it when it's raining.
Make sure the charging ports at the bottom of the deck are covered. If not, every little puddle can be dangerous to your electrified friend.
Display

In addition to these, the scooter features an LCD on its handlebar. The display will show battery level, tripometer, odometer, ride time, and a few other things. Also, you can adjust scooter settings through the display.
I must mention that the handlebar height is not adjustable. But for an average adult, it should be no problem.
Nanrobot D6+ Display Settings
There are various settings on Nanrobot D6 display you can alter. To access the P-Menu, press and hold the Power and Mode button at the same time until the settings come up. There are 10 different settings. To toggle between them, press the Power button. To change values press the Mode Button. To save the current setting, press the Power and Mode buttons together.
Let's go through, what those settings really are.
P00 – Wheel size. Keep the value 10.0 if you have 10-inch wheels.
P01 – Drop voltage setting – default value 43.0. When voltage falls below 43, power supply cuts out. Not recommended to change that.
P02 – Magnetic pulse in the hub motor. Not recommended to change that.
P03 – Speed sensor function. Not recommended to change that.
P04 – Speed unit. Change the value to 1 for miles and 0 for kilometers.
P05 – 0 = no kickstart; 1 = kickstart. If you change this setting to 0, nothing happens when you pull the throttle until you kick away the scooter.
P06 – Cruise control. 0 = no cruise control; 1 = cruise control. The cruise control activates when you maintain the same speed for 10 seconds.
P07 – Slow start (value = 0) vs power start (value = 1)
P08 – Max power output. You can change the value between 0-100%.
P09 – Electronic Brake System (EBS). 0 = off; 1 = weak EBS; 2 = Strong EBS
Portability
Although the scooter weighs 77 pounds, it comes with a folding mechanism with two-snap-on folding. I don't recommend carrying it for long distances but you can effortlessly fold it and carry it in your vehicle's boot.
To be honest, portability is not the best feature of this scooter. If you want to haul Nanrobot D6 in the trunk of your car, you need a big car. You can fit it in a smaller car too but need to lower the back seat.
The fact that the scooter is heavy has one very positive side as well. The weight will offer better stability.
Ride Quality
The D6 is a stable and comfortable scooter that you can use on different types of terrains. The Ride-quality of this Nanrobot scooter is incredibly good.
Here are the main features that are responsible for the excellent ride quality of Nanrobot D6+:
compact frame;
ultra-wide tires;
padded and extra-large deck;
enhanced controls to improve the ride quality;
powerful brakes;
strong suspensions.
The shock absorption quality of the suspension makes it perfect for rough terrains. Additionally, the combined hydraulic and electronic braking will make easy and fast stopping. You can ride it in wet conditions. But it is not suitable to ride in heavy rain since it has only an IP53 rating.
Accessories and Spare Parts
There are lots of accessories and spare parts available for Nanrobot scooters. You can have an extra charger, spare tires, new fenders, etc.
Probably the most interesting accessory is a seat for Nanrobot D6+. The seat itself has 2 springs under it plus the seat post has a little suspension. For $200 you can make your rides much more comfortable.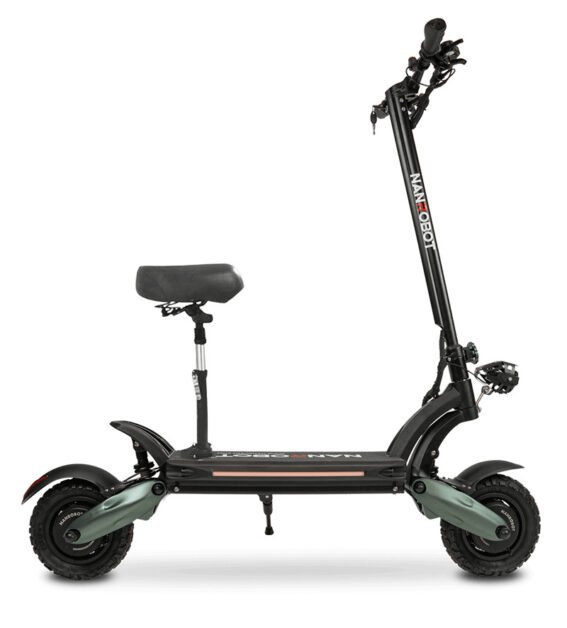 D6 vs D5 vs D4
You might have come across these Nanrobot models and wondered what are the differences. Basically, all these three are really similar and each version got some minor upgrades. Overall the Nanrobot D6+ is the advanced version of D4 and D5.
All three have dual motors with a total power of 2,000 watts and the charging time has remained the same – about 10 hours.
Related: Nanrobot LS7+ Review
The latest model has a slightly better top speed than its predecessors. Also, D6 features two riding modes – turbo and eco mode. The advanced technologies will minimize the braking distance of D6 and ensure safer riding.
Nanrobot vs Other Companies
Let's make a fair comparison among the leading names that include D6, Dualtron Thunder, and Kaabo Mantis. As you can see from the table below, 10 hours of charging is not that bad. Considering that it takes even more time to recharge Kaabo Mantis PRO and Dualtron Thunder, we can not complain much about D6+.
Also, Nanrobot D6 is quite affordable when compared with others. Yes, Dualtron Thunder tops in almost every category but you also have to pay the double.
You can see the rest of the comparison down below.
| | | | |
| --- | --- | --- | --- |
| | Nanrobot D6+ | Kaabo Mantis PRO | Dualtron Thunder |
| Motor | 2 x 1,000W | 2 x 1,000W | 2×1,200W |
| Battery | 1,352Wh | 1,470W | 2,100Wh |
| Top Speed | 40mph | 40mph | 50mph |
| Max Range | 45 miles | 45 miles | 75 miles |
| Recharge time | 10-12 hours | 13-16 hours | 20 hours |
| Weight | 77 lbs | 65 lbs | 95 lbs |
| Max Payload | 330 lbs | 265 lbs | 265 lbs |
| Price | $1,890 | $2,299 | $3,699 |
---
What Other Customers Are Saying?
I have told you a lot of good things about this scooter but let's take a look at what others say. It seems I am not a minor here. At Roadrunner Scooters, 95% of customers have rated Nanrobot D6+ with a 5-star rating. And that is currently based on 171 reviews.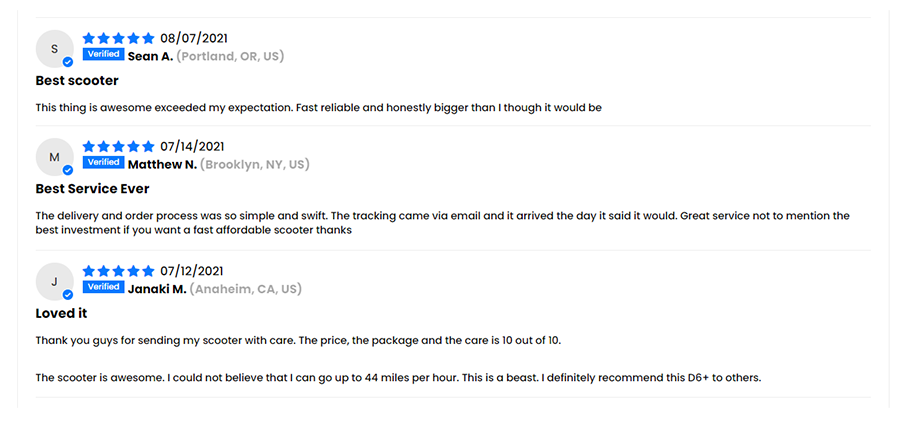 Final Verdict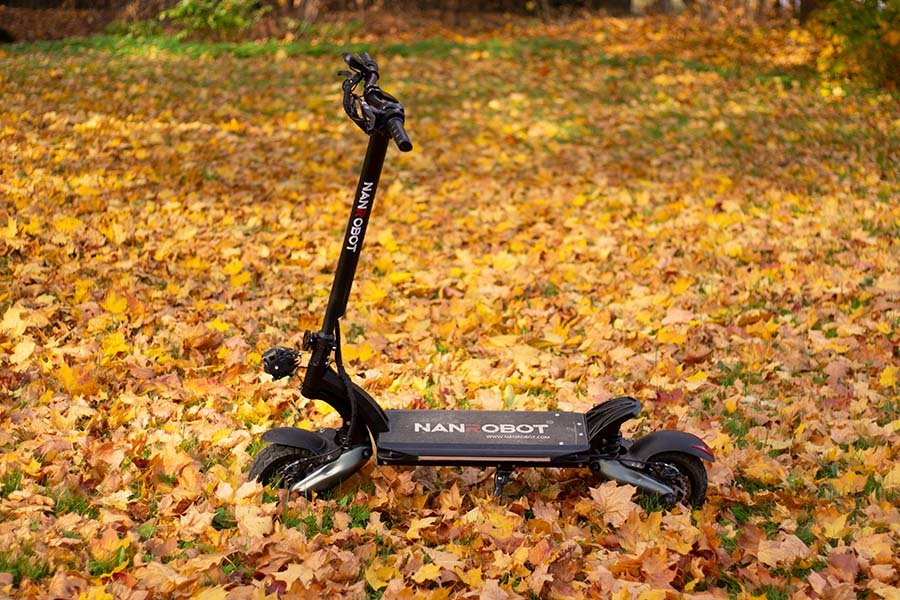 Nanrobot D6+ electric scooter combines power, comfort, speed, safety, and affordability to become the first choice for off-road riding. The foldable design will ensure easier storage but transportation remain still quite difficult. Also, it is packed with many advanced features to improve ride quality.
This electric scooter works well for just casual commutes and also for off-roading. If you like speed and ride occasionally on rough terrain, you can definitely consider Nanrobot D6+.
If you already have a Nanrobot D6+, leave a comment and tell us how you like it.