I attended the Himiway Spring Conference where Himiway introduced 3 new e-bike models. The world of electric bikes just got even more exciting, thanks to Himiway's latest offerings.
Whether you're a seasoned cyclist or a newbie looking to dip your toes into the world of e-bikes, there's something for everyone in Himiway's latest collection.
In this post, I'll be taking a closer look at the standout features of these new e-bikes and why they're worth considering for your next ride.
Electric Wheelers is reader-supported. Although we independently research and test products, we may receive a commission on purchases made from our chosen links. Read more…
What was Himiway's Main Focus When Building New E-Bikes?
Before they actually showed us new electric bikes, they explained how those new models were built.
Throughout the last year, Himiway has been conducting surveys among its customers to find out what their main concerns and wishes are. This feedback was a great inspiration for developing those new bikes.
These were Himiway's main goals when creating the bikes.
1. Extend the Range of E-Bike
The host of the conference told that one of the first things on the minds of riders is range anxiety. People want to ride farther with their e-bikes but they are worried about the capabilities of the e-bike battery.
So based on that, Himiway's goal is to make their e-bikes with longer range.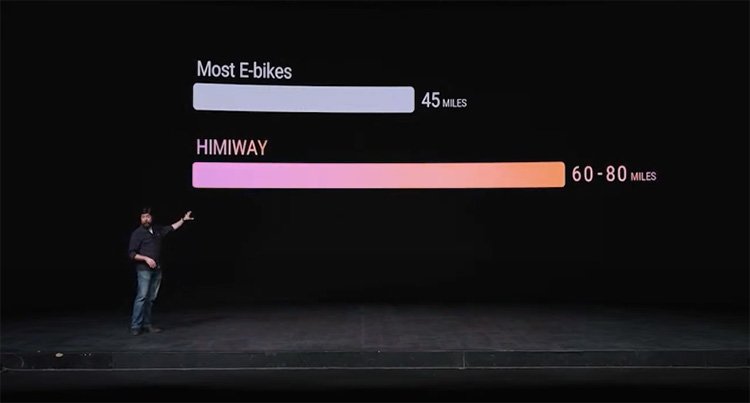 While we are tried and tested many e-bikes, we can confirm that the 80-mile range is definitely above the industry standards.
2. Make E-Bikes More Affordable
The second most important concern for Himiway customers is the pricing of e-bikes. They feel that electric bikes are too expensive for them. We totally understand that and recently published an article about why e-bikes are so expensive.
Himiway promised at the conference that they will keep the prices of their e-bikes about $200 cheaper than similar competitors. At the same time, they try to achieve this goal without losing the quality of the products.
3. Focus on Female-Specific Bike Models
Based on the feedback that Himiway has gathered from its customers, they feel that there is a lack of female e-bikes on the market. Currently, most of the high-end e-bikes on the market tend to be male-focused.
From now on, Himiway promises to put additional focus on female riders when developing new e-bike models.
4. Expand the Categories of E-Bikes
Finally, many Himiway customers would like to see more different types of e-bikes in Himiway's lineup. So far, Himiway has mostly manufactured fat-tire off-road e-bikes (e.g. Himiway Zebra and Cobra).
In the future, Himiway will expand the choice and want to provide all kinds of e-bikes, including:
City e-bikes
All-terrain e-bikes
Kids' electric bikes
Beach cruiser e-bikes
and more
Now, let's see what are the Himiway's 2023-year models and how well they have followed their own guidelines.
Himiway New E-Bike Models of 2023
Himiway Pony
Portable Mini Electric Bike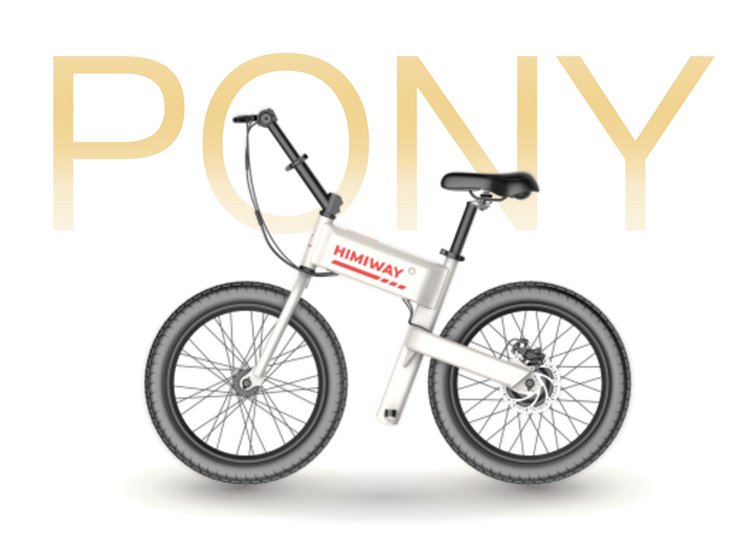 Himiway Pony is the most compact e-bike that Himiway has ever made. It is 20 inches shorter and 6 inches lower than their previous smallest e-bike Himiway Escape. The bike is so small it can even fit into the trunk of the car.
The Pony is designed for young adults to commute to school or work or just cruise around the city. Although the bike is so small, it is still suitable for a wide variety of users. Thanks to the adjustable seat, the Pony fits people from 4'1″ to 6'3″.
Even though the bike is small and weighs just 35 pounds, it can still withstand a payload of up to 240 pounds.
Himiway Pony Performance
The Pony comes with a 300W brushless gear motor, which can speed up the bike up to 20 mph.
One noteworthy aspect of this e-bike is that it doesn't have pedals. So some of us definitely want to debate if it is a bicycle after all. But let's leave that for some other time.
Anyway, since you can't speed up the bike by pedaling, it depends only on battery power. Himiway Pony has a 36V 10Ah (360Wh) battery that can last up to 22 miles.
For stopping, the Pony has a mechanical disc brake at the rear.

Key Features of Himiway Pony
300W rear-hub motor
Top speed: 20mph
360Wh/180Wh battery
Max range: 22 miles
Mechanical disc brake
20×2.4″ street tires
No pedals
Compact and lightweight design
Himiway Rambler
City Commuter E-Bike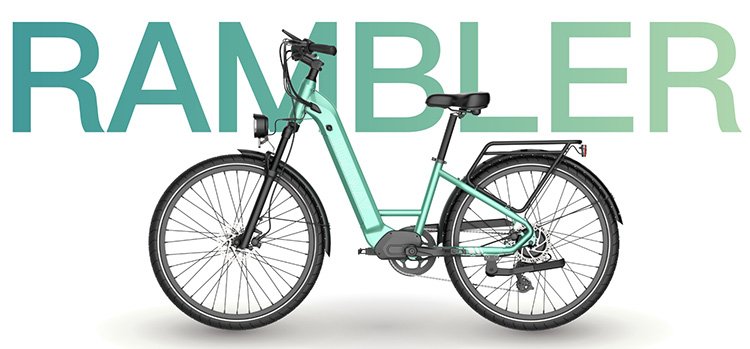 Himiway Rambler seems to be an e-bike that meets all the requirements they set themselves for the year 2023.
Rambler e-bike looks much different than previous Himiway electric bikes. It doesn't have fat tires. Instead, it has 27.5×2.4″ street tires. Also, the frame design suits well for females as well as all other riders.
Compared to Himiway's previous all-terrain e-bikes, the Rambler is a commuter e-bike that is more controllable and lighter.
Himiway Rambler is unique because it has a city-style frame paired with a cruiser-style handlebar. This design provides a nice balance between performance and handling and provides a comfortable and effortless riding experience.
Additionally, the bike comes with a front suspension fork that adds even more comfort to the riding experience.
Himiway Rambler Performace
Himiway Rambler is equipped with a 500W motor that can provide a top speed of 25 mph. The base model has the motor in the rear hub. But it is possible to get the Rambler with a mid-drive motor as well.
The Rambler gets its energy from a 720Wh battery. It can provide a maximum range of up to 55 miles if you ride in speed mode 1. While riding in speed mode 5, you can ride at least 30 miles.
When buying a Himiway Rambler, you can choose between mechanical and hydraulic disc brakes. So if you have a couple of hundred extra to spend, you can choose high-end hydro-brakes.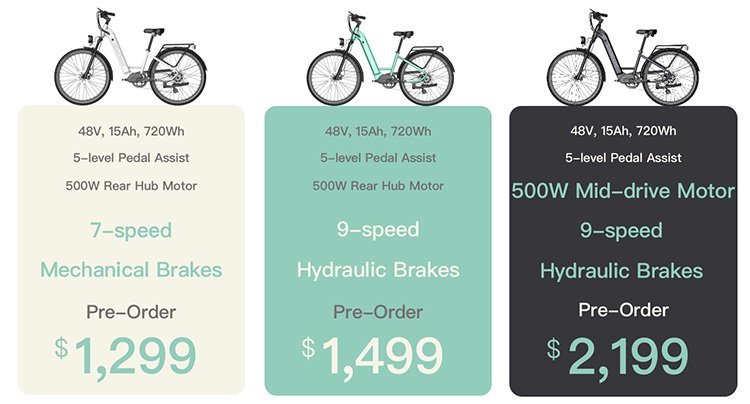 Key Features of Himiway Rambler
500W motor (hub/mid-drive)
Top speed: 25 mph
720Wh battery
30-55-mile range
Mechanical/hydraulic disc brakes
Front suspension
Step-through frame with cruiser-style handlebar
Upgraded lights
Himiway Rhino
E-MTB with Dual Battery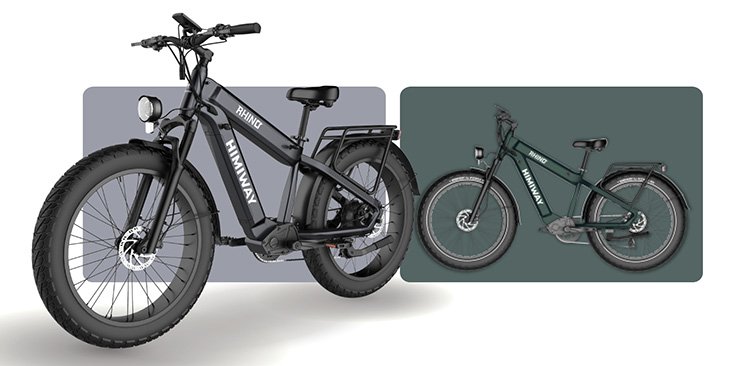 Himiway Rhino is the longest-range e-bike Himiway has ever made. Additionally, it's Himiway's first dual-battery electric bike.
Even though Himiway promised to focus more on city bikes in the future, they have not forgotten their roots either. Like many previous Himiway bikes, the Rhino comes with fat tires. Himiway Rhino features brand new 4.5″ fat tires that can conquer all terrains.
The bike looks bulky and it really is. Himiway Rhino weighs almost 100 pounds. But the frame is strong and it can withstand up to 330 lbs of payload.
Himiway Rhino Performance
The range was the most important aspect when Himiway designed the Rhino. It has two 15-amp batteries for a total of 1,440Wh of energy capacity. Thanks to these batteries, the maximum range for Himiway Rhino is 100 miles.
If there are 2 batteries, there must be 2 chargers. With 2 chargers you get both batteries fully loaded within just 5 hours.
Since the bike is really heavy, it needs a strong motor to propel it all forward. Himiway Rhino comes with a 1,000W rear-hub motor that provides 86 Nm of torque.
When they built the Rhino bike, they didn't skimp on the brakes. The Rhino is equipped with top-quality hydraulic brakes with 180mm discs.
Key Features of Himiway Rhino
1,000W rear hub motor
Top speed: 28 mph
1,440Wh dual batteries
Max range: 100 miles
26″ x 4.5″ Kenda Himiway fat tires
Hydraulic disc brakes
Front Suspension
9-speed Shimano shifter
Himiway Rhino Pro
Mid-Drive Electric Mountain Bike with Dual Batteries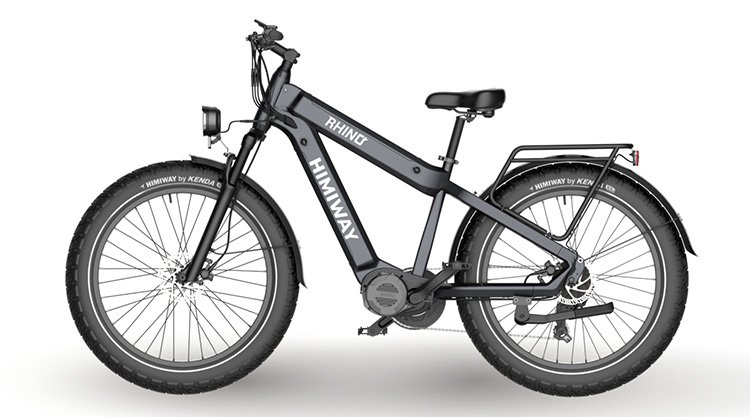 Himiway Rhino Pro is designed for true off-road enthusiasts. It is built on the same frame as Rhino. But there are some notable improvements in terms of performance.
Instead of a hub motor, the Rhino Pro comes with a 1,000W mid-drive motor. Thanks to the whopping 160Nm of torque the pro-version of the Rhino has the fastest acceleration and best climbing ability of all Himiway e-bikes.
Just like the Rhino, the Rhino Pro has the same battery configuration with the same 100-mile maximum range.
For better pedal efficiency on off-road riding, the Rhino Pro has a 10-level Shimano speed shift system.
Key Features of Himiway Rhino Pro
1,000W mid-drive motor
160Nm of torque
Top speed: 28 mph
1,440Wh dual batteries
Max range: 100 miles
26″ x 4.5″ Kenda Himiway fat tires
Hydraulic disc brakes
Front Suspension
10-speed Shimano shifter
Final Words
At the end of the conference, the host invited all to visit Himiway's Facebook page to enroll in a giveaway, where 1 participant can win a new Himiway e-bike. Check it out and give it a try.
To sum it up, I must say it was an interesting conference. The new bikes seem to be well-designed and I think they will become very popular in the season of 2023.
There is something for everybody – youngsters, ladies, casual riders, and off-road enthusiasts. I think Himiway's 2023 models suit well in their lineup.