Levy Electric is a well-known e-scooter brand in the United States. They have 2 models of private electric scooters and also provide rental fleets.
In this Levy Electric Scooter review, we make a brief overview of the company and take a closer look at its scooters.
Electric Wheelers is reader-supported. Although we independently research and test products, we may receive a commission on purchases made from our chosen links. Read more…
Levy Electric Scooters Overview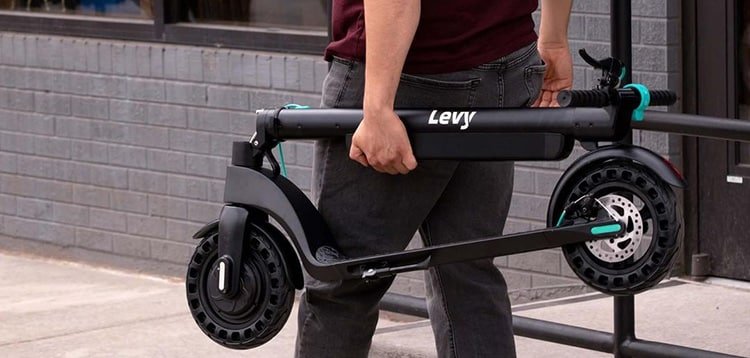 Homepage | Instagram | Facebook | Youtube
Who is the Founder of Levy Electric?
Levi Inc is a US electric scooter company headquartered in the greater New York Area in Northern US.
Eric Levenseller founded the company on August 20th, 2018, with the main focus of making direct-to-consumer electric scooters. However, in 2019, they expanded into rental fleets.
To Whom are Levy Electric Scooters?
Levy doesn't have an official age recommendation for their electric scooters. However, the company mentions that people who weigh up to 230 pounds (104 kg) can ride the scooter. This is awesome since the scooter itself weighs only 27 pounds (12.2 kg).
So it's safe to assume that people of all ages can use Levy's scooters as long as they can ride them.
The scooter's light size makes it portable and easy to store. It's perfect for individuals looking for a dependable scooter for urban commuting.
Where Can You Buy Levy Electric Scooters?
You can buy Levy electric scooters through the company's website or various e-commerce websites, including Amazon and eBay.
Levy Electric Scooter Selection
Levy has two scooters, including Levy Plus and Levy Original. The scooters are inexpensive compared to other variants in their category and are perfect for newbies.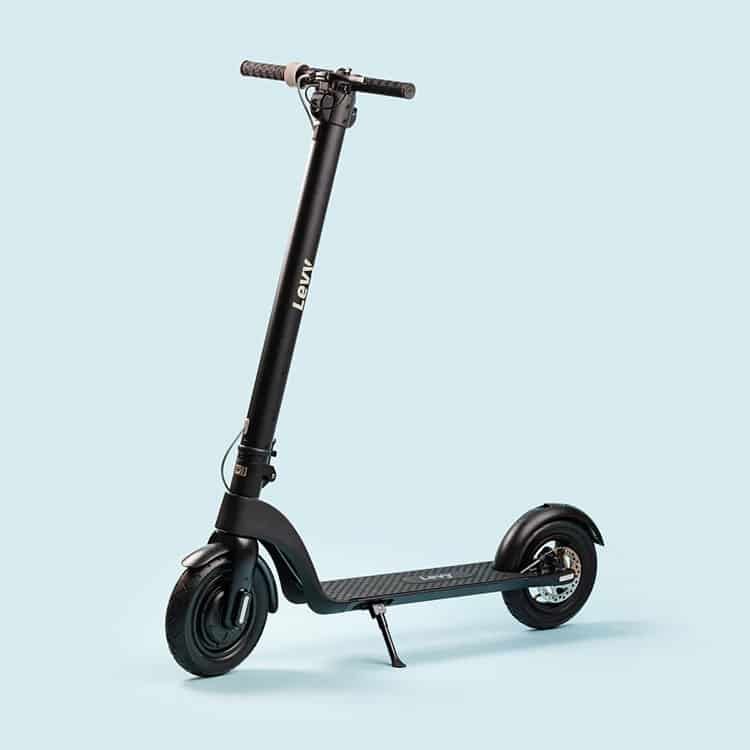 The Levy original performs better than other scooters in its category. The scooter has a front wheel drive with a 350W motor that reaches 700W at its peak.
The scooter feels torquey, accelerates smoothly, and reaches speeds of 18mph in sport mode.
You won't experience any issues reaching the top speed and experiencing the thrill. Additionally, the scooter has a responsive throttle that provides smooth acceleration. There's minimal delay in picking up when accelerating, and the scooter is surprisingly quiet.
It also has good hill climbing ability and can comfortably tackle 5 to 10-degree hills.
The scooter has a powerful braking system that brings it down from 15 mph to 0 mph within a 7-meter distance. This is the average braking distance provided by most budget scooters.
Additionally, it has a 230Wh, 36V 6.4Ah battery that provides riders a 15-mile range in Eco mode and an 8 to 10-mile range in sport mode.
The scooter's range is quite low. However, the battery is removable and can be replaced to provide riders with more range.
In perspective, riders can carry an extra battery in their backpack and .double the range.
The Design and Features of Levy Original
Levy is among the top scooter manufacturers and has premium build quality with top-notch construction. Levy Original has a minimalistic and sleek design and a two-tone color finish that adds to its excellence.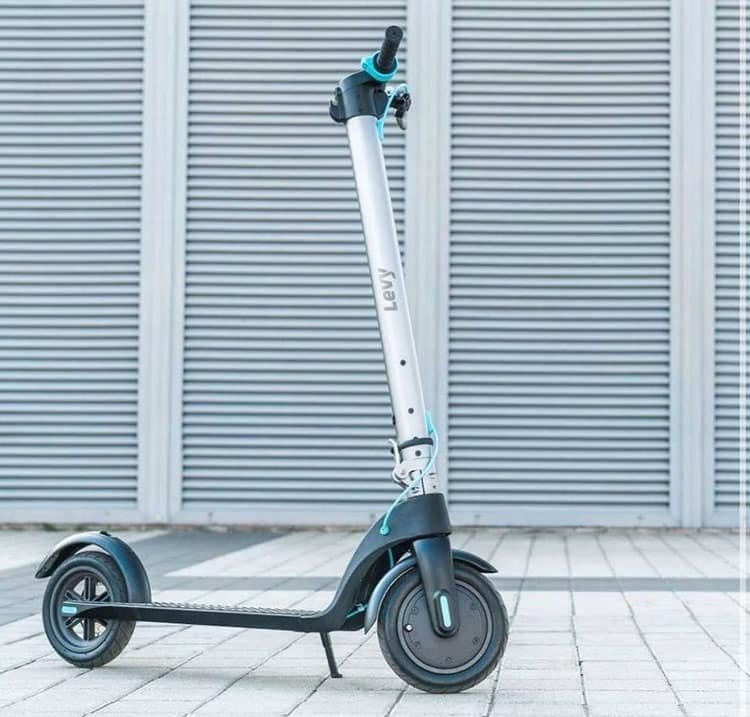 The scooter does have a few wire protrusions. However, they don't interfere with riding, and you won't even notice them.
Levy made their frame with aviation-grade aluminum alloy that reduces its overall weight, making it stable and sturdy even at extreme speeds. Also, the aluminum alloy ensures the scooter's durability even after extended use.
Its construction easily integrates with its safety lock and folding mechanism for easy transportation.
Levy Original weighs 27 pounds (12.2 kg), which is quite light, making it easy to store and carry.
Additionally, the scooter has 8.5" pneumatic tubeless tires that are rarely present in most budget scooters. Most scooters in this price range have airless tires. However, solid tires don't provide as sufficient shock absorption as pneumatic tires do. The tires also provide excellent traction in all weather conditions.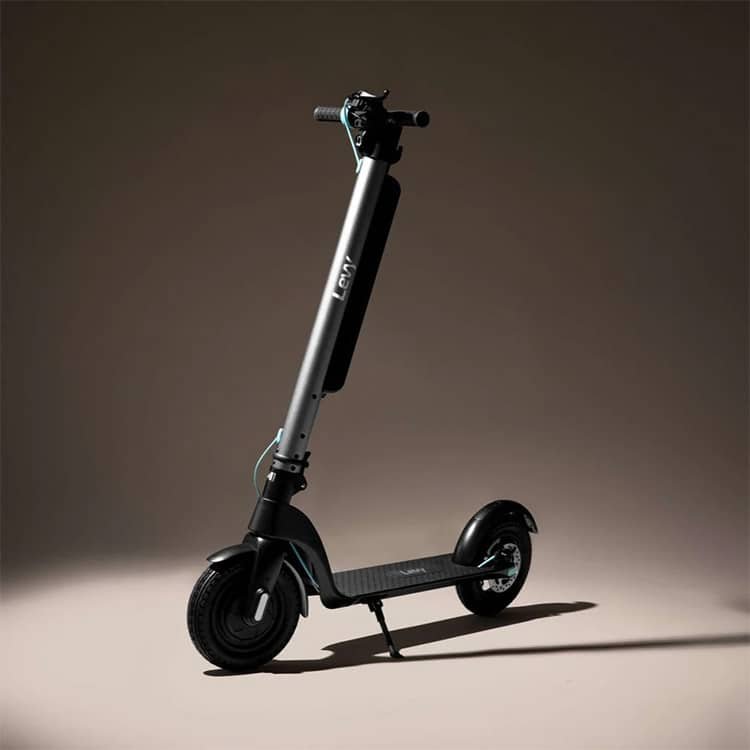 The Levy Plus electric scooter has some of the highest technological functions and performance, making it one of the finest and lightest scooters available today. The scooter is the perfect mobility tool for riders traversing longer and shorter distances because of its speed, range, and power.
The scooter has a 350W front motor, reaching speeds up to 18mph (29km/h). It accelerates from 0-15mph in 6 seconds and can tackle 5-10 degree inclines.
It has an excellent braking system, allowing riders to stop quickly. Levy Plus has a triple braking system fully integrated with safety features for quick and efficient stopping.
We tested the scooter and recorded a good stoppage of 15 to 0 mph in under 7 meters, which is better than most scooters in its category.
Additionally, it has an extended range of 20 miles (32 km) on a single full charge, which is quite adequate.
The Design and Features of Levy Plus
The Levy Plus' design is a technological marvel designed to please most riders. For instance, it has:
an easy-to-hold frame
an embedded digital display
beautifully designed handlebars
integrated 2-way lighting
10" pneumatic tires.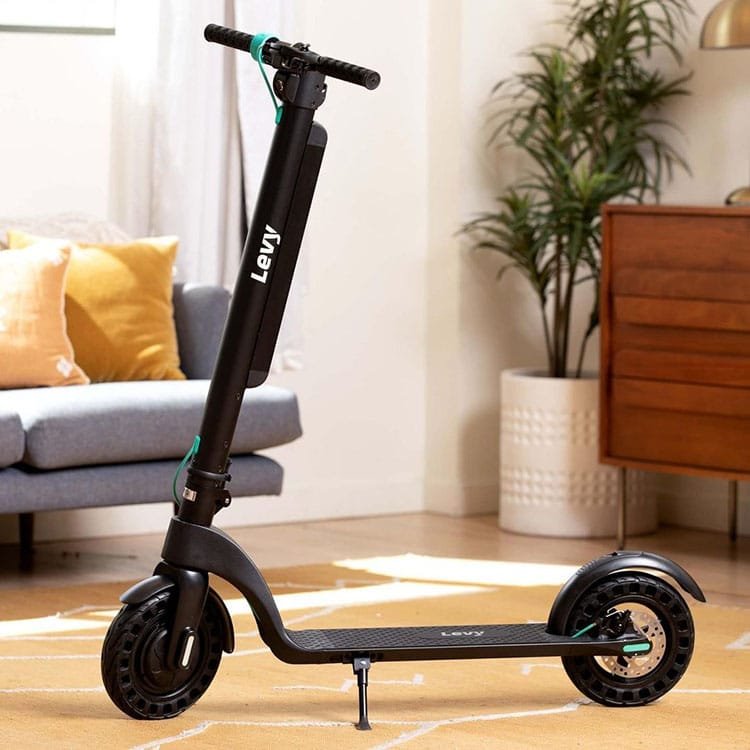 However, the first thing you'll notice about the scooter is its neat and minimalistic finish.
The scooter's lightweight frame makes an ideal combination of portability, resilience, and durability. It's made from aviation-grade aluminum and has a folding mechanism for easier transportation and storage.
The scooter's ergonomic handlebars have rubber grips that reduce hand fatigue and make it easier for riders to hold.
The tires of Levy Plus are perfect for people residing in cities. However, they also offer off-roading capabilities.
They have sufficient traction and shock absorption capabilities. They also feature a never-flat element that minimizes maintenance.
How Fast Does the Levy Electric Scooter Go?
The Levy Original has an 18 mph top speed, while the Levi Plus has a 20 mph top speed. This is quite impressive for scooters within its budget range.
How Do You Charge an Electric Levy Scooter?
You can charge Levy's electric scooters through a port on the scooter or through another port on the battery. Their batteries take up to 6 hours to fully charge.
Levy Electric Scooters Conclusion
As mentioned earlier, Levy electric scooters are perfect for people that live in urban areas. They are budget-friendly and provide more benefits for their low price.
They are perfect for beginners looking for a budget-friendly scooter to commute to work or have fun with on the weekends.
The scooter has a stylish design, performs competitively, and is durable. The range of the scooters is not the best. However, you can use an extra battery if it runs out.
Get this scooter if you want a reliable, urban scooter for daily commuting.