Buying an electric scooter can be challenging, especially for beginners, since many scooter brands are on the market.
The first thing you should do before making your purchase is to research your preferred models on websites to understand their specifics and capabilities better.
Read on to learn more about NIU KQi3 scooters in this comprehensive review.
Electric Wheelers is reader-supported. Although we independently research and test products, we may receive a commission on purchases made from our chosen links. Read more…
NIU KQi3 Overview
Niu KQi3 Sport vs NIU KQi3 Pro vs NIU KQi3 Max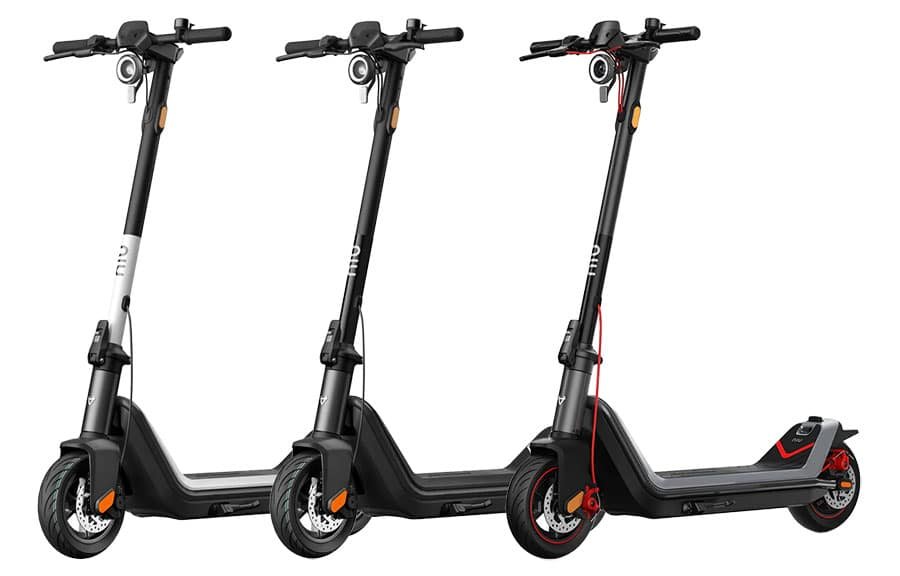 The first thing you notice when comparing these three scooters is their price range.
For instance, the Sport, Pro, and Max cost 599, 699, and 899 euros, respectively. However, you should note that the three scooters provide great performance relative to their price range.
Additionally, the KQi3 Max is more powerful than the rest with a 900W max power, while the Pro and Sport have 700 and 600 watts, respectively.
However, they have the same voltage (48V,) but their rated power differs and is 300W for the KQi3 Sport, 350W for the Pro, and 450W for the Max.
Also, their batteries have varying strengths. For instance, the Sport has a 365Wh battery, while the Pro and Max have 486 and 608-watt-hour batteries, respectively.
One thing you'll notice with the three scooters is they have lots of differences, especially in power and performance. However, they also have a few similarities.
For instance, they all have four modes:
pedestrian
custom
sport
and e-save.
They have different ranges, charging times, and top speeds. However, they provide more than average performance for most escooters in their price range.
Related: Niu KQi2 Pro Review
NIU KQi3 Specs
| | | | |
| --- | --- | --- | --- |
| | KQi3 Sport | KQi3 Pro | KQi3 Max |
| Motor | 300W | 350W | 450W |
| Top Speed | 17.4 mph | 19.9 mph | 20+ mph |
| Battery | 365 Wh | 486 Wh | 608 Wh |
| Max Range | 24.9 miles | 31 miles | 40 miles |
| Recharge Time | 5 hours | 6 hours | 8 hours |
| Brakes | Front Disc + Regenerative Braking | Front & Rear Disc + Regenerative Braking | Front & Rear Disc + Regenerative Braking |
| Suspension | – | – | – |
| Weight | 18.42 kg / 40.6 lbs | 20.3 kg / 44.8 lbs | 21.1 kg / 46.5 lbs |
| Weight Capacity | 120 kg / 264 lbs | 120 kg / 264 lbs | 120 kg / 264 lbs |
| Tires | 9.5″ x 2.5″ Pneumatic Tubeless Tires | 9.5″ x 2.5″ Pneumatic Tubeless Tires | 9.5″ x 2.5″ Pneumatic Tubeless Tires |
| Lights | Front & Rear LED Lights | Front & Rear LED Lights | Front & Rear LED Lights |
| Hill Grade | 15% (~9 Degrees) | 20% (~11 Degrees) | 25% (~14 Degrees) |
| IP Rating | IP54 | IP54 | IP54 |
NIU KQi3 Performance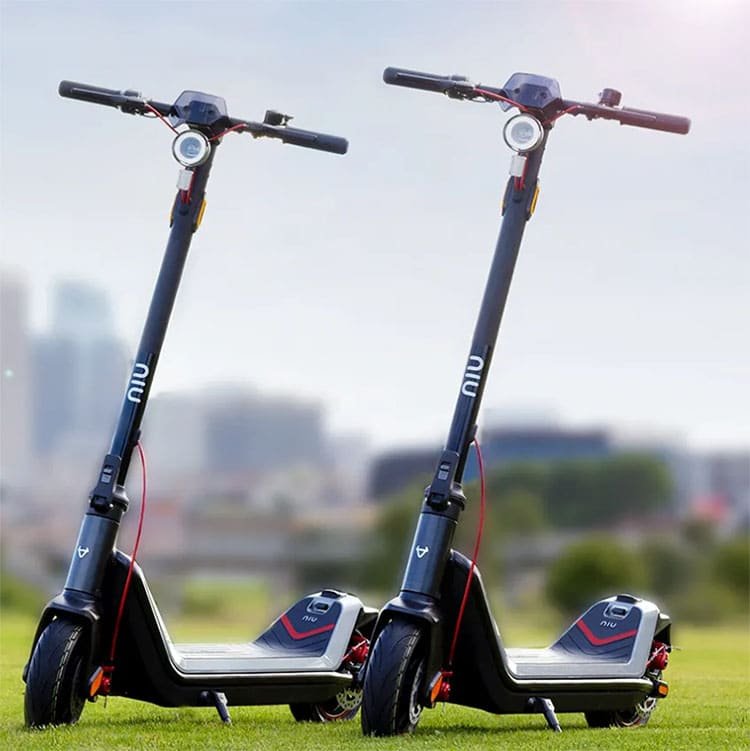 Speed and Acceleration
One thing you'll notice about these three scooters is their smooth and quick acceleration, that's way better than most other scooters in their category. The scooters pick up speed fairly quickly and can go from 0 to 15mph in 5.2s, which is outstanding since its throttle comes on quite smoothly.
The escooter's acceleration is 46% quicker than its predecessor and 20% quicker than the Ninebot Max. Additionally, the scooter's acceleration is on par with most other scooters. And it's even quicker than the Fluid Mosquito e-scooter. However, they have different top speeds regardless of their great acceleration.
For instance, the Sport has 17.4 mph, while the Pro and Max variants have 19.9 and 20+ mph top speeds, according to the NIU's website.
However, we noticed the e-scooter's top speed is slightly lower than advertised and performs averagely than other scooters in its category.
You should also note that the scooters' top speeds are regulated by their three gear modes, i.e., the pedestrian, eco-save, sport, and customized gear modes. The last mode allows riders to customize the scooter's top speed to their preference through the NIU's app.
Hill Climbing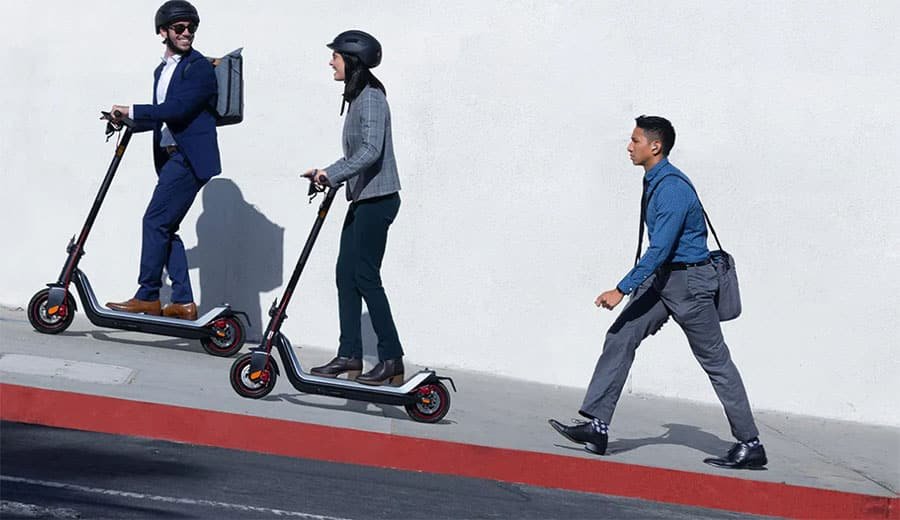 You shouldn't underestimate the convenience of purchasing an electric scooter with good hill climbing capabilities. And the KQi3 delivers above-average performance in this category.
The scooter's ability to sustain a 16 mph speed during the hill climb. We tested the scooter on a 10% grade, 60m hill climb and maintained it at six mph, making it good for individuals living in relatively flat locations.
Battery and Range
You can rely on all three KQi3 scooters for a daily commute like going to school, grocery shopping, strolling around the block, and as part of your last-mile commute. The scooters provide a good range per dollar, and you can rely on them to get you where you need to go.
The Sport has a 365 Wh battery that provides a 24.9-mile maximum range. 
The KQi3 Pro has a 486Wh battery with a 31-mile range, while the Max has a 608 Wh battery with a 40.4-mile range.
The three KQi3 scooters are great for commuters that want reliable scooters they can use for daily transportation. However, they may not be so great for individuals that like exploring and going on long adventures.
Brakes
The KQi3 is one of the few e-scooters under $1,000 you'll get with dual mechanical disc brakes.
Initially, Ninebot Max held the record for braking from 14mph to 0 in a distance of 3.3 meters. Anyhill UM2 overtook the record by reducing the distance to 3.2 meters. However, the KQi3 broke and maintained the record by reducing the distance to 3.0 meters.
As mentioned above, the three KQi3 scooter variants broke the record because they have regenerative braking, and dual disc brake (front for the Sport).
The escooters' regenerative braking feature allows the scooter to convert the braking action's kinetic energy to electrical energy fed back into the scooter's batteries.
NIU KQi3 Pro/Sport/Max Features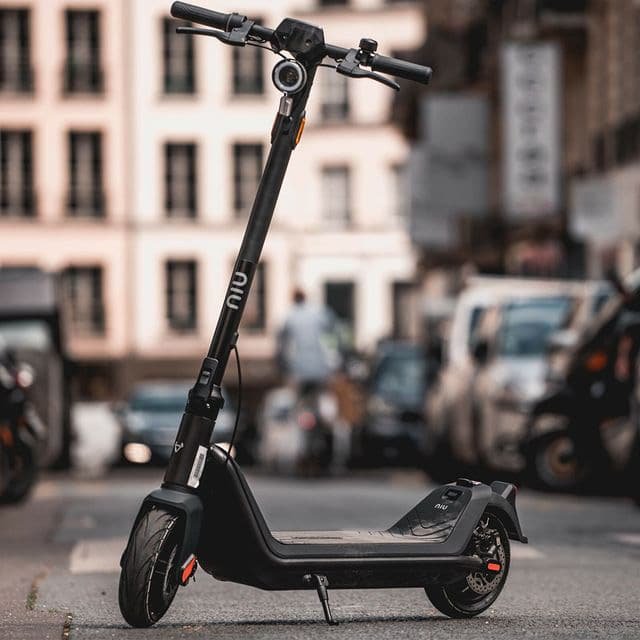 Frame and Deck
NIU designed its scooters from aerospace-grade aluminum, making them sturdy and reliable. The alloy has a high-yield strength and excellent fatigue resistance. As such, you can be sure to use your scooter daily for a long time without fear of breaking the frame.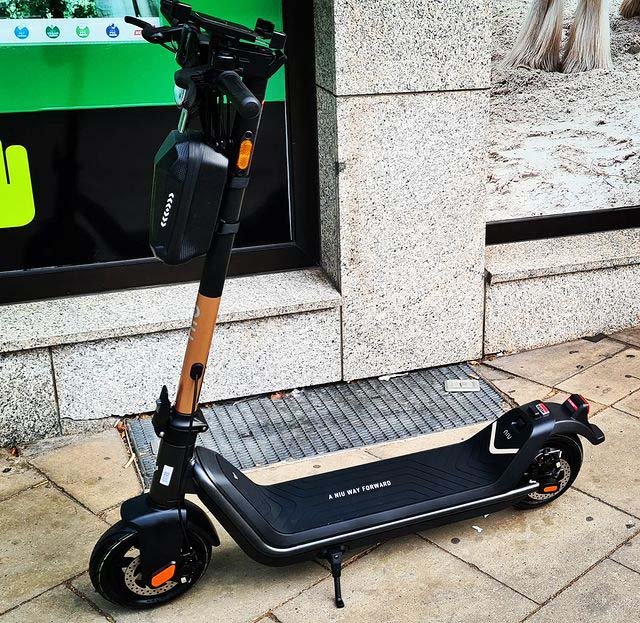 The scooters have a winged deck that makes them quite appealing. However, it's steeply angled in the rear and front, making it awkward for commuters that like resting their feet in these positions.
Regardless, the scooter's deck is wide enough (51 by 17cm), allowing you to position your feet comfortably.
Portability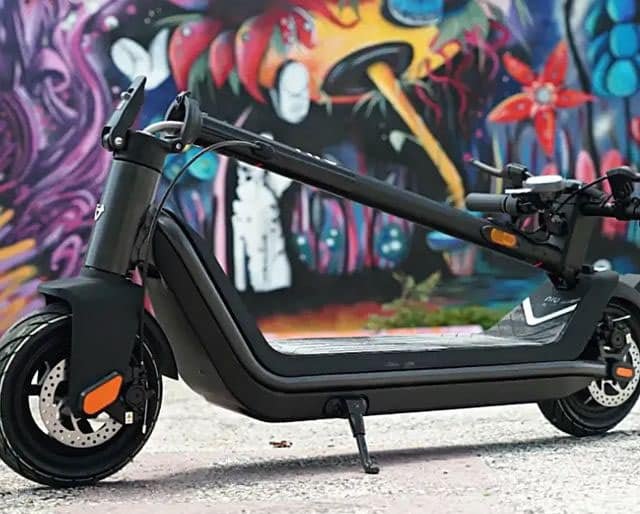 The KQi3 scooters are highly portable. So much so that you could lift them up a flight of stairs if you wanted to.
The scooters have an easy and quick folding mechanism with a beefy and secure stem latch. Also, the stem latch has a secondary safety clip that users can unlock, allowing them to fold the handlebars to the deck.
The scooter's deck latch is even better than the Ninebot Max's since it has a quick click-to-position design.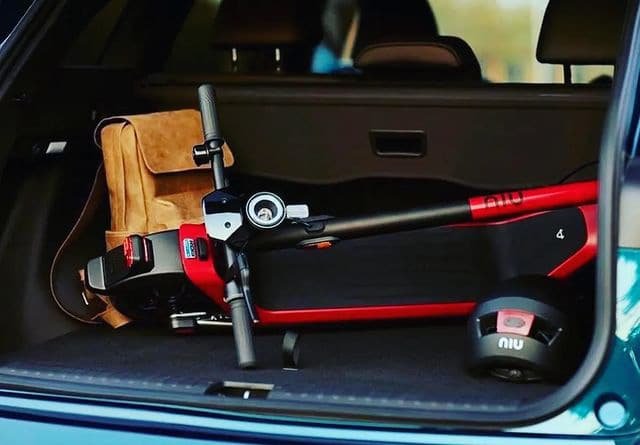 Unfolding the handlebars requires you to press the button extension, which releases the handlebars. The scooter requires little effort to operate, is sturdy, and can fit into most trunks.
Wheels and Tires
The scooter has 9.5 by 2.5 inches high-quality tires designed for city tracks.
The tires have a good grip and provide great handling. The pneumatic design provides decent comfort when riding through grassy trails, light gravel, and cracked paved tracks. However, they aren't the best for rocky, bumpy trails.
The tires are susceptible to punctures and bursts, which is inconvenient for riders that prefer offroading adventures.
However, the KQi3 Max has self-healing pneumatic tires made from a polymeric material that can heal when punctured. NIU chose to use pneumatic tires in place of suspension.
Handlebar
While the users' standards for displays are currently over the moon, we appreciate NIU's decision to include a display for their KQi3 series.
The display is quite simple. It has a low resolution and displays information in pixilated art-like characters. However, the design makes it easier for riders to read the information even in direct sunlight.
The display has one button that does various functions. For instance, one click turns on your scooter and making short clicks changes the scooter's speed modes (when the scooter is on).
Two short clicks turn the scooter's headlights off or on, three clicks switch the distance to miles or km, and five clicks switch the scooter's mode to pedestrian/walk mode.
Lights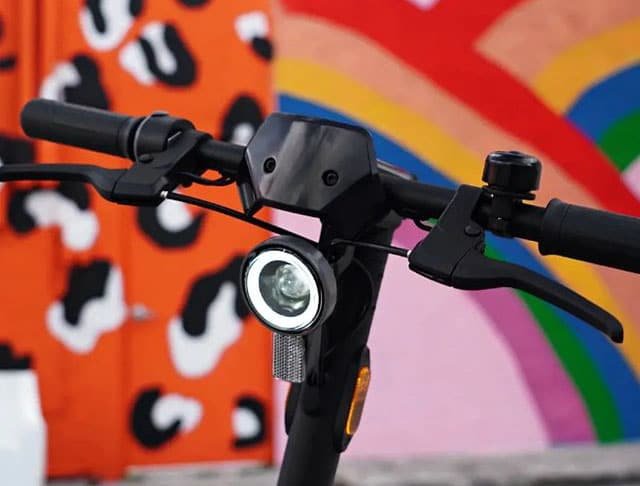 The scooter has high-mounted, round headlights that work as daytime running lights and provide strong illumination when riding at night.
The headlight's halo is always on to make the rider visible to pedestrians and other traffic. The headlight is also adjustable and can provide strong illumination for an 18m distance.
Is NIU KQi3 Waterproof?
The scooter has an IP54 rating, meaning that the design protects its electronic components from water sprays in all directions.
The design also protects it from fine dust particles that could damage moving parts. However, you shouldn't ride the scooter in rainy conditions unless it's unavoidable.
NIU KQi3 Review Conclusions
NIU doesn't have a long history of producing electric kick scooters. However, they have lots of experience producing reliable seated electric scooters.
Their e-scooters provide above-average performance and a decent range and are reliable for most urban commuters. Also, their scooters have an okay riding experience, outstanding warranty, and great safety measures.
NIU has done a great job with their KQi3 kick scooter. It's made for all commuters and given special regard for novice riders.
The scooter is perfect for you if you want a reliable scooter for short trips in the city.