If you are searching for the best electric scooters for commuting and enjoying some fun time, we've got your back.
In this NIU electric scooters review, we will introduce their electric scooters, eBikes, and mopeds. Also, we will provide you with all details you need to make an informed purchase.
Read on to get all the details and more!
Electric Wheelers is reader-supported. Although we independently research and test products, we may receive a commission on purchases made from our chosen links. Read more…
About NIU Electric Scooters

Founded: 2014
Headquarters: Shanghai, China
NIU Technologies was founded in 2014 and specialize in making electric scooters. The company is one of the leading providers of smart urban mobility solutions.
It's committed to providing its global customers with environmentally friendly and convenient ways of urban mobility. The company embraces technology and sells smart electric scooters that embrace the latest designs.
NIU has a streamlined portfolio that features seven series, including the MQi, NQi, NIU Aero, RQi, Gova, TQi, and UQi.
The UQi and MQi models are their only products that have won all 7 international awards, including IF and Red Dot in Germany, G Mark in Japan, and IDEA in the US.
The company has developed a longer-lasting 4th generation NIU Energy battery that is safer, lightweight, powerful, and offers a longer range than other batteries.
They have some of the best scooters and are dedicated to making them more efficient for their global customers.
NIU Electric Vehicles Lineup

NIU is most well-known for manufacturing seated electric scooters. But they recently also started to manufacture electric kick scooters and e-bikes.
Let's take a closer look at their electric vehicles.
NIU Electric Scooter
NIU makes popular and affordable electric scooters equipped with rear-wheel Bosch motors, lightweight frames, and high build quality.
Their eScooters are quite popular in European cities and have helped transport customers over 1 billion kilometers.
NIU KQi2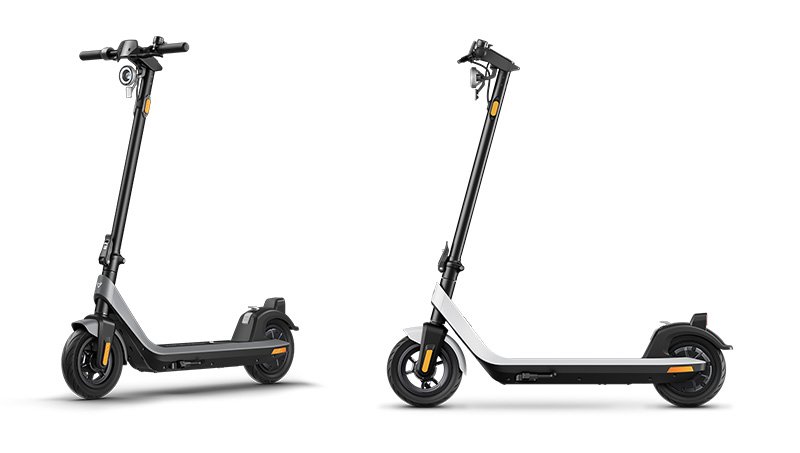 The NIU KQi2 is the latest model of NIU eScooters and it's designed for adults.
It has a minimalistic but stylish design and a drum brake designed to fit perfectly inside its front wheel. It is the perfect example of how good engineering could improve your daily commutes and make you feel good.
The e-scooter has a 17mph (28km/h) top speed that provides a healthy and safe dose of morning joy before you settle into your daily routine.
The NIU KQi2 is perfect for commutes and enjoying some fun time.
It has a 25mile (40km) range, which is enough for short commutes. It takes 7 hours to fully charge, meaning you can charge it at night and use it throughout the day. You could also top up the charge at work and use it in the evening if your commute takes longer than 13 miles.
The scooter has 10-inch pneumatic tires, ensuring a comfortable and smooth ride.
Related: NIU KQi2 Full Review
NIU KQi3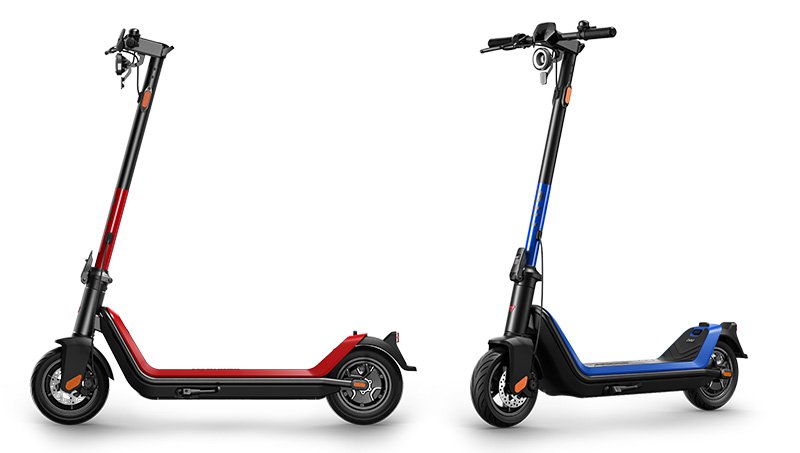 NIU's KQi3 has a 22mph (35km/h) top speed and a 40-mile range (64km), perfect for daily commutes or fun weekends. The scooter takes 5 hours to fully charge, meaning that you can charge it at night or at work.
The scooter has 9.5-inch pneumatic tires designed to provide you with better handling and speed.
The NIU KQi3 is engineered for optimal performance, comfort, balance, and handling. The scooter is built from strong, aerospace aluminum with high structural integrity that protects it from damage if exposed to physically stressing elements.
It also has dual-drive disk brakes that provide strong braking power in wet and dry conditions.
The scooter also has an in-built bell and iconic halo light that ensures you're heard and seen during the day and night.
Additionally, the scooter has an app that offers Bluetooth connectivity, helps you set the riding mode, and provides rider statistics.
The KQi3 also has LED headlights, braking lights, tail lights, and an LED dashboard.
Related: NIU KQi3 Full Review
NIU Electric Moped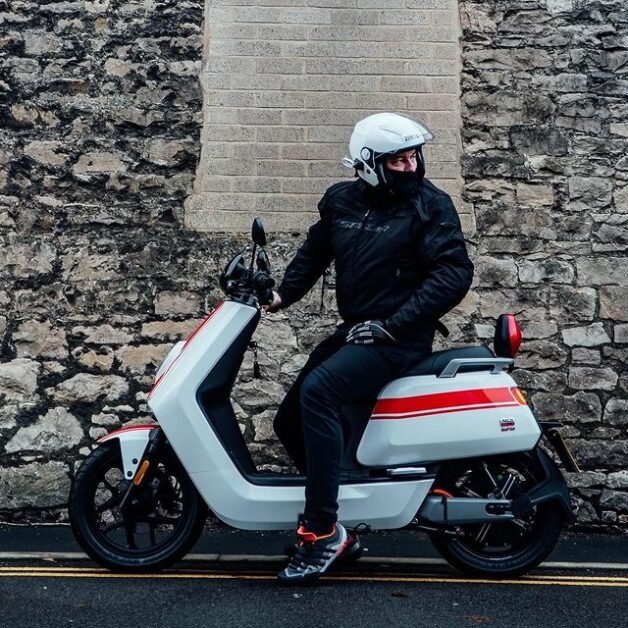 Electric mopeds are the best solution if you aren't a fan of electric kick scooters.
NIU electric mopeds are some of the quietest and most comfortable variants available.
They are an awesome eco-friendly alternative to diesel and petrol, have a lightweight design, and can be used for commuting or a weekend of fun in the countryside.
NQi Series
The NQi series is the best alternative if you are looking for an urban exploration vehicle. You can ride it to work or take it out for a weekend of fun.
NIU's NQi series have a field-oriented control system customized to BOSCH's motor, which helps optimize power consumption.
The NQi series uses the state of the art lithium-ion batteries that have a two-year guarantee. The batteries weigh 10kgs or 22 pounds and can be carried into the home or office for charging. The scooter's 29aH battery pack can be recharged in 6 hours and provides a 60 to 70 km of range.
The scooters are also equipped with an EBS braking system that recycles power into the system when using the brakes.
It has a simple but elegant design and is equipped with technological innovations and an app that informs you about the scooter's status. The app also has an anti-theft feature and a user manual.
Available Models:
MQi Series

The MQi series has four models, including the M-series, M-Plus, MQi-GT, and MQi-GT Evo.
The MQi series features stylish, smart, and fun mopeds that provide a range of 51 to 65km (31 to 40 miles) and an 8.3kg (18lbs) battery pack. The MQi series comes in 5 colors and two styles to provide a unique look for each rider's style.
The dashboard design incorporates a riding-mode toggle that makes it easier for riders to switch from performance to ECO mode.
It also has an intuitive hazard light button and turning indicators that make it easier for riders to navigate between traffic.
The 25mm handle makes the handling more comfortable and creates an enhanced handling experience.
Its 45mm cushion and breathable PU skin help you get comfortable when riding the scooter, ensuring that you don't experience any backache.
It also has a complex dashboard that's easy to view and use when going through busy urban traffic.
Available Models:
UQi Series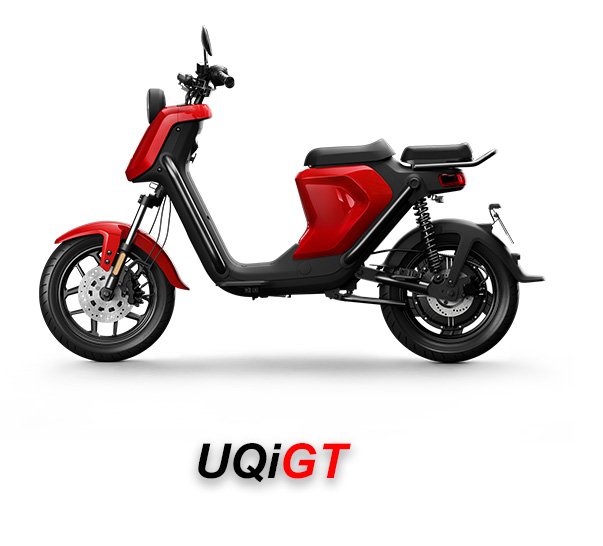 The UQi series features a brushless magnet motor with an electric powertrain designed to achieve the perfect balance between power and energy. This ensures that the moped's motor provides enough power at a reduced cost.
The UQi series uses a vector controller that communicates with the motor to create a perfect 10% power input and 10% power output.
The moped is also equipped with an EBS braking system that captures any kinetic energy expelled during braking and recycles it back to power the battery extending the range by 6%.
It also has a cloud ECU that helps your scooter collect, diagnose, and process your driving data.
The ECU is designed to optimize for intelligent riding to provide you with the best experience through learning your driving habits.
It also has an anti-theft alarm with a shortened range of only three meters. The moped's onboard gyroscope measures its acceleration and GPS position and accurately identifies unauthorized movement.
Additionally, its battery management system ensures your battery operates optimally.
Available Models:
NIU Electric Bike
NIU Aero EUB-01
NIU's eBike has a 28mph (45km/h) top speed and a dual suspension system that provides you with ultimate handling.
It also has a durable frame that can effortlessly handle uneven terrain and potholes.
NIU Aero ebike comes with a 48V battery. The sport variant has a 16Ah capacity and the Pro variant has a 21Ah capacity. The maximum range for the NIU ebike is 50 miles (85km). The Sport variant takes 5 hours to charge, while the Pro variant has a 6-hour charge time.
Related: Are Chinese eBikes Any Good?
The eBike has hydraulic brakes designed to provide you with effective braking power. Its also equipped with an intelligent system that provides you with throttle control and various riding modes.
It also has an LCD dashboard that you can use at night and allows for accurate readings.
Top Speed – 28mph (45km/h)
Range – up to 50 miles (85 km)
Dual Suspensions
Hydraulic Brakes
Additionally, recently NIU launched a new electric bike NIU BQi-C3 Pro. Read our full review here.
FAQs
Is NIU a Chinese Company?
NIU is a Chinese company founded in 2014 and headquartered in Changzhou, China.
The company's CEO and COO, Yan Li, has been in the company since 2017 and has seen the company raise 300 million dollars in revenue in 2019.
NIU Technology is listed on NASDAQ under the ticker NIU.
Are NIU Scooters Available in the USA?
NIU's electric kick scooters are available in the USA since 2021.
Their seated electric scooters are available in the USA since 2019. Their official distribution partner in the US is Genuine Scooters, which has offered quality products since 2014.
How Fast does NIU Scooter Go?
NIU has several scooters with varying speeds. However, some have been known to go as fast as 62mph or 100km/h.
The scooters are designed with powerful batteries and powerful motors. Most of their scooters have a restricted top speed that you can unlock by upgrading their hardware.
How Much is an NIU Scooter?
NIU announced that their first electric kick scooter would start at $599. However, the company has several variants that are priced differently.
Their mopeds are more popular in the USA and are priced at about $2000.
How Long Do NIU Scooters Last?
NIU scooters last for a decent period. For instance, they can retain 80% of their capacity after 600 to 800 charge cycles, translating to about 5 years of use.
This is a good lifespan. However, it varies depending on the use of battery and general care.
Is NIU Scooter Waterproof?
NIU scooters are graded with an IP65 rating.
They also take pride in their electronic braking system that remains at top performance even when exposed to 230mm of water. You are assured of no lasting damage even when the scooter is splashed with or briefly submerged in water.