TurboAnt is a company that specializes in personal mobility devices. 
Previously, the company has also manufactured electric bikes and several useful scooter accessories. Today they focus only on electric scooters.
The TurboAnt V8 was launched in the summer of 2022. It was a completely new scooter that differentiates quite a bit from their earlier models X7 Pro and the M10. All their scooters can be purchased straight from the manufacturer's website.
For its price, TurboAnt V8 provides a stylish yet efficient mode of commuting that's perfect for urban living. Its reliable features and impressive range make it a must-have for commuters looking for premium rides on a budget.
Electric Wheelers is reader-supported. Although we independently research and test products, we may receive a commission on purchases made from our chosen links. Read more…
TurboAnt V8 Summary
TurboAnt V8 Specs
| | |
| --- | --- |
| Motor | 450W Front Hub Motor |
| Top Speed | 20 mph (32 km/h) |
| Battery | 2 x 48V 7.5 Ah (Dual 360Wh Battery) |
| Max Range | 50 miles (80 km) |
| Recharge Time | 4 hours |
| Brakes | Mechanical Disc + Electronic Brake |
| Suspension | Dual-Spring Rear Suspension |
| Weight | 48 lbs (22 kg) |
| Weight Capacity | 275 lbs (125 kg) |
| Tires | 9.3-inch Tubed Pneumatic Tires |
| Lights | 3W LED Headlight, Red LED Rear Light + Underdeck Lights |
| Hill Grade | 15° |
| Dimensions | 46″ x 20″ x 46″ (116 x 51 x 116 cm) |
| Folded Dimension | 46″ x 20″ x 18″ (116 x 51 x 46 cm) |
| IP Rating | IP54 |
Pros and Cons
TurboAnt V8 Pros:
Dual Batteries and Long Range
Quick Charging
Affordable Price
Rear Suspension
High Load Capacity
TurboAnt V8 Cons:
Quite Heavy
Clumsy Cabling
Also Featured In: Best Long-Range Electric Scooters
TurboAnt V8 Price
The scooter is available at TurboAnt's official online shop.
The normal price of the scooter is about $800. However, Turboant often has huge discounts, where you can get the scooter several hundred dollars cheaper.
TurboAnt V8 Performance
Speed and Acceleration
The V8 has a tested top speed of 18.8 mph (30.2 km/h), which is just enough for standard commuting but is not exceptionally fast. It will certainly get you to work and back home on time. 
This top speed can only be achieved in one of its three modes, and it is not particularly battery friendly.
For short commutes, this is a great scooter. However, you might want to look elsewhere if you need a  scooter to cover long distances quickly.
Hill Climbing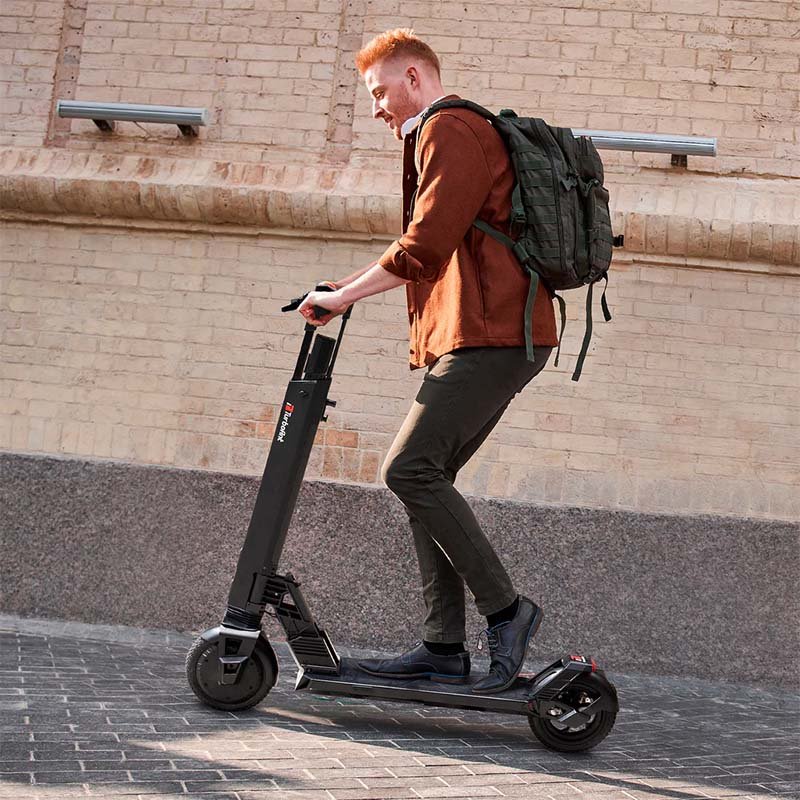 The V8's 450W motor pack enough power to send it up inclines without as much as a stutter.
Although they have enough power to do the job, acceleration suffers tremendously going up inclines.
The V8 certainly has enough power to climb gradients as steep as 15 degrees. It just climbs a bit more sluggishly than you might need it to.
Dual Batteries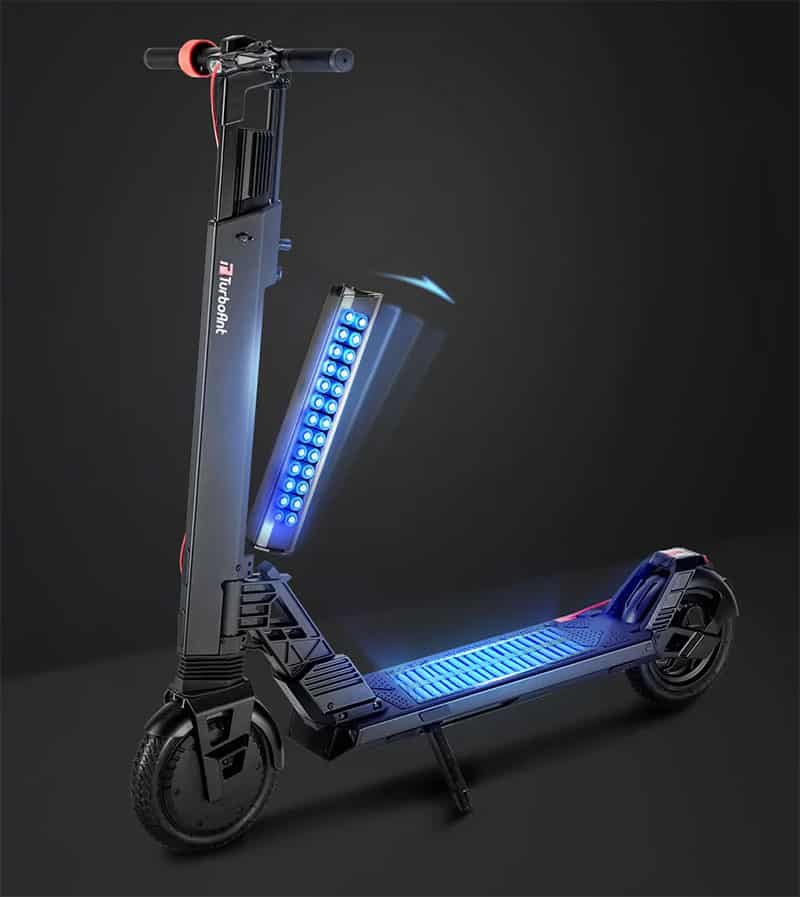 The V8 comes equipped with two batteries, the deck battery, and a detachable stem battery. They each have a capacity of 7.5 Ah which provides plenty of juice for a 50-mile round trip. 
The V8 comes with a charging dock for the stem battery, and two adapters. You can charge both batteries at the same time, thus reducing the charging time to 4 hours. Topping up the battery is relatively hassle-free. 
Compared to the M10, which takes at least 5 hours to charge, a single charge will have you complete at least 50 miles worth of errands. That's nothing to sneeze at.
Brakes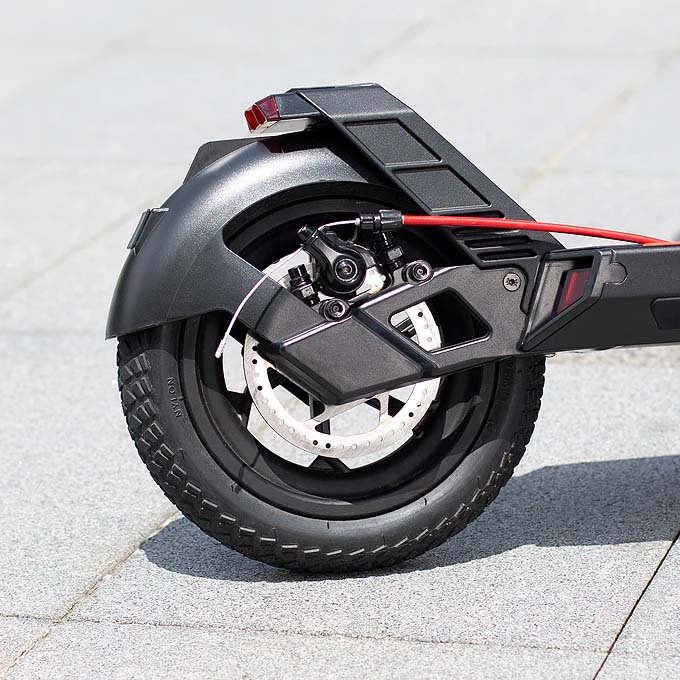 The scooter has a dual braking system. Responsive disc brakes plus electronic braking bring the scooter to a smooth halt. 
An electric brake provides extra stopping power plus it also charges the battery (regenerative braking). Its braking distance is 5m—plenty of leeways to come to a quick but safe stop.
TurboAnt V8 Design and Features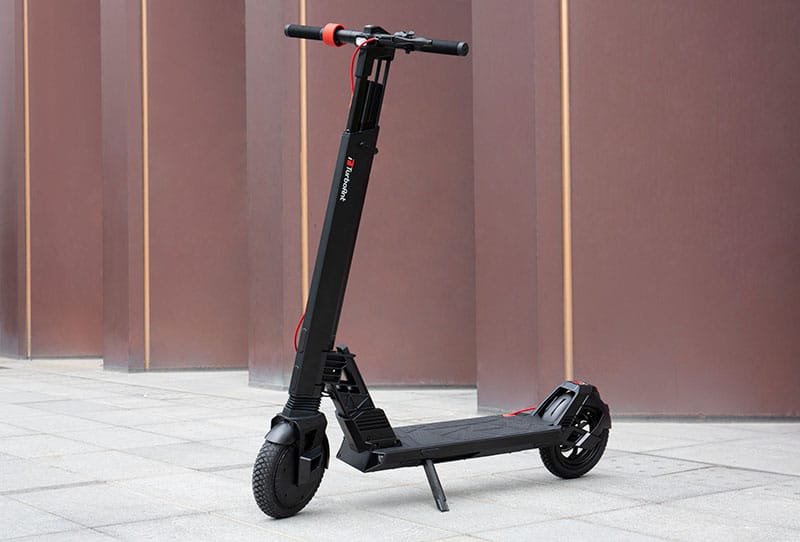 Frame
The frame is made from aluminum alloy, which is lightweight but has high tensile strength. 
This makes the scooter very stiff, which is what you want for better control but keeps it light and portable. 
The design could be better in some areas. For example, the cables are popping out in three different places. Apart from being visually unappealing, they're kind of exposed and susceptible to damage.
Its unfolded dimensions are 45.7× 19.9 ×18.1 inches. Its folded dimensions are 45.7× 19.9× 18.1 inches. As you can tell, it fits in just about any cramped space you can think of.
It is also not that heavy, which is a delight as it only weighs 47.62 pounds. However, there are much lighter electric scooters available in the market. But still, you can carry it easily for a short period of time.
Deck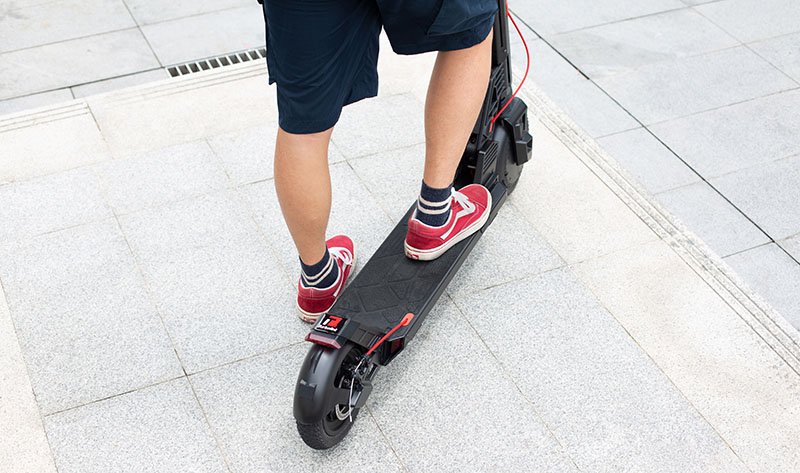 The V8's anti-skid deck features a length of 19.9 inches and a width of 6.9 inches which offers plenty of leg room for different riding stances. This can be potentially useful during long rides.
It is also raised 4.1 inches from the ground. That's enough ground clearance to ride on grass and gravel.
Suspensions
It has dual springs attached to the rear wheel, which allow you to cruise over potholes and other road irregularities in relative comfort. 
Scooters this cheap are rarely equipped with decent suspension systems, so this is an excellent bonus. 
This makes the V8 ideal for fairly uneven terrain and gives it an edge over its predecessors, which did not have suspension springs.
Portability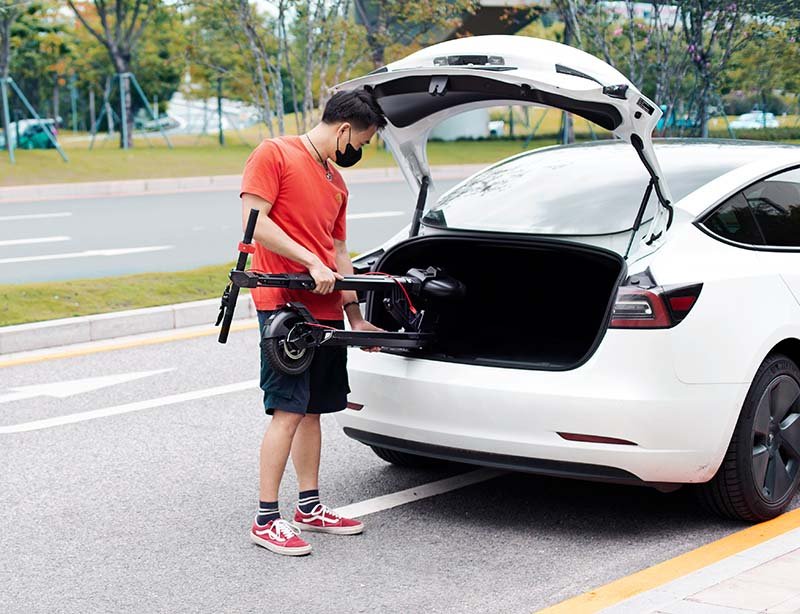 The V8 is lightweight and very easy to fold and unfold. In three seconds, you can fold the scooter and be on your merry way!
It is just as easy to store, especially since it's so small when folded. When you need to use it, it unfolds quickly, and thankfully, it's always going to be a one-person job.
Wheels and Tires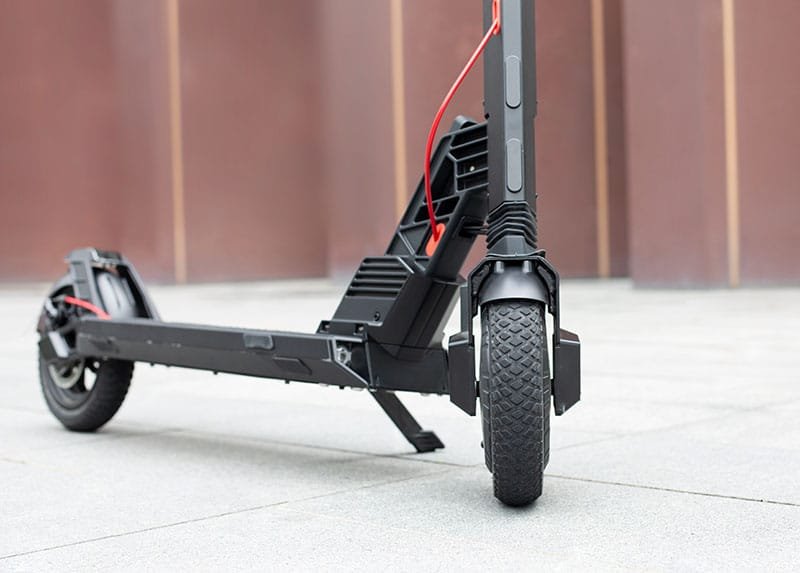 The V8 has 9.3-inch pneumatic front and rear tires fitted with inner tubes that provide even more cushioning against rough terrain. 
This design massively improves the scooter's shock absorption and provides a smooth ride experience regardless of the terrain.
Handlebar
The handlebars measure 19.9 inches and feature much wider hand grips, giving you better control of the scooter and plenty of real estate for accessories and add-ons.
Also, it helps the rider to have a better aerodynamic posture, something that makes riding a lot easier. It pretty much guarantees comfort and riding efficiency.
Automatic cruise control is a feature on the V8, so you can ride at constant speeds without suffering hand fatigue.
One-button control makes it easy to operate the scooter and configure the settings. It's quite convenient for new riders.
The V8 is also equipped with a bell that's loud enough to warn pedestrians and other road users.
The scooter comes fitted with an LCD screen, which shows all the information you need about the scooter's status:
riding mode
throttle output
cruise control
current speed
braking power
headlights status
and battery level.
Lights
For illumination, the TurboAnt V8 provides a bright 3W headlight and red taillights that light up when you brake. It also has ambient lighting underneath the deck to make it more visible in low light.
Although this setup improves safety by making it visible enough to other road users, you should check your local laws to see whether its lighting system meets the road safety standards.
Ride Quality
The TurboAnt V8 has excellent suspension, which makes it easier to ride on varying terrain. This can make your commute easier, or at least less bumpy.
It supports up to 225 pounds, so it's more than suitable for the average adult rider. Keep in mind that ride quality and comfort, although very good, are not perfect. For what it costs, however, most riders would not complain too much about it.
Other Turboant Reviews
TurboAnt V8 Review Conclusions
The TurboAnt V8 is definitely an upgrade if you're coming from any of its predecessors.
Its portability and insane range make it an extremely good value for its price.
The design is basic but solid and reliable, which is all you need to get the job done on most days. Will you be leaving others in a trail of dust? Probably not, but you'll get from point A to B just fine.
However, one must consider their budget and their travel range, but with a low budget, you wouldn't go wrong with the TurboAnt V8.