Electric Wheelers is reader-supported. Although we independently research and test products, we may receive a commission on purchases made from our chosen links. Read more…
3-wheel electric scooters are a complete boon to help little kids learn to ride. With their self-balancing abilities and lean-to-steer mechanism, 3-wheelers deliver a great steering experience.
3-wheel electric scooters are a great choice for kids who are learning to balance. They help them overcome the challenges faced when riding a 2 wheel scooter.
3-wheel scooters remain balanced even when they are stationary and don't require the child to maintain the speed by staying upright.
Their mechanism also doesn't require continuous steering to maintain control, thereby allowing the child to learn how to ride pretty fast.
Do they make 3-wheel electric scooters for adults?
Yes, there are some models for adults, too. Many grown-ups prefer 3-wheelers instead of 2-wheelers because they are safer and have more stability. Down below I have also listed some available models for adults.
Best 3-Wheel Electric Scooters for Kids
Related: Best Electric Scooters for Kids
---
Razor Drift Rider
3-wheel children's electric scooter
Offering a range of 6 miles in a single charge, the Razor Drift Rider ensures a power-sliding, adrenaline-pumping ride with its drifting action. It includes a rechargeable lithium-ion battery pack and lets you twist the throttle to get the most of the 100-watt, electric hub motor and drift freestyle at a top speed of 9 mph.
The scooter's urethane dual-inclined caster wheels and interesting 3D steering allow you to lean into the curves for nearly 40 minutes of continuous riding. It features a direct-drive hub motor with high torque, a steel torsion frame, an airless front wheel, and a great weight capacity.
100W motor
Top Speed: 9mph
Steel frame
---
Hover-1
Switch 2 in 1 Electric Skateboard & Scooter for Kids
Featuring a two-in-one design, this model can be used as a skateboard or an electric scooter. Coming with the best-in-class performance, the Hover-1 has got high motor power and a very efficient battery. It delivers a top speed of 7mph and can travel up to 6-miles in one full charge.
For safety, it comes with a remote-controlled brake and anti-slip tires to get better resistance on rough roads. The multi-purpose ride for kids sports a premium design, while also being highly durable at the same time. Also, it's IPX4 water resistance and can withstand up to 132 lbs.
90W motor
50Wh battery
Top Speed: 7 mph
Range: 6 miles
Weight: 17.6 lbs
---
ScootyHop Electric Scooter for Kids
3-wheel electric scooter for toddlers
Delivering a safe speed of 4 mph, this automatic electric scooter is a true favorite for kids, especially for its lightweight construction and three different height adjustments for the handle. Featuring a strong lithium-ion battery and a powerful 80W motor, the scooter ensures a great riding experience as well as great protection with its safety features.
The rear brake pedal lets the kid stop the scooter safely, while the soft non-slip handle provides a better grip on the child's hands. Plus, it comes with an attractive design to catch some eyeballs and can be easily carried to playgrounds and parks. The model is built to last as it is crafted with high-quality materials to ensure durability.
Top Speed: 4 mph
Suitable for kids aged 2 to 8
---
Globber One K E-Motion 4
Girls and boys electric scooter
A ride perfect for little ones, this scooter is not too fast and can push the rider up to 6mph for top speeds. It has got an 80W hub motor and is totally safe for the kids even if they ride alone and wear a helmet at all times. Cool, safe and reliable at the same time, the Globber One is available in pink, grey and blue, accompanied by lights on front wheels.
The scooter has made it quite easy for the kiddos to figure out how to ride this model and start the motor by simply kicking the scooter. It has got rear mechanical brakes and front electric brakes for safety, while the grip tape on the standing deck is a great addition. Also, it comes with anti-slip foam to prevent accidents.
Max Payload: up to 110 lbs
80W motor
2 speed modes
> Read more
Globber.com
---
Best 3-Wheel Electric Scooters for Adults
---
CycleBoard Elite Pro
Premium quality 3-wheel electric scooter for adults
MSRP: $1,899 Cycleboard
Designed with the optimal power-to-weight ratio, the Elite Pro is a hyper-agile vehicle with custom-designed pneumatic tires to ensure superior grip and stability. It features a 1000w Brush-less silent rear hub motor and is equipped with efficient full suspension for a smooth ride and vibration absorption.
You get complete control with its responsive brakes clubbing electronic braking with hydraulic braking. Its lean-to-steer design has got a patented linkage system to deliver extraordinary steering and stability while offering a travel range of up to 25 miles, and a top speed of 27 mph. The frame is made with aircraft-grade aluminum chassis and a reinforced stainless steel handle that together makes it a super durable choice.
Top Speed: 27mph
Range: 25 miles
Recharge Time: 4-5 hours
Folding mechanism
> Read more
CycleBoard.com
---
Gotrax G Pro
3 Wheel Electric Scooter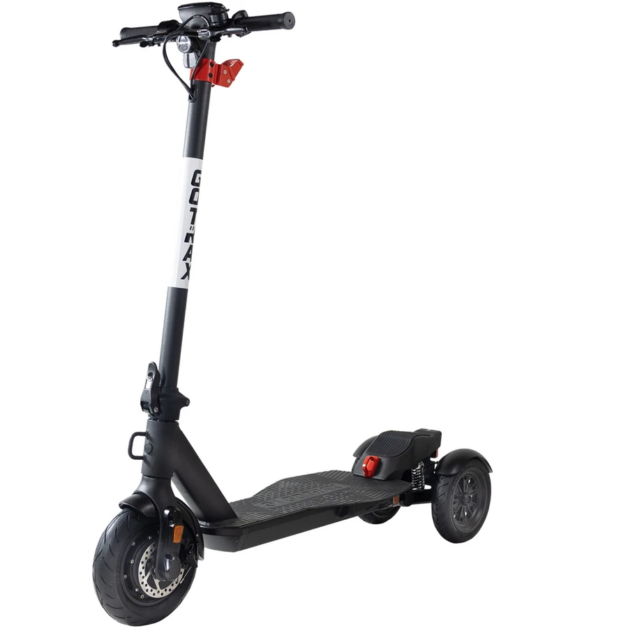 Gotrax G Pro is a fashionable and comfortable folding electric scooter featuring an extra-wide deck, this model has got a powerful 350W motor. It can travel up to 23 miles with a max load of 220lbs while reading 15.5mph for top speeds.
It has got a dual suspension system, an electrical anti-lock brake, and a 3 disc brake system. Additionally, it has a smart LED display showing battery life, mileage, speed, and more to ensure the rider's safety. The 10inch front pneumatic tire and dual 8.5inch rear pneumatic tire accompanied by a strong suspension system handle bumpy roads amazingly well. Not to forget, it has got a safe combination lock and an anti-theft lock.
Range:

23 miles

Weight: 52 lbs
Top Speed: 15.5 mph
---
How to Choose the Right 3-Wheeler?
There are 3 different types of 3-wheel scooters. Let's take a look what are the main differences and which one is best for you or your kiddo.
2 front wheels and 1 rear wheel with lean-to-steer steering
The most common type of 3-wheelers. Half the work in balancing is done by the scooter itself. These are easy to ride even for toddlers. The toddler electric scooter self balances when moving forward, and the rider only needs to lean in the direction of the turn to steer their 3-wheeler.
2 front wheels and 1 rear wheel with regular steering
These scooters don't call for any balancing skills and work just like a tricycle but front-to-back. They are very convenient for little kids but don't do much to enhance their balance skills. If you simply want to let your child have fun and get an easy start, go for it!
1 front wheel and 2 rear wheels
Perfect to buy if your child struggles with a lean-to-steer variety. These scooters come with a wider wheelbase at the rear, instead of the front where most of the bodyweight is. The design does little to increase balancing abilities, but they are convenient for very young kids.
---
How much is a three-wheel electric scooter for kids?
Speaking of the price, 3-wheel electric scooters aren't limited to a specific price range. Those who want a budget deal can get a great scooter at 300 dollars, while you can go as high as 2,500 dollars as the features increase.
Are 3-wheel electric scooters safer than regular scooters?
Yes! 3 wheel electric scooters are totally safe even for the absolute beginner. They are easy to balance and more stable as compared to a 2 wheel ride. This makes them perfect for your kid if they are trying to learn riding for the first time.