Electric Wheelers is reader-supported. Although we independently research and test products, we may receive a commission on purchases made from our chosen links. Read more…
As more and more people are heading towards adventurous riding nowadays, off-road electric scooters are getting increasingly popular.
Are you are one of those adrenaline junkies and traveling those rough, hilly terrains is your cup of tea? Then you surely need a strong, reliable, and powerful electric scooter to cherish the unedited beauty of nature and experience some thrill at the same time.
However, going for off-road riding comes with numerous challenges and difficulties in terms of weather conditions, less availability of resources, and much more. And that's why you must have a vehicle that is capable of withstanding those challenges instead of making things more troublesome.
We have compiled a list of off-road electric scooter reviews about some of the most amazing e-scooters out there for off-road travels, followed by what you must consider when buying one.
Best Off-Road Electric Scooters
Check out some of the most amazing off-road electric scooters for adults, ranging from budget-friendly deals to some total beasts when it comes to power and performance.
Dualtron Ultra 2
Best off-road scooter by a trusted manufacturer
MSRP: $4,190 USAMinimotors
While the Dualtron Ultra 2 comes for a hefty price tag of over 4,000 dollars, its powerful features, strength, and durability make it totally worth the price.
The scooter is powered by strong dual 2700W hub brushless DC motors. The motors push the vehicle to an exceptional top speed of 62mph, while also letting you ride on inclined planes with surprising smoothness. The Dualtron lets you choose between single or dual-wheel drive, wherein the single drive offers more range compared to the latter.
Those powerful motors are accompanied by a massive battery. The scooter features a powerful lithium-ion 72V 35Ah (2,520Wh) battery which is a very energy-dense installation that delivers a range of 74 miles in a single charge. When riding at a moderate speed, the range of the vehicle can go up to 90 miles or more, and that's surely quite a long-distance ride!
It comes with a dual suspension system that ensures superior shock absorption no matter what's the nature of the terrain you are riding on. The scooter is equipped with sturdy off-road tires that are quite aggressive and best for bumpy roads.
Key Specs
Motor: 6,640W (peak) Dual-Hub Motor
Top Speed: 62mph
Battery: 2,520Wh LG
Range: Up to 90 Miles
Charge Time: 23 Hours with Standard Charger / 5 Hours with Quick Charger
Weight: 88 lbs
Max Load: 330 lbs
> Read More
usaminimotors.com
---
Kaabo Wolf Warrior
Powerful all-terrain electric scooter
MSRP: $3,199 FluidFreeRide
The Kaabo Wolf Warrior is dominated by the Dualtron Ultra 2 in terms of power. But still, it comes with 1,200W dual motors which make it a piece of cake to handle rough off-road adventures. The motors let you accelerate your ride from 0-16mph almost effortlessly in just a matter of 1.9 seconds.
Not to forget, it is capable of crushing hills up to an angle of 45 degrees. Its performance is rightly explained by a top speed of up to 50mph, while you travel a whopping 93 miles with your Wolf Warrior in a single charge.
It comes with a safe and sturdy design, letting you enjoy a comfortable ride even when you reach breakneck speeds with its rear spring and front hydraulic suspension. Plus, the thick 11-inch tires on this model make it the top thrill electric scooter out there.
Lastly, this big wheel off-road electric scooter features dual full-hydraulic brakes with an efficient 12-foot braking distance.
However, some may find the body of this model a bit too heavy.
Related: Wolf Warrior 11 Full Review
Key Specs
Motor: 2×1,200W Dual-Hub Motor
Top Speed: 50mph
Battery: 2,100Wh LG/Samsung
Range: 70 Miles (Eco Mode)
Charge Time: 8 Hours with Included 2 Chargers
Weight: 101 lbs
Max Load: 330 lbs
> Read More
FluidFreeRide.com
---
Hiboy Titan Pro
The first off-road electric scooter by Hiboy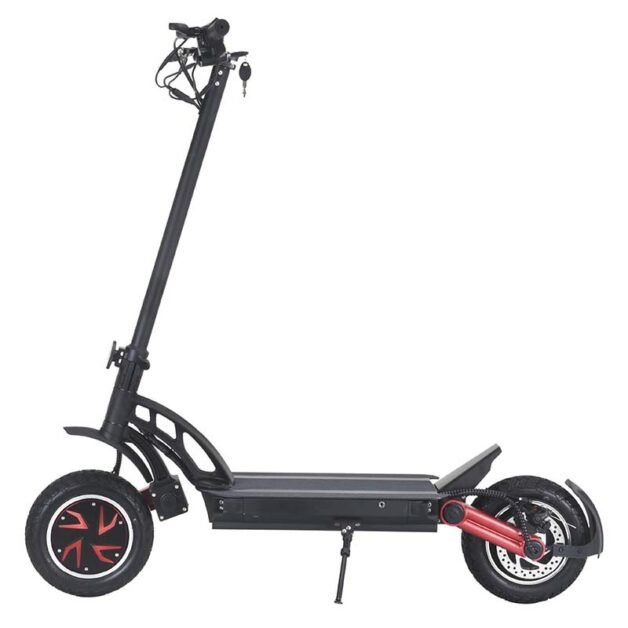 MSRP: $1,799 $1,499
Check from Amazon | Check from Hiboy
Compared with the last two scooters, Hiboy Titan Pro is a total bargain. You rarely find that powerful electric scooter with such a price tag.
Titan Pro has dual 1,200-watt motors under the hood. It is enough to get a top speed of 32 mph. Also, there is also cruise control, which makes your longer commutes more comfortable.
Although the battery is not the best, you can still travel about 40 miles before the battery gets empty. Then it takes 7-9 hours for a recharge.
Related: Hiboy Titan Pro Full Review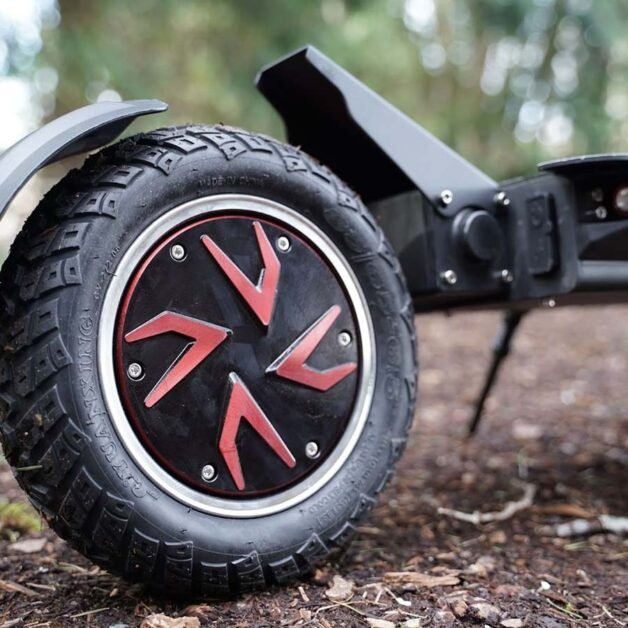 A quality off-road scooter must have good suspensions. No concessions have been made on this point.
Titan Pro has reliable front and rear suspensions. Accompanied by large pneumatic tires, they provide a smooth and steady ride.
However, the Titan Pro scooter might not be the best choice for very tall people. The handlebar height can not be adjusted and some users have reported that it is too short for tall riders.
Key Specs
Motor: 2 x 1,200W
Top Speed: 32mph
Battery: 840Wh
Range: 40 Miles
Charge Time: 7-9 Hours
Weight: 61.7 lbs
Max Load: 286 lbs
---
Nanrobot D6+
Best electric scooter for gravel roads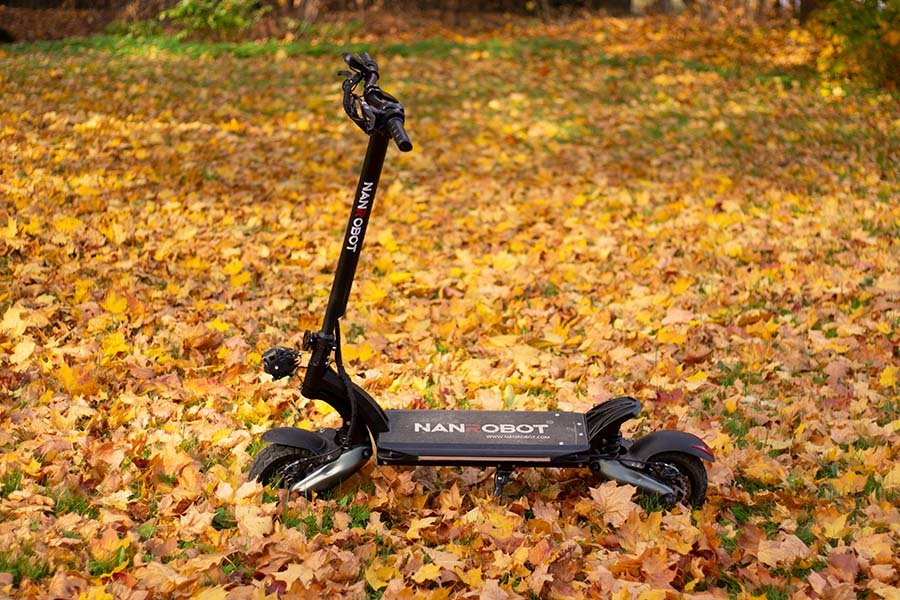 MSRP: $1,999 Nanrobot
If you want to get a scooter that calls for less maintenance and is easy to fold for portable affairs, then your right pick is the Nanrobot D6+. It's quite a reasonably priced option to go for. Plus, it comes with a range of high-utility features in its price that suit riders from different age groups.
To mention some, you have got a very powerful braking system, full suspension, an integrated headlight, dual hub motors, and a telescoping stem.
Each of the two hub motors offers a 1,000-watt output that makes a total of 2,000 watts of cumulative power. This enables the scooter to get to the top speed of 40mph in just a matter of a few seconds. You can choose from dual drive, single drive, eco-mode, and turbo mode.
The powerful 1,352Wh battery covers a distance of 40 miles without any hassle in a single charge.
When buying this scooter, you can choose between mechanical or hydraulic disc brakes. We have a version with mechanical disc brakes and the stopping power is really solid. With hydro brakes, you can even increase the quality of braking.
A stable ride is guaranteed with its large pneumatic tires and full suspension.
Related: Nanrobot D6+ Full Review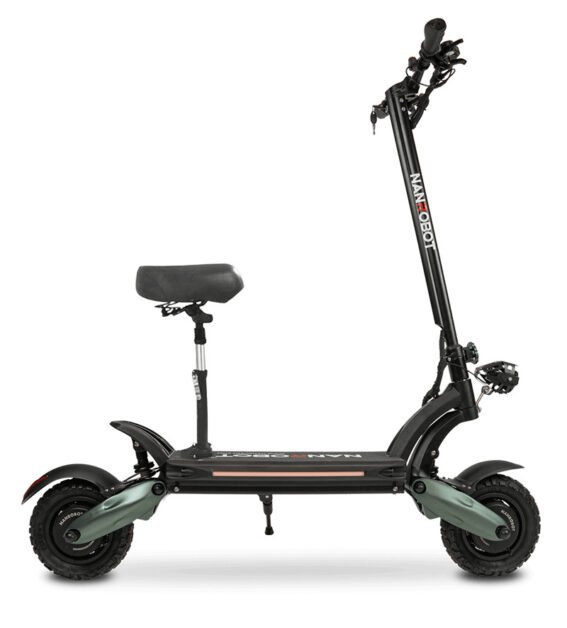 Key Specs
Motor: 2×1,000W Dual-Hub Motor
Top Speed: 40mph
Battery: 1,352Wh
Range: 45 Miles
Charge Time: 10-12 Hours (5-6 Hours with 2 Chargers)
Weight: 77 lbs
Max Load: 330 lbs
> Read More
Nanrobot.com
---
Nami Burn-E
Perfect electric scooter for rough terrain
MSRP: $4,499 FluidFreeRide
When you speak of motor power in an off-road e-scooter – you won't probably find another model beating the raw power of Nami Burn-E.
Coming with 2 brushless DC hub motors, twin 50 Amps controllers, it has a peak power output of a whopping 8400 Watts. Isn't that kind of motor power totally insane?
The other specifications, including the top speed of 60 mph and its crazy-climbing abilities, as well as to carry loads of weight on the deck also make it a commendable choice.
Nami Burn also has a battery with a capacity of an amazing 2,520Wh. That is enough to offer a range of 90 miles in one charge, which is one of the greatest results on the list.
The scooter is perfect for rough terrains when you buy it with off-road tubeless tires that feature a large diameter of 11 inches that are not prone to explosions and flats.
It comes with an adjustable suspension system and has got hydraulic coil-shock suspenders, wherein you can also set the suspension to your preferred levels. Its hydraulic 1600 mm disk brakes are also adjustable which makes it one of the most customizable options out there. It comes with almost no flaws in terms of its executive and engineering.
Lastly, it is one of the best-waterproofed models out there with an IP55 ingress protection rating.
Key Specs
Motor: 2×1,500W Dual-Hub Motor
Top Speed: 60mph
Battery: 2,520Wh Panasonic
Range: Up to 100 Miles
Weight: 103 lbs
Max Load: 330 lbs
> Read More
FluidFreeRide.com
---
Zero 10X
Ideal electric scooter for bumpy roads
MSRP: $1,699 Rev Rides
If build quality is your priority, the Zero 10X is undoubtedly a major contender.
It's a heavyweight, super sturdy, and powerful scooter tipping the scale at 80 lbs. With a weight capacity of 330 lbs, it's perfect for bigger riders and offers a smooth ride on rough terrains with its 10-inch tires.
The dual motors of 2,000W total (3,200W peak) provide ample power to let the electric scooter climb hills without the hassle and make it an amazing all-rough option.
One of the best features of this model is its front and rear spring hydraulic suspension that can soak up big and small bumps without trouble.
It delivers a top speed of 40 mph which places the model into the territory of high-speed scooters. In the eco-single mode, it can offer a range of 40 miles.
Speaking of scope for improvements, the Zero 10X can be a bit difficult to carry around due to its weight. On the other hand, off-road electric scooters are all heavyweight so we can not consider the excess weight as a drawback.
Also, some users have brought out that standard lights installed on the scooter may not be enough for riding in the dark.
Key Specs
Motor: 2×1,000W Dual-Hub Motor
Top Speed: 40mph
Battery: 936Wh
Range: 40 Miles
Weight: 80 lbs
Max Load: 330 lbs
> Read More
Revrides.com
---
Apollo Ghost
One of the most affordable off-road electric scooter
MSRP: $1,499 Apollo Scooters
If you are just starting to ride an electric scooter for some thrill and adventure, the Apollo Ghost is the right choice for you. It's a great buy for easing into the experience and getting familiar with fast-paced riding. The sleek, forged aluminum construction of the scooter can surely make some heads turn.
Its impressive range of 39 miles is combined with a fabulous acceleration that takes no more than 3 seconds to hit 15mph. The credit for a bunch of admirable features goes to the 800W powerful dual motors on this off-road scooter. Its 946Wh battery is equally efficient while the LED lighting on the front, rear, and under-deck is a win-win.
You can personalize the ride quality with the adjustable suspension system and trust in its regenerative braking system.
It also comes with a key lock mechanism to be stress-free when parking it outside.
Related: Apollo Ghost Full Review
Key Specs
Motor: 2x800W Dual-Hub Motor
Top Speed: 34mph
Battery: 946Wh
Range: 39 Miles
Charge Time: 12 Hours (6 Hours with Fast Charger)
Weight: 64 lbs
Max Load: 300 lbs
> Read More
Apolloscooters.co
---
Kaabo Mantis 8 Pro
Commuter scooter with some off-road capabilities
MSRP: $2,199 FluidFreeRide
If you're planning to buy a commuter scooter that is crafted for long-term performance off the road, then the Kaabo Mantis 8 is the surely real deal.
Coming with one of the largest decks, it has its 8″x3″ tubeless tires as its highlights. They are not only strong and durable but ensure a stable ride with their wide contact surface. You don't need to worry about flat tires as they are tubeless and totally reliable.
Accelerating this amazing scooter feels extra smooth, while it comes with two modes that let the rider choose the speed of their preference. It can deliver a maximum speed of 28 mph, boasting a front and rear suspension at the same time. No matter how bumpy is the road, the dual suspension makes it feel ultra-smooth.
It has got brushless 800W dual-motors producing ample torque to yield great speeds and let you navigate terrains with up to 30-degree inclines.
It's quite a portable scooter, weighing no more than 58 lbs, and also comes with a great folding mechanism.
Mantis Pro has incredible braking power. It features semi-hydraulic brakes and you can also engage the brakes by simply pulling on the brake levers slightly.
The downside with this model is that it doesn't come with a water-resistance rating, so you need to avoid riding it in the midst of water puddles or rough wet weather.
Key Specs
Motor: 2x800W Dual-Hub Motor
Top Speed: 33mph
Battery: 1,176Wh
Range: 40 Miles (Eco Mode)
Charge Time: 14-16 Hours
Weight: 60 lbs
Max Load: 265 lbs
> Read More
FluidFreeRide.com
---
How to Choose an Off-Road Electric Scooter?
Each model out there comes with its own set of features, it becomes a bit difficult to make the right choice. However, there are a few things to look for when choosing an off-road electric scooter that will make the decision-making a lot easier. Check out what all to consider when you are scrolling through different models.
Powerful Dual Motor
When you are traveling in off-road environments, it becomes imperative for the motor of your electric scooter to rightly cater to all the power requirements of the ride. And that's why you must go for a motor with ample power to ensure that your scooter travels long distances without facing any difficulties mid-road.
Dual motor scooters outperform easily single motor scooters because they have:
Better acceleration
More torque
Better climbing ability
Better traction
Good off-road electric scooters come with a motor power of at least 1000W while having one hub motor on each tire. Premium models even offer a burst output of around 3200W which allows the vehicle to climb some truly steep hills and handle difficult terrains without any troubles.
The wattage also determines the speed of an electric scooter – the stronger the motor, the higher will be the top speeds. If you are buying an electric scooter for riding on rocky terrains, always look for a model that offers maximum motor power. Dual motor scooters totally outperform the ones that feature a single motor.
Off-Road Tires
The right wheel size is the foremost requirement for an off-road electric scooter to get a smooth ride. You will often take bumpy roads, and this is where wheel size comes into play. Make sure to check and go for a scooter that comes with bigger wheel size, at least 10 inches as the wider the tires, the smoother is your experience.
Also, off-road scooters never have solid tires. Although solid tires don't call for worrying about the risk of punctures, they are not able to ride on bumpy surfaces and often end up in difficult travel. On the other hand, pneumatic tires work wonders for bringing in more stability on different terrains. They can also improve puncture resistance and deliver great balance, durability, and comfort.
Choose tires that can withstand bumps even at very high speeds, and come with excellent grip as well as shock absorption. Tiny thorns or rocks in the way can damage the shape of your scooter's tires, so go for tires that can't be penetrated by sharp objects easily. Airless tires are puncture-resistant, while air-filled ones deliver superior shock absorption. Pick a model that suits your specific requirements just right.
Suspensions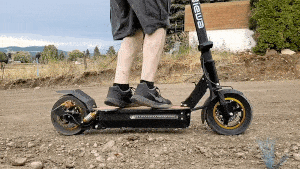 There's no doubt in the fact that no electric scooter can function without suspension as it involves riding on bumps and indentations on rough terrains. It makes the ride more stable and improves the overall ride quality. Scooters that have solid air tires experience every single bump in the road if there's no efficient suspension system installed. If you are planning to travel long distances and have difficult roads, always make sure to buy an electric scooter with great suspension.
Spring, rubber suspension, and hydraulic or air piston are the 3 chief types of suspension systems, whereas the best scooters are those with a combination of spring and piston. Such systems are termed coil-over-air or coil-over-hydraulic suspensions.
The safety of your ride also depends on shock absorption, and it's recommended to pick a scooter featuring independent suspension. Such systems keep the scooter's center of gravity stable, while also absorbing bumps and riding smoothly.
Powerful Brakes
Always look for an efficient braking system that delivers smooth, strong, and controlled braking power. The most reliable breaks for all-terrain scooters are disc brakes as they provide more stability and are perfect for different terrains. If your off-road electric scooter comes with an ABS braking system capable of compensating for wheel locking, then it's a great buy in terms of safety performance.
Enough Range
Adventure riding makes it a must for an e-scooter to have enough range. It can be quite a menace if your vehicle is out of juice while you are in the middle of the route. To avoid such situations, make sure to choose a large battery capacity. To be more specific, never go for a scooter with a battery of less than 720Wh.
Build Quality
The overall build quality of your scooter, including its construction, structure, and material determines how long-lasting and durable it will be. Off-road scooters have sturdiness and build quality as the most important things to consider as the vehicle needs to ride on rough terrains.
Some of the most durable materials that are used to design electric scooters include carbon fiber, aerospace-grade aluminum, and polypropylene as they are also corrosion-resistant. Steel and titanium are also some interesting and strong materials that go into the making of scooters. However, carbon fiber vehicles are usually very expensive, so it's a wise choice to go for aluminum alloy for a multi-terrain scooter. Each of the materials comes with its own benefits and downside, so make sure you access them thoroughly.
The structure of the scooter is as significant as its material. Make sure the model comes with a very functional and strong structure. All the parts should be well-connected to each other, and the scooter must have a sturdy base. Secondly, more weight implies more stability as off-roading puts the vehicle under a lot of stress and pressure.
Ingress Protection Standard
When traveling off-road, your scooter must be capable of handling some occasional puddles and mud. And this calls for protection against water and dust. If the waterproof rating of an electric scooter is 4 or above, it can withstand light rain, while off-roads call for IP54 protection.
The IP rating determines how resistant your vehicle is to water and dust. The rating is defined by two numbers, wherein the second digit tells how water-resistant the vehicle is. All scooters don't come with an IP rating, so make sure to check for the same before you make a purchase.
How Much is an Off-Road Electric Scooter?
You rarely find anything under $1,000
Entry-Level – $1,000-$1,500
Mid-Range – $1,500-$2,500
High-End – $2,500+
With a strong motor, large wheels, good range capacity, and safety features as the prerequisites – off-road electric scooters are not a very cheap deal. In fact, you won't find anything under 1,000 dollars. The most basic of models with simple features usually begin with $1,000. The price goes up to $1,500 when it comes to ensuring an efficient suspension system, reliable braking, and good power.
However, this price keeps increasing as you go for advanced features, technologies, and extra highlights for your purchase. Some good mid-range options fall in the range of $1,500 to $2,500. Scooters in this range are often the preferred choice for most riders who want to begin their adventures on rough terrains. However, the pro riders choose to go for premium quality models, wherein the high-end options call for spending $2,500 or above to get an all-rounder electric scooter.
Conclusion
Given a thorough read to the aforesaid factors, it can be rightly said that you have plenty of options. If you are looking to get a great ride on an affordable budget, good choices are:
Nanrobot D6+
Apollo Ghost
Kaabo Mantis Pro
If top-notch performance is what you are looking for, then you won't regret buying:
Kaabo Wolf Warrior
Dualtron Ultra
Nami Burn-E
The above list sums up some of the best models out there with different features designed with the idea of making rough terrain rides a smooth experience. Going for any of the above models is surely not going to fail when it comes to hitting the mark!