Gone are the days when bikes were all the rave. Motorized scooters for kids have all but taken over on playgrounds and cul-de-sacs.
If your child isn't begging for an electric scooter already, it's only a matter of time.
Micro-mobility devices play a revolutionary role in cramped urban environments, but you can't overlook the rapidly growing demand for kids' electric scooters.
In fact, most of the best-selling scooters are invariably cheap and designed for low-impact activities.
Electric Wheelers is reader-supported. Although we independently research and test products, we may receive a commission on purchases made from our chosen links. Read more…
Kids' Electric Scooters Overview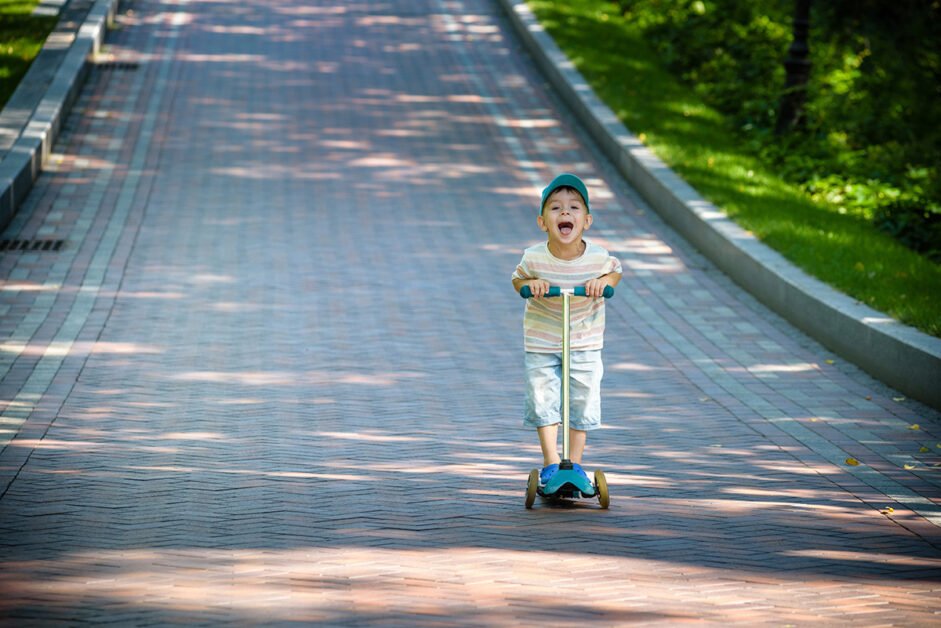 Best Budget Scooters for Kids
Fastest Scooters for Kids
Best Electric Scooter for Kids by Age
We have divided motorized scooters for kids into 4 categories (click the link to jump to the right age group):
Scooters for toddlers
Scooters for 5-8-year-olds
Scooters for 8-12-year-olds
Scooters for teenagers
Best Electric Scooters for Toddlers
Huffy Kid Bubble Scooter
If you're considering the Huffy Kid Bubble Scooter, it's probably because you want a safe scooter that will provide your toddler with endless fun. Sure, it's just a kick scooter that only goes up to 2 MPH, but who would want their toddler on an 18 MPH scooter?
This battery-powered kids' scooter can hold up to 50 pounds, which is about how much kids aged 3 – 5 weigh. Its 6V rechargeable battery gives you up to 40 minutes of run time and comes with a wall charger that's easy to use.
This foot-powered kick-scooter boasts some colorful graphics and a deck that's wide and equipped with a non-slip top layer. The icing on the cake is undoubtedly its ability to spew out bubbles as the child rides, courtesy of the refillable dispenser at the back of the deck.
Related: 3-wheel Electric Scooters for Kids
Top Speed: 2 mph
Run Time: 40 minutes
Non-Slip Deck
Bubbles Solution Container Included
Best Electric Scooters for 5-8-Year-Olds
Gotrax GKS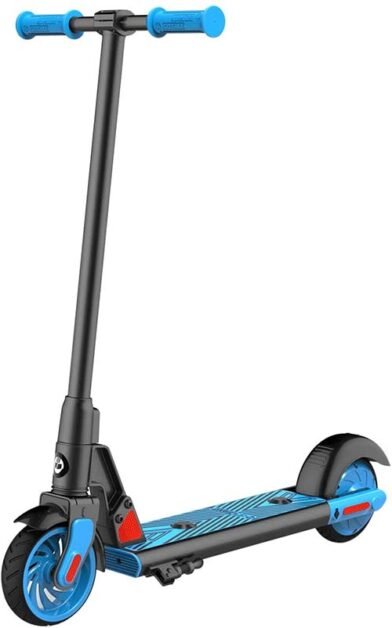 The Gotrax GKS electric scooter for kids rides smoothly, courtesy of its large 6-inch rubber wheels. It's a cross between a kick-scooter and a motorized scooter, the result of which offers the most uncomplicated foot controls you'll come across on a scooter.
It features two buttons embedded on either end of the deck. The front button helps to kick-start the scooter, and when it's gotten to at least 1.8 MPH, you can push the back button with your anchor foot to kick the 150-watt motor into gear.
It can propel the 18-pound scooter to speeds of up to 7.5 MPH, which is exciting enough but not dangerous for kids. Coming to a stop requires engaging the rear fender brake by stepping on it with your anchor foot, so it's a pretty straightforward affair.
Top Speed: 7.5 mph
UL-Certified
6″ Rubber Wheels
Weight Limit: Up to 154 lbs
Segway Ninebot Zing E8
Calling the Zing E8 one of the best kids' scooters in the market is not an exaggeration.
It features two brakes (electrical and mechanical), a spring suspension system, and an 8.7 MPH top speed. Furthermore, it equips users with a unique Cruise mode, one that keeps the scooter gliding along without the help of the throttle. In this mode, your top speed is determined by how hard you kick.
This Segway scooter has a payload capacity of 110 pounds and a maximum rider height of 4'9″.
In throttle mode, it can reach speeds of up to 8.7 MPH and travel as far as 6.2 miles on a single charge. Riders also get the assurance of a spring shock absorber with 40mm of travel on the front wheel.
This scooter comes with an electric brake and a rear mechanical brake. Acceleration is facilitated by the thumb throttle mounted on the right, whereas braking is achieved by holding the lever on the left.
Top Speed: 8.7 mph
Range: 6.2 miles
Payload Capacity: 110 lbs
Max Rider Height: 4'9″
Lingteng E8 Electric Scooter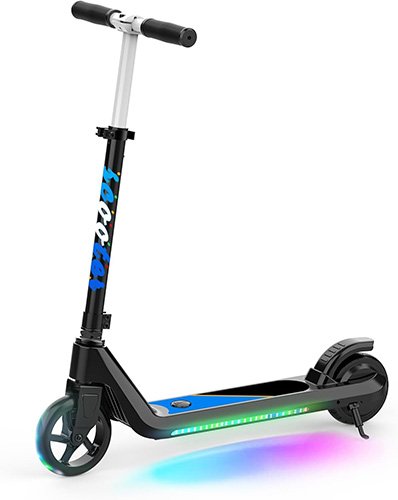 The LINGTENG E8 electric scooter is tailor-made for the young riders aged between 6 to 10.
With its sleek black design, this e-scooter is not just about looks but also about functionality. It's a blend of a traditional kick-scooter and an electric one, giving kids the freedom to choose their riding style.
The scooter boasts adjustable speed modes of 4 mph and 6 mph, ensuring a safe yet thrilling ride. Depending on the child's height and comfort, there are four height adjustments available, ranging from 27.5″ to 31.8″.
Starting the scooter is a breeze; the motor only kicks in when the speed reaches 2 mph, preventing any unintentional starts. The rear wheel doubles up as a fender and a foot brake, ensuring quick deceleration when needed.
But what truly sets the LINGTENG E8 apart are its dazzling features. The PU flash front wheel and the deck lights, which come with three adjustable lighting effects, ensure your child stands out, especially during evening rides.
Weighing just 10 pounds, it can support a weight of up to 110 pounds. And with a top speed of 10 mph and a battery that lasts up to 80 minutes, it promises endless fun.
Top Speed: 10 mph
Two Speed Modes: 4 mph & 6 mph
Adjustable Heights: 27.5″, 29″, 30.7″, 31.8″
Weight Limit: Up to 110 lbs
Special Feature: Light Up Wheels & Deck Lights
Best Electric Scooter for 8-12-Year-Olds
Razor E100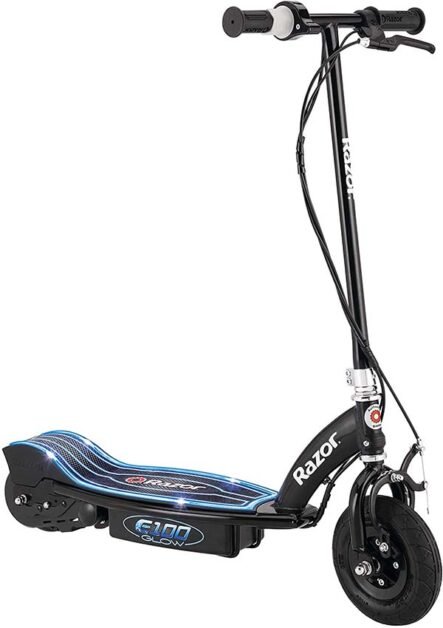 Razor E100 is one of the best-selling electric scooters on Amazon.
The Razor E100 features an alloy steel frame, a 100-watt chain-driven motor, and 8-inch pneumatic wheels, all of which make for reliable performance and long-lasting durability.
Its 26-pound weight is quite telling of its quality components. However, that and the fact that it doesn't fold makes it one of the least portable kids' scooters on our list.
Nevertheless, it makes up for its clunkiness with a 10 MPH top speed and a maximum range of 6.5 miles. It features a single brake on the front wheel, which is hand-operated, and a twist throttle for acceleration.
Despite having two 12V batteries, it can only achieve a maximum runtime of 40 minutes. Blame that on its heavy frame, which is actually a perk since it makes the ride pretty solid.
The soft, pliable tires are great on slightly rough surfaces, and they provide good contact on the road, making the ride very safe at its 10 MPH top speed.
Top Speed: 10 mph
Run Time: 40 minutes
Range: 6.5 miles
8″ Wheels
NIU KQi Youth Electric Kids Kick Scooter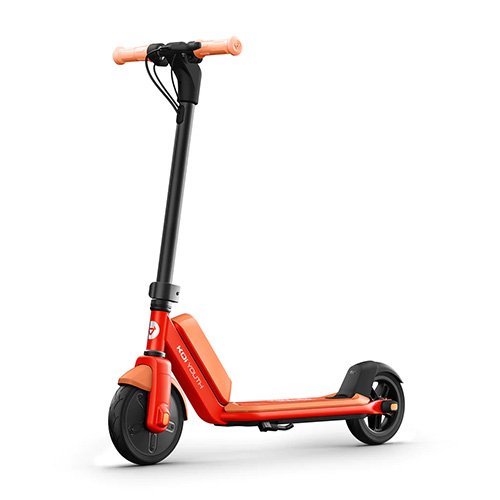 The NIU KQi Youth+ electric scooter is a game-changer for young riders aged between 8 to 14. Designed with the modern kid in mind, this e-scooter is packed with features that ensure both fun and safety.
With a range of 7.1 miles per charge and a riding time of up to 70 minutes, the KQi Youth+ promises extended playtime. It offers two distinct riding modes: the Safe Mode, which caps the speed at 6.2 mph for beginners, and the Sport Mode, which lets the rider zoom at speeds up to 10 mph, thanks to its 150W motor.
One of the standout features of this scooter is its 9-in-1 ambient lights. The colorful light ring not only adds a touch of style but also enhances visibility with its six different riding light options, a braking light, a charging light pattern, and a battery capacity indicator.
The scooter's design prioritizes safety. The tires, equipped with NIU's patented AirStryke Technology, are a combination of solid rubber and soft, shock-absorbing PU rubber, ensuring a smooth ride even over rough terrains.
Young riders will appreciate the half-handle twist throttle, designed specifically for smaller hands, and the swappable grip tape, which allows them to express their unique style. The soft stem cover ensures protection against sudden stops, and with no exposed wiring, the design remains sleek and safe.
Top Speed: 10 mph
Run Time: 70 minutes
Range: 7.1 miles
Wheels: 7.5″
Razor Power Core E90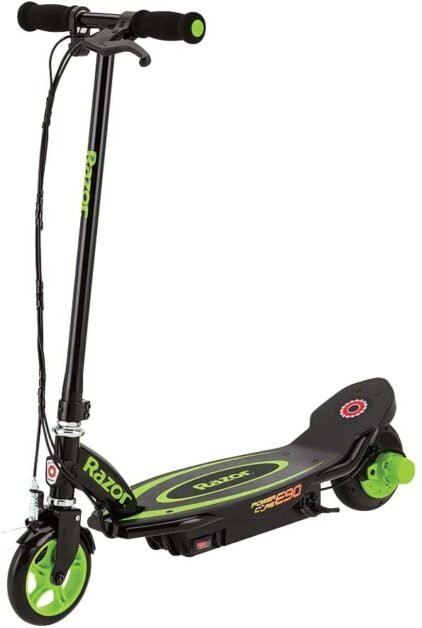 The Power Core E90 has a much longer runtime than most motorized scooters for kids. Its 12V lead-acid battery supplies up to 80 minutes of continuous use and an impressive range of 13 miles.
Despite its modest 85-watt hub motor, the E90 clocks top speeds of 10 MPH easily. Ride quality is pretty decent, too, because even though the front wheel is made of urethane, the rear wheel is entirely pliable rubber. It comes close to replicating the damping effect of pneumatic wheels.
This rear-wheel-driven scooter feels stable at speed, and a hand-operated front brake facilitates its swift and smooth braking. At 22 pounds, it's relatively light, at least enough for kids aged 8 – 12 to carry comfortably.
Top Speed: 10 mph
Runt Time: 80 minutes
Range: 13 miles
Weight: 22 lbs
Best Electric Scooter for Teenagers
NIU KQi3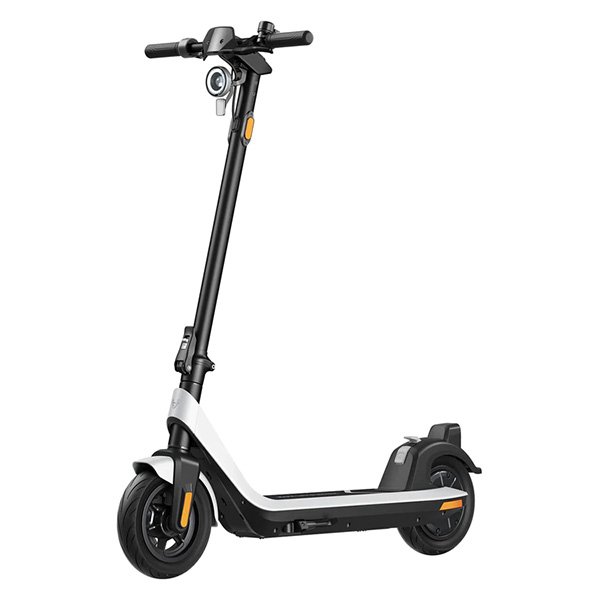 The whole idea behind this commuter scooter and its design is to provide kids the freedom and flexibility to move around freely. NIU KQi3 offers good max speed, great construction, and a comparatively quick charging time.
Specifically, the top speed is up to 20 mph while the range goes up to 40 miles. That's what makes this e-scooter the perfect motorized scooter for teens focusing on both speed and distance.
The NIU KQi3 Series comes with 3 different trim levels – Sport, Pro, and Max.
Sport has a 300W motor with a top speed of 17.4 mph and 24.9 miles range.
The Pro model comes with a 350W motor, goes up to 19.9 mph, and can cover up to 31 miles.
The Max has a motor of 450W, which can provide a top speed of 20 mph. The range is 40 miles.
The large 9.5-inch wheels with pneumatic tires allow the user to ride over slightly rough terrains too. The aircraft-grade powder-coated aluminum makes it durable, while a bright headlight and tail reflector keep the rider safe in the dark.
Pros
Great folding mechanism
Decent speed
Solid range
Constructed with aircraft-grade aluminum
Low-maintenance
Cons
A bit heavier than some lightweight electric scooters
Rough riding experience on very bumpy surfaces
Razor E300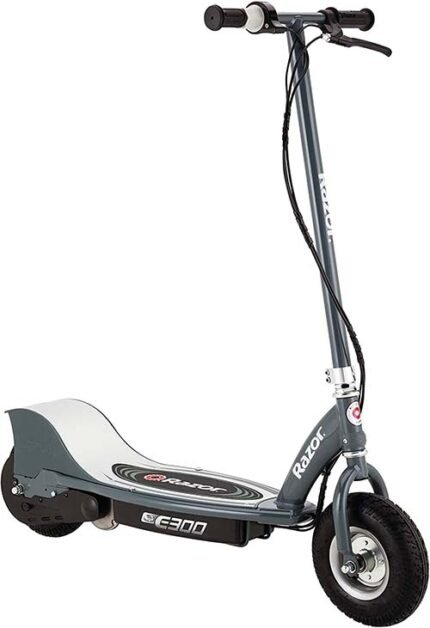 The Razor E300 is a heavy scooter (52 pounds) due to its solid, rugged all-steel frame. However, it's a compromise most teenagers would make for the sake of speed and fun, and the Razor E300 has both.
Under the hood, it packs a 250W motor with a 300W peak output, and unlike the E100, this motor can launch the scooter from a dead stop. So no kick-start is required. It has a top speed of 15 MPH and a 24V rechargeable battery that offers up to 40 minutes of continuous use.
The scooter rides on 10-inch pneumatic tires, and the ride quality is near-perfect on even ground. Users can also ride on gravel and dirt roads without any discomfort, but it's not advisable to push it beyond its capabilities as it doesn't feature any suspension.
Top Speed: 15 mph
Run Time: 40 minutes
10-inch Pneumatic Tires
Weight: 52 lbs
Hiboy S2 Lite
The S2 Lite is the perfect commuter scooter for young riders. It's a compact, 21-pound micro-mobility device with a payload capacity of 180 pounds and a 5-Ah battery with a maximum range of 10.6 miles per charge.
It features a 250W motor with a top speed of 13 MPH. This motor has a decent amount of hill-climbing torque (15% grade), thereby making the scooter practical enough for urban commutes. The fact that it's decked with a bright headlamp, rear lights, and deck lights makes it safe and visible for nighttime riding.
It equips riders with a pedal brake and an ABS E-brake, which work best when used together. It runs on 6.5-inch wheels with pretty decent damping, and when it's time to stow away, it folds at the stem into a compact, trunk-sized cargo.
Top Speed: 13 mph
Range: 10.6 miles
6.5-inch solid tires
Weight: 21 lbs
Payload Capacity: 180 lbs
Segway Ninebot ES2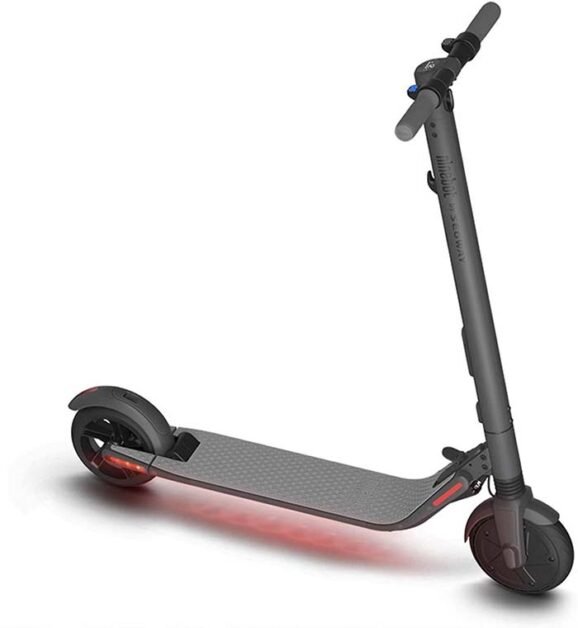 Barring its super sleek design, there are several reasons any teenager would fall in love with the Ninebot ES2, one of Segway's best electric kick-start scooters.
On paper, it's a hell of a performer, featuring top speeds of 15.5 MPH – 18.6 MPH, a maximum range of 28 miles, and an 8-inch front tire. However, to unlock these full specs, you need to upgrade with an extra battery, a fair trade for unrivaled performance.
A combination of electric and mechanical brakes brings the scooter to a quick stop. The tire configuration comprises a smaller rear wheel (7.5 inches) and an 8-inch front wheel. You can pair it to a mobile app to get various features, including cruise control, firmware updates, riding stats, and remote locking.
Top Speed: 18.6 mph
Max Range: 28 miles (with extra battery)
Weight: 27.6 lbs
Front and Rear Shock Absorbers
Razor E200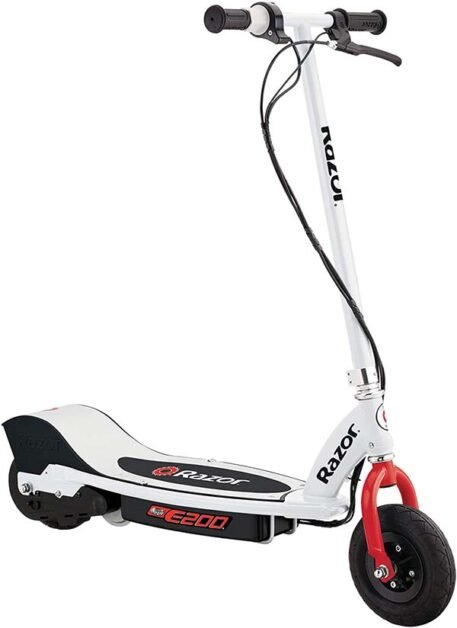 The E200 mimics its siblings' single-speed chain-driven motor, but it packs a little more punch. The 200W motor has good torque and can propel the 38-pound scooter to speeds of up to 12 MPH.
Its payload capacity is 154 pounds, so it's an adequate scooter for most average-sized teenagers. The 24V lead-acid battery can keep the scooter running continuously for 40 minutes, during which it can achieve a maximum range of 8 miles.
Its 8-inch pneumatic tires are the icing on the cake as they do a great job of absorbing bumps and keeping the ride stable. Stopping is facilitated by a hand-operated rear brake, which also does a sufficient job.
Top Speed: 12 mph
Run Time: 40 minutes
Range: 8 miles
Payload Capacity: 154 lbs
Gotrax GXL V2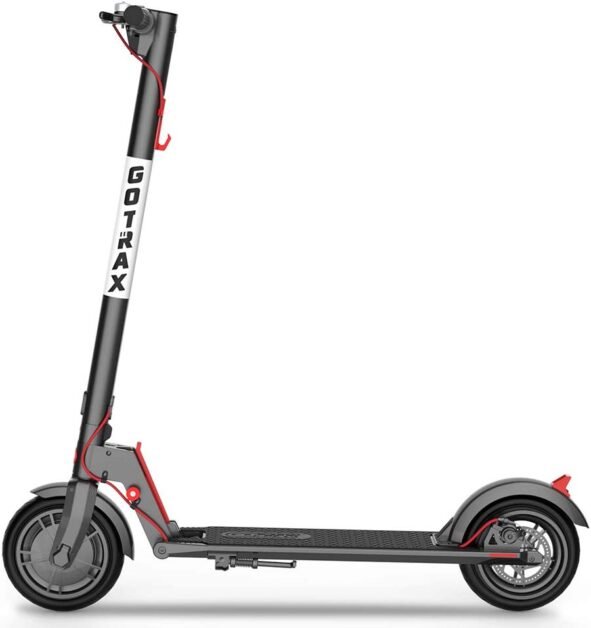 With its 8.5-inch pneumatic tires, 15.5 MPH top speed, and 12-mile max range, this is as close as any teenager can get to a high-performance motorized scooter.
The GXL V2 offers a one-touch folding mechanism that shrinks it down to 15 by 44 by 6 inches, which is small enough to fit in a trunk or under a desk.
A dual braking system comprised of rear disc brakes and an Electric ABS brake gives you responsive stopping power. You may need it too because its 250W motor can hit 15.5 MPH and zip up 14-degree inclines with ease.
Its air-filled wheels are perfect for unpredictable urban terrain, and they allow you to ride more stably at high speeds.
Top Speed: 15.5 mph
Range: 12.5 miles
8.5-inch Pneumatic Tires
Payload Capacity: 220 lbs
Segway Ninebot E22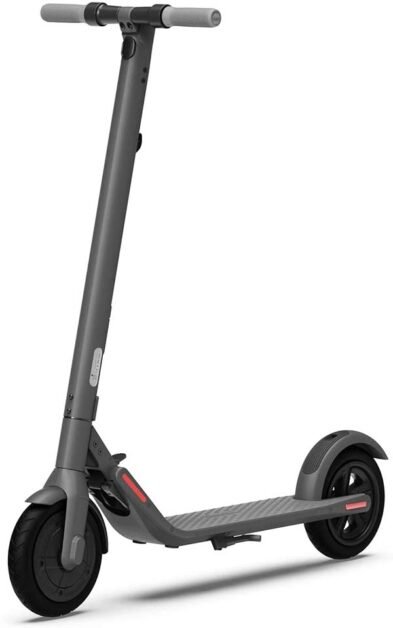 Segway equipped the Ninebot E22 with a frame upgrade to increase its durability and performance. Now, you can expect a top speed of 12.4 MPH, 13.7 miles of range per charge, and the ability to scale 14% hill grades.
Its front tire is 9 inches, while the rear tire is 8 inches. Both tires are solid and therefore immune to tire flats. It features a 300W brushless DC motor that facilitates top speeds of up to 12.4 MPH, depending on rider weight. Speaking of which, the maximum payload capacity on this scooter is 220 pounds.
Overall, the Ninebot E22 is a well-made scooter that fulfills all the promises it makes on paper.
Top Speed: 12.4 mph
Range: 13.7 miles
9 (at the front) and 8-inch Solid Tires
Payload Capacity: 220 lbs
Razor Pocket Mod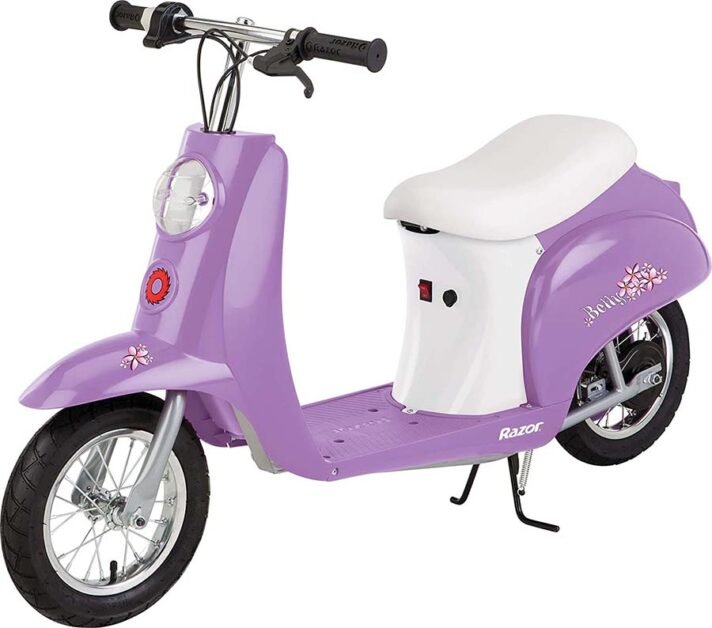 The Razor Pocket Mod has the most unique appeal of all the motorized scooters for teens. The moped-like scooter comes with a comfortable seat and even storage space, even though its performance is on par with most motorized scooters on this list.
It's equipped with huge 12-inch spoked wheels and rear suspension, so it is quite adept at riding over rough terrain. Like the suspension, the brakes are also on the rear. Its retro design includes a kickstand and a fully functional headlamp for nighttime navigation.
It's undoubtedly one of the Razors' best options, especially since it has a top speed of 15 MPH and a battery that can transport you up to 10 miles on its 40-minute-per-charge runtime. Its 250W single-speed motor and 170-pound payload capacity make it ideal for young and old teens alike.
Top Speed: 15 mph
Range: 10 miles
Run Time: 40 minutes
Payload Capacity: 170 lbs
Which Brands Make the Best Electric Scooters for Kids?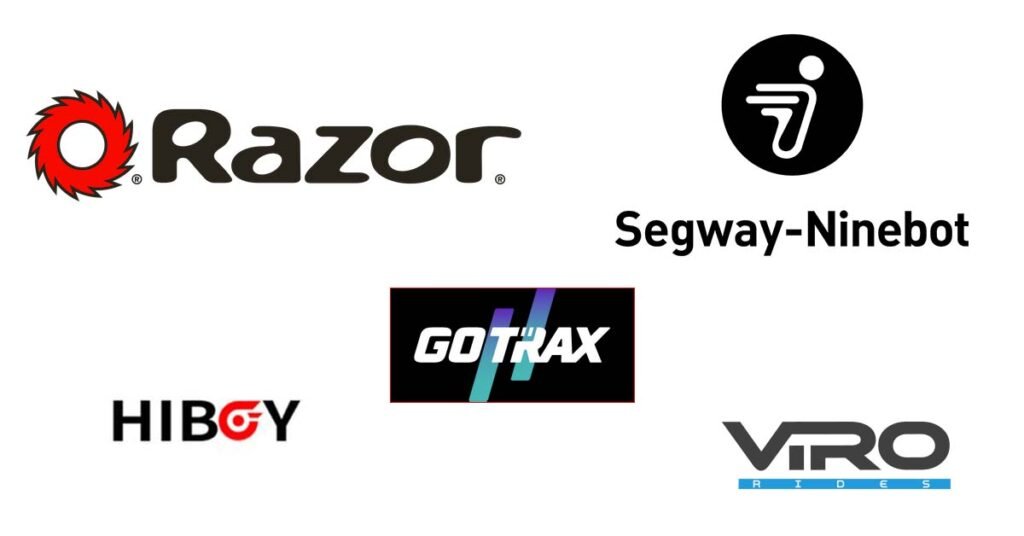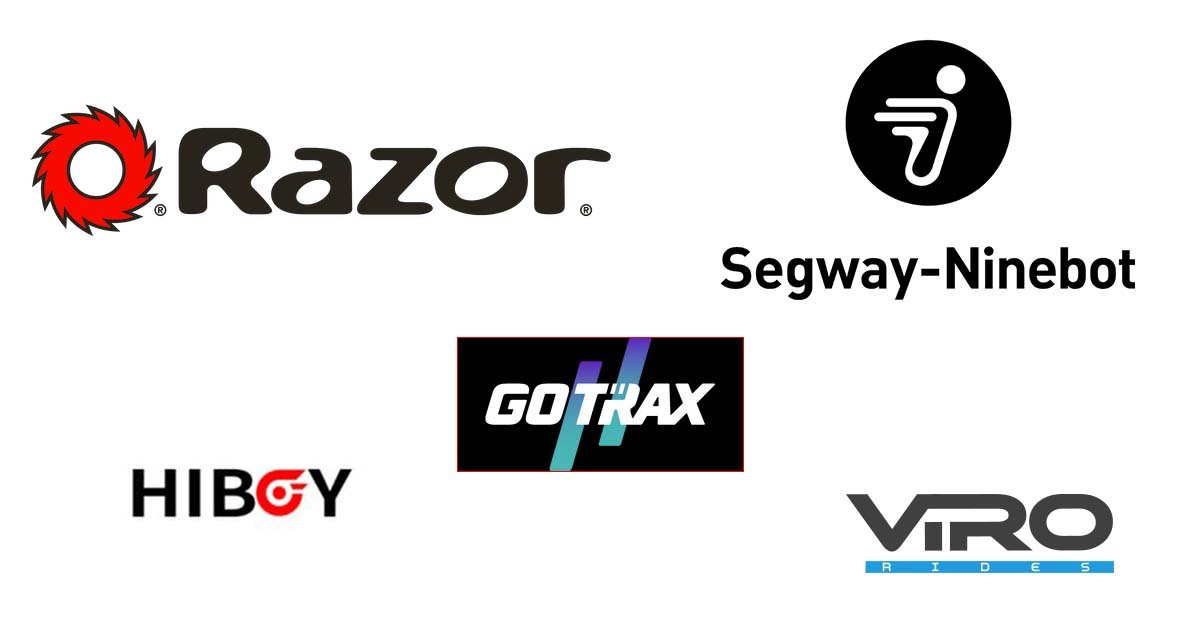 Razor scooters were among the first-ever motorized scooters on the planet. In 2000, their compact folding scooter was labeled Toy of the Year after JD Corporation sold five million units in just six months!
Segway is a brand that needs little introduction. You can cite them as the first manufacturers of shared scooters, which grew so much in popularity that the company eventually switched to building personal micro-mobility devices.
Today, Segway is responsible for two of the best-selling, best-performing line of kids' scooters – the Ninebot and the Zing series.
Hiboy is another well-known scooter manufacturer and has an excellent motorized scooter for kids and teens: the S2 Lite. This company has a reputation for making cheap scooters with great features.
Gotrax has one of the best-selling scooters on Amazon, period. The GXL and GXL V2 are agile, speedy, affordable, and reliable. If you're looking at Gotrax scooters, you're probably shopping for a teenager since these tend to pack quite a bit of oomph.
How to Choose the Best Electric Scooter for Your Kid?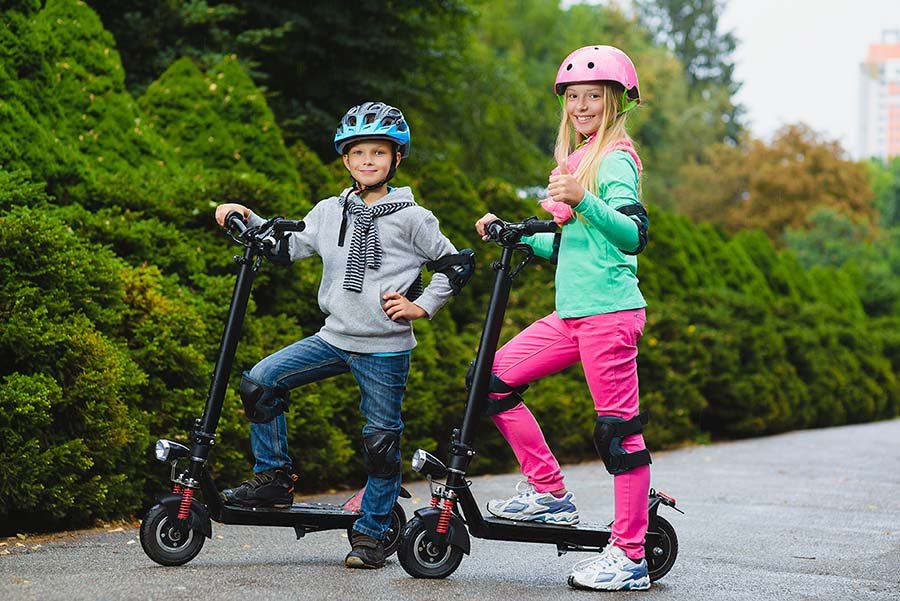 How Big Is Your Child?
One of the most important considerations is the scooter's weight limit. Ensure that your child is well within the stipulated payload capacity.
If they're too heavy for the scooter, then not only will they fail to reach the scooter's top speeds, but they also risk breaking crucial components mid-ride, which could hurt them.
How Old is Your Kid?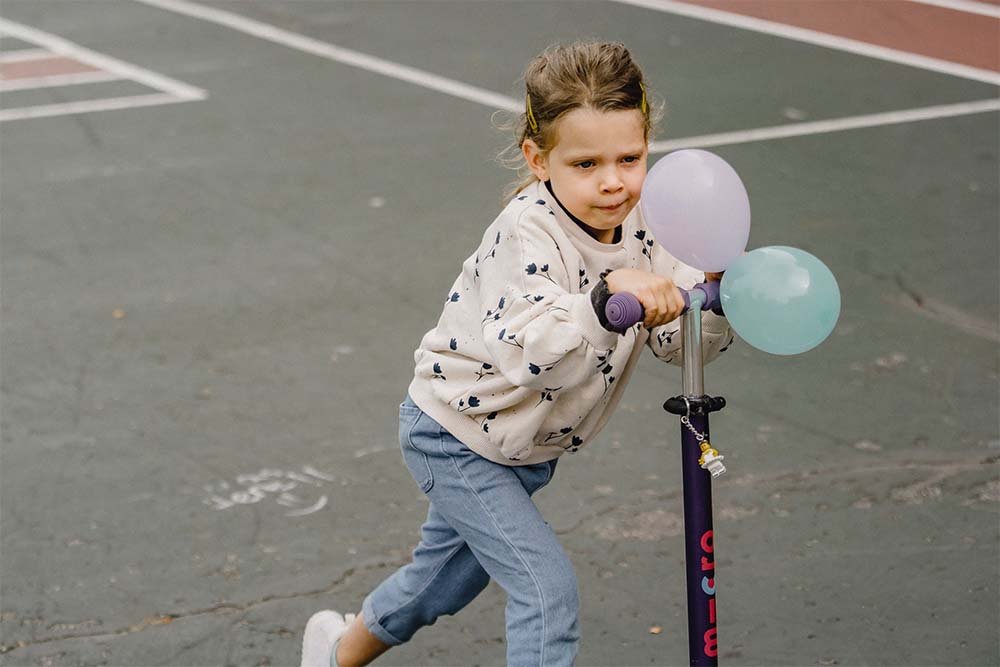 Kids under 12 typically shouldn't ride scooters that go faster than 10 MPH. They may not be able to properly control it at those speeds, which is likely to lead to injury and damage to the scooter.
Similarly, heavier scooters belong to older kids. It's not just about being able to lift the scooter, either. Weight plays a crucial role in the maneuverability of the scooter. If it's too heavy for them, your child could easily lose control and crash.
How Far Does Your Kid Ride from Home?
Are motor scooters for kids purely recreational, or will your child be riding long distances, such as from home to school? The range is very important if you intend to replace their bike with an electric scooter.
Even though most of these options easily turn into a kick-scooter when the battery runs out, short-range scooters should only be used for recreational riding. If your child has to cover a long distance, ensure the scooter has a big enough battery to facilitate it.
Safety Tips for Children
Always Wear a Helmet When Riding an Electric Scooter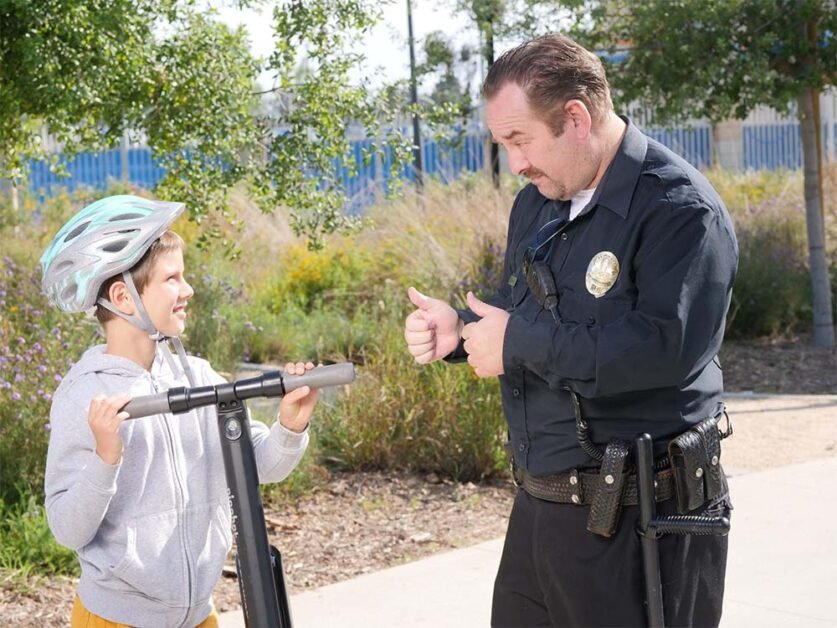 Scooters run much faster than any child can pedal a bike. Therefore, it is imperative to take the necessary measures to ensure that your kids are safe while riding.
Head protection is the most crucial consideration. Close to half of all scooter injuries are head injuries, so having a helmet on at the time of an accident makes a world of difference. You should also consider other protective gear like knee and elbow pads. It's always better to be safe than sorry.
Add Safety Equipment to the Scooter (Bell, Horn, Lights)
Some of the essential safety upgrades you can make to your scooter include installing a powerful headlamp for night riding and a bell or horn for pedestrians and other road users.
These upgrades will enable your children to ride safely even at night, but most importantly, they make them more visible to motorists.
Teach Children the Basic Laws and Regulations
If your child intends to ride past the cul-de-sac, it's important to familiarize them with basic road rules for their protection.
You can teach them things like the right side of the road to ride on, how to stay safe from other motorists, and the appropriate ways to do something like cornering and braking.
Check the Maximum Weight Limit
A motorized scooter's weight limit or payload capacity tells you how much it can efficiently carry. It's important to note these figures as putting too much stress on the deck could lead to dangerous riding conditions or could result in the scooter being a lot slower than it should be.
The Scooter is Meant to Tow One Person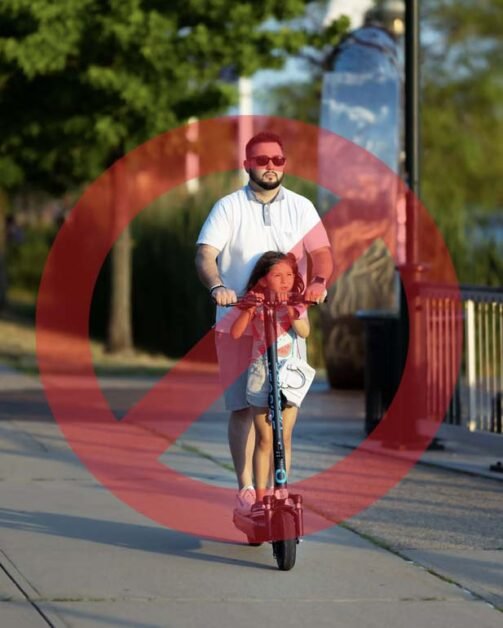 Scooters are one-person devices. The maximum weight limit for most adult scooters is 265 pounds, and it's about 200 pounds for kids. That means it's never safe for two kids to ride on one scooter.
Not only will they limit their enjoyment (because the scooter will go slower), but they also risk injuring themselves as it becomes considerably harder to maneuver a scooter that's heavier than it should be.
Check for Defects On an Electric Scooter
For the most part, scooter manufacturers are very thorough. Defects are a rarity with brands like Apollo since the company tests each scooter extensively before shipping them out.
However, it pays to be vigilant. Scooter defects can range from a couple of bent screws to a bad battery, which can be quite dangerous. Always inspect the scooter's condition before allowing your child to ride it.
Final Thoughts
Electric scooters have become ubiquitous in short-distance commuting. However, there's an unmistakable fun factor involved, one that you'll catch in the gleeful smiles of scooter riders as they zip around without a care in the world.
Buying the right scooter for your kids is a matter of knowing how much they can handle. These micro-mobility devices require care to control appropriately.
While that makes them a tad dangerous (in which case, so are bikes), it also equips them with skills that they'll probably use in the future, especially since motorized scooters are set to be the most popular last-mile commuters in the coming years.