Electric Wheelers is reader-supported. Although we independently research and test products, we may receive a commission on purchases made from our chosen links. Read more…
Upon finding the perfect hoverboard, you might think that you're ready to go. But, if you want to stay safe, travel in style, and keep your hoverboard safe, it's time to shop for hoverboard accessories.
There are many different options out there depending on your needs and wants. Whether you need seat attachments, bags, skins, or protective gear, knowing the must-have articles is key to getting the most out of your hoverboard experience.
Hoverboard Seat Attachment
Hoverboards are incredibly popular thanks to how fun they are. But, they can also be dangerous, especially for younger children. That's where hoverboard seat attachments come into play. Why tell a child to wait until they are older when you could simply put a seat attachment onto it?
With a simple attachment, hoverboards can be turned into hoverkarts that riders can enjoy. A seat is added to the hoverboard, along with hand controls. The rider sits, rests their feet on the attachment, and lets their hoverboard do all the work. These attachments allow children and teens to ride without worrying about balancing.
Hover-1 Buggy Attachment
Transform your hoverboard into hoverkart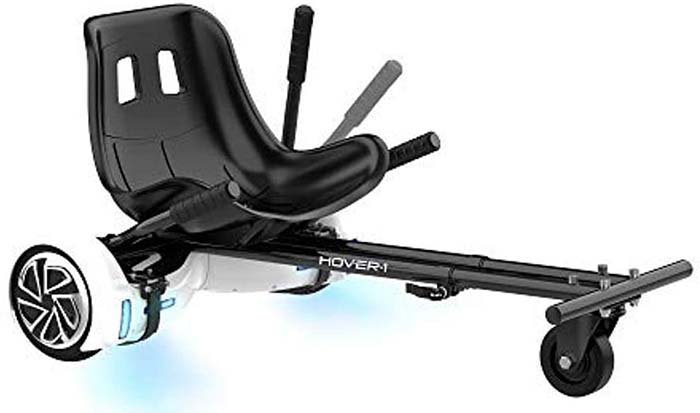 This hoverboard pairs a comfortable seat with easily reached handlebars on a lightweight but durable aluminum frame. It is compatible with most electric scooters that have 6.5″ wheels. However, if you have other-sized scooters, you may need to keep looking for other options.
The hoverboard sits in the back, and with independent rear-wheel drive functionality, reversing, turning, and drifting are possible. The frame is adjustable, allowing riders of most heights to be comfortable as they ride. This attachment comes highly rated on Amazon. It comes in both pink and blue, allowing for some customization.
Compatible with most hoverboards with 6.5″ wheels
Adjustable frame length
Adjustable straps to attach hoverboard seat into hoverboard
---
Hiboy HC-01 Hoverboard Kart Seat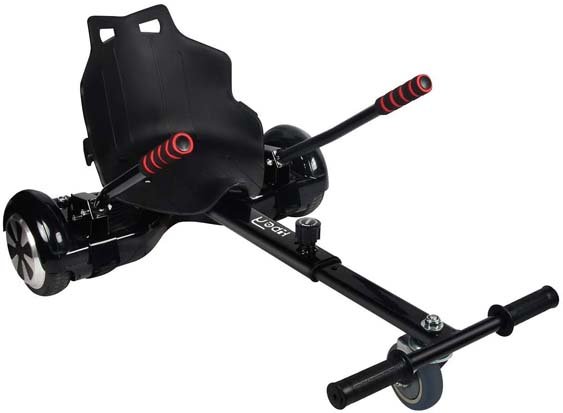 The Hiboy HC-01 Hoverboard Kart Seat is a fun option that allows hoverboards of many sizes to be converted into fun go-karts. If you have a 6.5, 8, or 10-inch hoverboard, this seat can be used. It can easily be attached and adjusted to fit a wide range of configurations within 15 minutes for most people.
With a maximum weight of 270 lbs., it is durable and will fit most people. The legs can be adjusted to fit riders as young as 4 years old. The seat is ergonomic and comfortable. It is also easily controlled by handlebars that even young children can manage.
Related: All Hoverboard Go-Karts by Hiboy
Suitable for 6.5″, 8″, and 10″ hoverboards
Easy install
Suit riders of all ages
Adjustable handlebar
---
Evercross Hoverboard Seat Attachment
The Evercross Hoverboard Seat Attachment is another attachment that fits onto most hoverboards. It is suitable for 6.5, 8, and 10-inch hoverboards. And, with a maximum weight of 220 lbs., most users can fit comfortably onto the seat. With a large, comfortable seat and soft, sweatproof handlebar padding, this is a comfortable option, even for longer rides.
The attachment is highly flexible and adjustable. It can be adjusted between 31 and 44 inches long for several different heights. The front wheel is flexible and can turn 360 degrees to allow for complete control.
Suitable for 6.5″, 8″, and 10″ hoverboards
Adjustable length
Suitable for different body heights
---
Hoverboard with Seat Combo
If you want to cut out the guesswork, you can also choose to purchase a hoverboard with the seat combination. By doing so, you know the hoverboard will be compatible with the seat.
Gyroor T581 Hoverboard + Seat + Carrying Bag
6.5″ hoverboard with most popular accessories included
Hoverboard
The Gyroor T581 Hoverboard comes with 6.5″ all-terrain wheels. It also comes with an app for easy access to see the battery charge, speed, and change the modes. The app also allows for the included LED lights on the hoverboard to be changed. It even includes a built-in Bluetooth-enabled speaker to allow music to be played loudly and at a high quality.
600W Motors
Off-Road Tires
Mobile App
UL2272 Certified
Accessories
When paired with the included hoverboard seat, the board can be turned into a fun, smooth-driving kart that can adjust to fit both children and adults. The seat is large enough to accommodate most riders. It also includes a carrying bag to easily tote and protect your hoverboard from scratches and dings.
---
SISIGAD Hoverboard with Seat Attachment Combo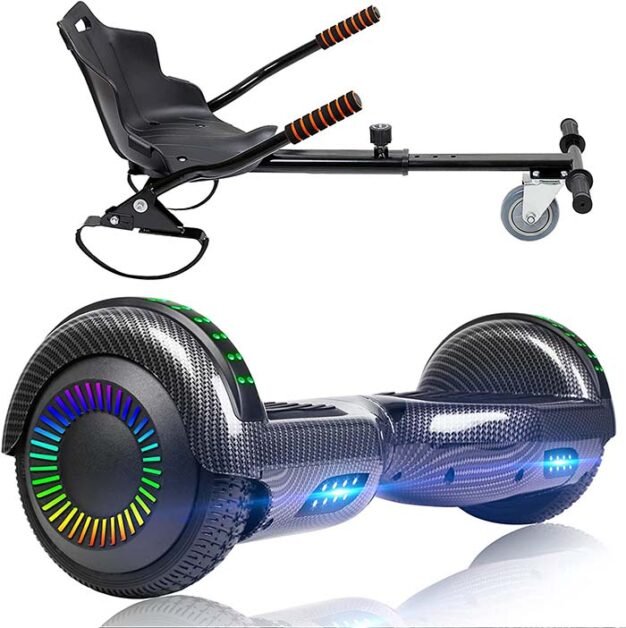 Hoverboard
The SISIGAD Hoverboard with Seat Attachment Combo is a high-quality hoverboard to accommodate both children and adults. With 6.5″ wheels from high-quality rubber with comfortable pedals, this scooter is a smooth and enjoyable ride. With the self-balancing control system, even younger children can learn to ride it. And, with included LED and Bluetooth-enabled speakers, riding
6.5 Inch Wheels
Rubber Tires
LED Lights + Bluethooth
Hoverboard Chair Attachment
This hoverboard is much more enjoyable because it pairs with the included hoverboard seat attachment. The seat attachment is highly adjustable and includes a rubber mat seat, non-slip handles, and several settings to ensure proper fit. The seat attachment is simple to use, allowing children of all ages to learn how to ride.
---
Hoverboard Bag
Hoverboard bags allow for your hoverboard to be safely stowed away and carried when not in use. There are several different options out there to fit every need. If you will have your hoverboard indoors after riding it to your destination, keeping it in a bag is often one of the safest and easiest means of keeping it on you.
Swagtron Hoverboard Carrying Case
Compatible with Swagtron and most other scooters

The Swagtron Hoverboard Carrying Case can be used to roll or carry like a backpack. It fits most hoverboards, including the SWAGTRON T1, T3, T5, X1, and X2. Also, there is a pair of adjustable straps to fit most people, and the handlebar can collapse when not in use. It even includes some mesh and zipper pockets to carry anything else you may need.
Adjustable straps & collapsible handle
Dimensions: 26″ x 11″ x 10″ (64 x 26 x 24 cm)
Convenient mesh & zipper pockets
---
Hover-1 Hoverboard Carrying Bag
Fits for 8-10 inch hoverboards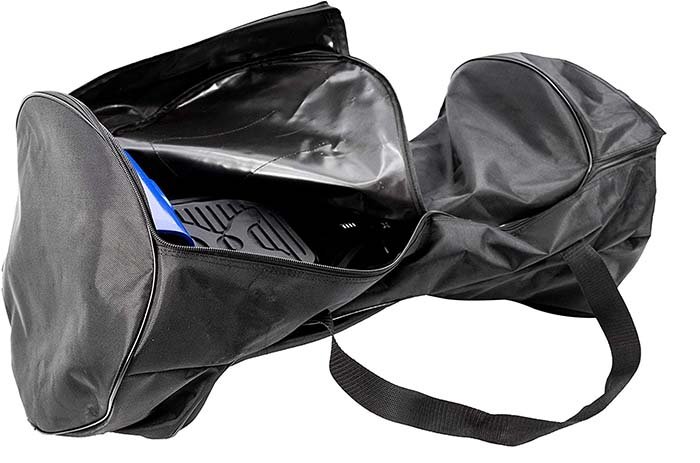 The Hover-1 Hoverboard Carrying Bag is a simple bag that you can just sling over the shoulder. With just one strap, this is best for cross-body carrying. It comes in several sizes to accommodate a range of hoverboards. It is durable and includes a mesh pocket for additional storage.
Durable materials
Accommodates most hoverboards with up to 10″ wheels
---
Cosmos Carrying Bag for Hoverboard
Fits for 6.5″ Self Balancing Scooters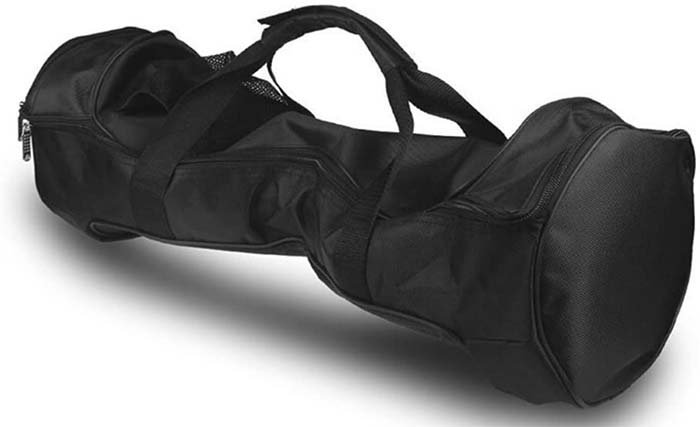 The Cosmos Carrying Bag for Hoverboards is a durable bag made from premium materials. As a handbag, it is meant to be carried at your side rather than on your back. It is waterproof to keep your hoverboard safe and can be washed to clean up when needed. It fits up to 6.5-inch hoverboards. With a double zipper, you can rest assured that your hoverboard will stay safe.
Suits for hoverboards with 6.5-inch wheels
Waterproof
Double zipper closure
Dimensions: 24.5″ x 7.5″
---
Hoverboard Skins
If you like to have your gear reflect your own personal style, hoverboard skins are one of the easiest ways to customize your hoverboard. Hoverboard skins protect the surface of your hoverboard while also creating a custom design. If you want your hoverboard to stand out, this is exactly the way to make it happen.
Mightyskins Woody
Fits only the Hover-1 Ultra hoverboard
The Mightyskins Woody skin fits Hover-1 Ultra hoverboards. It is easily installed using a premium vinyl that has been cut with precision. It protects the surface of your hoverboard from scratches while adding a fun wood-patterned design to the surface. And, you can easily remove it if you decide to change the look later on.
Bubble-free installation
Scratch protection
Matte, Carbon Fiber, or Glossy Glitter finishes available
Mightyskins.com
---
Silicone Protective Cover Case
Fits a 6.5-inch hoverboard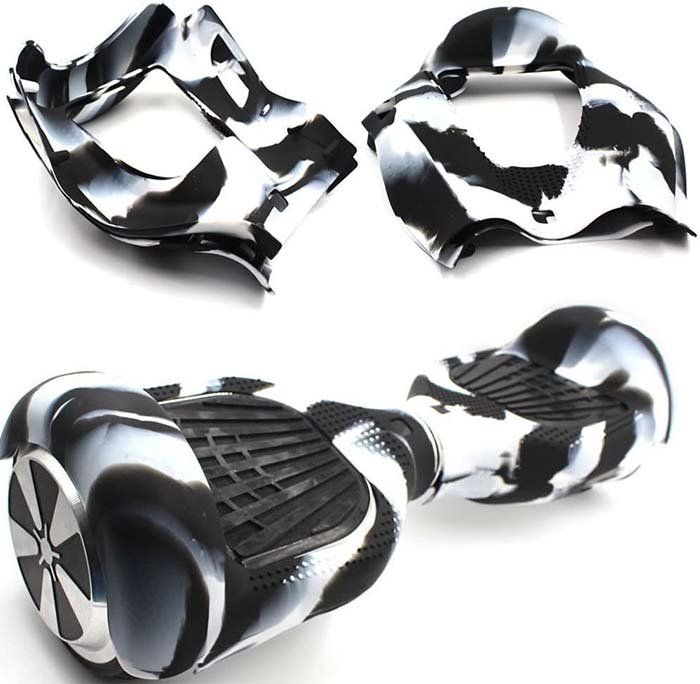 The Silicone Protective Cover Case provides a soft silicone cover for your 6.5-inch hoverboards. With its easy installation without tools, this cover can create a fun look on your hoverboard with minimal effort. It will leave your hoverboard protected from major scratches.
Soft silicone protects from scratches
No tools required
Suits for most 6.5″ hoverboards
---
GameXcel Hoverboard Stickers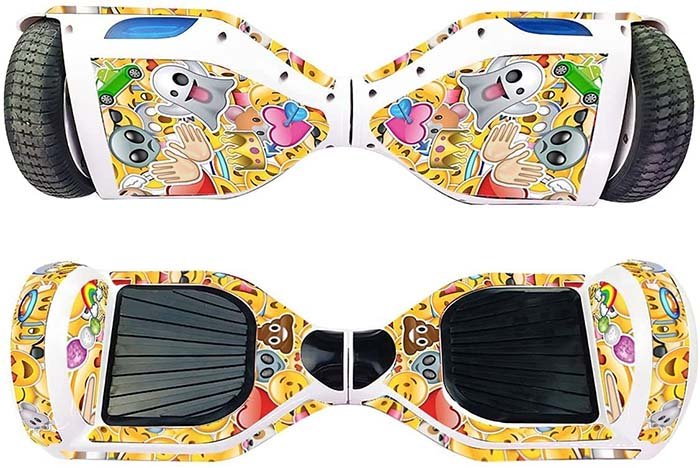 Related: Best Hoverboards for Kids
The GameXcel Sticker for Hoverboards is a fun, exciting decal for most hoverboards. It will create a fun, stylish look while protecting the surface from damage.
You can easily install and remove the stickers without leaving behind adhesive.
---
Protective Gear for Hoverboard Riding
Do you need protective gear for the hoverboard?
Everyone riding a hoverboard should wear protective gear. It is easy to fall off the hoverboard or crash when getting used to control them. With protective gear, you can avoid serious injury.
Serious and fatal injuries are rare, but possible when riding something. Protective gear should include pads to protect the knees and elbows, gloves to protect the hands, and a helmet to protect the skull.
Do you need a helmet for a hoverboard?
You should always wear a helmet when riding a hoverboard. Protecting the skull is crucial to preventing serious injuries. The helmet will protect your head to prevent skull damage, concussions, and cuts. For best results, the helmet must fit perfectly.
---
Kamugo Protective Gear Set for Kids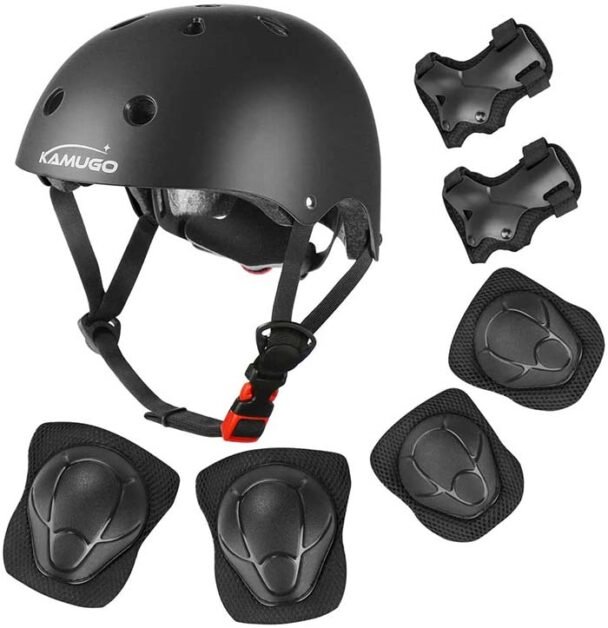 The KAMUGO Kids Bike Helmet Set helps to protect children from injury when riding their hoverboards. It includes a helmet, elbow pads, knee pads, and wrist pads made of hard PVC and adjustable straps to fit most children between the ages of 2 and 8.
Including: 1 Helmet, 2 Elbow Pads, 2 Knee Pads, 2 Wrist Pads
Meets all safety requirements
Fits for most kids aged 2-8
Head circumference: 18.9″ – 21.3″
---
S Spofine Hoverboard Safety Gear
For kids and adults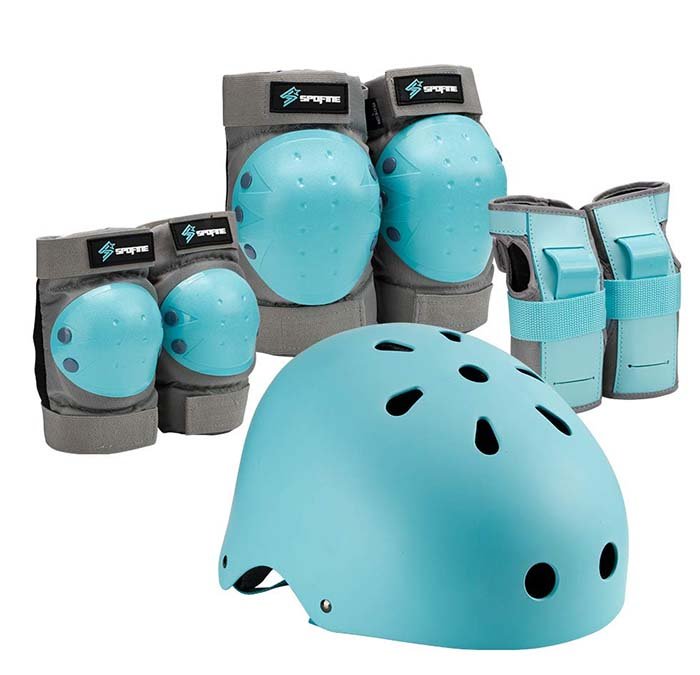 The S SPOFINE Kids & Adult Helmet comes in several sizes to meet several needs. These sets come with a helmet, knee pads, elbow pads, and wrist guards that are wrapped up and ready to go.
Set includes: 1 Helmet, 2 Knee Pads, 2 Elbow Pads, and 2 Wrist Guards
Different sizes available (S-XL)
Black, Blue, and Pink colors are available
Durable materials used
---
Conclusion
Hoverboards can be great fun, especially when you start bringing in accessories. For more fun, adding in a seat can be a great way to expand your experience.
A carrying case can be a crucial element, especially for teens who may ride their hoverboards to school, the mall, or anywhere else.
The skins you choose for your hoverboard can help you to show off your own personal style.
And, every rider should always implement safety gear. Choose your accessories wisely for the best results.