There are many electric scooters available in the market. However, not all those electric scooters can tackle steep inclines. Electric scooters capable of tackling hilly inclines have various features that make them suitable for such tasks.
Electric scooter for hills usually includes:
powerful motors,
a light frame,
excellent battery life,
good tires,
quick-learn controls,
and excellent braking systems.
Here are some of the best scooters that you can rely on for effortless hill climbs. However, before we get into that, let's first answer a few guiding questions.
Electric Wheelers is reader-supported. Although we independently research and test products, we may receive a commission on purchases made from our chosen links. Read more…
Can Electric Scooter Go Uphill?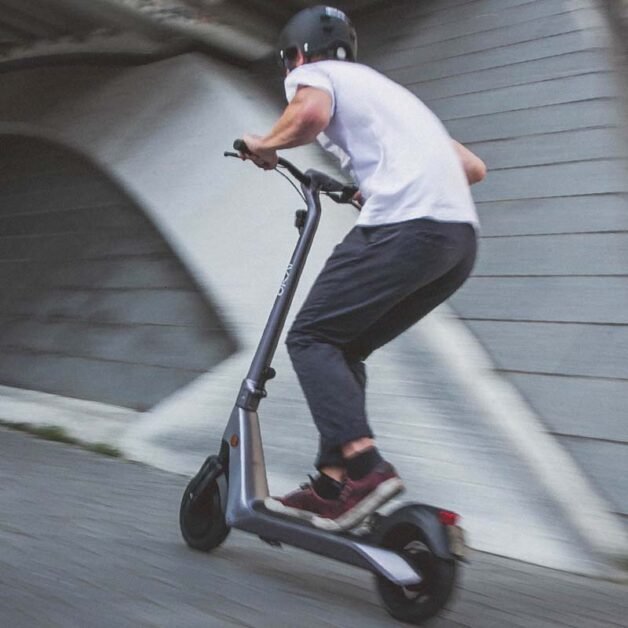 While many people use scooters to travel to and from work or run various errands in nearby locations, one question remains:
Can electric scooters climb hilly terrains?
The simple answer to this question is yes! Electric scooters can tackle steep, hilly terrains. Not every electric scooter, though.
What is a Good Hill Climb Angle for an Electric Scooter?
The best hill climb angle depends on individual scooters.
For instance, while some scooters will have difficulty doing 18-degree hill climbs, others manage to climb these slopes easily. Some can even climb hills that are as steep as 30 degrees.
If you plan to go off-road or live-in hilly terrains, then the best thing to do would be to purchase a powerful scooter that can handle the terrain.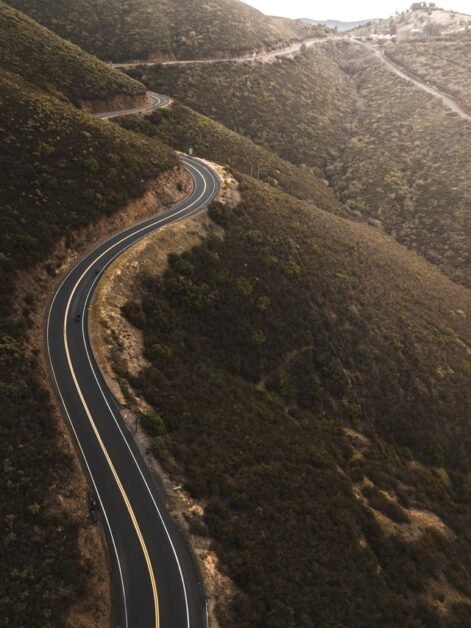 How Fast Does an Electric Scooter Go Uphill?
Scooters designed to tackle hilly climbs are generally faster compared to those that aren't.
On average, non-hilly terrain scooters can go a maximum of 16mph (or 25km/h) compared to hilly terrain scooters that can go up to 31mph (or 50km/h).
However, as you can deduce, the capability and hill-climb depend on each scooter's ability and design.
Measuring Slopes – Degrees vs Percentages
There are 2 ways to measure slopes – degrees and percentages. Sometimes those two are mixed together. So it is important to understand the differences.
A slope's percentage is derived by dividing the elevation change by the distance covered (horizontally). Also known as the rise.
Ideally, the run is assumptive that you've traveled on a flat surface. The degree or angle of the slope represents the horizontal distance covered in a flat surface. Dividing the rise by the run and getting an inverse tangent helps you get the slope's degree. Best electric scooters can tackle hills up to 35 degrees.
To get the percentages of a slope you have to divide the rise by the run and multiply the result by 100. We haven't seen electric scooters that can tackle hills of more than 70% incline.
Best Electric Scooter for Hills Comparison Chart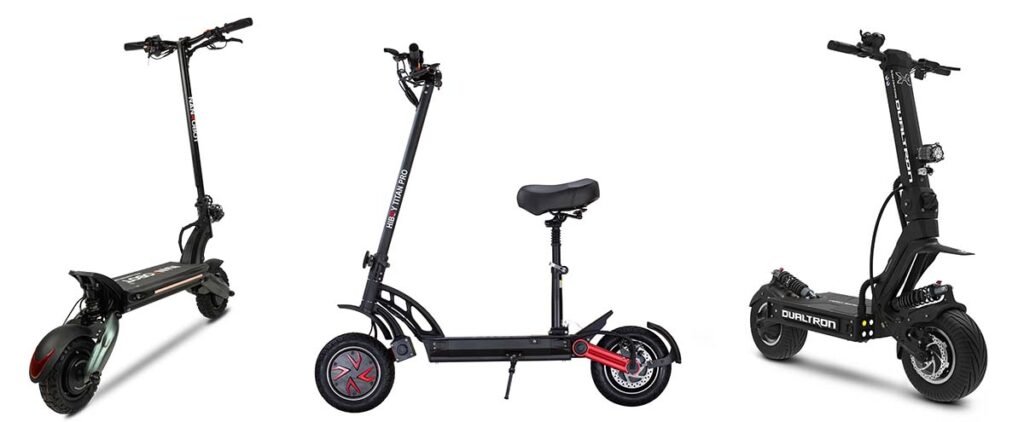 Top 10 Electric Scooters for Climbing Hills
Dualtron X2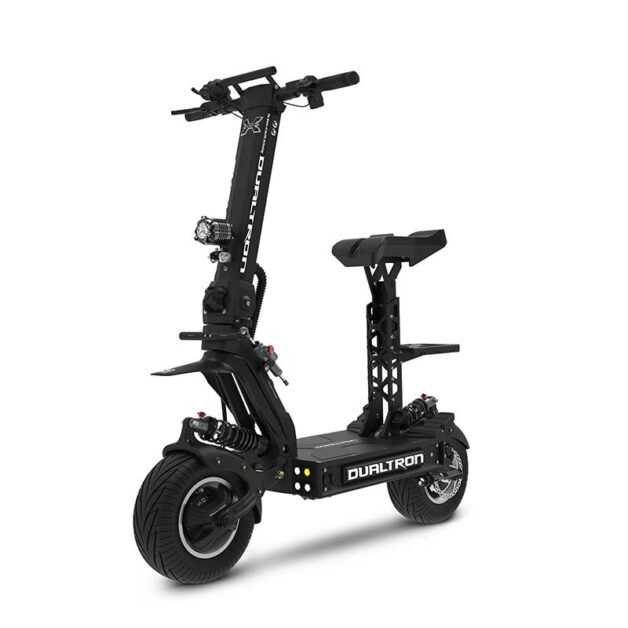 MSRP: $6,490 Voro Motors
The Dualtorn X2 is an improved version of the Dualtron X.
It now has 19-step hydraulics that provides intensity adjustments, better-LED lights that you can adjust in the RGB (red, green, blue) scale.
The electric scooter also has an adjustable damper, a voltage meter, an anti-lock braking system, and an LCD eye throttle.
The Dualtron X2 has a 93-mile range and a 65 mph top speed. It weighs 150 pounds and can carry a 330-pound maximum load.
It also has a 13-inch by 5-inch tubeless tire that improves its efficiency, especially in hill climbs.
The Dualtron X2 provides ultimate comfort, efficiency, and reliability. It changes how you view powerful scooters, which is why it's dubbed the best scooter for hill climbs.
Hiboy Titan Pro
MSRP: $1,599 Hiboy
The Hiboy Titan Pro has a powerful 1,200W dual brushless motor, an 840 Wh battery, and can reach 32 mph on a 35% hill gradient. The electric scooter has a 40-mile range with a 286-pound maximum load.
It's also equipped with wide 10″ off-road pneumatic tires with anti-slip and anti-seismic capabilities for the best riding experience.
The Hiboy Titan Pro's improvements make it more comfortable compared to most other models. It's also quite powerful, making it the go-to electric scooter for individuals looking to tackle steep hill climbs. It is also safer to ride because of its effective shock absorption, dual disc brakes, and broader platform that helps you maintain the proper balance.
Vsett 11+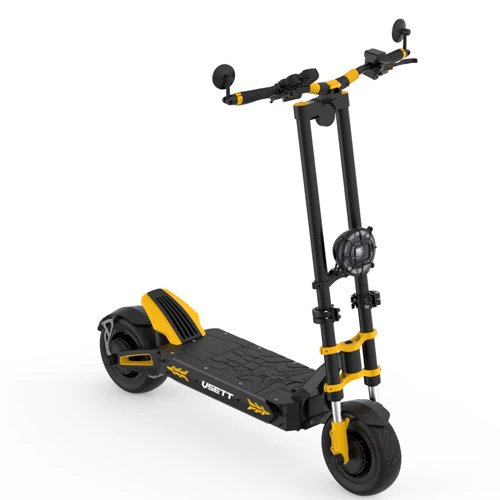 MSRP: $4,299 REV Rides
The Vsett 11+ brings electric scooters to an entirely new level by providing more speed, power, and range- an upgrade from the previous Vsett models.
The scooter has 2,000W dual motors that produce a top speed of 65mph, making it one of the fastest scooters sold in the market. The high-quality battery doesn't disappoint. It allows riders to cover reasonably long distances on a single charge. It has a 60-mile maximum range.
Vsett 11+ is a quite bulky scooter. It weighs 128 pounds and has a 330-pound maximum load-carrying capacity. However, the scooter can climb inclines of up to 45 degrees.
Nanrobot D6+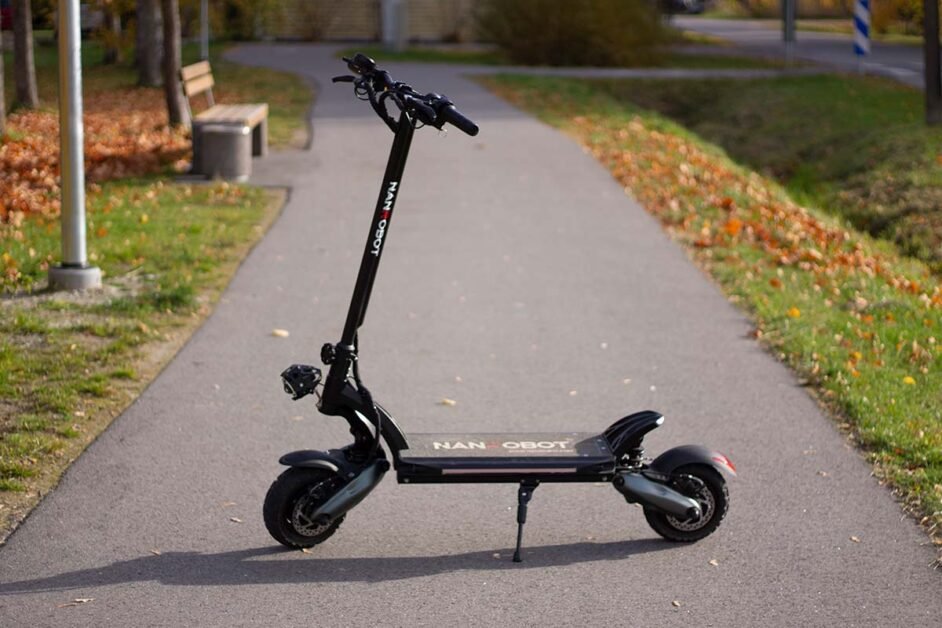 MSRP: $1,990 Nanrobot
The Nanrobot D6+ is a super-fast e-scooter that goes 40mph and reaches a maximum 30 to 75-mile range. It weighs 77 pounds and can carry a maximum of 330 pounds.
The scooter has 10″ pneumatic tires that are great for off-road adventures because of their amazing traction, smooth rider experience, and enhanced stability.
The scooter has powerful dual motors that users could use in either single or dual mode. It also has dual suspension that boosts its off-road capabilities, especially in an urban setting.
The e-scooter's EBS brakes allow for easy and quick stopping power, while its design and dual motors are powerful enough to enable it to do 30-degree hill climbs.
Related: Nanrobot D6+ Full Review
WideWheel Pro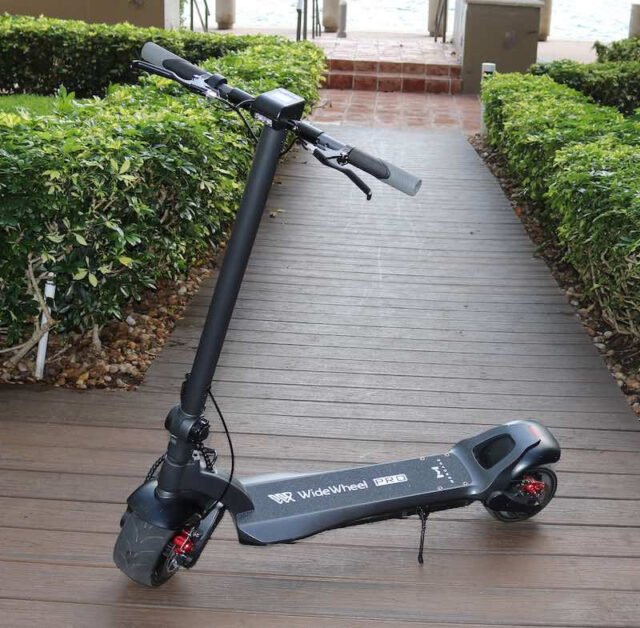 MSRP: $1,369 FluidFreeRide
The WideWheel Pro is one of the best entry-level scooters in the market. It's the best choice for first-time scooter riders that want a fast-enough scooter that they can comfortably handle.
The scooter can go 0-15 miles in under 3.5 seconds, which is around 60% quicker than common commuter scooters. Its design is also excellent since it helps provide the rider with some extra comfort.
The Widewheel Pro is chunky, has a sturdy frame, and is durable, providing great stability, especially when you're riding at the top speed which is 26 mph.
Its wide tires can take some time to get used to. However, once you become accustomed to their profile, you'll notice that they are the best size for an urban setting.
Related: WideWheel Pro Full Review
Kaabo Mantis Pro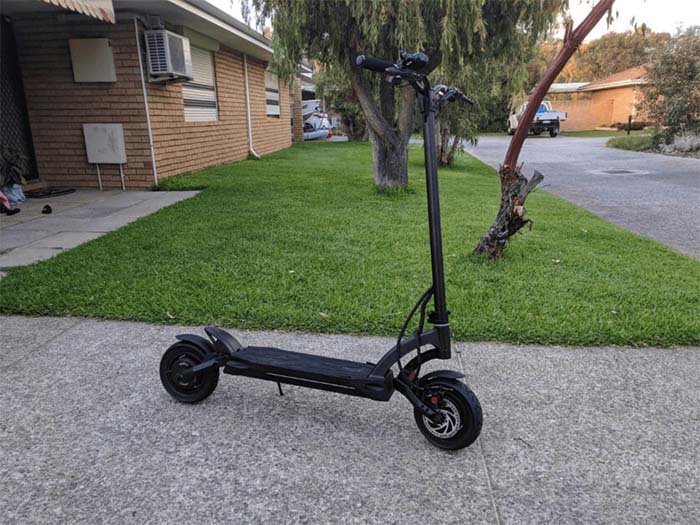 MSRP: $1,699 FluidFreeRide
The Kaabo Mantis Pro is a nimble e-scooter that can go 37 mph and has been awarded second in 2020's best scooters. The scooter gives you the power to explore and is unrivaled as an all-around performer. It provides all you need in power, performance, and stability, making it stand out, especially when you look at its sleek design.
The Kaabo provides great comfort and has an effortless hydraulic braking system and top-gear electronics. It is easily foldable and has powerful 1,000W dual motors and dual spring suspension. In addition to that, it can go for a maximum 36-mile range, weighs 65 pounds, and can easily tackle 30% inclines.
Related: Kaabo Mantis Pro Full Review
Kaabo Wolf Warrior 11
MSRP: $3,199 FluidFreeRide
The Kaabo Wolf Warrior performs well in 45-degree inclines because its dual 1,200W motors. The Wolf Warrior can ride on any terrain because of its pneumatic tubeless 11″ tires and rear spring suspension. It has a long-range 60V 35Ah battery that gives it enough juice to go 60 miles for each charge.
The Kaabo Wolf Warrior 11 is built for adventurous riders. It has a 55 mph top speed, hydraulic and ABS brakes, and simple-to-use controls that help make your riding experience as smooth as possible. Its frame is made of aerospace-grade aluminum and can support up to 330 pounds of weight.
Related: Kaabo Wolf Warrior Full Review
Qiewa Q-Power 2
MSRP: $2,799 Qiewa Scooter
The Qiewa is an excellent e-scooter capable of amazing feats. It is great on rough terrains, efficient, and dependable.
It isn't the cheapest scooter you can find. However, it is worth the price. You could ride it on any road, climb hills, and have lots of fun adventures. It isn't sleek, and if you're looking for a sleek scooter, then purchasing the Qiewa won't be ideal.
The Qiewa has dual motors that produce a maximum of 5,600W of power and a 90-mile range and has a top speed of 60 mph. The scooter weighs about 99 pounds and can carry a 550-pound maximum load, which makes it easily suitable for heavy adults.
The scooter also comes with double hydraulic brakes and 11″ off-road tires.
Apollo Phantom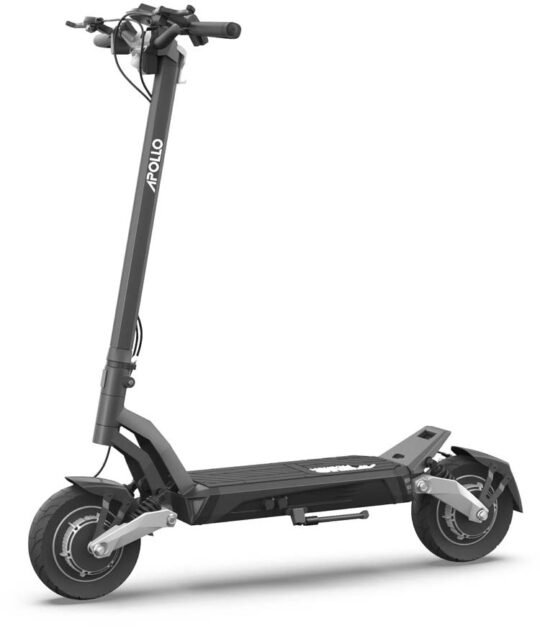 MSRP: $2,299 FluidFreeRide
The Apollo Phantom is a mechanical marvel that delivers a fantastic experience. It is a scooter that's best for all individuals and s built following closely Apollo's feedback from previous customers. This means that they managed to make a generally appealing scooter that is strong, efficient, and durable.
The Phantom has a 50 mph top speed and a 66-mile range. It weighs 79 pounds and can carry a maximum of 285 pounds.
It has a quick acceleration rate, a great chill climbing capacity, and is easily portable. The scooter can handle 25-degree hill climbs, making it good for off-roaders looking to have fun adventures.
Related: Apollo Phantom Full Review
Inokim OxO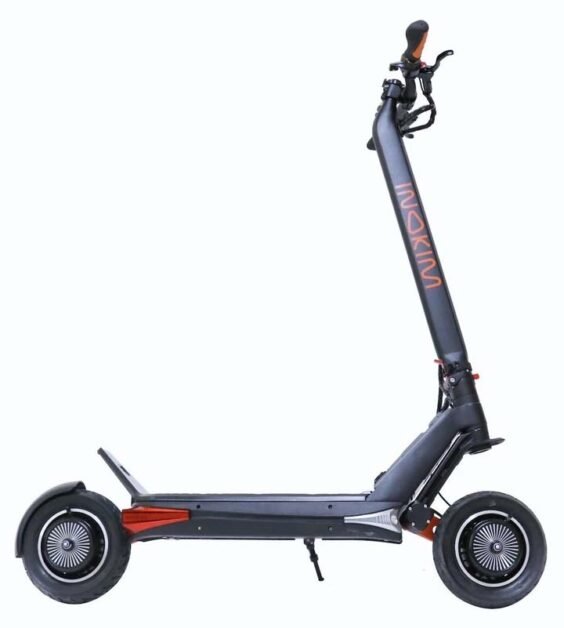 MSRP: $2,799 FluidFreeRide
Inokim OxO is an all-terrain e-scooter that is perfect for both urban and off-road riders. The e-scooter has a powerful suspension that ensures that the rider has a comfortable riding experience at all times. It is also quite safe to ride because of its powerful brakes that help you stop quickly.
The scooter weighs 73.85 pounds and has a 15 mph top speed. It has a dual 1,000W or 1,300W gearless, brushless motor, and 10.2″ tubeless tires. The e-scooter has a 68-mile range in eco mode, a 62-mile range at full speed, and a 13-and-a-half-hour charge time.
Related: Inokim OxO Full Review
How to Choose an Electric Scooter for Climbing Hills?
What are the main buying considerations and what to look for when looking for a hill-climbing electric scooter?
Motor – Torque vs Speed
A motor's purpose is to produce enough rotational to counter rotational loads that resist the motor's rotational output, also known as torque. Torque and speed are directly related and are two key factors that buyers have to consider when selecting the perfect motor.
A motor's output power determines its speed and torque as observed in the equation (P) Power = (M) Torque x (S) Speed with speed measured in RPM (rotations per minute) and torque measured in Newton Meters (Nm).
The relationship between speed and torque is inverse in that when one increases, the other decreases. Therefore, it would be wise to research and select a motor that suits you, depending on whether you want more torque or speed.
If you live in a location that has steep inclines, then the best option would be to select scooters that can provide more torque. Such scooters will be powerful enough to carry you uphill. If you live on flatter surfaces, then you could go for faster scooters.
Climbing Angle
Electric scooters that are capable to climb hills have usually specified their climbing angle. If there is nothing about climbing angle or hill grade on the electric scooter's spec sheet, then probably it's not very good on steep inclines.
Manufacturer-reported vs user-reported hill angles
Even when the manufacturer has stated the hill grade, those numbers are not always accurate in the real world. They test scooters in the laboratory environment.
For a potential customer, numbers reported by electric scooter owners, are much more useful.
It would be good to do some research to determine whether manufacturer-reported hill climbs are accurate before purchasing your e-scooter. You could do this by reading various informative blogs, reading customer reviews on various websites, or watching product review videos.
On the other hand, we can't be 100% sure of user-reported numbers as well. It's hard to tell what is the incline of the hill by just looking at it.
Anyway, try to combine those two and if possible, try the scooter out by yourself.
Weight
Common electric scooters can range from 15 pounds to 155 pounds. Thus, if you want an effective scooter, you'll need to calculate how the scooter's weight will affect your overall experience.
When riding uphill with an electric scooter, weight is quite an important factor. Both, scooter weight and rider weight.
You may think that choosing the most lightweight scooter is a good idea. It may be true but usually lightweight electric scooters are not very powerful. Good hill climbing scooters have usually dual motors and they are often very bulky.
So, try to find a lightweight scooter with plenty of power. And if you're in good shape and don't weigh a lot, that's a big plus.
Tires
Your choice of tires depends on where you plan to ride your scooter. For instance, if you plan on off-roading, the best thing to do would be to choose big off-roading tires.
If you plan to ride in urban settings, you could go for tires with a simpler profile. Regardless, you can still choose tires, i.e., pneumatic tires designed to make the ride more comfortable.
Suspension
Selecting scooters with good suspension is great because it absorbs all shock helping riders have an enjoyable ride, providing them a little protection from unnecessary accidents and rider fatigue.
Also, when climbing hills, suspensions help to balance the scooter better. Then the scooter has better traction and it is easier to go uphill.
Bad Scooters for Climbing Hills
Not every electric scooter is meant for climbing hills. And it's not bad at all. If you live in a flat area and there are no hills on your daily commute, it would be pointless to buy a powerful hill climber.
Here are some popular electric scooter models, that are very good on flat surfaces but don't have enough power to climb steep hills:
| | |
| --- | --- |
| Model | Hill Grade (°) |
| Unagi Model One | 6 |
| Xiaomi M365 | 8 |
| Hiboy S2 | 9 |
| Hiboy Max | 9 |
| Segway Ninebot ES1 | 10 |
Tips for Climbing Steep Hills with Less Powerful Scooters
First of all, you can change the riding technique. It can help a lot if you make some leg kicks to push up momentum.
Also, you can ride up the hill with the zigzag tab.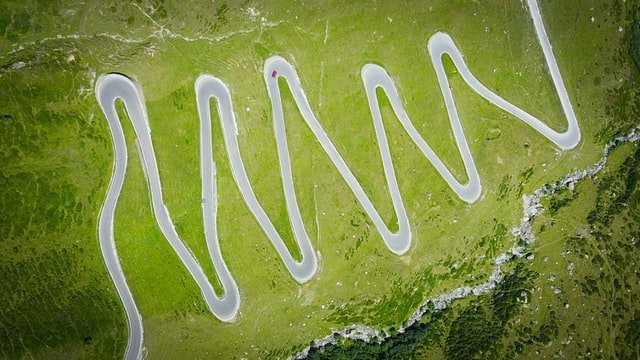 Modify your scooter
You could begin by improving the battery. Your scooter's battery will discharge as you climb the hill, and adding additional power to your electric scooter could help you climb hills more easily. However, before you do this, it would be good if you checked to ensure that your scooter's battery works optimally.
You could also remove the speed limit and allow your scooter to produce more power to help you make the hill climb. Most scooters come with speed limits due to regulations or safety reasons. Removing the speed limit could provide you with that extra oomph needed to make the hill climb.
You could also fit your scooter with off-road tires for better traction and install better suspension. Installing better suspension helps distribute the load for better power utilization.
In addition to that, you could reduce your scooter's weight by stripping any unnecessary load on the scooter or your person.
Electric Scooter for Hills FAQs
What is the best electric scooter for San Fransisco hills?
San Fransisco is famous for its hilly streets. That's why this question is asked a lot in Google. The steepest streets in San Fransisco are more than 30%. If you want to easily get up of those you need a powerful scooter like Dualtron X2 or Hiboy Titan Pro.
Other scooters in the list will most likely also get the work done:
Zero 11X
Nanrobot D6+
WideWheel Pro
Kaabo Mantis Pro
Kaabo Wolf Warrior 11
Qiewa Q-Power 2
How to ride a scooter uphill?
First of all, you need a powerful electric scooter preferably with dual motors and sharp torque. But there are some other tips you can follow:
Have your scooter fully charged.
Don't carry much cargo with you. If possible, don't wear heavy clothes and backpack.
Try to balance the weight equally on both wheels.
Gain some momentum by leg kicks.
Can electric scooters go downhill?
Yes, electric scooters can easily go downhill. Just be careful to not get the speed too high.