Electric Wheelers is reader-supported. Although we independently research and test products, we may receive a commission on purchases made from our chosen links. Read more…
The EMOVE Cruiser electric scooter is a machine that you will definitely love whether you're taking shorter trips to work or going for longer adventures. Essentially, with this e-scooter, you will be able to have the same experience as a car, only that it's packaged into a small but powerful machine.
Certainly, there are reasons why an increasing number of people are crazed by the EMOVE Cruiser. In this review, you will get to learn more about it to help you decide whether to consider it or not.
EMOVE Cruiser Specs
| | |
| --- | --- |
| Motor | 1,000W |
| Top Speed | 30 mph |
| Battery | 52V 30Ah (1,560 Wh) |
| Max Range | 62 miles |
| Charge Time | 9-12 Hours |
| Brakes | XTECH Hybrid Hydraulic |
| Suspensions | Dual spring at front, air shock at rear |
| Weight | 52 lbs |
| Payload Capacity | 352 lbs |
| Tires | 10″ tubeless pneumatic tires |
| Lights | Headlight, deck lights, brake light |
| Dimensions | 46.5 x 48 x 10 inches |
| Folded Dimensions | 14 x 49 x 10 inches |
| IP-Rating | IPX6 Water-Resistant |
GET 7% OFF with a coupon code – EWHEELERS
EMOVE Cruiser Performance
Motor and Battery
Whether you commute for a long or short distance, the motor and battery of the EMOVE Cruiser electric scooter don't disappoint.
Its 62-mile range gives longer distance commuters the confidence to reach their destinations without inconvenience. The high-voltage battery, backed up by superior components, has what it takes to provide quality service.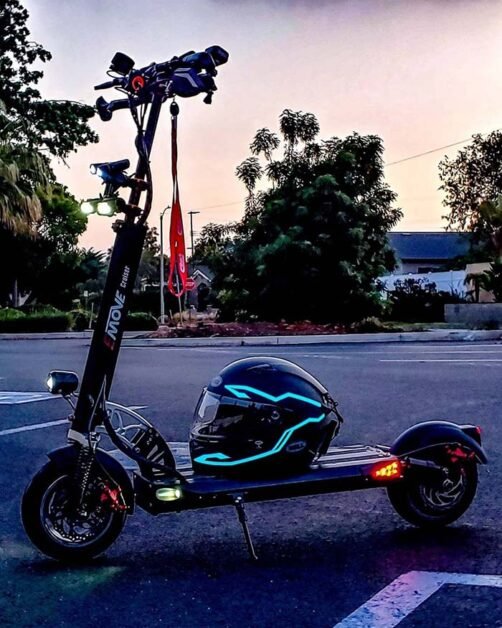 Moreover, the good news for those who take shorter rides is that you will be able to remain charged for weeks without having to worry about a thing.
Fundamentally, what comes out quite clearly here is that this machine's motor and battery are designed to exhibit powerful and consistent results. Ultimately, the battery has a long-lasting stay which is a huge advantage in terms of cost-effectiveness.
Tires and Brakes
As you probably know, getting a flat tire when rushing to work can be very inconvenient.
The great news is that the EMOVE has found a way of taking that worry off your chest and providing the peace you need when going for a ride. The tires of this electric scooter are very durable and you won't have to worry about the inner tube bursting in the middle of the ride.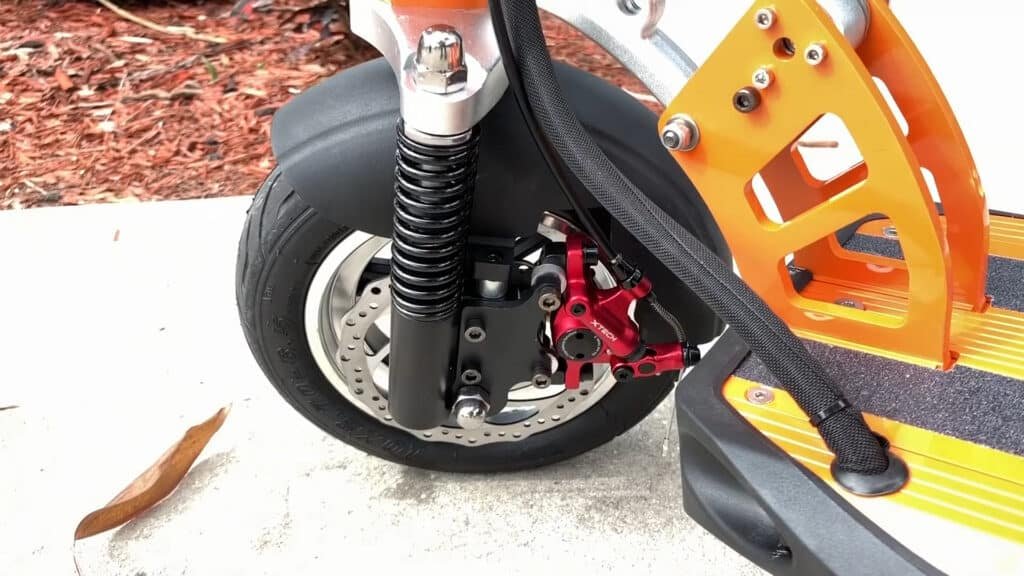 On top of the tires being top quality, the brakes also have a design that enhances safety for riders.
The presence of dual Xtech 140mm semi hydraulic brakes ensures that you have the safety controls you need for your ride. The technology gives the front and rear wheels the stability they need for enhanced safety on your cruise.
The braking system is truly excellent with the rear wheel having an electronic built-in braking system. It's of great interest to know that the brakes can lock up the front and rear wheels with ease.
Still, on the aspect of safety, it's important to mention that the scooter has a wide deck that offers extra balance, stability, and comfort when you're moving around the city.
Ride Dynamics of EMOVE Cruiser
Acceleration
Acceleration is a major point when you're thinking of buying an electric scooter. As you've already learned, the EMOVE Cruiser has a powerful motor able to offer you the acceleration you have always wanted.
Normally, speeding up a scooter brings excitement and thrill, and many riders love this. However, it's valuable to take note that the controls of this particular scooter are designed to give riders a powerful range compared to a super thrilling experience.
Though it has an acceleration capacity that is reasonably high, you can consider other electric scooters, like the Zero 8X, if you're looking for a super thrilling ride.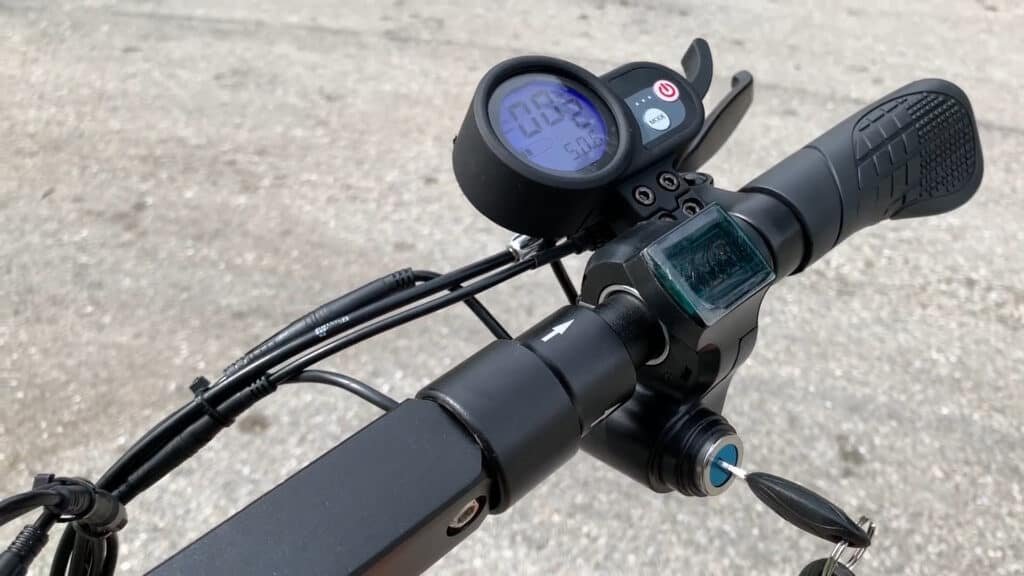 Range
From the onset, the EMOVE Cruiser electric scooter has a long-range design.
Simply put, you can call this a typical economy car' because of its efficiency. The 1560 watt-hour battery enables it to have a superior range compared to other models. It's also worth mentioning that the controller has a higher capacity to save energy, thus allowing the battery to last for a longer time.
Ride Quality
One of the aspects that distinguish the EMOVE Cruiser from other electric scooters is its capacity to offer comfortable rides.
If you've ever ridden a scooter before, you know that ride quality goes a long way. Well, there are three major qualities that contribute to the realization of higher ride quality for the EMOVE Cruiser:
the 10-inch pneumatic tires
dual suspension
and a big deck.
They work well to make sure that riders have a comfortable riding experience, especially for those who take longer-distance rides. Furthermore, this particular scooter has a 54 lb weight that gives it the much-needed stability and allows it to effectively handle the vibrations of a bumpy road.
Generally, even if you're on a poor road, you can use this electric scooter to ride for long distances without getting overly tired.
Of great importance still, the suspension has a well-balanced design that is not too soft and not too hard. Basically, it's designed to ensure that your ride is of high quality.
Portability
If you're looking for a portable mode of transportation, the EMOVE Cruiser is one you can highly consider.
The ease at which you can fold it makes it a reliable option if you have to frequently load it for storage. There are features that come with it that make it possible to enjoy its portability. They include:
telescoping stem
folding handlebars
and folding stem.

Indeed, if you're in search of an electric scooter that is portable enough, you can consider this one for your rides to and from work.
But, you should take note that with its 54 lbs weight, it can be quite heavy if you're storing it together with other transport machines that require frequent loading and unloading.
Lights
The manufacturers of this electric scooter have ensured that it has top-quality lighting systems that make it a sought-after machine.
To begin with, it's essential to highlight that the lights are better and safer compared to what you will see in other electric scooters.
It has three front lights and three rear lights to ensure sufficient light when on transit. In the same vein, you can have a large headlight mounted on the handlebars to ensure that you have a better view of the road when taking long-distance rides.
Undoubtedly, quality visibility from all angles is a good thing if you're going to maintain safety when riding at night. It makes EMOVE Cruiser one of the best electric scooters in the market today.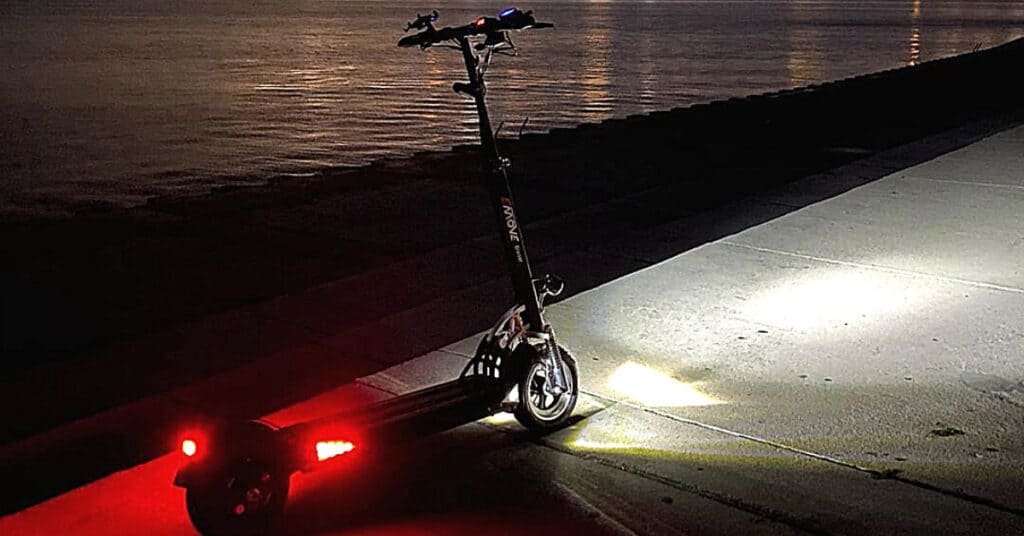 Build Quality
The electric scooter market boasts of different brands that produce quality products, and the EMOVE Cruiser happens to be one of them.
The manufacturers have put a significant amount of thought into designing it to give it the superior build quality it has.
To begin with, it has a maximum rider capacity of 352 lbs which is accommodative for most riders. Additionally, the front cables have nylon covering to protect them from damage.
Is EMOVE Cruiser really waterproof?
Emove Cruiser is one of the few electric scooters that is rated with IP67 water resistance.
Basically, it means that Emove Cruiser can handle very wet conditions.
All electric components, like cables, display, etc. are well-protected. So, unless you take your scooter completely under the water, you never have to worry about getting it wet.
It also means that you can easily wash it after it gets dirty, which is not so simple with a regular electric scooter.
EMOVE's Competitors
There are notable competitors of EMOVE that you should be aware of. They include:
Each of these brands has features that are unique that differentiate them from others. Particularly for the EMOVE Cruiser, there are pros that make it stand out in the electric scooter market.
One of the pros of EMOVE's scooter is that it's quite affordable compared to others. It costs around $1,300 while the ZERO 10X costs $1,950.
Moreover, it has superior quality stem folding systems which make it easy to use compared to other e-scooters. Also, you don't have to get stressed in regards to carrying it because it has better portability capabilities.
It's also imperative to point out that the safety features in this particular e-scooter make it stand out. When choosing a riding machine, one of the features you have to highly consider includes its safety components.
Where to Buy EMOVE Cruiser
The most trustworthy online store to get yourself a new Emove Cruiser is Voro Motors.
Also, they provide a discounted deal for our readers. When checking out, just enter the coupon code EWHEELERS and you will get a 7% off the price.
By the way, shipping within the United States is free.
EMOVE Cruiser Review Conclusion
Clearly, from the review, there are vital aspects that should trigger your thinking when buying an electric scooter.
Yes, there are other scooters in the market but, of course, there are those that are way better than others. Certainly, the EMOVE Cruiser electric scooter is one of those that you should consider purchasing.
For instance, if you're in search of a long-range electric scooter that you can use for your daily rides, you can go for this specific one.
It's built to last for a long time. Thus, you don't have to worry about its lifespan. Also, with its heavily packed features, you are able to enjoy not only comfortable rides but also safety while on the road. Try it out to experience what it offers.