Electric bikes have become increasingly popular modes of transportation in urban areas because they allow you to ride through traffic efficiently. In addition, they are a convenient and environmentally friendly mode of transportation.
E-bikes are a cheaper option for longer recreational rides. Hence, you must always choose a bike that fits your preference or personal needs. But before buying an electric bike, remember that e-bikes are available in different types and configurations.
Therefore, the question of how to choose the right electric bike can arise quite easily.
The right electric bike guarantees comfort, safety, and improved performance.
We will look at how to choose an electric bike for the best riding experience here. Continue reading to find out more.
What Type of Electric Bike are You Looking For?
Again, there are different types of electric bikes. So, you must pick a bike that fits your needs precisely. Here is a look at the most common electric bikes available today.
Commuter E-Bikes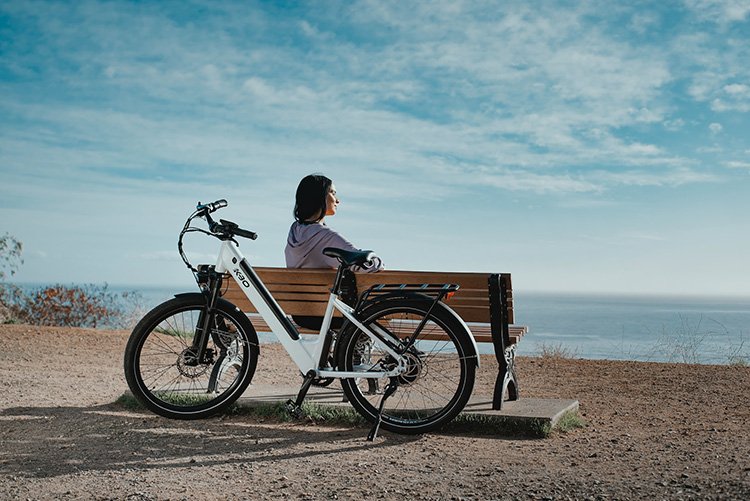 These are low-maintenance bikes specifically manufactured for urban transportation and daily commuting. They are usually lightweight, comfortable, efficient, and practical.
Most commuter e-bikes range from about 20 to 50 miles per charge, depending on the battery capacity. The top speed will also be around 20-28 mph.
Folding Electric Bikes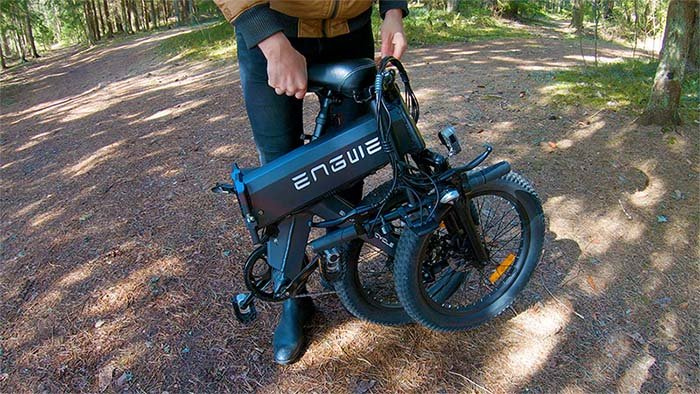 Folding electric bikes are e-bikes designed for limited storage space at work or home. They can be easily folded into a compact size. They are a convenient alternative for riders who want a bike for short to medium-distance trips.
Apart from living in an apartment, folded bikes are also the best choice for people living in RVs and tiny houses.
Electric Mountain Bikes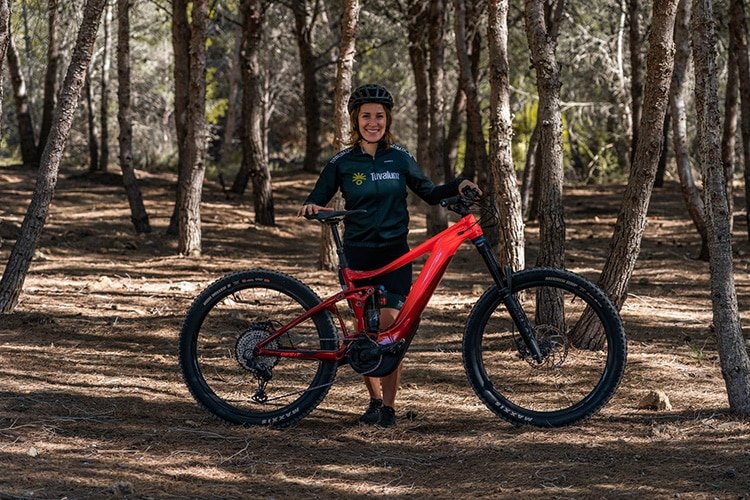 E-mountain bikes or e-MTBs are bikes designed for off-road riding on rugged terrain. Ideally, they provide assistance to climb steep inclines or maneuver rough terrain.
In addition, they are the best choice for mountain bikers who want to cycle faster and further. E-MTBs have high-powered motors, wider tires, sturdy frames, and dual suspension systems.
Fat Tire E-Bikes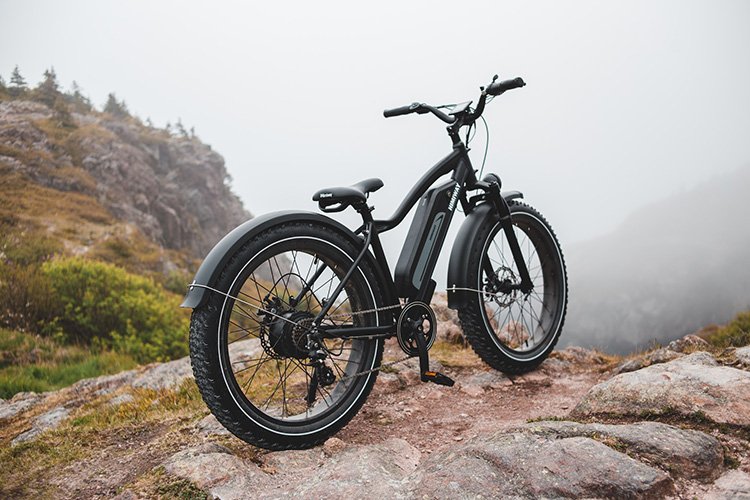 These are e-bikes designed to provide additional traction and stability on loose or slippery terrains like mud, snow, or sand.
Typically, the tires are about 4 inches wide, and the powerful electric motors assist a rider when pedaling. Fat tire e-bikes are well-suited for off-road riders who want to commute, tour, or explore rugged/uneven terrain.
Cargo Electric Bikes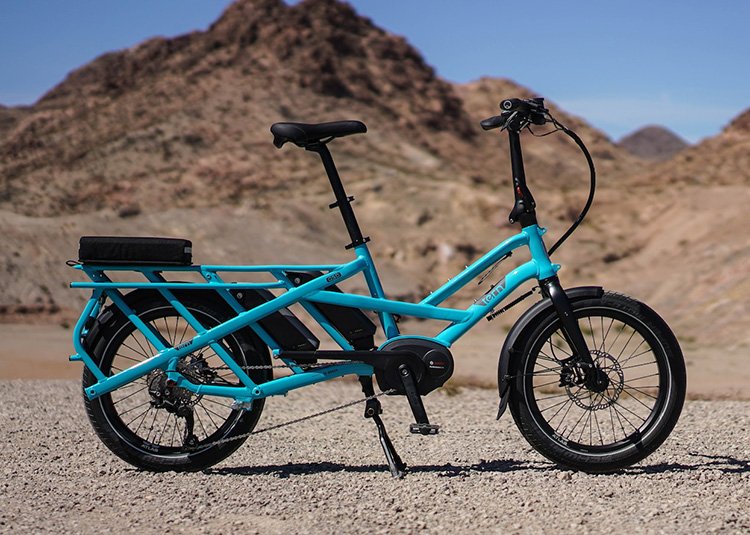 Also known as e-cargo bikes, are bikes designed with cargo-carrying accessories to handle heavy loads.
The frame, rack, and baskets should be durable to withstand heavy loads and manage large cargo capacities. Some durable brands can handle over 400 pounds or more.
Other Types of e-Bikes
To be honest, the list of different types of electric bikes can go on for quite a long time. However, we have mentioned the most common types.
For the sake of truth, we can name a few more:
electric road bikes
electric touring bikes
electric gravel bikes
electric cruiser bikes
electric trikes
The main point here is to figure out what type of electric bike you need. After that, you can evaluate and compare different e-bike features and other factors.
Main Features to Consider When Choosing an Electric Bike
Whether you are a touring or recreational cyclist, you need an ideal electric bike. Here are the main features to consider when choosing an electric bike.
Battery and Range
E-bike batteries have different capacities and ranges. So, it's important to understand how long you intend to ride so that you can choose the appropriate bike.
Ordinarily, most bike batteries range between 200Wh and 1,000Wh. Higher watt-hour batteries have more capacities and provide more power to the motor to increase the bike's range.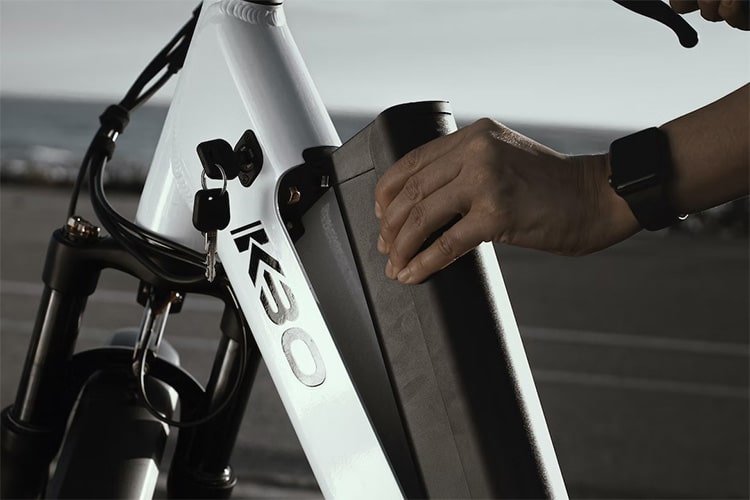 An electric bike's range (on a single charge) can vary from around 20 miles (for some smaller commuter bikes) to over 100 miles (for some high-end electric road bikes). A 20-30 mile range might be sufficient for commuting or short trips, while 50 miles or more may be necessary for longer rides or off-road adventures.
Motor Placement and Power
Most electric bike motors range between 250 and 750 watts. However, some high-performance models can have up to 1,000 watts or more. The motor can also be in three different positions on the bike. These include the front hub, the rear hub, and the bottom bracket.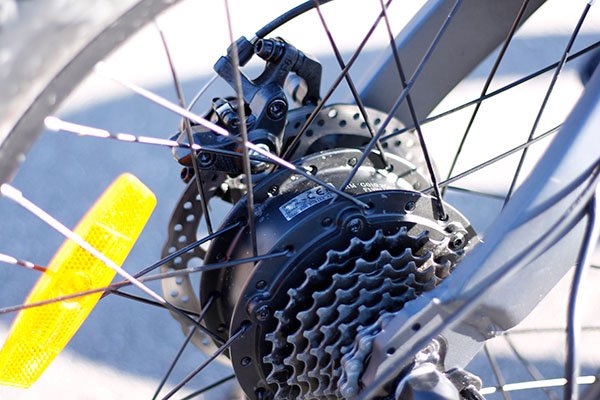 Motors placed on the rear hub are the most common because they offer adequate power and speed. For instance, a rear hub motor with 250-500 watts is a good choice for most riders.
On the contrary, front hub motors provide better traction and handling. The bottom bracket motors provide a more natural pedaling experience.
Torque Sensor or Cadence Sensor
All electric bikes have pedal assistance. When you pedal, one of these sensors tells the motor how much assistance is needed.
In short, the cadence sensor is like a switch. If you start pedaling, the switch turns on and activates the motor. The torque sensor is more sophisticated. It measures how hard you pedal and tells the motor how much power is needed.
The ride experience with a torque sensor is more natural. However, with the cadence sensor, the acceleration can be more aggressive and it's easier to get the full potential of the motor. Read more about the differences between cadence and torque sensors.
Pedal Assistance vs Throttle On Demand
As stated before, every e-bike has pedal assistance. It means if you start pedaling, the motor starts to work and makes pedaling easier.
Related: How e-Bike Works?
However, there are electric bikes that also have a throttle. It means, that you can ride your e-bike without pedaling. If this feature is important to you, make sure to opt for an e-bike that has a throttle.
Frame Type and Geometry
An electric bike's frame type and geometry can affect its stability, comfort, and handling.
There are different types of frames: Step-through and Step-over.

A step-through or open frame is a low-top tube frame providing a lower standover height that makes it easier to get on and off the bike. The top tube slopes/curves downwards towards the seat post. This kind of frame provides a more relaxed and upright ride position. Also, step-through e-bikes are suitable for seniors.
A step-over frame or diamond frame, on the other hand, is a sturdy and rigid traditional bike frame with a high-top tube sloping down towards the seat tube. Step-over bikes are usually with more aggressive riding position.
The geometry of an electric bike is the angle and measurement of the frame components. For instance, a more upright riding position can be more comfortable for casual riders, but a more aggressive riding position can provide better handling for off-road or high-speed riding.
Additionally, it's important to check what's the weight limit of the e-bike. You should choose a bike that can easily withstand you and all your cargo.
Braking System
Electric bikes usually have three types of brakes: Rim, mechanical disc, and hydraulic brakes.
Rim brakes are cheaper and often installed in entry-level bikes. These brakes use rubber pads that press against the wheel rim to slow down or stop the bike. Unfortunately, they are not effective in wet/muddy conditions.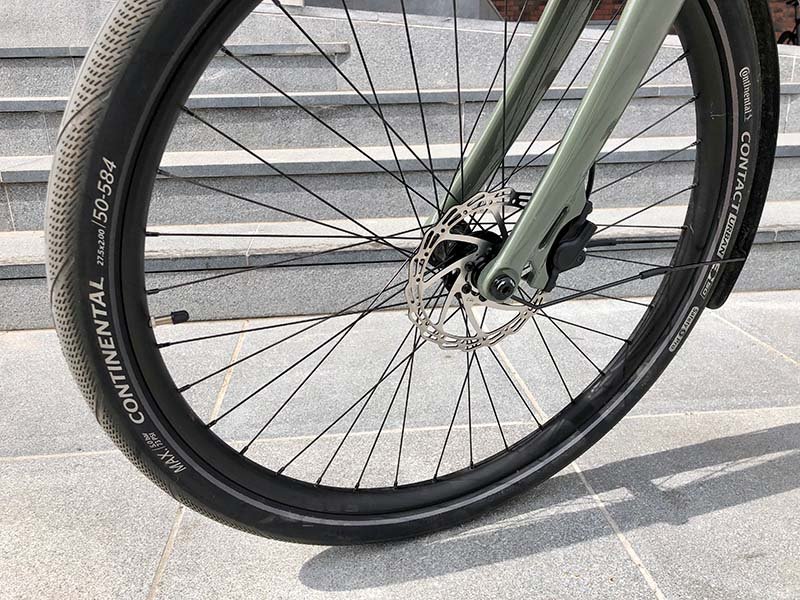 Disc brakes are more powerful brake systems with a metal rotor fixed to the wheel hub and a caliper to grip the rotor and slow down or stop the bike. Formerly, disc brakes were common in high-performance bikes. But now, even cheap electric bikes come with disc brakes.
However, there are 2 types of disc brakes – mechanical and hydraulic.
Hydraulic disc brakes are more powerful and need less hand strength to operate. But they are slightly costly and require more maintenance. E-bikes with hydraulic disc brakes tend to be more expensive and you rarely see them on cheap e-bikes.
Mechanical disc brakes, on the other hand, are cheaper and easy to maintain brakes. They, unfortunately, need more hand strength to operate. Most electric bikes that cost under $1,500 come with mechanical disc brakes.
Suspension System
Electric bikes have different suspension systems to provide efficient riding styles and handle contrasting terrain.
When choosing an electric bike, always consider the type of terrain you will be riding on. The most common suspension systems include front, rigid, and full suspension.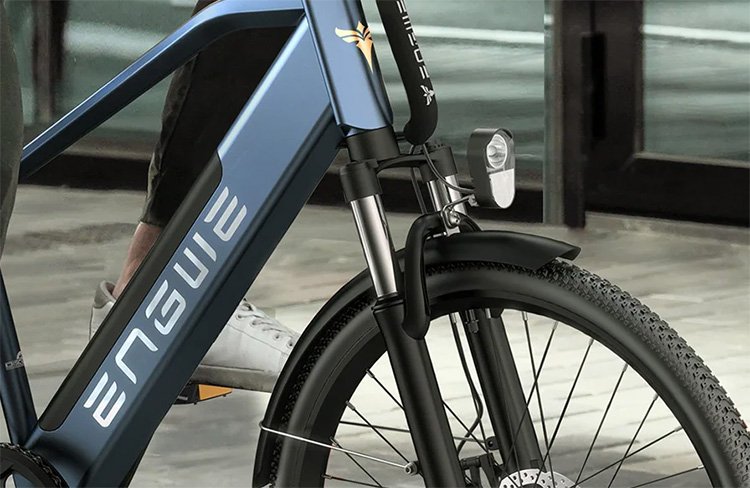 Front suspensions are mostly on commuter electric bikes and city bikes. The front suspension fork provides shock absorption when riding over the curbs or other occasional bumps.
Full suspensions or dual suspensions are common systems on electric mountain bikes. They help in absorbing impact and maintaining traction on rough trails.
Rigid electric bikes have no suspension system. They only rely on the tires and frame to absorb impact. These bikes are well-suited for smooth roads or bike paths.
E-Bike Gearing System
When choosing an e-bike, one of the pivotal factors to consider is its gearing system.
The gears on an e-bike play a crucial role in determining how the bike performs across different terrains and conditions. Whether you're tackling steep hills, cruising on flat roads, or navigating city streets, the right gearing system ensures optimal power, efficiency, and comfort.
When choosing an e-bike, consider the following for its gearing system:
Urban Commuting: Hub gears for low maintenance and frequent stop-starts.
Hilly Terrains: Derailleur gears for a wider range and hill-climbing efficiency.
Simple Rides: Single-speed for flat terrains and minimal maintenance.
Read our dedicated article for a more detailed overview of e-bike gearing systems.
Wheels and Tires
Electric bikes come in different wheel sizes and tires. The most common wheel size diameters are 26-inch, 27.5-inch, or 29-inch. Also, 20-inch wheels on electric folding bikes are also common.
Generally, larger wheels offer better stability and smoothness while smaller wheels are more maneuverable and easier to handle.
The tire width also varies, depending on the terrain. Narrower tires are designed for smooth terrain, while wide tires are ideal for off-road terrain.
The tread pattern varies depending on the type of bike and can affect the riding experience. Smooth tires are found on electric road bikes or commuter bikes, while knobby tires are on electric mountain bikes.
Additional Features
You should check a few extra features like brake lights or fenders to make your riding experience more comfortable. Here are the most common things to check.
Portability – consider the bike's weight and portability. A lightweight/folding e-bike is easier to carry, transport, or store in a small apartment/office.
Fenders – A bike with front and rear wheel fenders will protect you from mud, or other debris kicked up by the tires.
Lights – Consider bikes with bright built-in headlights and taillights for safety when riding in low-light conditions. Also, it would be best if the bike has an additional light reflective strip or spoke lights.
Racks and bag mounts – Racks and bag mounts, on the other hand, provide additional storage space. When choosing an e-bike, check if it has a rear, front, or integrated rack. Also, the rack should support enough weight and have durable material, depending on your intended use.
Main Factors to Consider When Choosing an E-Bike
You need to know the main factors to consider in an e-bike to help you pick the appropriate bike that meets your needs or preferences. Here are five factors to understand.
What's Your Budget?
Bikes are available at different prices. So, consider how much you are willing to spend before purchasing one.
High-end e-bikes, in this case, offer more advanced features and better performance. However, they might be the wrong choice for casual or commuter riding.
Lower-end bikes, on the contrary, may have fewer features and less advanced components but are still a good choice for riders on a budget.
Read also: How Much is an E-Bike?
Intended Use?
E-bike models serve different purposes including commuting, leisure riding, cargo hauling, or off-road adventures. So, you need to choose a bike best suited to your needs.
Commuter e-bikes have fenders, lights, and racks, while mountain e-bikes have dual suspension and fat tires to handle rugged or off-road terrain. Cargo e-bikes have extended frames and sturdy racks for hauling heavy loads.
So before buying an electric bike, it's important to know what your intended use will be.
Does the E-Bike Comply with the Law?
Laws and regulations, like the bike's speed and motor power output, govern how an e-bike operates in a country, state, city, or province.
As a rider, it is essential to research the laws and regulations in your area before purchasing an e-bike. Ensuring you have the precise bike will prevent fines and other legal issues.
Read more: State-by-State Electric Bike Laws in the USA
How Long is the Warranty of the E-Bike?
A warranty covers a bike's defects and malfunctions. However, warranties vary depending on the manufacturer. Most warranties range from one to three years, with high-end brands having longer.
Well-known brands offer more extensive coverage than low-end warranties. So, thoroughly check the warranty's duration and what it covers before buying the bike.
Is the Electric Bike Made by a Well-Known Brand?
Always check if the electric bike is from a well-known brand because these brands manufacture high-quality and longer-lasting bikes.
Read also: Best Electric Bikes Made in the USA
Moreover, they offer longer and more comprehensive warranties. Finding replacement parts from reliable brands is also easy.
Final Thoughts on How to Choose an Electric Bike
Choosing an electric bike might seem daunting because of the different varieties of models and brands available. The best way to choose an electric bike is to understand what you intend to use the bike for.
You need a mountain e-bike with dual suspension and fat tires for rough or mountainous terrain. For city commuting, you need a lightweight commuter e-bike or foldable electric bike.
Additionally, many crucial factors affect the choice of bike to purchase. Fortunately, this guide has looked at everything you need to check in an e-bike for the best riding experience.