With its incredible spectrum of best-in-class electric scooters, Kaabo electric scooter brand has burst into the industry and has managed to deliver hit after hit over the past few years.
The market leader has launched numerous electric vehicle wonders at affordable and reasonable prices. Each of them comes with its own set of advanced features and technologies that suit different riders and their specific requirements.
Here's a quick glance at the brand and its wonderful products that make it a true pioneer.
Electric Wheelers is reader-supported. Although we independently research and test products, we may receive a commission on purchases made from our chosen links. Read more…
Establishment of Kaabo Electric Scooters
The year 2013 marked the establishment of the Kaabo Electric Scooter in China. The fact that electric scooters came into existence in 2012 helped make Kaabo grow as the early leader in the field of off-road e-scooters as well as daily commute models.
Initially, when the Zhejiang Kaabo Electronic Technology Co. Ltd. was started, the brand mainly focused on crafting, manufacturing, and developing electric unicycles, electric scooters, and advanced electric balance bikes.
Since then, the brand has continued experimenting and innovating new technologies, while exporting to over 30 different countries around the United States, Africa, and Europe. The brand is now also known as "Qibu", while the English name remains KAABO.
When it comes to smart and state-of-the-art transportation, Kaabo has introduced innovative products into the market with the help of some highly skilled developers from around the world.
The brand has patented innovations in more than 24 nations and has made a mark with its Mantis series which comes with power up to 1,000 watts and takes the electric scooter ride experience to new awesomeness.
Constantly striving to bring high-end scooter models to people, Kaabo leads the industry in the sphere of research and development. Today, the brand works in close coordination with numerous distribution partners and factory brands.
---
Kaabo Electric Scooter Models
While the brand has designed and developed a wide range of high-tech electric scooters, here's a quick look at some of the top models from their inventory.
Mantis 10 Pro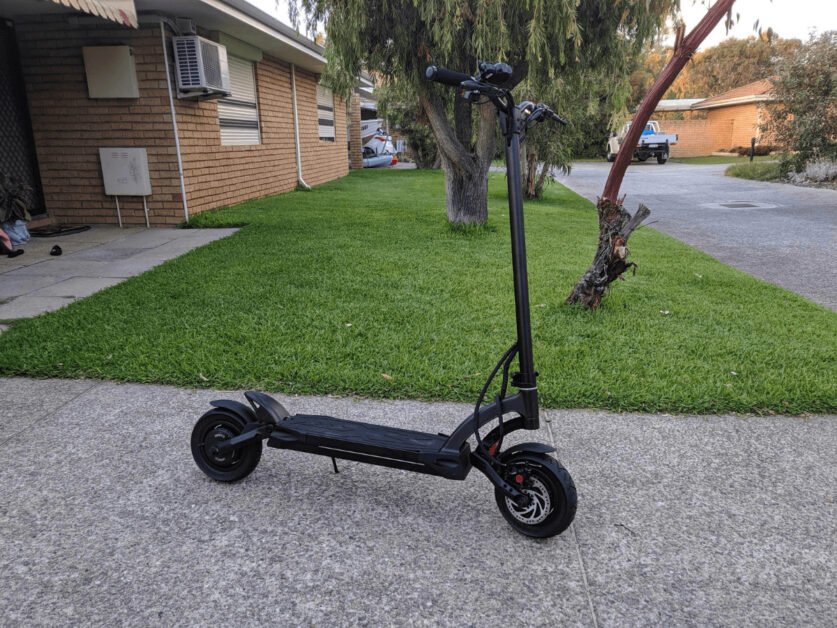 MSRP $2,499 FluidFreeRide
A market leader for light electric scooters, the Mantis 10 Pro combines great performance with a unique design and dual-engine construction. The cool design elements and efficient safety features make it stylish as well as comfortable at the same time.
Related: Kaabo Mantis Pro Full Review
The scooter is powered by two 1000W motors and a strong 60V 24.5Ah lithium battery that takes around 8 hours for a standard charge. However, you can reduce this to 4 hours with the quick charger. The side of the boarding area comes with LED lighting to ensure visibility in the dark.
The max range of almost 50 miles and the top speed of up to 37mph makes it undoubtedly, stunning. Speaking of braking, it has got an electronic anti-lock brake system and rear hydraulic disc brakes that provide super-swift braking. The scooter can carry 265 lbs with ease and the solid 10-inch tires make sure you don't have to worry about punctures on the route.
Key Specs:
Motor: 2x1000W
Max Speed: 40mph
Battery: 1470Wh
Range: 45+mi
Weight: 65 lbs
Weight Capacity: 265 lbs
---
Mantis 8
MSRP from $1,399 FluidFreeRide
The chief element of this model by Kaabo is its 8-inch tubeless tires that deliver a strong and improved road grip. What makes it lighter and smaller than the Mantis 10 is an amazing dual suspension and efficient power features. Whether it's swift city rides with high acceleration, rough trail performance, super portability, or large batteries to deliver 40 miles in a single charge – this one has got it all.
The Mantis 8 is available in two variants, wherein a Single Motor version offers an amazing ride quality with a top speed of 28 miles/h and weighs only 50 lbs. The Dual Motor PRO version is meant for those who want extra power and delivers a top speed of 33mph, more range, and strong acceleration.
Both versions come with an 800W motor while coming with a firm front and rear swing arm spring suspension to ensure all-terrain smooth rides. Regular hills are perfect with the single motor version, but advanced hill-climbing calls for the dual motor model. Both have got front and rear LED lights, turn signals, and lateral LED strips.
Kaabo Mantis 8 Single Motor Specs:
Motor: 800W
Max Speed: 28mph
Battery: 1092Wh
Range: 30mi
Weight: 50 lbs
Weight Capacity: 265 lbs
Kaabo Mantis 8 Dual Motor Specs:
Motor: 2x800W
Max Speed: 33mph
Battery: 1176Wh
Range: 40mi
Weight: 60 lbs
Weight Capacity: 265 lbs
---
Skywalker 10C
This electric scooter provides your commute a fabulous upgrade with an efficient 800W rear motor and a strong 48V, 15.6AH battery. In a single charge, the scooter can give you a range of 31 miles, and it weighs about 50 pounds.
What makes your ride comfortable and smooth is the front and rear shocks combined with all-terrain 10 x 3 pneumatic tires. The front and rear disc brakes on the scooter make sure you stop right on time whenever you want to.
Suitable for riders of all sizes.
When it comes to portability, the Skywalker 10C is compact enough to fit in the boot of your car or simply carry along in public transport when folded. It has also got LED deck lights, an LED display screen, LED head and taillights, as well as brake lights.
Key Specs:
Motor: 2x800W
Max Speed: 26mph
Battery: 749Wh
Range: 34mi
Weight: 50 lbs
Weight Capacity: 265 lbs
---
Skywalker 10H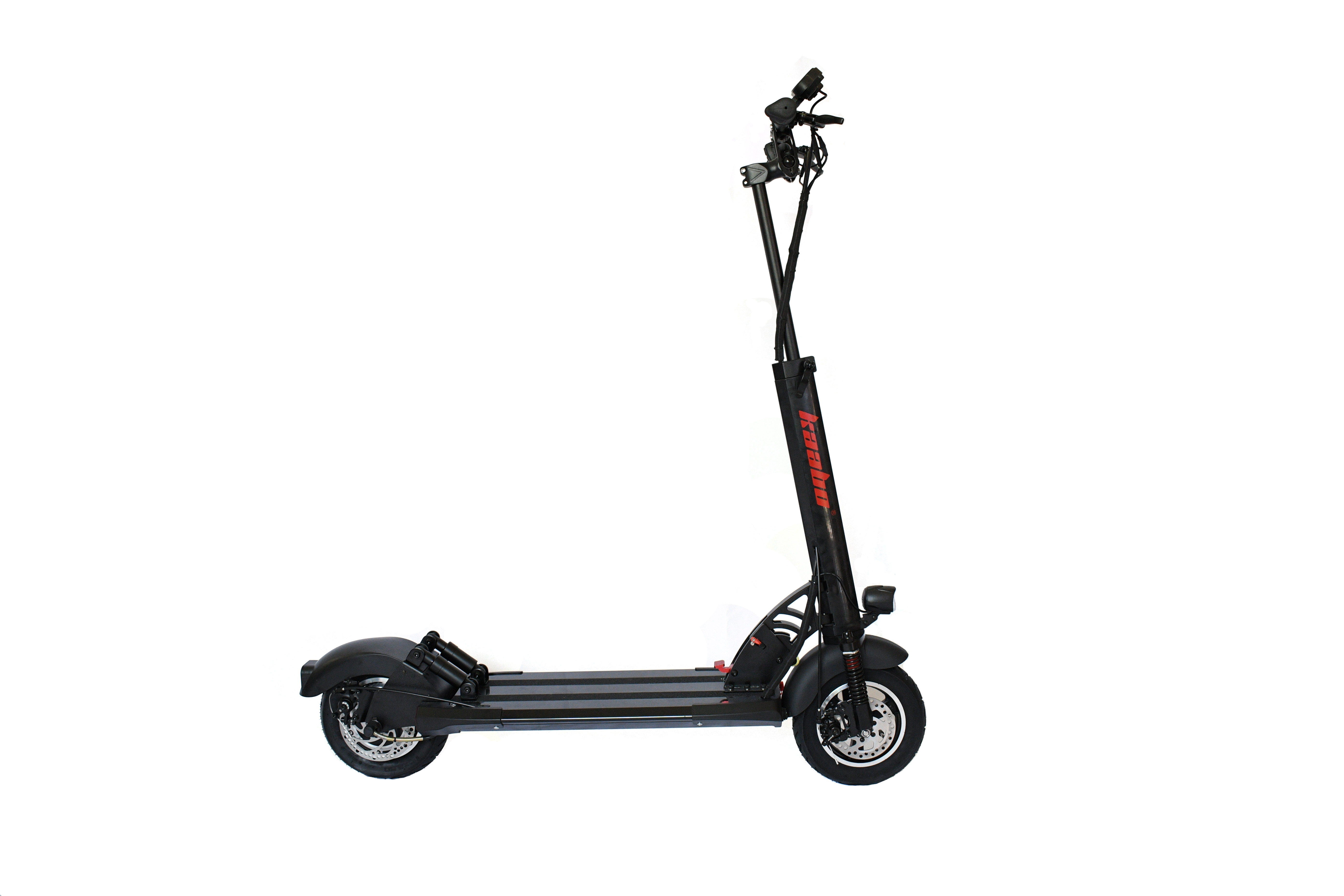 MSRP $899 Kreo Motors
With a rear 800W motor, this excellent model of the Kaabo range comes with dual shocks and 10-inch tires to ensure a comfortable and smooth ride. The charging time for the Skywalker 10H is no more than 4-6 hours.
For a well-priced scooter, this is the ideal lightweight choice for absolute beginners and medium riders.
The Skywalker is perfect for long-distance trips, as it offers a maximum range of 31 miles in one full charge. You can choose between 3 power modes, so the maximum range varies with your riding speed and style.
The total weight of the folding scooter is 47 pounds, yet it can easily hold up to 265 pounds. The compact shape when it's folded allows you to store it in the car and carry it along for your travels. And it doesn't forget to have an awesome battery, disc brakes, and LEDs.
Key Specs:
Motor: 800W
Max Speed: 26mph
Battery: 749Wh
Range: 31mi
Weight: 47 lbs
Weight Capacity: 265 lbs
---
Skywalker 8H
What makes the Skywalker 8H differ from the 8 is its larger battery capacity that enhances the scooter's performance and increases the range from 18 to 31 miles. Coming to the technical aspects, it features a double 500W engine and a 48V 13Ah battery.
You can take it with you no matter where you go as it's easy to fold and comes with an overall weight below 44 pounds. The disc brakes in the front and rear are simply marvelous, and the extra robustness of the vehicle comes from a reinforced aluminum frame.
The safe and quality braking system also sports an electric brake, while coming with front and rear suspensions to make your journey trouble-free. Finally, the 8H also has a speed limiter and controller just like the Skywalker 8.
Key Specs:
Motor: 2x500W
Max Speed: 25mph
Battery: 624Wh
Range: 31mi
Weight: 44 lbs
Weight Capacity: 265 lbs
---
Skywalker 8S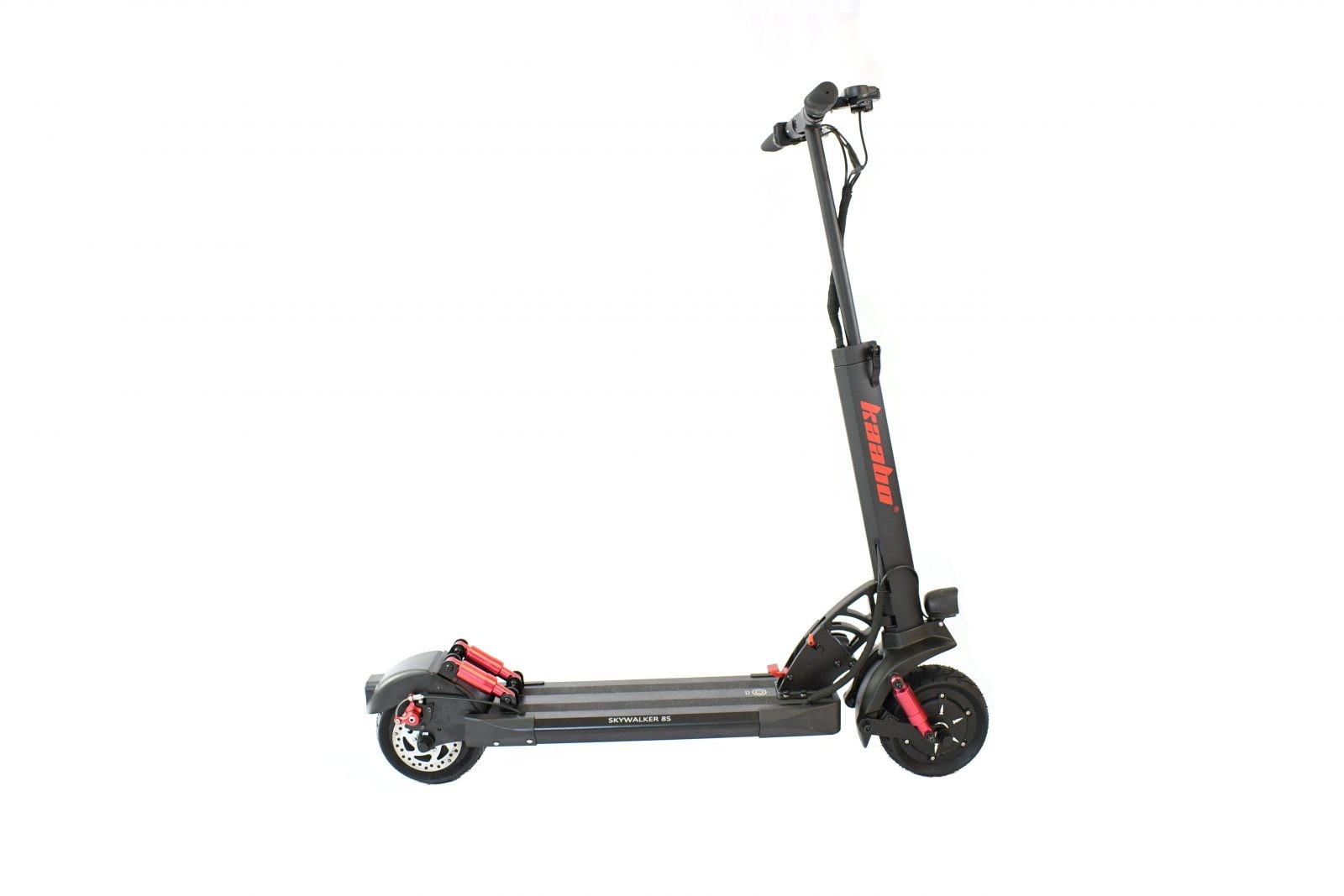 MSRP $850 Kreo Motors
Lightweight and super comfortable, the Kaabo Skywalker 8S is a nimble scooter for riders that like the idea of compact. It weighs no more than 48 lbs and has a nifty folding technology with folding handlebars and a powerful 800W engine that can ride uphill or cross-country routes with complete ease. It offers a top speed of 25 mph and comes with a suspension system that has front and rear shock absorbers while featuring a rear disc brake and an electronic brake to ensure a smooth ride.
The battery can easily deliver a range of up to 25 miles, while the 8×3-inch sports tires work wonders on even the trickiest terrains. Super bright lights on the deck and the back are coupled with an LED headlight to improve visibility in the dark, thereby making this one a highly versatile option out there.
A super dependable and lightweight alloy is used to work up the sleek black frame of the scooter, while the design of the deck and some metallic-red accents bring out a cool look to the same. However, the scooter is not suited for wet conditions as it isn't waterproof.
Key Specs:
Motor: 800W
Max Speed: 25mph
Battery: 624Wh
Range: 25mi
Weight: 48 lbs
Weight Capacity:
---
Skywalker 8
The Skywalker 8 is powered by a double 500W engine that allows you to propel it to 23.6mph on a private track. It can take you as far as 31 miles as it has got a lithium battery of 48V 13Ah.
One full charge calls for 3 hours and your ride gets all set to launch. The fact that it weighs only 35 pounds lets you carry it along wherever you go with great ease. Two efficient front suspensions provide the perfect cushion to any shocks on the road, while the front inflatable tire and a rear tire of soft gum make things even smoother.
Lastly, you are going to love the electric brake and the drum brake system of the scooter that ensures great control and safety. Other must-mentions include a controller, a speed limiter, and three different speed modes.
Key Specs:
Motor: 2x500W
Max Speed: 26.6mph
Battery: 624Wh
Range: 31mi
Weight: 35 lbs
Weight Capacity: 265 lbs
---
Wolf Warrior 11
MSRP $3,199 FluidFreeRide
Looking like a big, beautiful power vehicle, this electric scooter can withstand almost all terrains and stands true to its name. It has got motorcycle-grade inverted hydraulic shock absorbers in the front to reduce the effect of cracks and bumps in the path. A great hydraulic braking system works in coordination with the ABS system to provide a smooth and quick braking experience.
At 101 lbs, it may seem heavy, but this is the ideal weight for almost every off-road electric scooter. The 70-mile range proves to be a boon for off-road trips, especially when you are heading to remote areas with no charging ports. The scooter features a strong 2400W motor that delivers a top speed of 50 mph to make sure you can reach your destination in a fraction of the time.
The fact that it's constructed with tubular steel gives it a tough exterior while allowing it to support up to 330 lbs of weight without hampering the overall performance and speed. At the front, it has got two brilliant LED lights.
Related: Wolf Warrior 11 Full Review
Key Specs:
Motor: 2x1200W
Max Speed: 50mph
Battery: 2100Wh
Range: 70mi
Weight: 101 lbs
Weight Capacity: 330 lbs
---
Wolf Warrior X
MSRP $1,995 Voromotors
Warrior X has a wide spectrum of new, advanced features and a great folding mechanism.
The Wolf Warrior X is ideal for those who want a multi-terrain performance in a compact electric scooter, that too at a lower price.
It is extremely sleek and comes down to the dimensions of 1211mm(L) x 650mm(W) x 578mm(H) when folded. It's amazingly powerful with dual 1100W motors coupled up with 10 x 3-inch all-terrain tires and a torque that fits every adventure coming your way. It features full hydraulic brakes for efficient stopping power so you don't face any issues with braking and safety.
The scooter also has an LED Pedal lamp which lets you set different colors on an LED front spotlight, front light, turn light, and your phone. It is equipped with a motorcycle-grade horn, and the PRO + version of the model has a mini-motor controller, throttle, and a 28Ah battery to provide a top range of 62 miles.
Key Specs:
Motor: 2x1100W
Max Speed: 43mph
Battery: 1680Wh
Range: 60mi
Weight: 75 lbs
Weight Capacity: 265 lbs
---
Wolf Warrior King+
MSRP $2,999 Voromotors
The Wolf King+ is an upgrade to the award-winning Wolf Warrior 11, packing huge power and a great range with a 72V 28Ah battery. It can get to a top speed of 60mph and a maximum range of 50 miles.
The King+ has two 1500W motors with a max power of 6720W. You can reach the top range when on single-driving mode while going for a hill climb of 50 degrees. The battery features a honeycomb bracket and the efficient BMS ensures more powerful power output and powerful current, thereby making the battery safer.
The battery can reach 5 amperes and improves the scooter's efficiency by 90%. The BMS system controls all the components of the battery to provide overcharge protection, breaking protection, and over-current protection. The King+ is equipped with front and rear hydraulics and the ABS comes with two 72V 40A controllers.
Key Specs:
Motor: 2x1500W
Max Speed: 60mph
Battery: 2016Wh
Range: 50mi
Weight: 105 lbs
Weight Capacity: 400 lbs
---
Conclusion
Whether you are looking for a powerful scooter that can help your adventures and off-road experiences, or simply want to get a city commute vehicle for your daily-life travels – Kaabo has got something in store for you. The brand covers a huge range of budgets when it comes to the different vehicle models and their editions, making sure they don't fail to delight you. Super cool designs, compact and lightweight constructions, durable tires, and a power-packed battery system, the innovative e-scooters by the brand truly deserve the reputation they have earned today.