The electric scooter industry is filled with some exciting makes with power-packed features. Kaabo Mantis scooters are known for delivering superior performance in both urban streets and off-road paths. With the combination of reliable flexibility and incredible acceleration, you would surely love the ride.
Kaabo Mantis Pro scooter is the advanced version of the base model Kaabo Mantis. Similarly to 17.5 amp-hour base make, the scooter is available with a 1000-watt dual electric motor, best build-quality – all these packed in 64 lbs (29 kg) package.
However, with the pro, you also get hydraulic zoom disc brakes, Minimotors EYE throttle, a large battery, and also a lot more powerful controllers. This is probably the best scooter available within 64 lbs (29 kg) that has been tested and delivers 33.7 miles (54.3 kilometers) of urban maxed-out commuting, based on real-world range tests.
Let's dig deeper and find out what Kaabo Mantis Pro really is about!
Electric Wheelers is reader-supported. Although we independently research and test products, we may receive a commission on purchases made from our chosen links. Read more…
Kaabo Mantis Pro Specs
Electronics
| | |
| --- | --- |
| Motor | 2 x 1,000W |
| Top Speed | 35 mph |
| Battery | 60V 18.2 AH (1,092Wh) LG |
| Range | 40 miles |
| Charge Time | 9-12 hours |
Features
| | |
| --- | --- |
| Weight | 65 lbs |
| Max Payload | 330 lbs |
| Dimensions | 47″ x 23″ x 48″ |
| Folded Dimensions | 48″ x 24″ x 19″ |
| Brakes | Front & Rear Disc |
| Suspension | Dual Coil Spring |
| Tires | 10″ x 2.4″ |
MSRP: from $1,699
See Availability at Voromotors
GET 7% OFF with a Coupon Code EWHEELERS
Motor, Speed, and Acceleration
The 60V BLDC dual 1000-watt motor system is among the most impressive aspects of Kaabo Mantis. With the switch nearby the "cockpit", you're quickly able to toggle between the use of one or two motors. The motor has a total of 2000W mean power. You'll surely feel it!
In many acceleration tests, the Kaabo Mantis Pro is a land rocket. It can accelerate to 15 mph (24 km/h) within 2.0 seconds, and to 20 mph (32 km/h) within 2.8 seconds. It reaches a top speed of up to 35 mph (56 km/h) within just 9.3 seconds.
As you can already understand, the Pro is quite fast – you can yank the arm out of the socket real fast. You get an incredibly responsive throttle – you would feel motors pull out right upon squeezing the accelerator down.
Although, the top speed of this electric scooter may vary in some circumstances. It has been tested, that if the rider weighs 163 lbs (74 kg), the scooter hits a top speed of more than 37.3 mph (60.1 km/h). If the rider weighs 233 lbs (106 kg), the scooter can go about 36,7 mph (59 km/h).
When comparing it with other similar scooters, the Mantis Pro is up to 3 times faster, and also it can compete well with quality beast scooters such as Zero 10X.
Battery and Range
While with the earlier base model you got a 60-volt FST Li-ion, The Kaabo Mantis Pro version is available with 24.5Ah LG lithium-ion battery. The Pro version notably has a lot better range but with higher costs. Pro version has a testing range of more than 33.7 miles (54.3 kilometers). It is recommended to consider the range you require before you finalize between the Pro and the base model.
The Kaabo Mantis Pro range has been tested on different test loops such as hills, rough terrain, and stops. The scooter has been ridden through 163 lbs (74 kg) rider with a maximum speed which is safe while operating with dual-motor mode with performance settings that are fastest (energy saving).
You get a higher range while riding "single drive mode". If you are enabling motors to offer high top speeds with lots of acceleration you lose a bit on the range but yet again, riding the scooter conservatively with single motor mode extends its range quickly.
Also, you get a turbo/eco toggle button for selecting from range and speed.
Brakes and Tires
The Mantis electric scooter is available with hydraulic disc brakes which are buttery smooth and offer great braking features. Also, it comes with electronic brakes with programmable strength. These electronic brakes are really strong. Additionally, they have the ABS feature.
It has a braking distance of only 10.2 feet (3.1 meters) from a speed of 15 mph (24 km/h) – which ties well with other scooters with the best performance.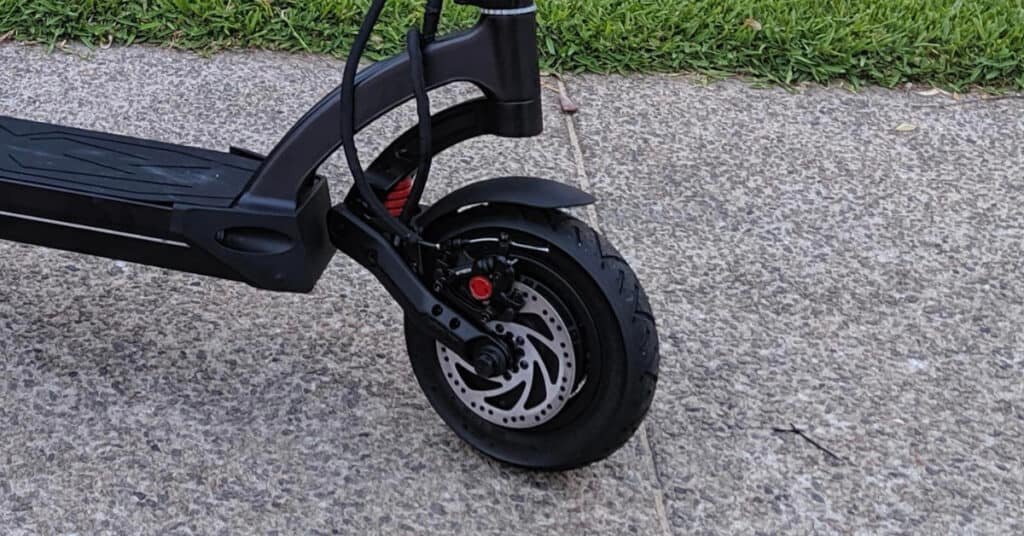 The Kaabo Mantis Pro has large 10 inches (25.4 cm) inner tube pneumatic tires with rounded profiles for a smooth and performance packed ride. With these tires the ride quality becomes great and the scooter feels a lot more responsive and agile.
The tires get mounted on the split rim, which is a great bonus. With split rim, inner tube replacement and changing tires becomes easier compared to scooters having solid rims.
Suspension
One thing that most people remain excited about Kaabo Mantis remains to be the spring suspension with dual coil. With it, you feel like you're hovering above the ground. Even the worst road conditions can feel insanely smooth because of dual spring arms.
Although the scooter is designed for urban use, it is quite capable of also going off-road. The suspension system lets you ride smoothly on dirt, gravel, and grass on both sunny and rainy days as well.
Portability
Everyone knows that at 61 lbs (28 kg), Kaabo Mantis is quite heavy compared to other scooters and the Pro weighs 65 lbs (29 kg). However, getting a high-end scooter with a higher weight isn't bad.
The Kaabo Mantis Pro comes with a sturdy folding mechanism allowing you to fold the scooter together for fitting well in the trunk. This, however, isn't the simplest thing that you can bring around cafes. The stem can feature two locks for ensuring that it doesn't wobble around while you're riding. This has been a major issue with a few foldable scooters but Kaabo Mantis has been rock-solid.
Lights
Kaabo Mantis Pro features inbuilt lights like the white side deck lights, rear, and front-mounted LED deck lights.
As all lights have been mounted very low, they don't project at farther distances. You'll be completely visible to anyone on the road but would have a hard time while seeing the way ahead. It is recommended to have an additional high-mounted bicycle taillight and headlight to ride safely at nighttime.
Riding quality
Overall we can say that the Mantis Pro has performed excellently in the ride quality aspect, due to having best-in-class suspension along with 10 inches large pneumatic tires.
A quite sizeable deck, which is 20.3 inches long and 8.3 inches wide (51.5 x 21 cm), makes standing on it very comfortable. The deck has been covered in a rubber emblemized mat with a grip on shoes in wet or dry conditions. Also, it covers screw holes and seams in the deck plate top.
The standout suspension is made up of springs in both the rear and front. Also, the suspension preload is adjustable. With it, the suspension remains adaptable for different weight riders. Also, it ensures that you're staying in the suspension's sweet spot.
Despite some weight, the Kaabo Mantis Pro is a highly agile scooter. It offers a stable suspension with tires of a rounded profile. The stock tires have a tread pattern that is grippy and smooth. However, the scooter is quite powerful for seriously burning rubber while launching from a standstill.
The cockpit of Kaabo Mantis Pro
The Mantis is fitted with a simple-style cockpit having relatively wide bicycle-style handlebars with Minimotors trigger-style throttle. The cockpit is available with buttons to control the motor mode (dual or single) and power (faster or eco turbo mode).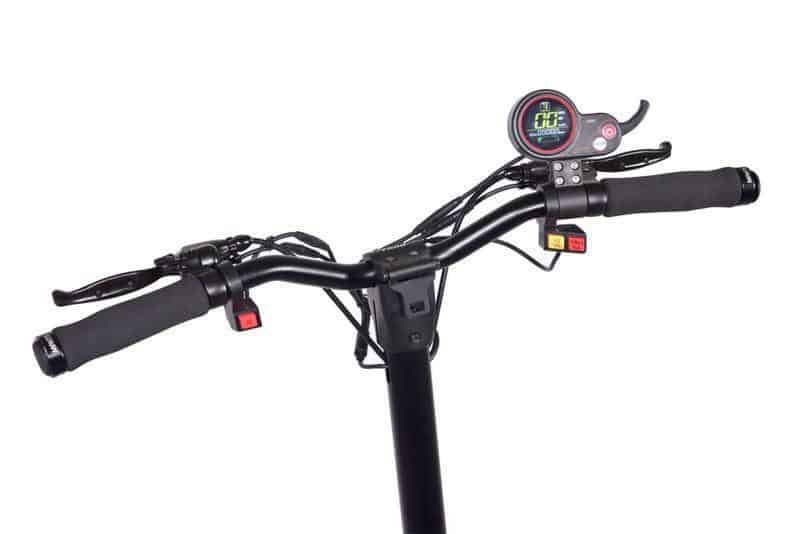 Trigger-style Minimotors throttle becomes ubiquitous on high-performance scooters is uncomfortable to have prolonged usage.
Throttle trigger has been built in an LED information display which is quite bright enough for reading in entire sunlight with green backlighting to have night riding. A lot of P-settings get tuned through clicking power and mode buttons.
On the display, you're always able to notice the current speed, gear, and battery level. The throttle, level of acceleration, top speed, and various other things can be customized.
The Kaabo Mantis Pro offers customization for the speed limit. Unlike the base model, Pro-version has a Minimotors Eye display which has been a major upgrade.
What can be improved on Kaabo Mantis Pro?
Although honestly there is not much to improve in the Kaabo Mantis Pro, a few points are there:
The rear tire mudguard isn't too efficient. If you're riding in dirty and wet conditions, you would end up having mud sprays on the backside.
At this price, an option for locking would be handy. This could've been an added feature.
Other Electric Scooters to Consider?
Kaabo Mantis vs Zero 10x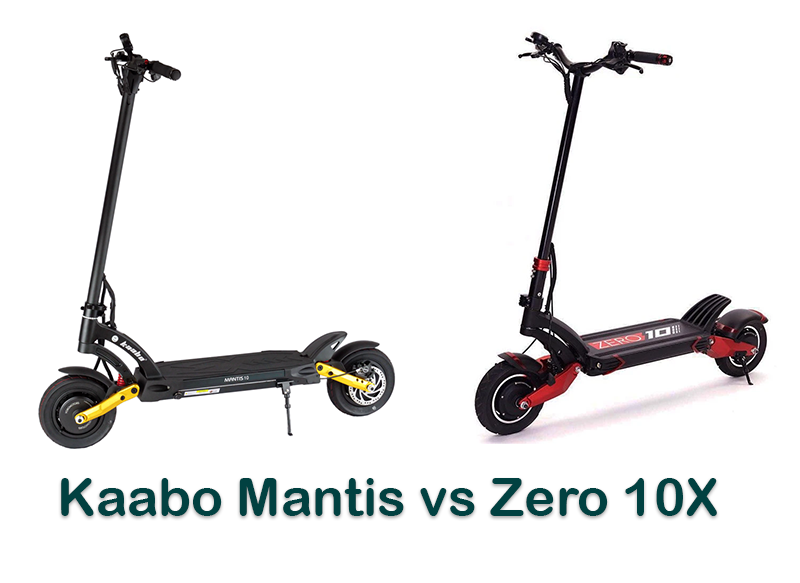 | | | |
| --- | --- | --- |
| Zero 10X | | Kaabo Mantis Pro |
| 2 x 1,000W | Motor | 2 x 1,000W |
| 35 mph | Top Speed | 35 mph |
| 52V 18Ah (936Wh) | Battery | 60V 18.2 AH (1,092Wh) LG |
| 38 miles | Range | 40 miles |
| 80 lbs | Weight | 65 lbs |
| 330 lbs | Max Payload | 330 lbs |
| 46.5″ x 13″ x 17.5″ | Folded Dimensions | 48″ x 24″ x 19″ |
| Hydraulic Disc | Brakes | Front & Rear Disc |
| Dual Spring | Suspension | Dual Coil Spring |
| 10″ x 3″ | Tires | 10″ x 2.4″ |
| $1,699 | Price | $1,699 |
Conclusion
The Mantis Pro from Kaabo is packed with high power and great range into a manageable 64 lbs (29 kg) package. The acceleration, ride quality and handling have been loved by a lot of riders.
Overall, this is the finest available electric scooter that you can try as not only it is comparatively faster than others but it also has a great range.
The Mantis Pro thrashes a lot of scooters in its segment with its fine detailing, superior built quality along customization options through Minimotors display. Even at the listed price range.
If you're quite serious about having a proper electric scooter and you wish to pay a little extra, you can get your hands on Kaabo Mantis Pro. Users ride it on a daily basis and absolutely never get tired of loving it.