Electric Wheelers is reader-supported. Although we independently research and test products, we may receive a commission on purchases made from our chosen links. Read more…
It's easy to see why some people think the Kaabo Wolf Warrior 11 is the baddest scooter on the planet. Warrior 11 is one of the best scooters that Kaabo electric scooter manufacturer has ever made. It looks like a scooter, performs like a downhill mountain bike, and sounds like a motocross racer.
Could the Wolf Warrior 11 indeed be the ultimate all-terrain electric scooter? Read on to find out.
Overview
MSRP: $2,999
Available at:
> Voro Motors
GET 7% OFF with Coupon Code EWHEELERS
The Wolf Warrior 11 has a 60-mile range and a 50 MPH top speed, so it's built for long-distance commuting. It's also big and sturdy and can be fitted with special off-road tires, giving it ample ability to drive over grass, rocks, mud, and rough terrain. The giant hydraulic front fork and the tubular frame of the bike make this look stand out strong and stout.
Wolf Warrior 11 is one of the best off-road electric scooter for adults.
Do you need an electric scooter that can drive over anything and travel long distances? That's what the Wolf Warrior scooter is in a nutshell.
Full Specs of Wolf Warrior 11
| | |
| --- | --- |
| Motor | 2 x 1,200W Brushless Dual-Drive |
| Battery | 60V 35Ah (2,100Wh) Lithium-Ion LG/Samsung |
| Recharge Time | 10-12 hours (4h with 2 fast chargers) |
| Max Speed | 50 mph |
| Max Range | 60 miles |
| Brakes | Dual Hydraulic Disc + EBS |
| Suspension | Front & Rear Dual Hydraulic Spring Shocks |
| Weight | 101 lbs |
| Weight Capacity | 330 lbs |
| Tires | 11″ Tubeless Tires |
| Lights | LED Front, Rear, and Side + Turn Signals |
| Dimensions | 49.2 x 24.6 x 49.2 inches |
| Folded Dimension | 59 x 11 x 19 inches |
| Display | EY3 Minimotors Display |
| IP Rating | IPX4 |
Pros
Great suspension for off-road riding
Good hill climbing capabilities
High top speed + sharp acceleration
Durable frame + high-end components
Cons
Heavy
Not easily portable
Long charging time with stock chargers
Performance
Coming to the performance of this beast, this monster excels in all the performance metrics. This is a high-performance electric scooter that can attain high speeds that can compare to other standard vehicles. Let us walk you through all the key performance metrics of the Wolf electric scooter.
Speed & Acceleration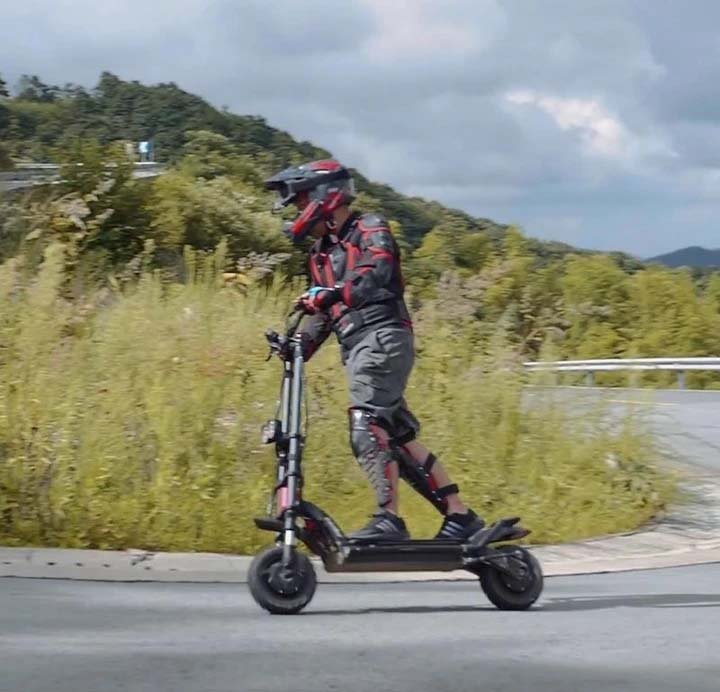 Off the bat, the Wolf Warrior 11 looks like an extreme performer. Top speeds of up to 50 MPH and neck-breaking acceleration (0 – 40 MPH in 9.4 seconds) ensure that it can keep up with scooters worth thousands more.
Packed underneath its rugged exterior are dual brushless motors capable of delivering up to 2,400 Watts of power. On a regular commute, you'll only need one of the motors to get from point A to B.
The throttle is snappy and liable to throw you off the scooter if you do not ease into it. On the upside, a sensitive throttle provides lag-free acceleration, a feature that's useful when powering up hills.
If you are not used to riding super-powerful electric scooters, you may want to put it in a single motor mode till you get used to its punchy experience. Since this beast can go to extreme speeds, it is recommended you use a certified helmet for motorcycles.
Hill Climbing
Looking at the 5,400 Watts of peak power nestled under the hood, it is clear that the Wolf Warrior 11 is a hill-climbing monster.
When there's a need for raw hill-climbing power, the Wolf Warrior 11 can get you over steep inclines impressively fast. This dual motor electric scooter can take on the steepest trails off-road and fly through city inclines using its dual motors.
It is a frighteningly fast climber, and unless your daily route is full of climbs, you might fail to appreciate its immense climbing power. However, if it's a thrill you want, the Wolf Warrior 11 is the electric scooter you want when exploring off-road trails with your mountain biking friends.
Battery & Range
The Wolf Warrior 11 is powered by a 60V 35Ah Samsung battery that can produce 2,100-watt-hours of energy. That gives you a maximum range of just under 60 miles (depending on factors like rider weight and terrain).
60 miles of range is possible with 165 lbs rider and a constant speed of 15 mph. In reality, you won't be riding with constant speed. There will be many stops and accelerations and higher speeds than 15 mph. The more realistic range is about 30-40 miles.
This battery also comes with a BMS (Battery Management System) that protects against known faults such as overcurrent, overvoltage, overheating, overcharging, and more.
Despite its sizeable capacity, you can charge this battery to completion in just four hours using two fast chargers (sold separately). The 2 stock chargers that come with the electric scooter take 10 to 12 hours to fill the battery, so it makes sense to invest in fast chargers at some point.
Brakes
The Wolf Warrior 11 electric scooter features front and rear hydraulic brakes hidden behind oversized, ventilated Zoom calipers, which give it quite some stopping power.
These powerful brakes match its rapid acceleration and high top speed. Braking is smooth, buttery, and reliable, thanks to thick, high-quality brake levers. Like the throttle, these brake levers are also sensitive enough, so that you can pull them all the way down using two fingers.
Aside from the rock-solid hydraulics, the Wolf Warrior also comes with eABS (electronic anti-lock brake system), which pulses an electronic brake that's strong enough to prevent skidding.
Suspensions
The Wolf Warrior 11 has a raised deck that gives you ample ground clearance. Each wheel is supported by heavy-duty shocks, and the off-road tires are 11 inches across.
The Warrior Wolf 11 is said to have the best suspension systems in the world of electric scooters.
However, what will draw your attention first is the dual stem fork. You'd expect to see this kind of suspension on a Motocross or mountain bike, not on a scooter.
This design eliminates stem wobble, a problem you'll find even on pricier scooters. That makes the Wolf Warrior 11 not only safer but more adventurous when off-roading.
Design and Features
Build Quality
The strength of the Wolf Warrior's build quality is unquestionable, especially if you're looking for a true off-road beast.
The scooter's internals are safely housed in an aircraft-grade aluminum exoskeleton which offers more than just protection from impact. Also, it uses a variety of high-quality components that are used in the automotive industry.
As per many user reviews, this scooter is highly durable and can last for many years.
The biggest drawback to this off-road scooter's sturdy build quality is that it brings the weight up to 101 pounds. That's a lot of weight to carry up the stairs of your apartment building.
On the upside, the heavier frame feels more stable on the road and can carry up to 330 pounds.
Is Kaabo Wolf Warrior 11 Waterproof?
Kaabo Wolf Warrior 11 has a sturdy body with an IPX4 rating, so it will handle moderate splashes without a hitch.
Its water resistance is just enough to make it an off-road maestro, and therefore, you shouldn't expect it to withstand immersion of any sort. Also, it is not recommended to ride it in heavy rain for a longer period.
Wheels & Tires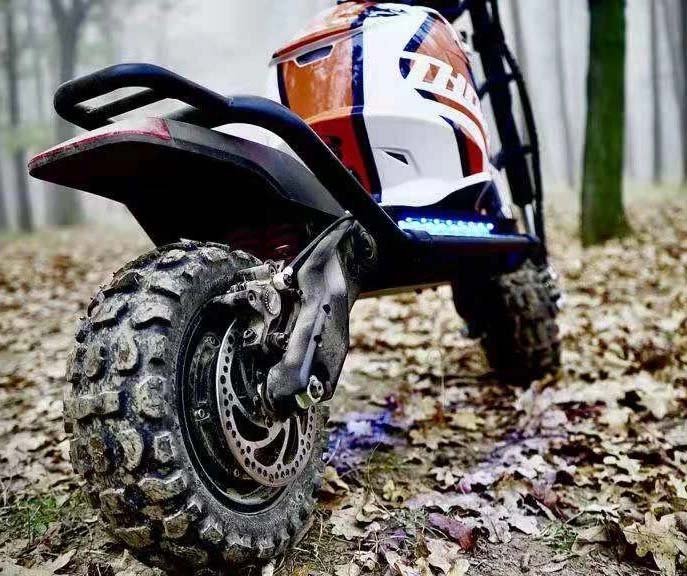 Both 11-inch tubeless street tires and off-road tires are available for the Wolf Warrior scooter. The street tires are smooth to maximize acceleration and top speed.
The off-road tires are all about traction, so they're knobby enough to provide grip on all types of terrain, including hard-packed dirt, mud, and gravel. This makes it a perfect all-terrain scooter.
Deck
The Wolf Warrior 11 has one of the most spacious decks you'll find anywhere. It gives you 22.5 x 9 inches of space for your feet. More room on the deck means that you can switch to different foot positions more comfortably depending on whether you're cruising, climbing, or descending.
The huge deck is covered with a rubber mat, which adds some extra comfort.
Portability
The performance of the Wolf Warrior 11 comes at the cost of its portability. It measures about 58 inches long even when folded, which means that it cannot fit in the trunk of a standard passenger vehicle.
The folding is also subpar as it adds 9 inches to the length of the scooter. The stem folds onto the deck, but there's no locking mechanism to hold it down, so you need to pack it appropriately.
Locking and unlocking are also quite time-consuming. It's a bulky scooter, and setting it up by yourself will take no less than 30 seconds each way.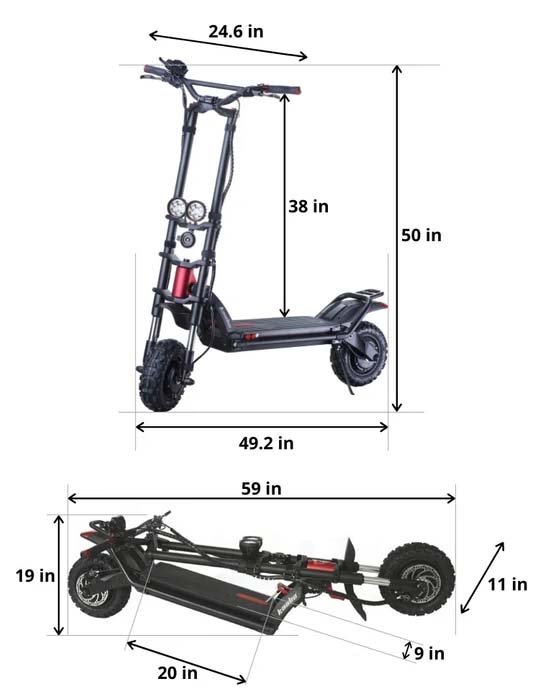 Cockpit
Elegant is the word you'd use to describe the cockpit. The wide aluminum handlebars only have a handful of features – the EY3 LCD throttle, brake levers, power buttons, and horn – so they look beautifully uncluttered.
The handlebars are wide and are strong enough for an off-roading experience. Also, the handlebar height is adjustable.
Ergonomic handgrips top the sturdy cockpit, making the handlebars stick out around 9 inches even when folded. Cable routing is neat, and every essential component is protected adequately from strain to ensure that the setup stays put for longer and through harsher rides.
Just below the headlights, there is a disc-shaped horn, that is essentially the loudest ever horn you can get in an electric scooter. It can be activated using a button on the left side of the handlebar and is a small version of a car horn. The horn simply fits its monstrous look.
P-Settings of Display
| | | |
| --- | --- | --- |
| # | Setting | Default Value |
| P1 | Battery voltage protection | 60 (Do not adjust) |
| P2 | Motor | 15 (Do not adjust) |
| P3 | Speed signal | 0 (Do not adjust) |
| P4 | Choose between MPH and KPH | 1 = MPH and 0 = KPH |
| P5 | Choose between kickstart mode or throttle acceleration | 1 = Kickstart mode; 0 = Throttle Acceleration |
| P6 | Cruise Control | 1 = Cruise Control; 0 = No Cruise Control |
| P7 | Acceleration power: 0 = Fast and 5 = Slow | 3 |
| P8 | Speed setting: 1% = Slowest; 100% = Fastest  | 1-100 |
| P9 | Battery Saver | 1 = Max, 2 = Min, 3 = None |
| P10 | Electronic Braking Strength | 1 |
Lights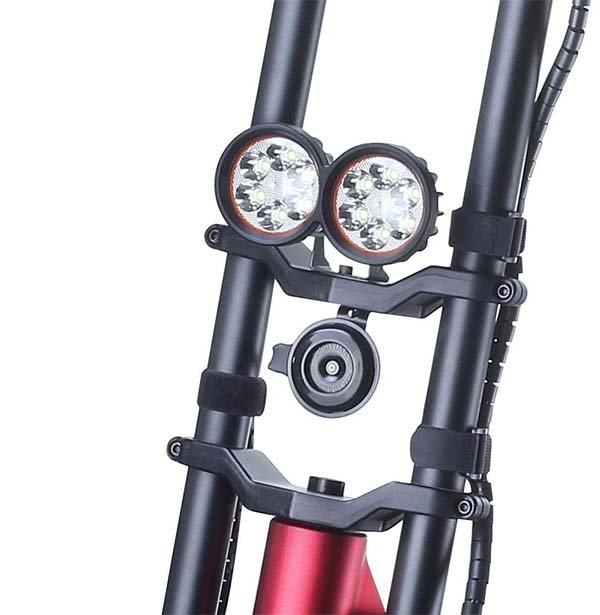 Lighting is more than adequate on the Wolf Warrior 11. There are two large headlights, a pair of front-facing deck lights, lights for ground effects, and a bright LED tail light.
The light settings can be tweaked from bright to low or from low to pulse. You can also tilt the main headlights vertically and horizontally. It has sufficient lighting to keep the rider safe and visible on the road when commuting at night.
Additionally, there are lights towards the side of the deck that illuminate the ground in the front and around the scooter.
Comparisons
Kaabo Wolf Warrior 11 vs Wolf Warrior X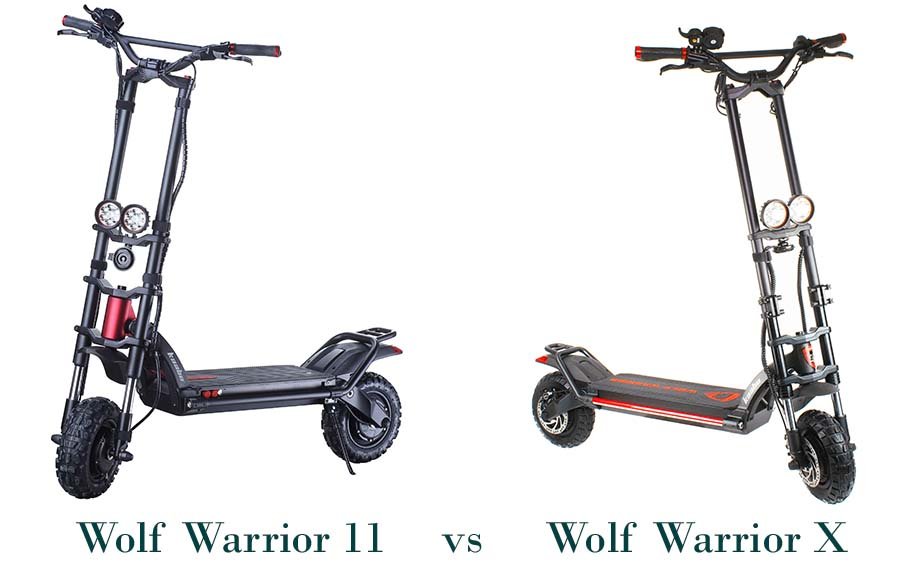 | | | |
| --- | --- | --- |
| Wolf Warrior 11 | | Wolf Warrior X |
| 2 x 1,200W | Motor | 2 x 1,100W |
| 60V 35Ah (2,100Wh) | Battery | 60V 21Ah (1,260Wh) |
| 50 mph | Max Speed | 44 mph |
| 60 miles | Max Range | 40 miles |
| 101 lbs | Weight | 79 lbs |
| 330 lbs | Weight Capacity | 265 lbs |
| 11″ Tubeless Tires | Tires | 10″ Tubed Tires |
| 49.2 x 24.6 x 49.2 inches | Dimensions | 48 x 24.5 x 51.1 inches |
| 59 x 11 x 19 inches | Folded Dimension | 48 x 24.5 x 23.2 inches |
| IPX4 | IP Rating | Not provided |
| $2,999 | Price | $1,999 |
Main differences between Wolf Warrior 11 and Wolf Warrior X
The Wolf Warrior X is basically a smaller version of the Wolf Warrior 11, right down to the oil-damped double stem front fork. The main difference is in its size and weight.
At 79 pounds, it is 22 pounds lighter and so far more portable than the 11. Similarly, it is the smaller of the two scooters, so you'll be able to squeeze it into the trunk of a normal passenger car.
The maximum weight capacity is 265 pounds, but it is as stable and balanced as the WW11. Though built from the same aircraft-grade aluminum, it lacks water resistance.
It's definitely going to end up second best when it comes to off-road riding. However, the Wolf Warrior X, which is equipped with multiple LED lights, is also excellent for night riding.
Kaabo Wolf Warrior vs Dualtron Thunder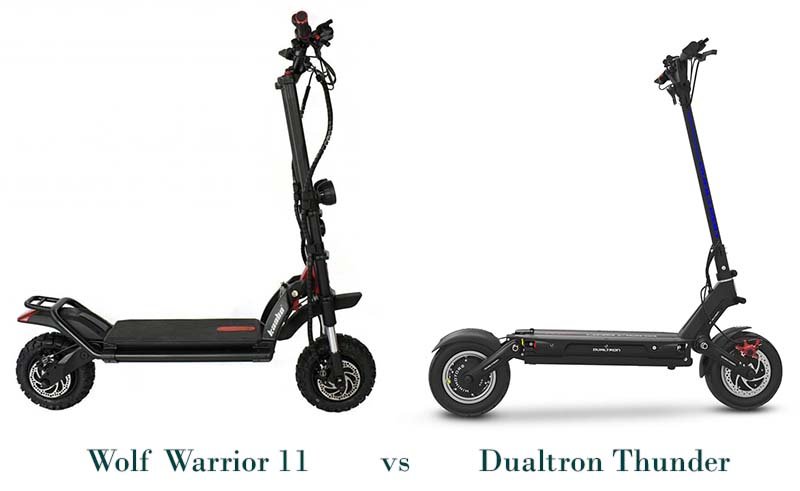 | | | |
| --- | --- | --- |
| Wolf Warrior 11 | | Dualtron Thunder |
| 2 x 1,200W | Motor | 2 x 1,200W |
| 60V 35Ah (2,100Wh) | Battery | 60V 35Ah (2,100Wh) |
| 50 mph | Max Speed | 50 mph |
| 60 miles | Max Range | 75 miles |
| 101 lbs | Weight | 95 |
| 330 lbs | Weight Capacity | 265 |
| 11″ Tubeless Tires | Tires | 11″ Pneumatic Tires |
| 49.2 x 24.6 x 49.2 inches | Dimensions | 49 x 24 x 48 inches |
| 59 x 11 x 19 inches | Folded Dimension | 49 x 12.5 x 21 inches |
| IPX4 | IP Rating | IP54 |
| $2,999 | Price | $3,899 |
Differences and similarities between Wolf Warrior 11 and Dualtron Thunder.
While the look of those two is quite different, the performance of Wolf Warrior 11 and the Dualtron Thunder is almost indistinguishable. Therefore, it's not surprising that they match each other blow for blow in performance.
Both e-scooters have a maximum rider weight exceeding 300 pounds. Also, they both can reach speeds of up to 50 MPH. Both have sturdy builds that can handle off-road riding like the best of them.
On the ground, however, the Dualtron Thunder edges the WW11 when it comes to acceleration and hill-climbing power. That's despite the fact that they each have dual 1200-Watt brushless motors that produce around 5400 watts of peak power.
The Dualtron weighs about six pounds less, which might explain why it edges the Warrior 11 when it comes to all-out acceleration. Nevertheless, when it comes down to it, the Wolf Warrior 11 is much cheaper (by around $1,600), even though it offers nearly the same performance as the Dualtron Thunder.
Customer Reviews
What are others saying? Real customers have left over 200 reviews about Wolf Warrior in FluiFreeRide online store.
Customer rating: 4.6 / 5
Kaabo Wolf Warrior Review Conclusions
It's not every day that you come across an all-in-one e-scooter in the midrange price tier. The Wolf Warrior 11 proves that you don't need to spend more than a few thousand dollars to get an all-terrain scooter for adults that can do it all.
It is a scooter that offers a unique mix of speed, balance, and durability, not to mention impressive range and top speeds. The build quality of the scooter suggests that it's made to explore the less beaten path, and it is well equipped to handle any off-road adventures you throw at it.