Electric Wheelers is reader-supported. Although we independently research and test products, we may receive a commission on purchases made from our chosen links. Read more…
If you think whether the Segway Ninebot ES2 is worth buying or not, you are in the right place.
Since electric kick scooters are getting more and more popular, manufacturers, for example, Ninebot, are trying to create an ideal product. This company now offers the Segway ES2 scooter, which is a follow-up to their quite successful ES1 model.
Mixing good suspension, solid tires, modular battery expansion, and clean design with Segway technology, the ES2 scooter promises to be an exceptional scooter, but, is it? Let's find it out.
Segway Ninebot History
Ninebot is a private company with a headquarter in Beijing, China. In 2015, Ninebot decided to merge with Segway, which was one of the leaders in the electric scooter market. Now they focus on the design, development, manufacturing, sales, and distribution of short-distance transportation products.
The merged company – Segway Ninebot – has several strategic headquarters and manufacturing centers located in the Netherlands, China, and the US.
Okay, let's take a more thorough look into Segway Ninebot ES2.
---
Segway Ninebot Kickscooter ES2 Review
Motor, Speed, And Acceleration
The motor power determines how far you can go and how fast you can do it. There are also other variables, for example, your weight or the type of surface, but let's focus on the motor now.
The Segway Ninebot ES2 scooter has a 300-Watt electric motor with a maximum power of 700 Watts. Taking into account the fact that this model weighs only 28 lbs, it is quite an impressive number. Moreover, this motor is pretty quiet.
The maximum speed of Ninebot ES2 is 15.5 mph (approx. 25 km/h). This model is not the fastest scooter on the market, but its speed is enough for commuting in the city.
The Ninebot ES2 is not as fast as its cheaper competitor – the Xiaomi M365. While M365 went from 0 to 15 mph in 6.3 seconds, the Segway Ninebot ES2 needed nearly one second more (7.1 seconds) to achieve that speed.
---
Battery And Range
The ES2 model has a 187 Watt-hour battery. Its location makes the weight distribution more balanced but raises the center of gravity when riding.
The included charger accepts 100-240 Volts, and it is compact and light. Furthermore, it is quite efficient – you will need less than four hours to charge the battery from flat.
The capacity of the battery is enough for riding 15 miles (25 kilometers) in perfect conditions. It is a standard distance most lightweight electric scooters can cover. If you are looking for an electric scooter for long distances, check out Ninebot ES4 with the extra battery upgrade option.
---
Suspension And Breaks
The ES2 model has back and front shock absorption springs installed above the wheels. They will not make your ride completely smooth, but they can absorb most pavement inequalities and small bumps on your way.
The Segway Ninebot ES2 has dual brakes. The first brake slows down your scooter using the motor, and the second one uses the friction on the rear tire to slow you down. You need to use both of them simultaneously to make the stopping distance as short as possible.
---
Main Features Of Segway Ninebot ES2 Kickscooter
IP54 Water-Resistant
10% Easy Climbing
Back and Front Shock Absorption
Large Solid Tires
Mechanical Foot Brake and Electronic Brake
Built-In Ambient Lights and Front LED Lights
Up to 15 miles Range (25 km) and 28 miles (45 km) with optional battery
Up to 15.5 mph Maximum Speed (25 km/h)
---
Portability
The ES2 electric scooter is lighter than most of its competitors (it weighs 27.2 pounds). Nevertheless, it is quite long for its class, and its handle may be too big for people with small hands. Still, this Ninebot model is easy to fold and carry, which makes ES2 one of the most portable electric scooters available.
Screen
The front LED screen located in the middle of the handlebar shows all the information you need: battery state, current speed mode, and current speed. The ES2 screen is very intuitive and easy to use.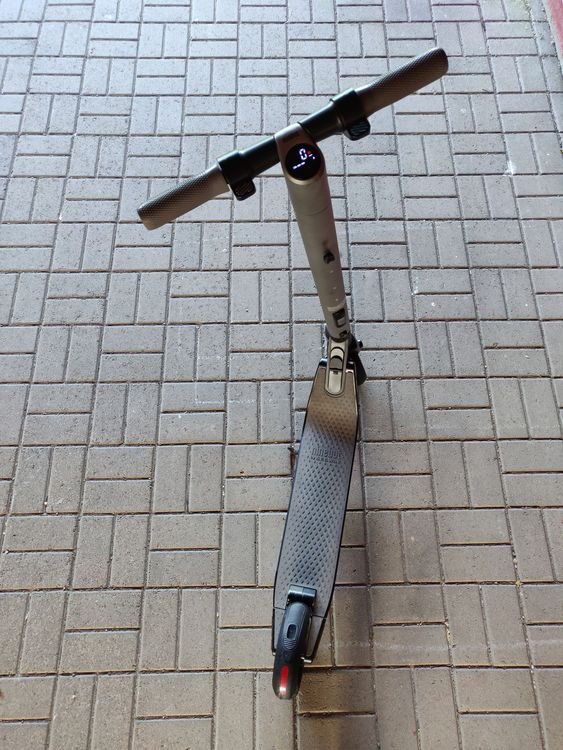 Lights
The ES2 model has both a red taillight and a high-mounted LED headlight. Besides, sixteen multicolored LED strips on the bottom of the scooter provide so-called "swag lightings" or "ground effect." You can easily control them by quick-pressing the power button when your ES2 is on.
---
Tires
The ES2 solid tires are not going to disappoint you as inflated ones might. With these tires, you may spend hours riding through broken glass without fear of getting a puncture. Still, hard solid tires also affect ride quality.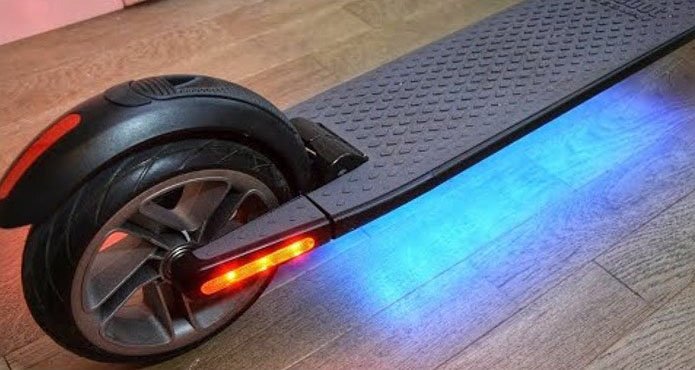 Built Quality
The hard aluminum alloy body of the Segway Ninebot ES2 feels pretty firm. All the connections and joints feel durable and sturdy, and hard rubber tires will never go flat.
---
Safety
Ninebot implements safety control on all its electric scooters. The ES2 general battery safety controls include:
Over-charge protection;
Over-heating protection;
Over-current protection;
Short circuit protection.
In addition to battery safety controls, ES2 also features anti-slip rubber to feel safe when it's wet, LED lights to make you visible at the night, and dual brakes for safer braking.
---
Main competitors for Segway Ninebot ES2?
The Segway Ninebot ES2 has several competitors. They include InMotion's L8F and Xiaomi M365 and M365 Pro. The Ninebot software, with its built-in tutorials and settings alterations, is better designed than the competition. Nevertheless, Xiaomi products have shown better performance, and the L8F is more compact than ES2.
---
What can be improved on Segway Ninebot ES2?
Although Ninebot is fast enough to cruise around the city, some users have said that they would prefer more dynamic and faster electric scooters. Besides, they should change the anti-slip rubber base, as it gets dirty each time you step on it.
---
Conclusion
The Segway Ninebot ES2 is definitely not the best electric scooter on the market. However, it is an okay scooter from a well-known manufacturer that can easily help you with your shorter commutes.
The ES4 version, with the extra battery upgrade option, would be a better choice for longer distances. Besides, there are also numerous cool features like faster acceleration, regenerative braking, and cruise control. To summarize, the Ninebot ES2 model is a fair electric scooter, and you will certainly enjoy it!