We know it's hard to go through each electric scooter shop to check their discounts on Black Friday.
That's why we gathered together a list of the best electric scooter deals we managed to find. Hopefully, this article can save a little bit of your time.
Electric Wheelers is reader-supported. Although we independently research and test products, we may receive a commission on purchases made from our chosen links. Read more…
TOP 11 E-Scooter Black Friday Deals
Yume – Up to $600 Off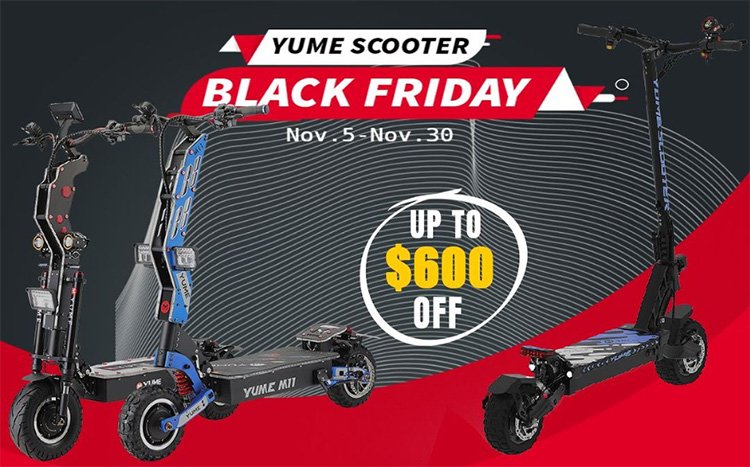 Yume is quite well known for its scooters being robust and affordable. Most of its e-scooters are meant for off-roading. However, they have a couple of city scooters in their selection too.
Although Yume scooters are rather cheap, during Black Friday it is possible to save even more.
Yume discounts on Black Friday are up to $600. Super-powerful (8,000W) Yume X13, which normal price is $3,292 can be bought for $2,692.
But all cheaper models have also solid deals. Each scooter has at least a $100 discount. In addition to a cheaper price tag, they provide free accessories on many models.
Find coupon codes from the link below!
Apollo – Up to $400 Off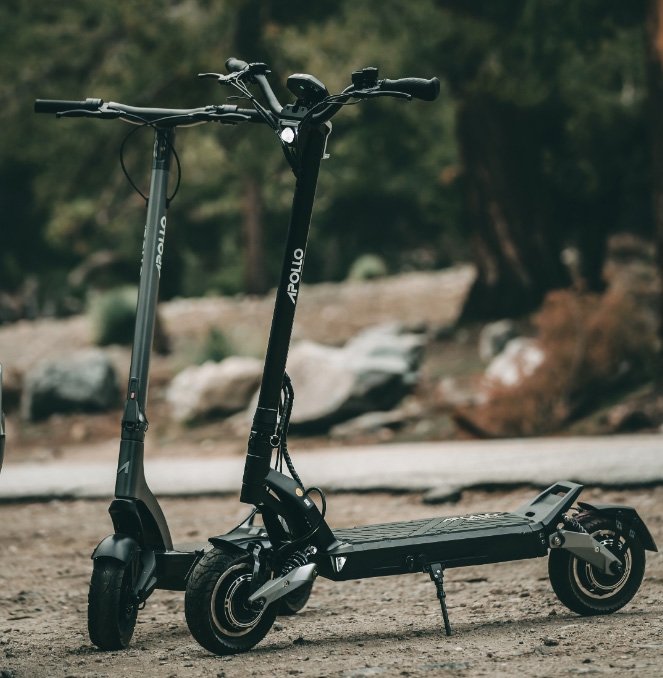 For people living in North America, Apollo electric scooters need no introduction. They have become a very reputable brand in the market and they have a scooter for every use.
For example, the Apollo Phantom satisfies the needs of even the most demanding user. On the other hand, Apollo Air is their most basic model but has everything for a safe ride.
Unfortunately, Apollo scooters aren't the cheapest. But on Black Friday, they provide great discounts.
The discounts for Apollo scooters vary from $200 to $400 depending on the model. But there are also super deals where you can get buy 1 scooter and get another one for free.
Check more details from the link below.
Nanrobot – Up to 400 Off

Nanrobot is another electric scooter brand that is famous for its affordable dual-motor scooters.
Black Friday sales for Nanrobot scooters – up to $400 discounts.
Recently they launched a new Nanrobot N6 that usually costs $2,200. On Black Friday, the same scooter can be purchased for $1,900. About 15% off for just good timing – not bad.
But there are even bigger discounts. For example, you can get Nanrobot LS7+ for $400 cheaper. Additionally, they give a free accessory with every purchase.
Segway Ninebot – Up to $300 Off

Segway is probably one of the most famous brand in the field of micromobility. After merging with Ninebot in 2015, they have sold millions of electric scooters worldwide.
On Black Friday 2022, you can save up to 42% on Segway Ninebot scooters.
You can save the most if you buy one of the latest Segway scooters Segway SuperScooter GT2. The discount is $300.
But there are discounts for other popular scooters like Ninebot Max and F-Series.
Mearth – Up to $300 Off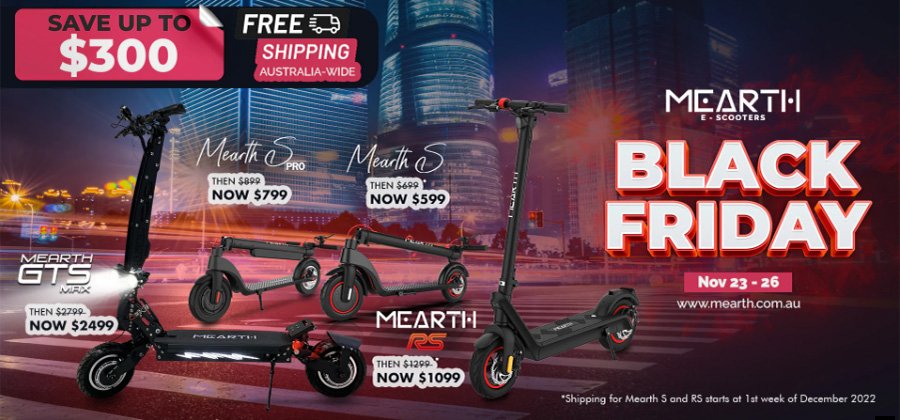 We wanted to include in the list some campaigns that are not in the US.
Mearth is one of the biggest e-scooter companies in Australia. They have 3 different electric scooter series:
Mearth S Series – meant for teens and youngsters
Mearth RS Series – long-range electric scooters for commuting
Mearth GTS Series – the company's flagship models with the most powerful motors
The biggest discount is for Mearth GTS Max. The normal price for it is $2,799, but during Black Friday it can be get for $2499.
Hiboy – Up to $330 Off
Hiboy electric scooters are one of the best-sellers on Amazon. The company has focused on manufacturing cheap and simple scooters. However, they also have one off-road scooter in the line up.
The biggest discount we found on their page is for Hiboy Titan. The price on Black Friday is $330 cheaper than it normally is.
But there are plenty of smaller discounts for their smaller electric scooters too.
Turboant – $Up to 180 Off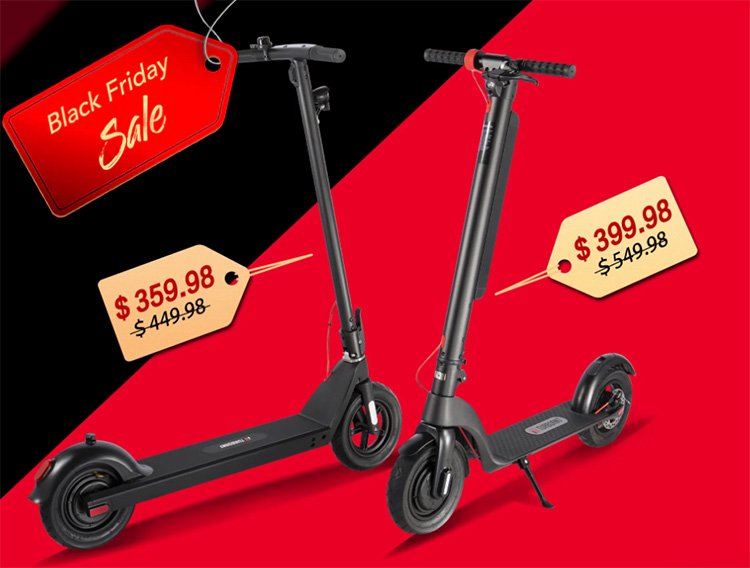 In the past, Turboant has also manufactured e-bikes. But nowadays they focus only on electric scooters.
For quite some time they had 2 popular models in their range – Turboant X7 Pro and M10. Both are lightweight and quite basic scooters with reasonable price tags.
In 2022, they launched another model – Turboant V8. It differs from others in that it has 2 batteries. Thanks to this, the V8 has a much longer range.
During Black Friday, Turboant provides solid discounts on all of its scooters.
It's $180 off for the V8 model and $170 off for the X7 Pro. Entry-level scooter M10 can be purchased with a discount of $90.
NIU – Up to $135 Off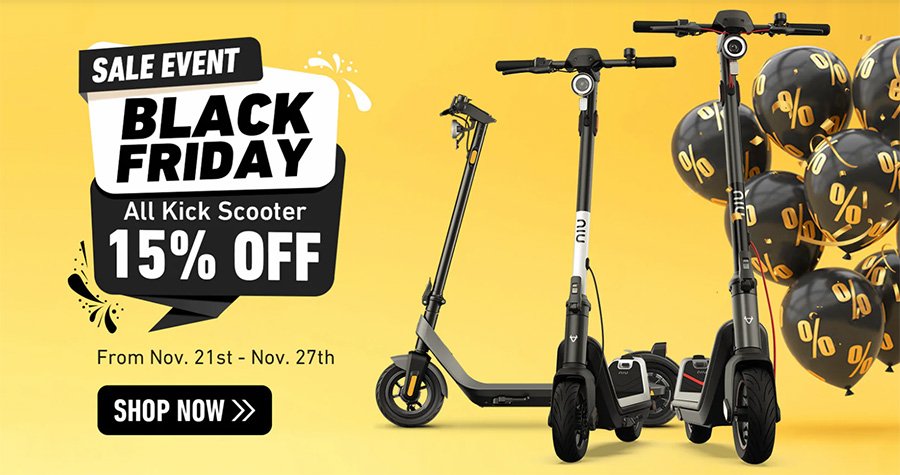 Although Niu just started manufacturing e-scooters, they are very experienced in producing other e-vehicles. Since they have sold millions of seated electric scooters worldwide, they definitely know how to do the same with small e-scooters.
In 2022, they launched 2 series of electric scooters – KQi2 and KQi3. Both models have been very warmly received by users.
You can save 15% on each Niu electric scooter during Black Friday week.
A lot of experts have said, that Niu has a huge potential to become a serious competitor for Segway and Xiaomi. So it's the best time of the year to get yourself a quality scooter with a solid discount.
Anyhill – Up to $100 Off
Anyhill was founded in 2017 and they are based in the US. The company has 3 different electric scooters in its lineup.
UM-1 is an entry-level e-scooter that is meant for beginner riders. The scooter is built for urban environments only and you can travel up to 20 miles with it.
UM-2 is a little bit more advanced and has a 24-mile maximum range. It has a detachable battery, so if you buy a spare one, you can easily double the range.
UM-3 is a kids' electric scooter that is more of a toy than a transportation vehicle.
On Black Friday, all scooters are on sale. UM-1 and UM-2 can be purchased for $100 cheaper and UM-3 for a $50 lower price.
Gyroor – Up to $100 Off
Gyroor is a Chinese mobility expert. In addition to electric scooters, they also have e-bikes, e-boards, and hoverboards in their selection.
In the electric scooter section, they have a bunch of models for kids, and 2 models for adults.
Kids' scooters have a $30-$50 cheaper price than they normally do.
If you are looking for an adult scooter, you can save $100. Make sure you add a discount code. Find the code from the link below.
Gotrax – Up to $100 Off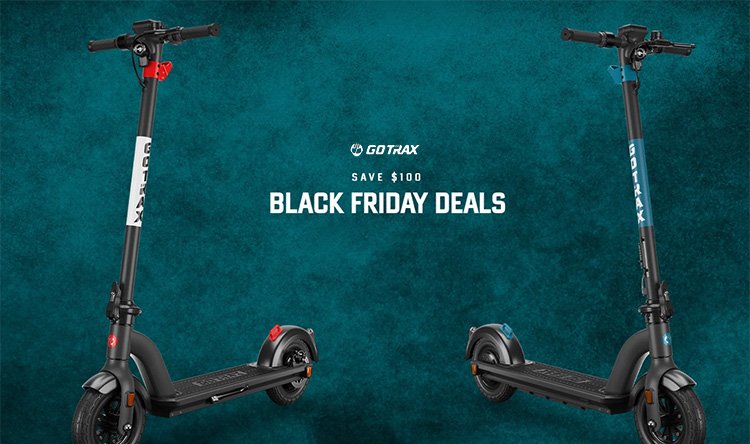 Gotrax is another company that has a huge selling number on Amazon. Their scooters are extremely popular mostly because they are very affordable.
However, since it's Black Friday, you can get their scooters even cheaper.
It depends on the model, but the biggest discount you can get is $100.
Where Else to Find Good Black Friday Sales for E-Scooters?
Black Friday is a huge shopping holiday and almost every shop has some kind of sale. You can never check all of them up.
That's why we gathered together this information and wrote this article.
But if you still looking for additional information then here are some links to the online shops that also sell electric scooters. You might find some good deals there as well.
Best of luck with finding the best deals on electric scooters!