Electric Wheelers is reader-supported. Although we independently research and test products, we may receive a commission on purchases made from our chosen links. Read more…
With a large catalog of state-of-the-art electric scooters, Segway-Ninebot has earned the reputation of one of the largest scooter manufacturers in the world.
Thanks to the quality construction and the amazing features offered by their designs, the brand has been in the personal transportation field for quite a while now. They have made a mark with their unique two-wheeled, balancing miracles that let the riders have a safe, comfortable, and smooth riding experience.
However, Segway-Ninebot was not established as an independent brand. Instead, it's more of a merger of the American company Segway which was later bought by the Chinese name Ninebot. Scroll down to take a look at the detailed brand history of this e-scooter giant, along with some of its best creations.
History of Segway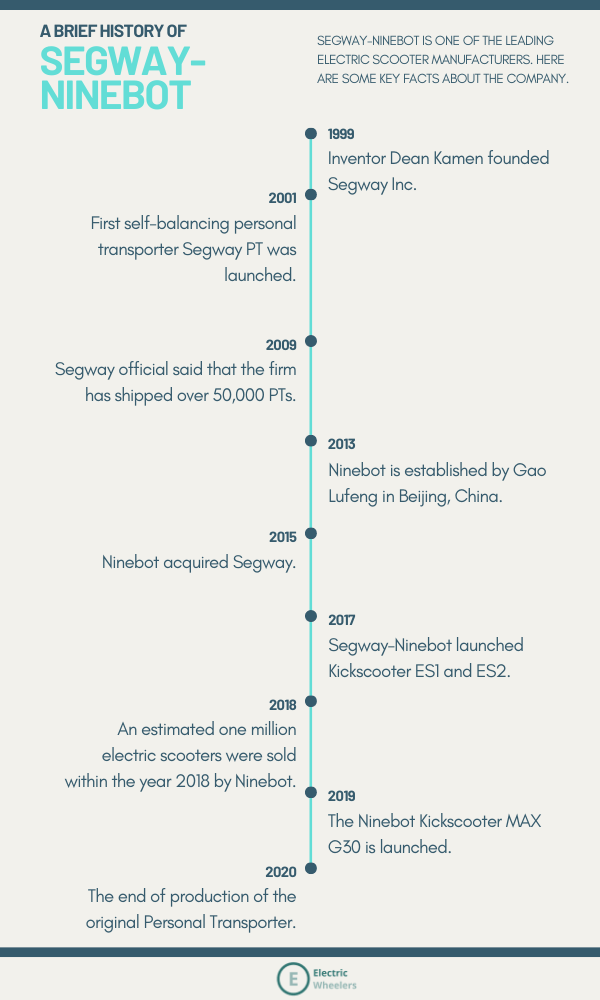 The history of the Segway dates back to the late 1990s when the Segway Incorporation was founded by Dean Kamen. It was established in July 1999 with a vision of crafting non-medical applications for easy-to-handle self-balancing machines.
The idea of Segway hit its inventor Dean Kamen when he saw a man in a wheelchair trying to get over a sidewalk. Moved by this struggle, Dean and his team designed a self-balancing mobility device that allowed users to climb stairs and move over uneven surfaces. The inspiration for the company's name came from the word segue, meaning 'to transition from one state to another smoothly'.
In December 2001, the Segway PT (Personal Transporter) was launched – a two wheels transporter, with first deliveries to the brand's customers in early 2002.
Establishment of Ninebot
Ninebot is a privately owned company with its headquarters in Beijing, China.
Ninebot Incorporation was established in 2012 by a group of robotic engineers looking to develop new technology. They focused on artificial intelligence and environmental protection. Gradually, the engineers coupled up their autopilot and robot technologies to craft a new genre of self-balancing electric vehicles.
Ninebot Inc. branches were established in Hong Kong, Beijing, and Tianjin. Their expert teams constantly develop new means of efficient short-distance transportation.
Segway's complaint against Ninebot
In the year 2014, Segway files a trade complaint against several Chinese companies accusing them of violating its patents. Ninebot was one of the prime accused brands in the complaint.
Segway accused the transportation company of copying their designs and the two entered a copyright feud. This created a large nationwide controversy that was termed by Segway as 'copycat China' and a widespread pattern of copyright infringement by China. Some found this feud to be an active step towards fighting the huge copycat problem in the industry and promoting innovation.
The products surely exhibited resemblance to one another, but Ninebot insisted that they independently owned their intellectual property.
Ninebot acquires Segway
In 2015, Ninebot announced the acquisition of Segway to put an end to the copyright feud, building their headquarters in Bedford, US.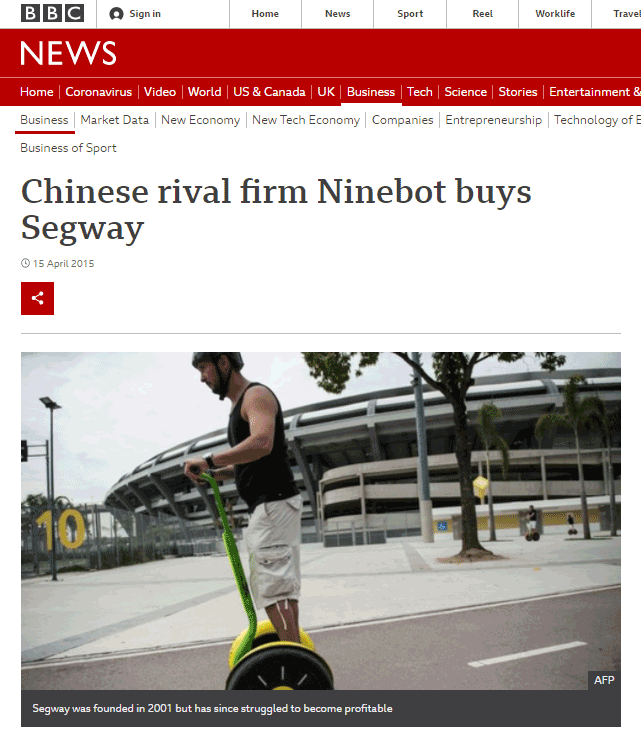 The acquisition followed an $80 million investment from Chinese smartphone company Xiaomi, an investment company Sequoia Capital and several other backers.
The merger came up with a vision that involves two electric scooter brands operating as separate brands with their products but uniting under an alliance to develop greener and smarter short-distance transportation scooters. This marked the merger's beginning of kick scooter productions.
---
Segway Ninebot Electric Scooters
Segway Ninebot has launched a spectrum of electric scooters in these years. Each scooter comes with some wonderful features to excel in this zippy mode of transport. Let's take a look at some of the best electric scooter models designed by the company.
---
Segway Ninebot ES1
The Ninebot ES1 is the very first electric scooter to be launched since Ninebot bought up Segway.
It came with a built-in hub motor of 250W that could deliver a top speed of up to 12.4 mph. The speed limit mode lets the rider set it in economy mode, normal, or sports mode. The lithium-ion battery offers a distance of up to 15.5 miles per hour in one single charge. It takes around 3.5 to fully charge the battery.
Features like efficient LED lights for low light conditions, a nice brake light, and a rear suspension ensure a safer and smoother riding experience. The hard rubber tires eliminate the dangers of getting a flat tire in the middle of the street.
It's sturdy and durable, coupled up with two different braking systems, including a mechanical brake and an electronic brake. The scooter offers Bluetooth connectivity to the Segway scooter app that provides you greater control over the speed and other factors.
---
Segway Ninebot ES2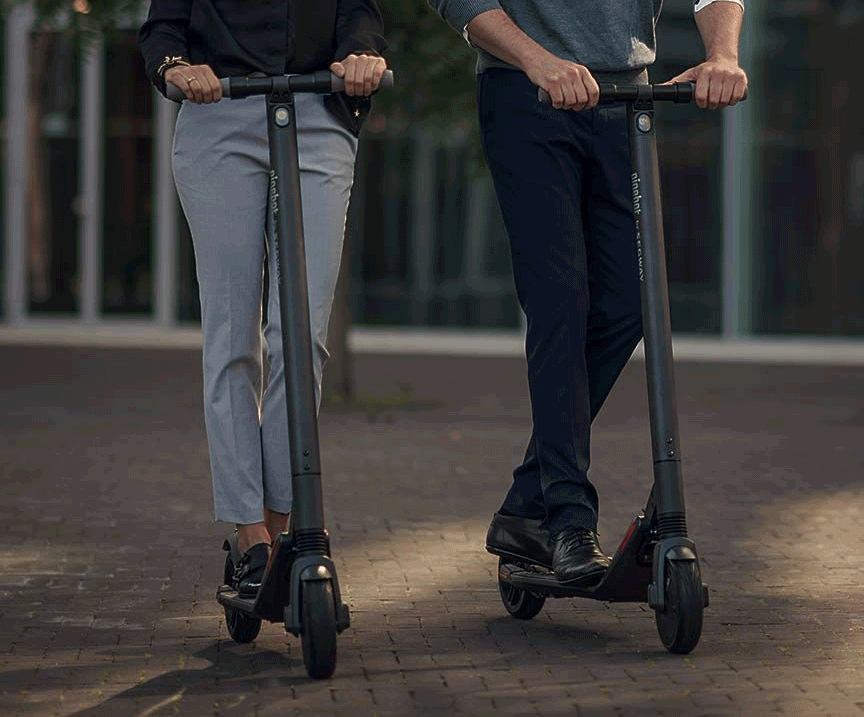 MSRP $650
The Segway Ninebot ES2 emphasizes light riding and great fun with its design. Perfect for those who want to start with riding around the neighborhood or simply try it as a hobby, the ES2 offers a decent range and moderate riding speed.
The 300-watt motor provides a top speed of 15 mph and one full charge delivers a range of 15 miles.
The lightweight construction weighs no more than 27.6 pounds and the scooter can effortlessly carry up to 220 pounds. What makes it great for carrying on public transport, car storage is its perfectly portable and easy-to-fold construction.
Although this model focuses more on casual rides, it's just as superior in technology as any other Segway. It comes with Bluetooth connectivity, an LED display, cruise control, and compatibility with a mobile app.
Related: Ninebot ES2 Full Review
---
Segway Ninebot E22
MSRP $550
The Ninebot E22 kick-scooter is a perfect choice for adults who are planning to purchase a Segway for the very first time.
Offering higher speeds than kid and teen e-scooters, this one comes with an easy-to-master construction and doesn't come with any confusing extras. Even if you are an absolute beginner, the E22 ensures a totally safe ride. Also, it is specially crafted to provide you great comfort.
The 300-watt brush-less direct current motor is capable of reaching a maximum speed of 12.4 mph. At the same time, the scooter provides a range of up to 13.7 miles in a single charge.
The rider gets a supreme shock absorption when stepping on the e-scooter. It helps you to stay stable and comfortable even when the terrain is loaded with bumps. The no-puncture 9-inch tires coupled up with a dual braking system bring out added safety and comfort.
---
Segway Ninebot ES4
MSRP $800
If you are looking for the best-in-class, extra-capable electric scooter – you must get your hands on the Ninebot ES4 kick scooter.
Its extremely high powers make it stand out from all average e-scooters. The impressive speed is superior to even several advanced technology models. The ES4 features 300 watts of power, a great range of 28 miles on a single charge, as well as a top speed of 18 mph.
The rider can take just about anywhere, thanks to the upgraded motor that works together with two lithium-ion batteries. It's quite comfortable to ride with its large tires and an efficient set of front and rear wheel shock absorbers.
The capabilities of this premium Ninebot model don't end here. It has got a fine LED display, great Bluetooth capabilities, connectivity with the Segway mobile application, customizable ambient lighting, and cruise control.
Related: Segway Ninebot ES4 Full Review
---
Segway Ninebot E45
MSRP $820
The Ninebot E45 boasts a strong motor, improved hill-climbing, and efficient upgraded tires.
The scooter offers a convenient way to ride long distances with great ease and comfort. It's because of a large additional battery that comes pre-installed and minimizes the hassles of charging the vehicle often. The scooter can deliver speed up to 18.6 mph at maximum and comes with a range of 28 miles.
Apart from the increased battery life, the scooter features large nine-inch tires that are coupled up with amazing shock absorbers and foam suspension to boot. The fact that the flat-free non-pneumatic tires are filled with foam makes them call for less maintenance in the long run.
In addition to that, the electric scooter comes equipped with three independent brakes. A front electronic and regenerative brake, a rear magnetic brake, and a foot brake to make sure you always get a safe braking distance.
---
Segway Ninebot MAX
MSRP $950
The Segway Ninebot MAX Electric Kick Scooter comes with great capabilities and power while being a far-ranging and highly versatile option for just about any rider.
The e-scooter is powered by a strong 350-watt motor that delivers a top speed of 18.6 miles per hour. The rider can get 40 miles on a single charge as the model comes with an impressive battery capacity. This impressive mileage definitely categorizes Ninebot MAX as a long-range electric scooter.
It allows you to cruise along at a great speed that's around seven times the average walking pace. The electric scooter can also climb hills with up to a 20-percent grade.
A set of strong 10-inch pneumatic tires can withstand bumps and shock absorption with surprising ease. You can also choose between 3 different riding modes. High-tech features, including an LED digital dashboard, a regenerative braking system, and a Smart Battery Management System provide an efficient ride over longer distances without trouble.
Related: Segway Ninebot MAX Full Review
---
Segway Ninebot Kickscooter MAX G30LP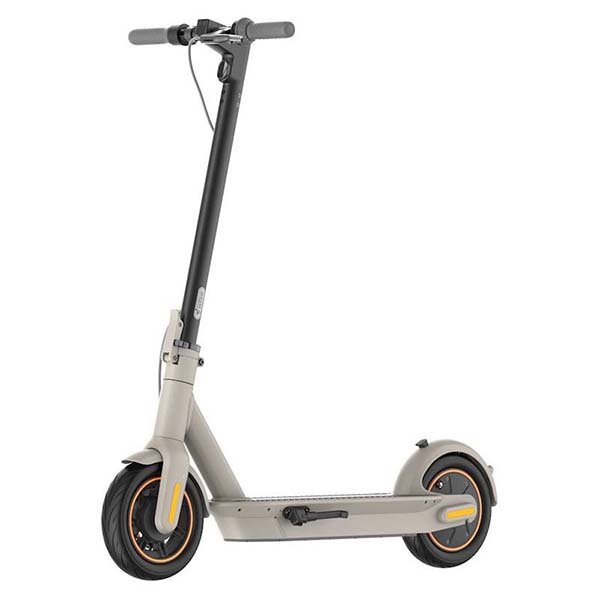 MSRP $770
When it comes to riding experience with electric scooters, safety and reliability come out as paramount factors. The Ninebot Kickscooter MAX G30LP doesn't fail on these requirements on paper and in practice alike.
The most amazing thing about this model is its range. It can ride for about 25 miles on a single charge. This is an impressive result for an e-scooter in such a price range.
Featuring a wonderful balance of power, price, efficient battery, and just the right size – the MAX G30LP can climb a 20-degree incline with a 220-pound max load.
The 350 Watt motor undoubtedly makes it one of the best electric scooters out there, while the max speed of 18.6 miles per hour seems just perfect to most riders.
Like the original Ninebot MAX, the G30LP also features a front drum brake and rear electronic brake, both of which are controlled by a hand lever sported by the left handlebar – a great dual braking system for a mid-range commuter.
---
Segway Ninebot Air T15
MSRP $820
This model is marked by smooth lines and fine futuristic shapes while being the only e-scooter with retractable handlebars. The screen is integrated into the handlebar, and its design makes it the best foldable scooter out there.
The Ninebot Air T15 has got 4-speed modes, wherein the highest speed is 12.4 mph. The range of Air T15 is reasonable 9 miles.
The scooter doesn't ignore safety and features strong front and back LED lights that provide great visibility. The electronic brakes are combined with a rear fender brake to enhance the scooter's quick stopping power. A water-proof chassis and sturdy wheels make it highly durable, delivering a perfect ride as long as the terrain is smooth and hasn't got loads of steep hills.
This model by the brand is apt for those who want to stow the scooter down in the boot of a car or simply wheel it down to busy public vehicles.
---
Segway Ninebot Zing Series (E8, E10, E12)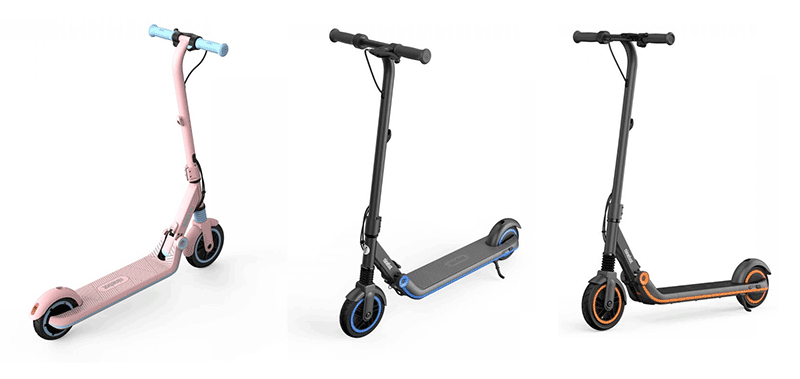 MSRP from $220
The Zing series by Ninebot is exclusively crafted for kids with a focus on bringing a highly enjoyable and comfortable riding experience coupled up with great safety.
The series has three models, the Zing E8, E10, and E12. Each model is marked by a few unique features while offering great similarities at the same time.
They come with a spring shock absorption system that is very effective in absorbing the bumps from grass, sand, and dirt roads. The high elastic rubber tires allow the kid to have a smooth ride. The silicone footpad with amazing anti-skid properties is not only very stable but also easy to clean. The TPR handle grips offer anti-skid traction and provide a firm grip. The thumb throttle with moderate resistance lets the rider control the driving speed with ease.
You can switch between 3 riding modes, including sports, cruise, and safety with a one-click switch.
The Zing E8 is perfect for kids between 6-10 years of age and is ideal for absolute beginners. It comes with a top speed of 8.6 mph and is available in 2 stunning colors. This ensures an exciting ride for younger riders.
The Zing E10 is quite similar to the E8 but designed for slightly older kids. It can support a weight of 132 lbs. E10 has a top speed of 10 mph, which gets the adrenaline flowing for young riders who seek more from their electric scooter.
The Zing E12 comes with added power reaching a top speed of up to 11.2 mph. It also features top-quality construction as others by Segway Ninebot. Perfect for the early teens who are looking for a fun-loaded ride.
---
Segway Ninebot F Series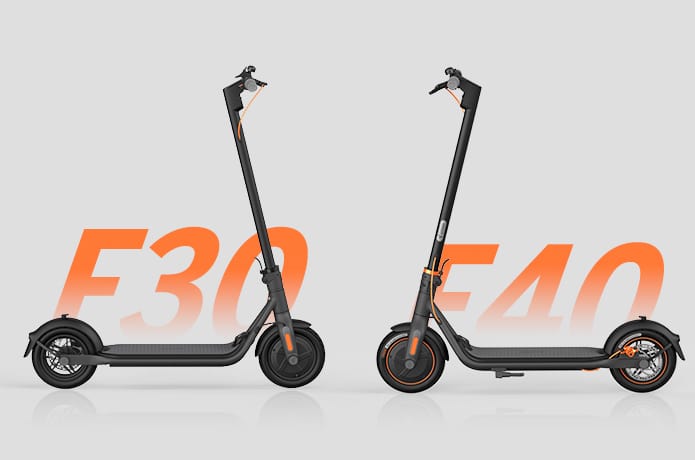 The Ninebot KickScooter F Series is a budget-friendly yet a feature-rich bunch of scooters. It has an extended mile range, great top speeds, large 10″ tires, foldable construction, and a Bluetooth lock for security.
Related: Segway Ninebot F40 Full Review
The F30 yields a speed up to 15.5 mph, while the F40 goes up to 18.6 mph. The 350W output offers plenty of torque on demand, letting the rider go up to a 20% grade slope. The F30 delivers a 17-mile range, which goes to a 25-mile range on a single charge with the F40.
The 10-inch pneumatic tires come with great shock absorption to ensure a smooth and stable ride even on rough roads and bumpy terrain.
The series combines comfort and safety with an elevated riding experience with polymer lining and wear-resistant tread. The F Series is crafted to be carried on public transportation and travel destinations effortlessly. It weighs just 34.8 lbs.
You have got a regenerative braking system that makes it powered by electricity and recycled energy from riding. Another must-mention feature is the dual brake system and the powerful brushless direct current motor. You can switch between 3 different riding modes, including Eco, Standard, and Sport mode. Just two clicks on the LED dashboard.
---
Where to Buy Segway Ninebot Electric Scooters?