Electric Wheelers is reader-supported. Although we independently research and test products, we may receive a commission on purchases made from our chosen links. Read more…
Segway's ES4 is a powerful successor to the previous models of Ninebot. Being a big brand in the electric scooters industry, Segway has managed to live up to the expectations with new upgrades, modifications, and features in this new electric scooter.
Without further ado, let's see what Segway Ninebot ES4 electric scooter has to offer.
Specs and Features
The weight of ES4 is 30.9 lbs which makes it the heaviest of the Ninebot ES series. Its previous models weighed 25, 26, and 28 lbs. You will probably feel this marginal weight if you pick it up but won't notice anything while riding.
Beautiful underdeck LED lights give an attractive look when riding at night helping you capture the attention of people on your way. It comes with an external battery that is permanently fixed to the stem. Yes, you need to carry it everywhere to double its range. Segway used to offer a range of 15.5 miles until Ninebot ES3 that can travel up to 28 miles in one full charge. ES4's range is also the same as ES3's. Ninebot ES4 charging time is about 7 hours.
Just like the previous three models, ES4 too has solid rubber wheels. Therefore, they need a nice smooth surface to run well. On an uneven surface, they offer a rough ride. There are three different speed mode settings, Eco for up to 10 mph, Standard for up to 15 mph, and Sport for up to 19 mph. Both speed and mode are visible in the handlebar-mounted display at all times while riding.
Electronics
Motor: 300W
Top Speed: 19 mph
Battery: 374 Wh
Range: 28 mi
Charge Time: 7h
LED Rear Brake Light
Features
Weight: 30.9 lbs
Folded Dimensions: 45″ x 17″ x 16″
Required Height: 3'11" – 6'6″
IP Rating: IP54
3 Riding Modes: Speed Limit, Standard, Sport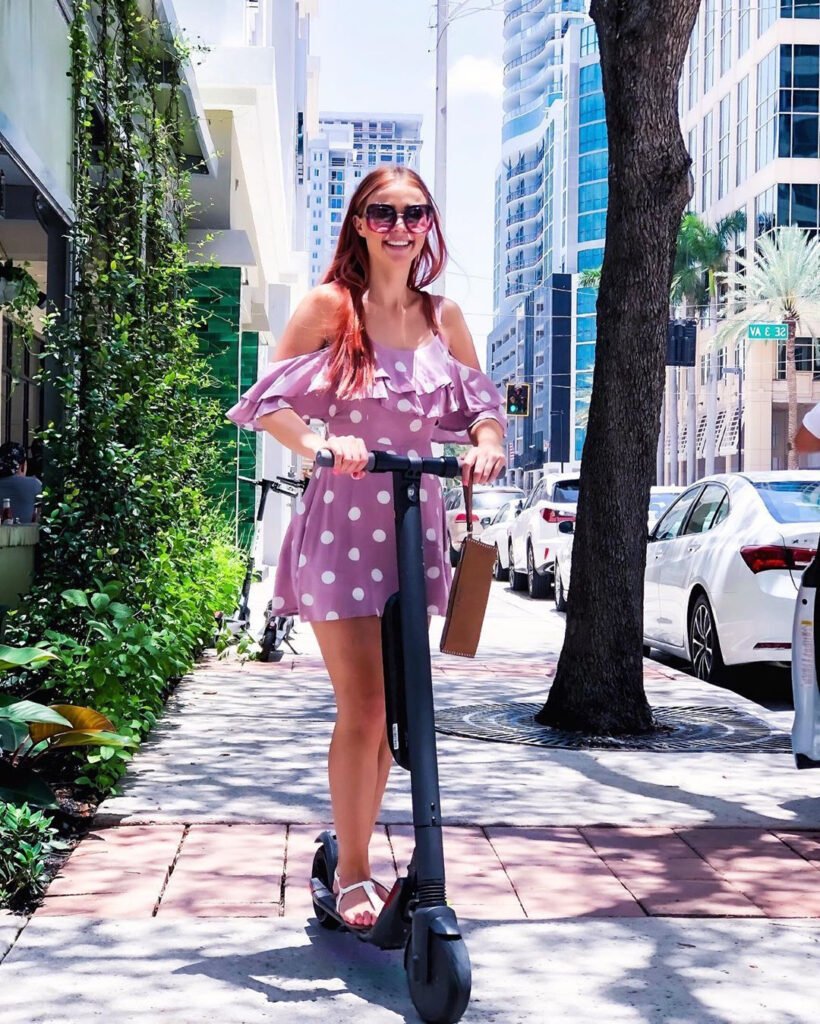 ---
Segway Ninebot Mobile App
Connecting the scooter to your phone via Bluetooth opens the door for a wide range of features. The standard and Sport modes are only accessible through phone. Therefore, it becomes necessary for every Segway Ninebot ES4 owner to pair the scooter with their smartphone by downloading the Segway Ninebot app from AppStore or Playstore.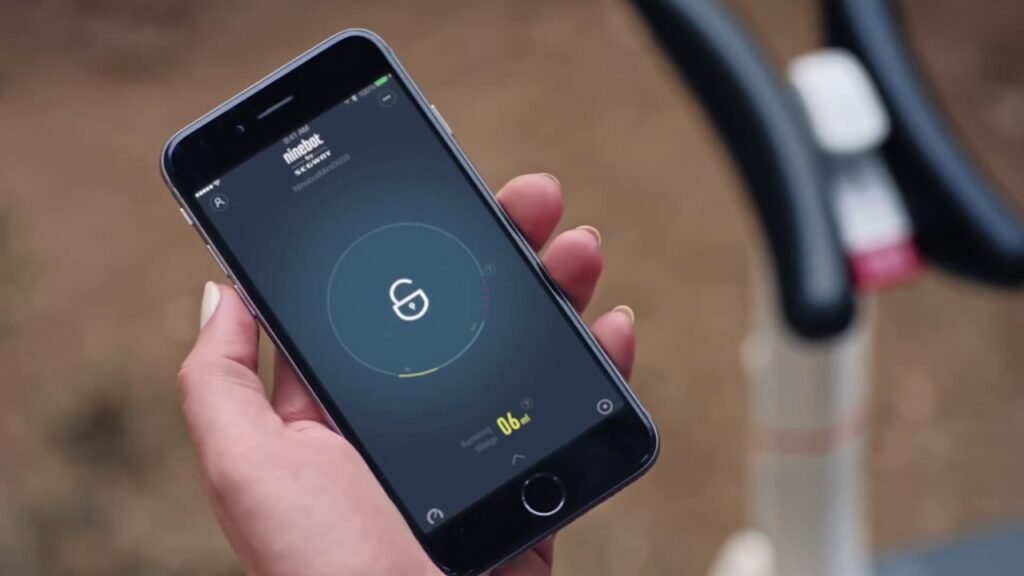 This app provides a number of instructions as well including folding and unfolding the scooter, using brakes and accelerator, etc. It helps you learn everything about the scooter even before you go on your first ride.
This app also lets you customize the under-deck LED lights. You can change their color and can also change how they flash. Apart from all this, one more important feature of its app is that it can protect your scooter from theft. It allows you to turn the cruise control on and lock the motor. It's very hard to move a locked ES4 and even if you try to push it a little, it'll make a loud beeping sound which is enough to keep the thieves away.
See Also: Ninebot F40 Full Review
---
Construction
The build quality of Ninebot ES4 is really good. It doesn't wear out for at least a few years. The mesh pattern on the deck provides a better grip. It wasn't there in the previous models. Though ES4 weighs around 31 lbs which makes it the heaviest of the Ninebot ES series, it's still pretty easy to fold and carry it in a bus or train.
Just like the previous models, it too can carry a maximum of 220 pounds. ES4's designers have also worked on making the rides on steeper slopes fun by increasing the maximum incline angle to 15 degrees that earlier was only 10 degrees.
This scooter is available in two colors only, silver grey and dark grey. Both the colors are simple, clean looking, and don't give out a feeling that you're being flashy with your electric scooter.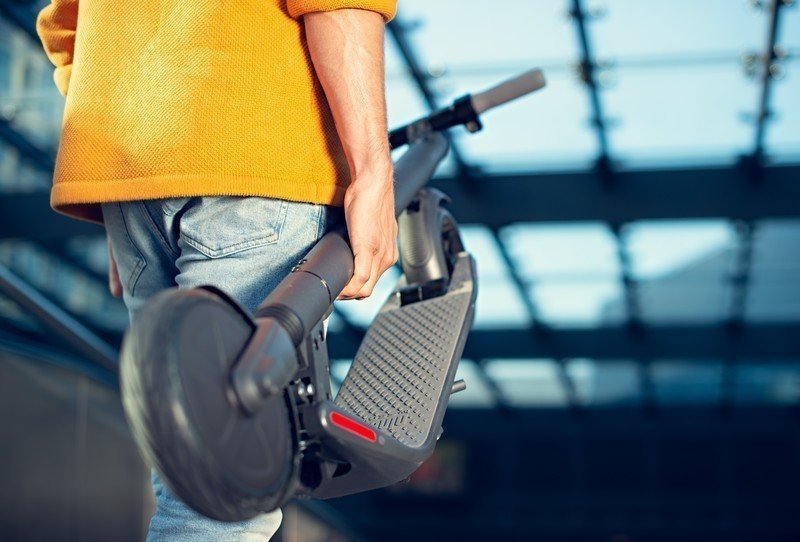 ---
Performance
This electric scooter accelerates upon pressing the right acceleration throttle once you have helped it reach a minimum speed of 3 Mph. It only accelerates over 3 mph because the manufacturers don't want you to get hurt by accidentally accelerating it while walking.
The front brakes of this scooter use Kinetic Energy Recovery System (KERS) that takes about 4 seconds to come to rest from top speed. Though, you can reduce this time by using the footbrake simultaneously.
ES4 comes with a silent motor which sounds nice but it actually means that there's nothing to warn the people of your approaching scooter. If you aren't comfortable that way, you might need to purchase a small horn that can fit on its handle.
When you keep traveling at the same speed for a few seconds, this scooter automatically switches to cruise control. This feature helps you ride long distances without having to keep the pressure on the throttle.
---
Wheels and Control
The wheels of this electric scooter aren't as good as you would want them to be. Even after various comments about Segway ES3 tires, manufacturers decided to continue with the same tires in the ES4. Though, they are nowhere close to being disappointing as long as you're on the even and smooth roads. Therefore, if you're going to travel on perfectly plane roads, you don't need to worry about its wheels.
Steering control is just wonderful. Whether you're riding at 5 mph or 19 mph, taking a turn is effortless with Segway ES4. You'd like to stay on the road and sidewalks to get the most out of its wheels and steering control. At first, it could be a little difficult to ride an electric scooter, but with ES4, the learning curve is minor.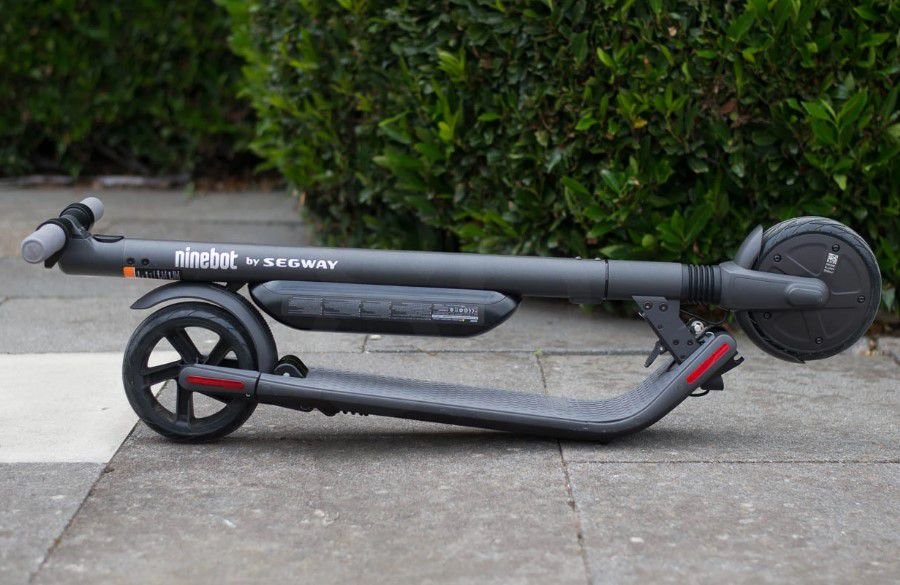 ---
How to Fold Ninebot Scooter?
---
Final Verdict
In this Segway Ninebot ES4 review, you got to know that the Ninebot ES4 scooter is perfect for people who mostly travel on roads and sidewalks as it isn't designed to ride well on uneven surfaces. With this e-Scooter, you not only get a fun way to travel but also a reliable brand that has been around in the electric scooter market for a long now.
Its whopping range of 28 miles allows you to easily take a two-way trip to anywhere up to 14 miles. Speed was a bit slower in the previous models but now stands impressive at 19 mph. In its price range, it's the best way to get from point A to point B.