Electric Wheelers is reader-supported. Although we independently research and test products, we may receive a commission on purchases made from our chosen links. Read more…
Ah, the Segway Ninebot Max. While it might seem like a relic from the past in today's rapidly evolving electric scooter market, there's no denying its monumental impact.
I remember the first time I laid eyes on it and the subsequent rides that solidified its place in my heart. This scooter wasn't just another model on the shelf; it was a game-changer. For a long time, it was the benchmark, setting standards that many newer models still aspire to.
In this review, I'll take you on a nostalgic journey, revisiting my personal experiences with the Ninebot Max. By the end, you'll understand not just the scooter's specifications and features, but also the unique place it holds in the annals of electric scooter history. Let's dive in.
---
Overview
The creative designers behind Segway have crafted well-planned features and taken strategic moves to specialize the Ninebot Max, thereby making it one of the most extraordinary electric scooters ever.
The commuter scooter is versatile and excels in terms of durability, comfort, and quality. At the same time, it bids farewell to most of the problems found in other competitor e-scooter models.
The lovely construction of the scooter is spruced up with a dark grey powder-coat finish while the black paint job adds to its edgy element.
The Segway Max looks quite sporty with its yellow highlights on the steam logo, wheel rims, accelerator grip, and reflective frame caps.
To Whom Ninebot Max is Designed?
The Segway Ninebot Max is a legend in its own right. But who truly stands to benefit from its prowess?
The Urban Commuter: Navigating city streets with ease, this scooter is a dream for those who want a reliable ride for their daily commutes. Its durability ensures it can handle the hustle and bustle of city life.
The Adventure Seeker: With its sporty design and robust build, it's perfect for spontaneous weekend rides, exploring trails, or zipping through park paths.
The Eco-Conscious Rider: If you're looking to reduce your carbon footprint, the Ninebot Max offers a sustainable mode of transport without compromising on performance.
The Value Hunter: For those who seek quality without breaking the bank, this scooter offers a premium experience at a fraction of the cost of its high-end counterparts.
The Nostalgic Enthusiast: If you have a soft spot for classics that have shaped an industry, the Ninebot Max is a piece of e-scooter history you'd want in your collection.
In essence, the Segway Ninebot Max caters to a wide audience, from the practical commuter to the passionate collector.
Read Also: Segway Ninebot F40 Full Review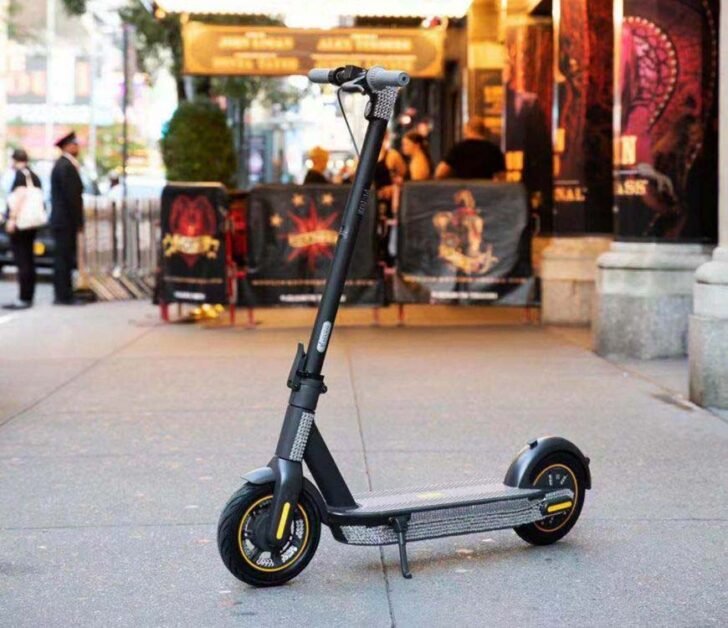 Key features of Segway Ninebot Max
MSRP:

$999

Top Speed:

18.6 mph

Range:

40 miles

Charging Time:

6H Fast Charging
Recommended Age:

14+ years

Weight: 52 lbs
Max Load Capacity:

220 lbs

Tires:

10-inch pneumatic
Ninebot Max Performance
Motor
At the heart of the Ninebot Max lies a robust BLDC hub motor, boasting a genuine power output of 350 Watts and peaking impressively at 700 Watts.
Ingeniously integrated into the rear wheel, this design choice isn't just about aesthetics. It's a strategic move that ensures optimal balance, weight distribution, and, most importantly, a punchy torque that translates to exhilarating acceleration.
Speed and Acceleration
Out of the box, the Ninebot Max promises an official top speed of 18.6 mph. Yet, in real-world scenarios, seasoned riders often find themselves nudging close to 19.5 mph without even unlocking its full potential.
For the thrill-seekers and speed enthusiasts, there's a little secret: with a custom firmware tweak, this scooter can surprise you by touching speeds up to 24 mph. The Sport mode, a favorite among many, not only amplifies acceleration but also ensures you hit those top speeds in record time. Yes, it's as thrilling as it sounds!
Of course, with great power comes a trade-off. Engaging Sport mode will demand more from your battery, reducing its overall range. But fear not! The Ninebot Max offers an Eco mode, a perfect blend of moderate acceleration and extended mileage, ensuring you get the best of both worlds.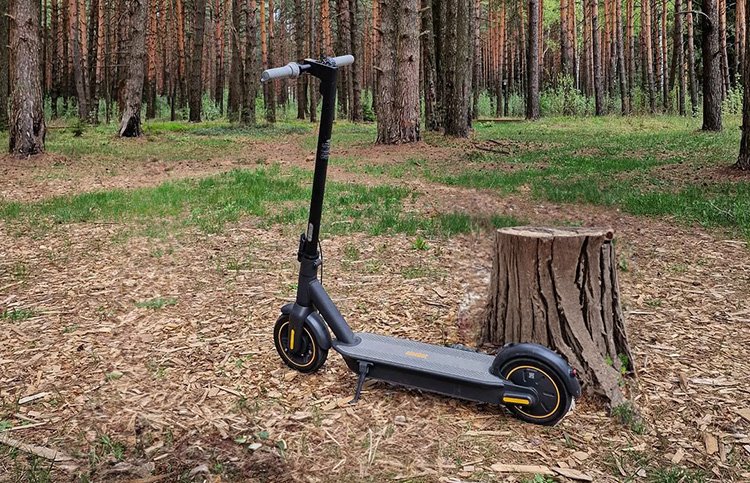 A word of caution: as with most e-scooters, as the battery's charge dwindles, so does the top speed. Approaching a near-empty battery might see you cruising at around 15 mph.
But even then, the acceleration doesn't disappoint. In Sport mode, with a fully juiced-up battery, you're looking at a mere 5 seconds to hit top speed. And for those leisurely rides? The lower speed modes offer a more relaxed, yet still responsive, acceleration curve.
In essence, the Ninebot Max is a masterclass in motor mechanics, speed, and control, offering riders an experience that's both exhilarating and reliable.
Battery, Charging, and Range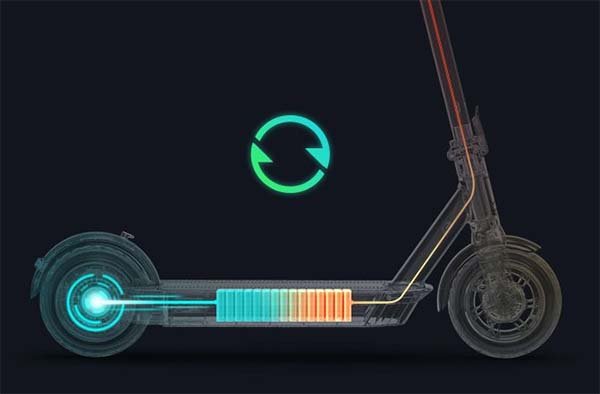 Placed inside the deck, the battery of the Ninebot Max is quite big in size. The battery specs are 551 Watt-hours, 36 Volts, and 15.2 Amp-hours.
Also, it has a smart battery management system that protects the scooter from overcharging, short circuits, extreme temperatures, and extends the battery's lifespan. When fully charged, it can retain power for around 120-180 days.
Charging Time and Charging Ports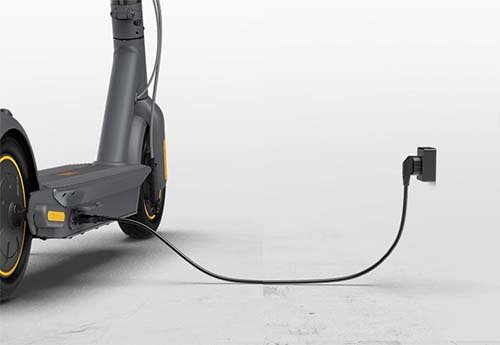 The charge time specified by the manufacturers is 6 hours. The scooter comes with 2 charging ports. One is for fast charging, wherein a 3 Amps charger box is built into the scooter and the charger itself is just a cable.
The second charging port is meant for charging the Ninebot Max using a regular charger if the built-in charger breaks down. The second one is not as fast but surely gets the task done.
Ninebot Max Has a Very Decent Range
One of the standout features that truly impressed me about the Ninebot Max is its remarkable range. Officially clocking in at 40.4 miles, it's not just a number on paper; it's a promise of adventure and freedom. To put it into perspective, this scooter offers one of the most generous ranges in the sub-$1,000 category.
From my personal escapades, this meant fewer trips to the charging dock and more time on the open road. During my regular commutes, I found myself plugging it in only once every 3-4 days. It's a liberating feeling, knowing that the Ninebot Max has got your back, mile after mile.
Hill Climbing
The powerful 350W motor on the Ninebot Max lets the rider handle some pretty steep slopes. The scooter is capable of getting up to most 20-degree inclines.
In fact, many riders have reviewed even higher climb angles, and sometimes quite a lot higher than the officially specified value. The scooter can easily climb most hills and is likely to struggle only on steeper hills.
As it calls for kicking the scooter up to speed, going uphill quickly can be a bit challenging. Riders with short heights may find it difficult as you need to kick, push, stand over the deck, and press the throttle before you can determine whether it's fast enough to power the throttle.
Overall, Ninebot Max sports good hill-climbing ability, letting the rider maintain about 7 mph on many hills, only getting halted by very steep ones.
From the video below you can see how Ninebot can handle hills.
Brakes
The braking system is super efficient as even the slightest pull on the brake lever placed on the left handlebar activates the brakes.
The scooter sports a dual-brake system that includes a front mechanical drum brake, and an electronic regenerative brake on the rear wheel. This not only ensures responsive braking but also makes the braking system very robust and eliminates risk even if one brake fails. The front brake exhibits enough stopping power and doesn't call for any extra maintenance.
The fact that it's a drum brake makes it easily adjustable, and pressing harder is what takes to activate both brakes. You can tweak the brake sensitivity through the app, and choose between three levels, depending on the needed brake strength.
Setting the energy recovery to the highest level results in a braking distance of around 16 feet. Not to forget, the anti-lock system makes sure the wheels never lock up when braking.
Ride Quality
The ride quality of this Segway scooter is better than almost any scooter out there that falls under $1,000. Without any suspension, the large tires and sturdy frame yield a better ride than some of the dual-suspension vehicles.
How does it work on different surfaces?
It performs well over different terrains, including smooth asphalt and bumpy roads. However, it's not wise to ride on very rough terrains. What makes the rides even more stable is the pneumatic tires that are great at absorbing shock. The 10-inch tires bring out more smoothness, balance, and stability, providing better control and turning.
The grippy, thick handlebars and the thumb throttle's smooth mechanics make for a nice ride, while the dual brake system clubbed into one single-hand lever makes braking very easy and quick.
As the batteries are placed under the deck, it ensures a comfortable ride without any need to squeeze your feet in a straining position. It lets you feel only very huge bumps, holes, cracks, and imperfections on the road.
How it can handle rain?
Speaking of riding the scooter in the rain, the Ninebot Max comes with an external water resistance rating of IPX5. It can easily tolerate splashes and you can ride through rough weather without worrying. Avoid rolling through big puddles to prevent full submersion.
Design and Features
Cockpit
The Ninebot Max is equipped with a fantastic cockpit sporting a bright LED display with all the basic information. It shows the speed, the riding mode, the battery power, and more while being bright enough and visible even in strong sunlight.
It will dim at night automatically when your scooter's front lights are turned on. A single button controls the cockpit display while the app also provides you the same control.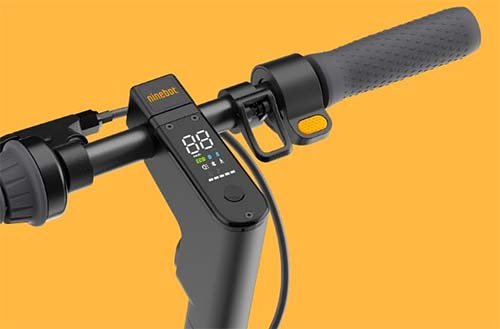 Each of the adornments on the scooter's handlebars, ranging from the brake lever, the twist bell, the grippy rubber-covered thumb throttle, the easy-to-read display, and textured hand-grips are thoughtfully crafted using high-quality materials.
The bell is loud enough to alert the people around, while the brake lever is amazingly solid without any excess friction, letting you activate both the drum brakes and the electronic brakes together.
Lights
Mounted under the handlebar stem, sat behind a lens is a 2.5-watt bright LED headlight. When the scooter is powered up, the light focuses on the ground about 30 feet ahead with a strong beam cutoff.
You can also be confident that your Ninebot is appropriate for night rides as it comes with a bright red tail light activated by default on engaging the brakes. The app lets you turn on the Pedestrian mode, which gets the tail light blinking when you need to push your scooter.
You can also choose to keep the tail light always on through your app. Lastly, it has side reflectors to help in low-light riding conditions.
Tires
The most significant thing about the tires is that they are self-healing. They are pre-filled with tire slime that makes them deal with punctures and nicks, thereby preventing instant deflation.
It is impossible to avoid the tires from being exposed to different road types, especially when you are going for a longer commute. And the self-healing construction makes it surprisingly convenient to ride through those nicks.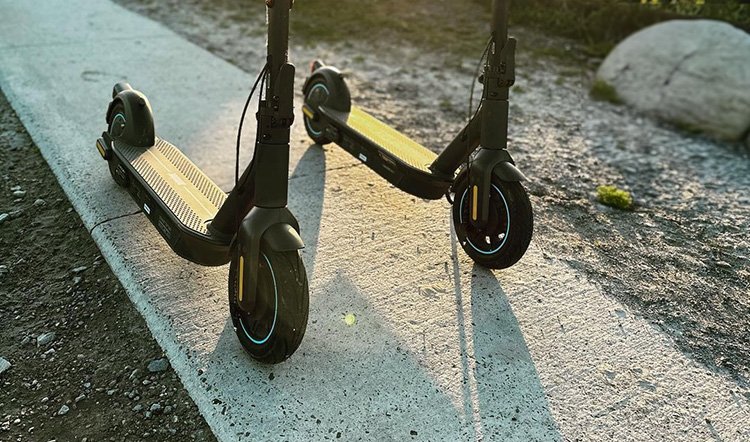 If you are an adventure-seeker, the tires also make off-roading on flat terrains a little easier by withstanding bumpier surfaces safely. Plus, the large size of the 10-inch pneumatic wheels provides a great deal of cushioning even with the fact that Segway Ninebot Max isn't equipped with an inbuilt suspension.
Deck
A sturdy 7-inch wide foot deck with a length of 20 inches makes for a very comfortable ride for one and all. You don't need to be forced to have one foot perpendicular to the other as the wide deck lets you stand with both your feet in a straight line.
It also sports a great anti-slip design which gives the rider control for traversing smooth pavements as well as more difficult bumpy terrain with ease.
The fact that the deck ensures that you need to focus less on maintaining the balance lets you enjoy your ride by freeing up more head space.
This is quite a boon for those who want to cruise for longer distances. Additionally, the 3 inches of ground clearance prevents scraping Ninebot Max while rolling off curbs and alike.
Portability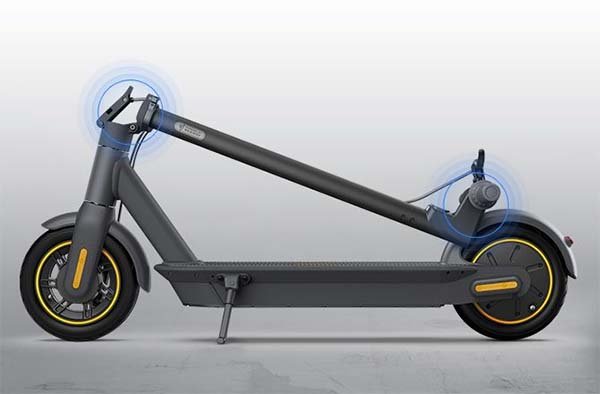 While some may think that the scooter is a bit heavy at 42 lbs, it's actually still very portable and manageable with its convenient dimensions. The Ninebot Max features folded dimensions of 46 inches long by 19 inches wide by 21 inches tall (approximately). You may need to do some angling to get the scooter into a trunk, but it will end up fitting just right.
It features a clever folding stem sporting a latch that holds a lever in order to keep the stem upright and make it amazingly strong. A rotating safety collar locks the folding lever to secure it into place. The folding mechanism adds portability as well as strength to the scooter.
Build Quality
Just like all other Segway products, the Max kickscooter also ensures a high standard of build quality. Being a little on the higher side, the weight also shows how sturdy the scooter is.
The anti-slip foot deck makes the rider feel in great control even when going for a long commute or taking it for light off-roading.
Its build quality rightly reflects that it's a larger, stronger scooter with a stem that can withstand a lot of punishment. Luckily, the huge size of the tires also provides great shock absorption.
The scooter is worked up using aluminum alloy, with plastic, steel, rubber, and silicon employed for the auxiliary parts. It looks like it has entirely been carved from a single block of metal, with a cohesive design, and fine rounded lines. You can rest assured that the vehicle is solidly upright as well as folded.
It's marked by a fantastic zero-wobble safety collar folding mechanism. Plus, the scooter can easily handle a weight of up to 220 lbs.
Conclusion
As we journey back through the annals of e-scooter history, the Segway Ninebot Max stands tall, not merely as a product but as an emblem of innovation and reliability.
Its design, range, and performance have set benchmarks that many modern scooters still strive to match. My personal rides with the Ninebot Max have been nothing short of exhilarating, filled with moments of thrill, freedom, and trust in its enduring capabilities.
While the e-scooter market continues to evolve with newer models and advanced features, the Ninebot Max serves as a poignant reminder of a time when a product could truly revolutionize an industry.
In conclusion, the Segway Ninebot Max may have aged in terms of its release date, but its legacy remains timeless. For those seeking a blend of nostalgia, reliability, and performance, this scooter remains a worthy contender, proving that classics never truly fade away; they just ride on.
> Get Segway Ninebot MAX from Amazon
FAQs
What is the difference between Ninebot Max and Ninebot Max G30LP?
Ninebot Max G30LP is a bit smaller than the original Ninebot Max. Also, G30LP is slightly cheaper. One of the biggest differences between those two is the range. Original Ninebot Max has a range of 40.4 miles, while Max G30LP has a range of 25 miles.
How fast does Ninebot Max go?
The top speed of the Segway Ninebot Max is 18.6 mph.
What age is it suitable for?
Ninebot Max is suitable for everyone who is older than 14 years. It also depends on the rider's height. The perfect height is between 3'11" and 6'6".
What is the Ninebot Max weight limit?
The maximum payload that Segway Ninebot Max can hold is 220.5 lbs. The scooter itself weighs 41.2 lbs.
How long does it take to charge Ninebot Max?
The battery of Ninebot Max can contain 551 Wh of energy and it takes 6 hours to charge it fully using fast charging. If you use a regular charging port, it takes a little bit longer to fully charge the battery.
How long will the battery of Ninebot Max last?
With optimal conditions, the range of Ninebot Max is about 40 miles.