Kugoo is an electric scooter manufacturer that was founded in 2015. Their e-scooters are marketed under two different names: Kugoo and Kugoo Kirin.
This review is about Kugoo Kirin M4 Pro. However, you can very often see that people call this just Kugoo M4 Pro.
Anyway, we made several tests to find out everything about Kugoo (Kirin) M4 Pro. Stay tuned!
Electric Wheelers is reader-supported. Although we independently research and test products, we may receive a commission on purchases made from our chosen links. Read more…
Kugoo Kirin M4 Pro Overview
To Whom?
Kugoo Kirin M4 Pro is an entry-level electric scooter for people who are looking for an affordable urban commuter but occasionally want to explore some off-road trails.
We can't say that Kugoo M4 Pro is an off-road scooter but since it has dual suspensions, it can handle some more rough terrain.
Kugoo M4 Pro Specs
| | |
| --- | --- |
| Motor | 500W Rear Hub Motor |
| Top Speed | 28 mph / 45 km/h |
| Battery | 48V 18Ah (864Wh) |
| Max Range | 45 miles / 75 km |
| Recharge Time | 8 hours |
| Brakes | Front and Rear Mechanical Disc Brakes |
| Suspension | Dual Shock Absorbers at Front and Rear |
| Weight | 53 lbs / 24 kg |
| Weight Capacity | 330 lbs / 150 kg |
| Tires | 10″ Pneumatic Anti-Skid Tires |
| Lights | Front and Rear LED Lights |
| Hill Grade | 15 Degrees |
| Dimensions | 45″ x 22″ x 47″ (115 x 56 x 120 cm) |
| Folded Dimension | 46″ x 9″ x 14″ (116 x 21.5 x 35 cm) |
| IP Rating | IP54 |
Pros and Cons
Pros
Affordable Price
Dual Suspensions
Long Range
Good Payload Capacity
Cons
Heavy
Loose Handlebar Screws
Not So Portable
Kugoo M4 Pro Performance
Battery and Range
Although the Kugoo M4 Pro is a budget electric scooter, it comes with a very solid battery.
The 48V 18Ah battery has 864 Wh of energy capacity, which can provide up to 45 miles of range (75 km).
Of course, the exact range depends a lot on the weight of the rider and the chosen driving mode. So most probably the real range is a bit less than that.
However, since the battery has 18 Ah, it beats most scooters in a similar price range in terms of range.
The charging time is not too long. If the battery gets completely empty, it takes about 8 hours to fully recharge.
Kugoo M4 Pro Motor and Speed
Kugoo M4 Pro e-scooter is equipped with a 500W rear hub motor. Most budget scooters have a motor of 300-400 watts, so this one has a bit more power.
The motor has 3 different speed modes – 1, 2, and 3. By changing these, you can alter the top speed and energy consumption.
How Fast Does Kugoo M4 Go?
The top speed of the Kugoo M4 Pro is 28 mph (45 km/h). The acceleration is really snappy. If your balance is a bit off and towards the rear wheel, the front wheel can easily come off the ground when accelerating.
Hill Climbing
Generally, the Kugoo M4 Pro scooter is fairly good at hill climbing. It can climb hills of up to 15 degrees. That's pretty good for a single-motor electric scooter.
However, the heavier the rider is, the harder is to climb steep hills. If the rider is 200lbs (~90kg), the scooter slows down significantly when riding on an incline.
Brakes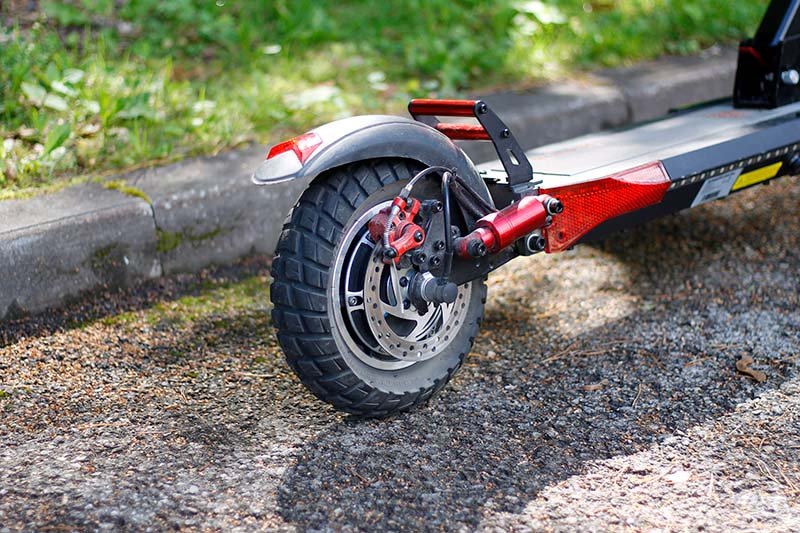 Since the scooter is pretty fast, it is essential to have good stopping power.
Kugoo M4 Pro comes with mechanical disc brakes. Both, the rear and front wheels have cable-driven disc brakes.
Of course, these brakes won't be as smooth and efficient as hydraulic disc brakes. Also, with mechanical brakes, you have to consider the squeaky noise.
But still, the brakes on the Kugoo M4 Pro perform well and there are no problems with stopping power.
You can easily stop the scooter with a gentle press on the braking levers found on the handlebar. By the way, braking levers are very big. So you can press them with 4 fingers.
Kugoo M4 Pro Features
Frame
The frame of the Kugoo M4 is made of aluminum alloy. It's strong and heavy and seems durable. Therefore, the scooter is quite heavy. Kugoo M4 Pro weighs 53 pounds (24 kg).
Thanks to the strong frame, the Kugoo M4 has a large carrying capacity. It can support riders up to 330 pounds (150 kg). It's more than most other cheap electric scooters.
Deck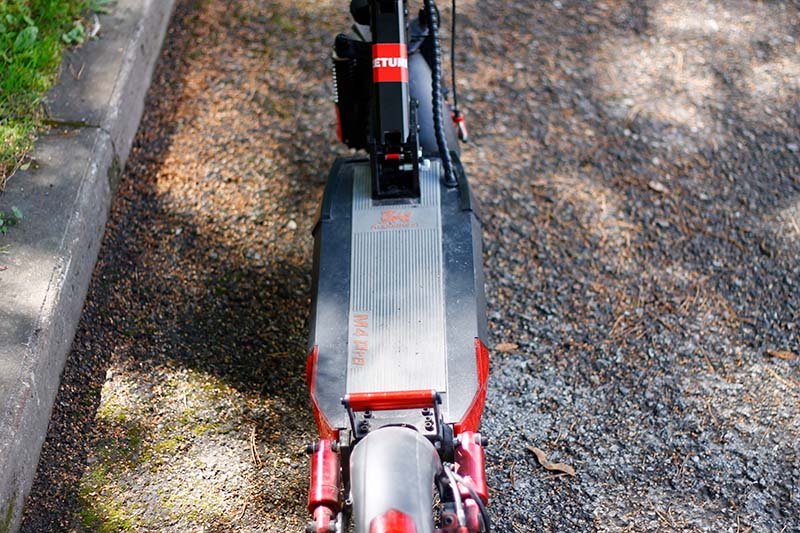 The deck of the Kugoo M4 e-scooter is very big. It's much wider than most other scooters in a similar price range. You can easily fit your feet however you like.
The deck also has a nice rubber platform, that provides a nice grip. It's a nice safety feature in case your shoes are wet.
Suspensions
Most cheap electric scooters lack a suspension system and therefore the ride quality is not quite it.
Kugoo M4 Pro is an exception here. It has dual spring suspensions on top of both wheels. Although the suspensions look cheap, it increases the ride quality a lot.
Thanks to the suspensions, you don't have to keep yourself only on the smooth city streets. Instead, you can discover off-road trails and ride on loose gravel.
Portability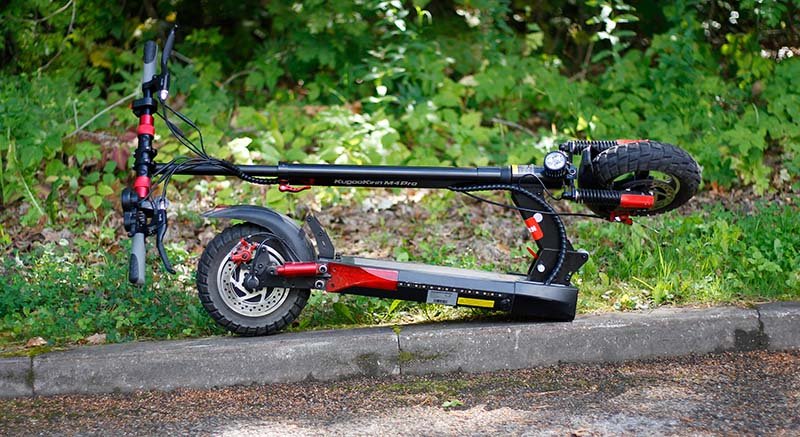 Although the scooter has a nice folding mechanism, we can't say Kugoo M4 is very portable. It weighs over 50 pounds, so you don't want to carry it more than a few steps.
However, thanks to the great folding mechanism, the Kugoo M4 Pro doesn't need a big space for storage. Also, you can fit it in most trunks.
In addition to the folding stem, the M4 has a foldable handlebar. So you really can shrink it down very small.
Wheels and Tires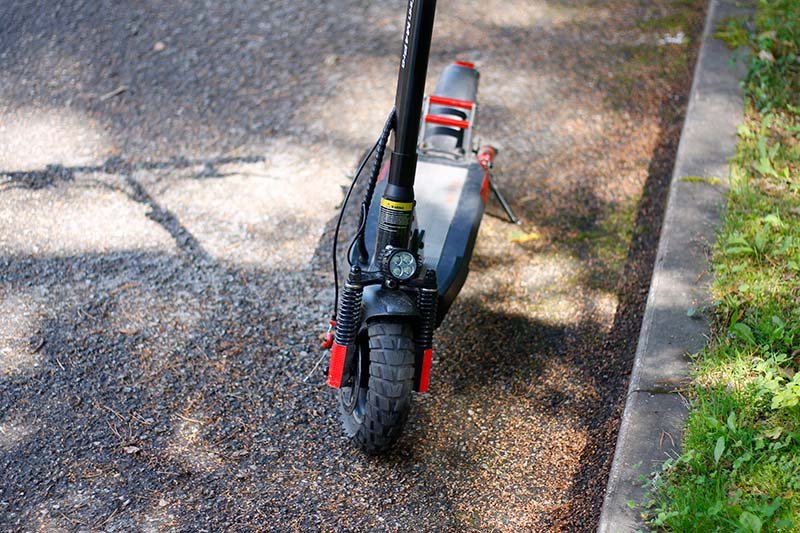 The Kugoo Kirin M4 Pro is equipped with 10-inch pneumatic off-road tires. These tires are suitable for all-terrain roads. So you can feel comfortable on smooth asphalt as well as on the forest trail.
Off-road tires accompanied with suspensions absorb the bumps on the road well.
Handlebar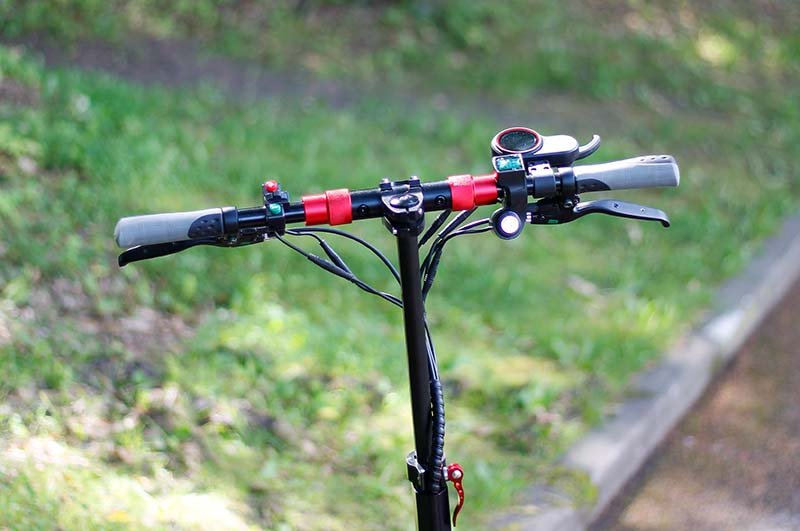 The Kugoo M4 Pro has an adjustable handlebar. You can make it taller or shorter if you need to. It's very useful if there are different riders with different heights.
On the handlebar, you can find:
2 brake levers
Display and control panel
Index finger throttle
Voltage meter
Ignition keyhole
Buttons for a bell and lights
Also, as stated above, you can split the handlebar in half for better storage.
Lights
The Kugoo M4 Pro is equipped with the front LED headlight, red rear light with braking indication, and side lights.
I wouldn't say these lights are extra bright but you definitely won't be unseen when riding in the dark.
Is Kugoo M4 Pro Waterproof?
Kugoo M4 Pro is not waterproof. But it has some water resistance.
The water-resistance rating of the Kugoo M4 Pro is IP54. So, it means that it's not suitable to ride with it in the rain.
However, if you get caught in the rain in the middle of a ride, it's not the end of the world. Just make sure you dry the scooter right after the ride.
Kugoo M4 Pro Problems
Loose handlebar stem clamp – you have to tighten the clamp every once in a while. Otherwise, it gets loose and starts to rattle.
Tires get easily punctured – some users have stated that they have got tire punctures often. For us, it has not been a problem so far. We suggest filling the tires with slime just in case.
Bad throttle placement – our scooter had a throttle placed right on top of the braking lever. When pressing the throttle, the finger got stuck in between those two. We fixed the problem by rotating the braking lever much lower.
Rattling noise on an extra bumpy road – the front shock absorber is not very high-end and it makes a pretty loud noise when riding on a bumpy road.
Kugoo M4 vs Other Scooters
Kugoo Kirin M4 vs M4 Pro
As the name suggests, the M4 Pro is a boosted version of the regular M4.
One of the main advantages of the M4 Pro is the longer range. The maximum range of the M4 Pro is 46 miles (75 km), while the regular M4 has a range of just 28 miles (45 km).
Kugoo G2 Pro vs M4 Pro
Kugoo G2 Pro and M4 Pro are quite similarly priced. However, the G2 Pro is slightly more expensive.
The motor of the G2 Pro is 600W, while the M4 Pro has a 500W motor.
Thanks to the bigger motor, KugooKirin G2 is a bit better at hill climbing.
Kugoo M4 Pro Review Conclusions
The overall ride quality is quite good. The acceleration is smooth and gradual. Suspensions and tires absorb the bumps well.
However, when riding on a very rough road, you understand that this scooter is not meant for it.
But still, if you are looking for an affordable commuter scooter with a reasonable range, Kugoo M4 Pro is worth the consideration.