People are looking for efficient means to commute across the city apart from carpooling to work or taking the bus.
Additionally, the world has inclined towards sustainable means of transportation, leading to a resurgence of personal electric vehicles.
Vehicles are preferred because they are cheap and allow people to travel safely.
Electric Wheelers is reader-supported. Although we independently research and test products, we may receive a commission on purchases made from our chosen links. Read more…
TurboAnt M10 Overview
TurboAnt was created in 2014 to manufacture electric scooters. However, the company extended its horizons in 2022, ventured into the eBike market, and has a 2022 eBike lineup.
Their line of scooters currently has an M10 and an X7 Pro, which is the successor of the X7. The TurboAnt M10 has much more going for it than the X7 Pro.
For instance, it's got a more portable and compact design, is less bulky, and its battery is built into the deck rather than the handle post, making it more stable, etc. It's also gained better handling and has a good folding mechanism; however, (like any other product), it's not entirely perfect.
TurboAnt M10 – To Whom?
The M10 has a simple, lightweight design meant for commuting.
It's affordable and easily portable. While it's quite small, it can support riders who weigh 220lbs and can reach 20MPH.
The scooter is designed for people of any age that weighs 220 pounds or less but should be mainly used by weekend warriors, leisure seekers, and casual riders.
TurboAnt M10 Specs
| | |
| --- | --- |
| Motor | 350W Rear Hub Motor |
| Max Speed | 20 mph (32 km/h) |
| Battery | 36V 7.5Ah (270Wh) |
| Max Range | 18 miles (29 km) |
| Recharge Time | 5 hours |
| Brakes | Rear disc brake + electronic brake |
| Suspension | – |
| Weight | 29.8 lbs (13.5 kg) |
| Weight Capacity | 220 lbs (100kg) |
| Tires | 10″ pneumatic with inner tubes |
| Lights | White LED Headlight + Red LED Taillight |
| Hill Grade | 15° |
| Dimensions | 42.1″ x 17.7″ x 46.1″ (107 x 45 x 117 cm) |
| Folded Dimension | 42.1″ x 17.7″ x 15.5″ (107 x 45 x 39.3 cm) |
| IP Rating | IP54 |
Pros
IP54 water resistance
Good lights
Relatively fast
10-inch pneumatic tires
Lightweight and easily portable
Cons
No suspension
Not very good range
No standstill starting
TurboAnt M10 Performance
Speed and Acceleration
The M10 is relatively fast compared to other scooters in its category.
It can reach speeds of up to 20 mph or 32 kph which is good for its category. However, you can only achieve these speeds if riding in sports mode.
Switching Eco and Beginner modes limits your scooter's pace and torque so that it can't reach those speeds. The M10 has an impressive performance in speed and sits in the upper echelons of scooters' speeds against their prices.
Additionally, it has three modes that riders can set their preferred speed depending on their skill level.
The M10 shares its speed with the X7 Pro since they share similar motors. However, the M10 has better acceleration than the X7 and can go 0 to 15MPH in 5.4 seconds compared to the X7's 7.3 seconds.
The M10 performs better since its motor is located in the rear wheel, which helps the scooter have better acceleration.
Read Also: TurboAnt M10 Lite Review
Hill Climbing
The M10 has a 15˚ hill grade, which means its motor is powerful enough to tackle slight inclines typical to urban settings.
Therefore, it won't be good to take it off-roading over rough surfaces with steep inclines.
Battery and Range
The M10 has a non-detachable 36-watt 7.5Ah battery with a 5-hour recharge time. The battery can power the scooter for 18 miles (29 km) on a single charge.
This kind of range is not as good as most other scooters. Additionally, the scooter achieves this range when riders use Eco-mode, meaning that the scooter's range will drop if riders use higher modes.
The charging port is placed on the scooter's left side. It would be best if you took care to close the cap before riding your scooter to protect it from dirt or water.
It provides enough power to commute to work and get back home in the evening if you work within a 9-mile range from home. You could charge the scooter at work and use it to commute back home in the evening if you live within an 18-mile range from work.
Brakes
The M10's braking system comprises a single rear disc brake that's activated through the left handlebar's brake lever.
The scooter stops within three meters. However, this is affected by the rider's weight and whether you are going up or down a steep hill.
Additionally, the brake has small calipers, and its location makes it a bit ineffective. Therefore, riders should account for this by applying the brakes early.
Related: Best Cheap Electric Scooters for Adults
TurboAnt M10 Design and Features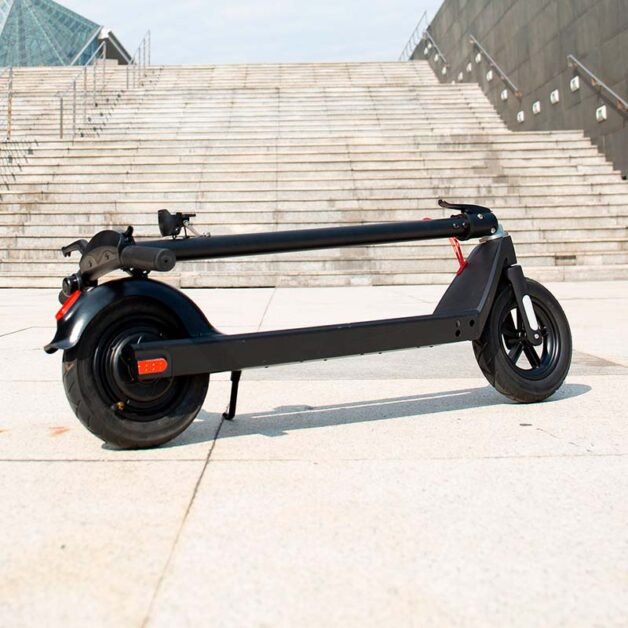 Portability
The M10 is relatively small and lightweight, making it highly portable compared to other scooters. It weighs 29.8 pounds or 13.5 kilograms.
Additionally, its folding mechanism makes it easier for users to find the right storage space at home and in a car's trunk.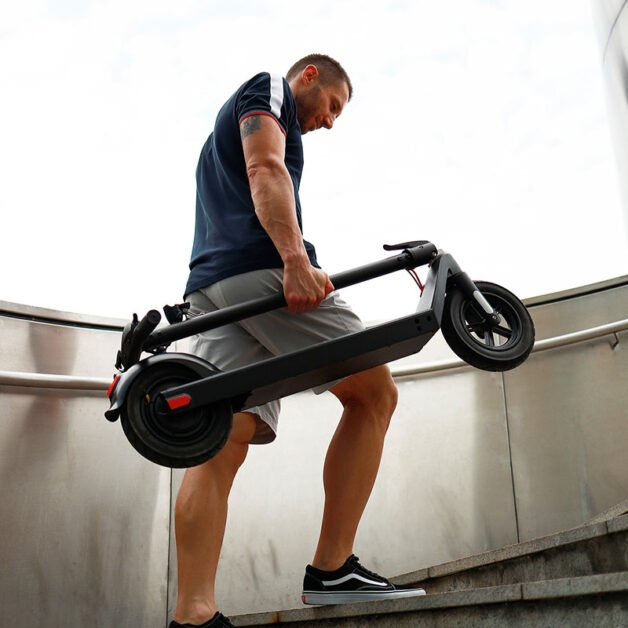 You can easily carry the scooter by the stem after folding it and putting it in your vehicle's trunk. You can carry the scooter with one hand.
The M10 also has removable handlebars that make it easier to store in spaces that require a tight fit.
Wheels and Tires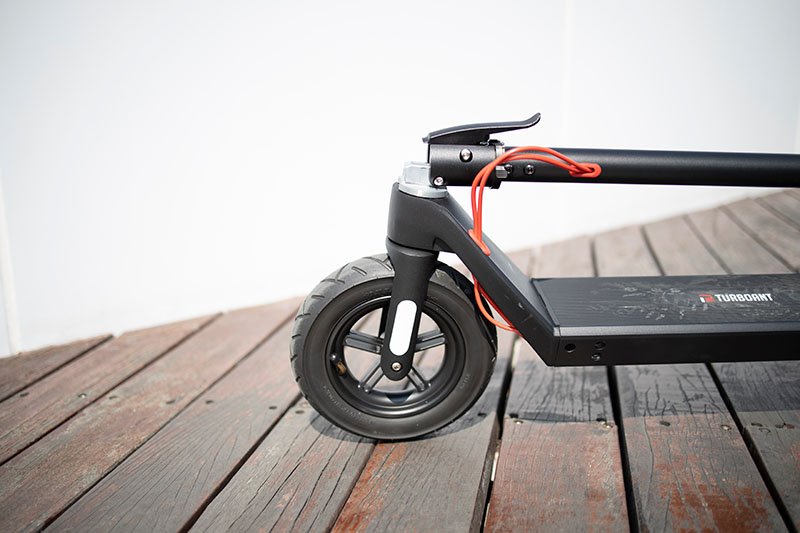 The M10 has 10″ pneumatic inflatable tires designed from strong rubber.
The tires are specially designed to absorb shock and provide riders with a smooth feel when riding on concrete or pavement. Their design allows you to feel little or no bumps when going at top speeds.
The scooter's pneumatic tires are comfortable and don't require lots of maintenance. All you need to do is check the air pressure every other day and ensure that you don't ride the scooter over anything that could damage the tires. Additionally, the wheels are quite sturdy and reliable.
Deck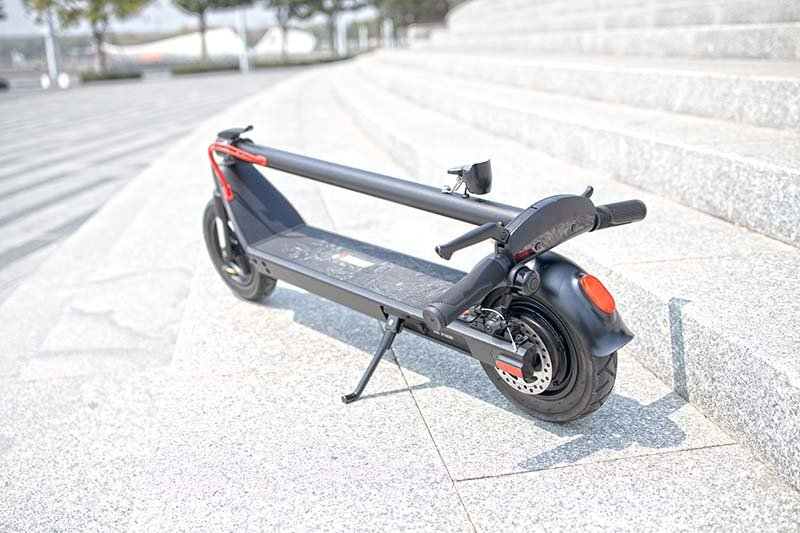 The deck is 6 inches wide, which isn't as wide as industry standards.
However, it still has enough space for riders to stand comfortably with the front foot facing forward at an angle and the back one perpendicular to it.
The deck is raised from the ground by 4.1 inches, making it a bad idea for you to roll off the curbs.
Handlebar
The M10 has straight handlebars with ribbed coverings that provide enough grip. They are 16.9″ wide and provide great control over the steering column. 
The handlebars have a sleek display showing battery life, speed, and riding more. 
The scooter uses a finger throttle located on the right side of the handlebars and comes with a varying number of admirers and critics.
Lights
The M10 is equipped with a white LED headlight and a red LED taillight, which are bright enough for nighttime riding.
The lights of TurboAnt M10 are capable of lighting your way in poorly lit locations and when riding at night.
The white LED headlight and red LED taillight has low power consumption. The lights have a 2-Watt output that shines the way allowing you to see where you are going at night.
Ride Quality
The M10 has a great riding experience because of its lightweight, compact design. Additionally, the change in design that saw the battery moved from the handle post to the deck made the bike more stable.
Also, the M10 has no suspension. The ride would be even smoother if it did have one. However, the pneumatic tires try to make up for the lack of suspension as much as possible.
Pneumatic tires are providing a shock-absorbing effect, but it's not effective if you ride the scooter on bumpier surfaces than the design allows.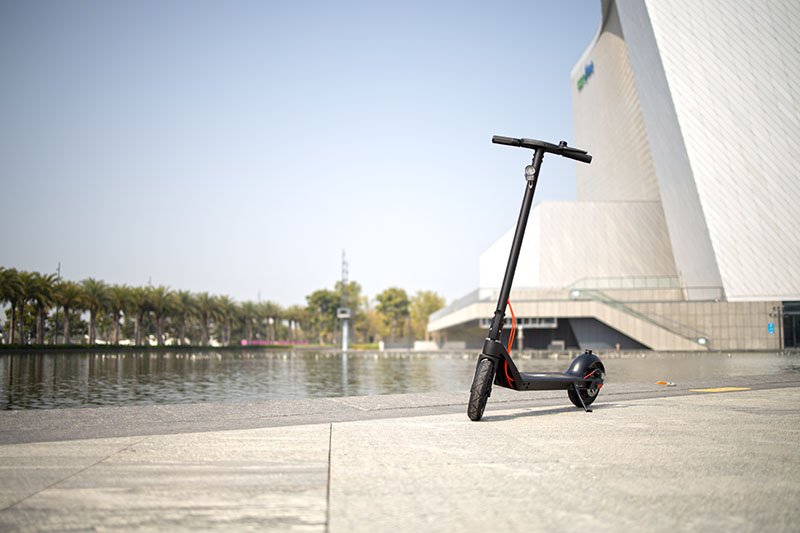 Is TurboAnt M10 Waterproof?
The M10 isn't exactly waterproof. It has an IP54 rating, meaning that it's designed for protection against water splashes from any angle. You'll need to prevent instances where your scooter may be fully submerged in water and ensure that you dry it off as soon as it comes in contact with any water.
Related: Can You Ride an E-Scooter in the Rain?
It is safe to ride in a drizzling rain. However, you should not submerge them in water. Also, it would be a good idea to dry the scooter off after exposing them to wet conditions.
Other Turboant Reviews
TurboAnt M10 Review Conclusions
The M10 isn't the best scooter available, but it has a few good features to be a good choice in its price range.
For instance, it is highly portable compared to other scooters and has a solid range, speed, and acceleration for its price.
Ultimately, your purchase decision depends on your needs, and if the M10 fits into your plans, buying it could be a great decision.