Electric Wheelers is reader-supported. Although we independently research and test products, we may receive a commission on purchases made from our chosen links.
Yes! You can ride an electric scooter during the winter, but, as you are likely to notice, riding your scooter during the winter will be quite different and more laborious.
However, if you are someone who likes trying new experiences, then that'll be an excellent opportunity for you to test your winter electric scooter riding skills.
Can You Ride Electric Scooter in the Winter?
The short answer would be – yes, of course. Using an electric scooter in winter is totally fine. However, winters in Miami and Alaska are pretty different. In this article, we will focus on riding an electric scooter in cold and snowy conditions.
Read on to find out more!
Can I Ride Electric Scooter in Cold Weather?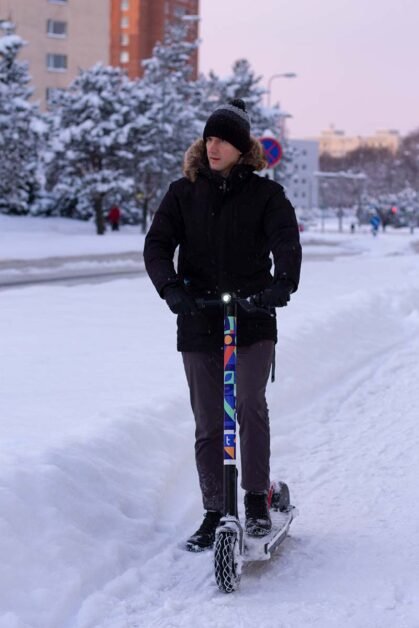 It's winter, and you want to ride your scooter; however, you don't know how the cold weather will likely affect you or the scooter. You must be aware that your scooter is affected by the cold weather. Thus, there are steps that you'll have to take to ensure that your scooter functions perfectly.
You'll have to ensure that you stay safe and warm and equip your scooter with all the necessary accessories that ensure an excellent and safe riding experience.
Does Cold Weather Affect Scooter?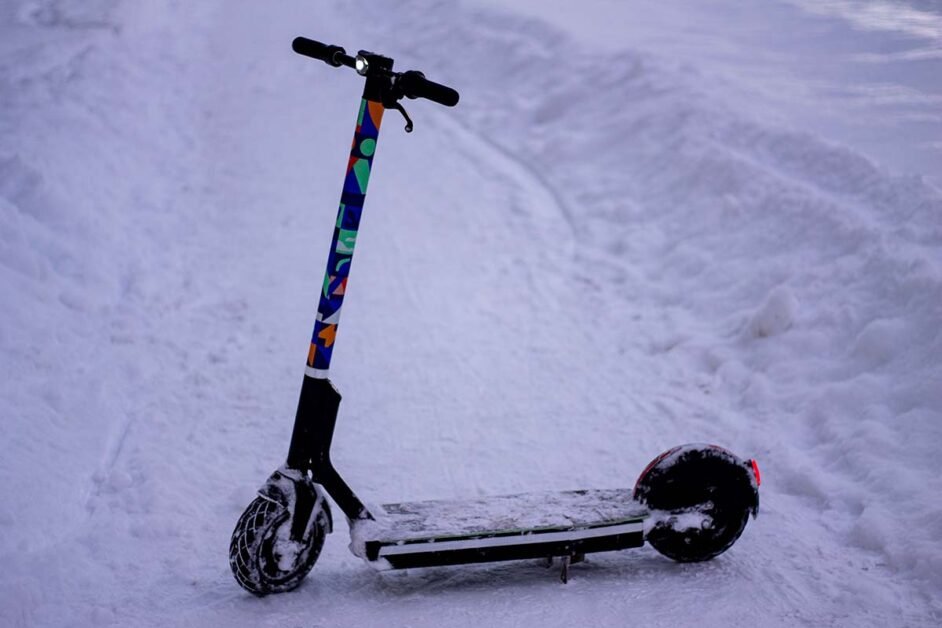 Most scooters use Lithium-Ion or Lead-acid batteries as their power source. The cold weather can affect these batteries, especially if the temperature falls below 32° F (0° C).
When this happens, the scooter's battery slowly loses its overall capacity and becomes unusable if it happens over a long period.
For instance, a battery that usually carries you for 7-8 miles after each charge in the summer will carry the same rider for 3-4 miles in the winter. Thus, you'll need to take all the required steps to ensure that your scooter has a healthy and reliable battery for when you'll need it.
Can You Leave Lithium Batteries in the Cold?
Lithium-ion batteries are better than most other batteries at handling cold weather.
However, it still won't be a good idea to leave them in the cold for extended periods.
You need to ensure that you store your scooter indoors or take the battery with you if you don't have enough space. Doing this helps protect the battery from getting damaged.
Why Battery Drain Fast in Winter?
Batteries store and produce energy through chemical processes that require optimal temperatures.
The cold winter affects the battery's capacity to store and release energy by slowing down the chemical processes. Increased exposure to cold weather may ultimately degrade the battery to the point where it can charge, hold a charge, or distribute any power.
You may end up having to charge your battery more often than you initially had to and still get minimal results for your effort.
Related: How to Ride an Electric Scooter?
Can I Ride Electric Scooter in the Snow?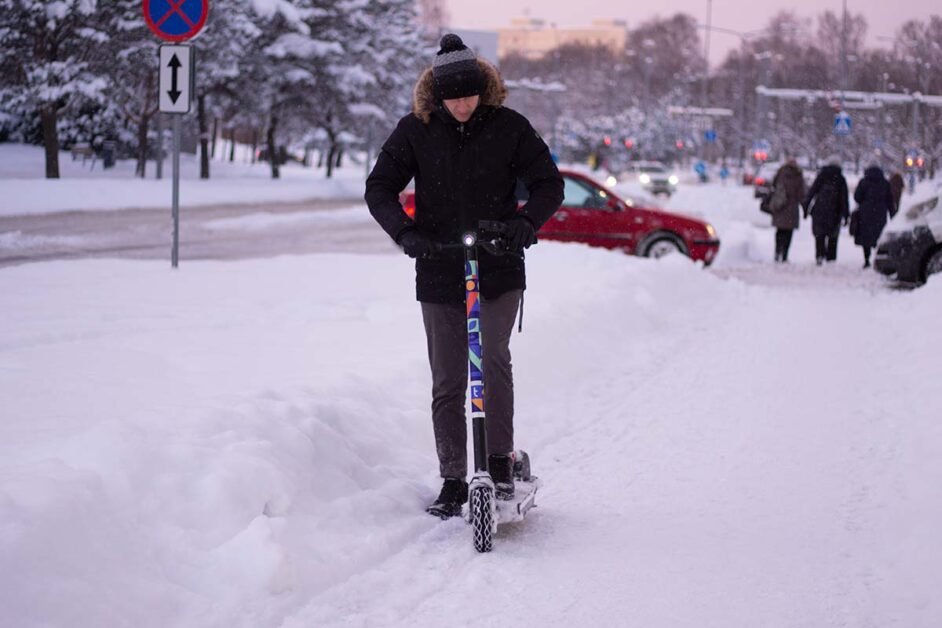 Whether you want to run some errands and are looking to know whether it'll be safe to ride your electric scooter or you want to ride the scooter for fun, the short answer is – yes, you can ride an electric scooter in the snow.
However, the real question is – should you? You'll have to consider some factors like tire size, battery life, and whether the electric scooter is waterproof before you decide to.
Otherwise, you may end up damaging the electric scooter or harming yourself.
Is It Safe to Ride Electric Scooter in Snow?
It is safe to ride electric scooters in the snow; however, there are some factors that you'll have to consider before you do.
For instance, you should definitely wear a helmet and other safety equipment because it is a lot easier to crash when riding an electric scooter in the snow.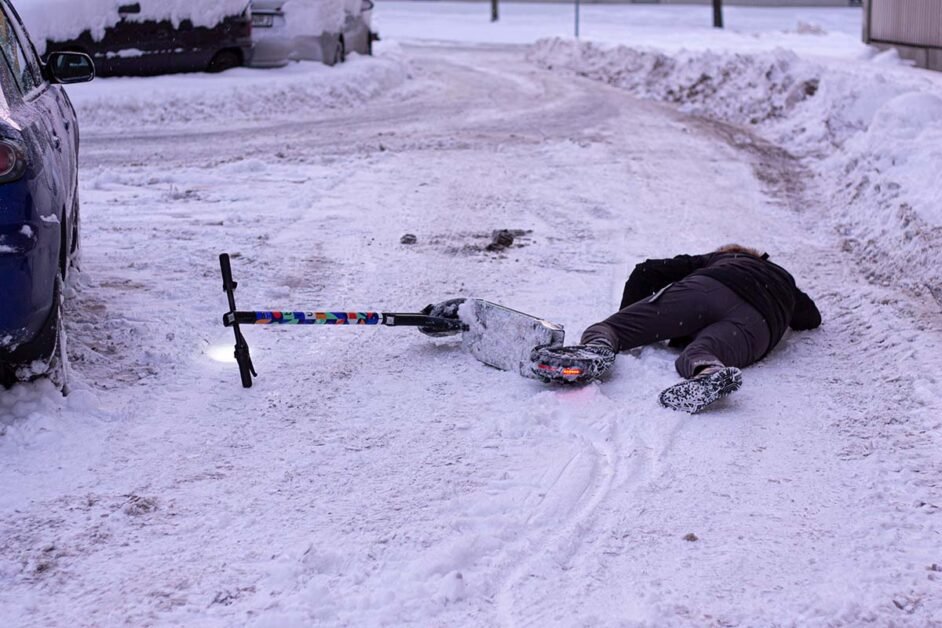 Also, it would be safer for you if you changed your regular tires for snow tires. Snow tires have treads with bigger gaps that provide more traction when riding in the snow.
You could also tighten your brakes and do a few practice runs before getting onto busy streets.
Can I Ride Electric Scooter on Ice?
Like snow, ice is a potential hazard, and it wouldn't be advisable for you to ride your electric scooter on it.
Ice is very slippery. Therefore, you must ensure that you have the right tires before tackling any icy tracks. Ensure that you stay safe, stick to clean trails, wear protective gear, and ride safely.
Related: Can You Ride Electric Scooter in the Rain?
Practical Tips for Riding Electric Scooter in Winter
Compared to riding an electric scooter in the summer, there are several ways to prepare for the winter. You can winterize your electric scooter and you can winterize yourself.
How Do I Winterize My Electric Scooter?
Here are the key points to think about when preparing your scooter for winter riding:
Use Electric Scooter Winter Tires
Deflate tires a bit for better traction
Make sure the battery is fully charged
Don't charge the battery when it's cold. Let it warm up after the ride
Clean your electric scooter after every ride
Install fenders. Without fenders the ride would be really dirty
How Do I Winterize Myself for Riding Electric Scooter in Snow?
Wear proper winter clothes

Wear at least 3 layers
Gloves
Warm hat
Winter boots
Windproof pants
Skiing glasses

Wear safety gear

Helmet is a MUST
Elbow pads
Knee pads

Learn proper riding style

Avoid sudden movements and aggressive maneuvers
Don't ride through deep snow or water
Expect more mistakes by others
What Type of Electric Scooters are Good for the Winter?
There are times that you'll be forced to ride your electric scooter in the winter or, it could be that you are more active in the winter.
Regardless of the reason, equipping our scooter with the right sets of tires and ensuring that it's ready for the winter isn't enough if you've got the wrong scooter.
Here are some key aspects of what to look for when choosing a good electric scooter for riding in the winter:
Good water-resistance rating (IP-Rating)
Pneumatic (air-filled) tires. Preferably off-road winter tires
More powerful the better. Preferably dual-motor electric scooters or off-road electric scooters
Top-quality battery. Poor batteries will drain fast in winter
Strong brakes. Anti-lock braking system (ABS) is a big advatage
Best Electric Scooters for Adults in the Winter
We've created a list of some of the best electric scooters for adults that you can rely on to take you through the winter.
EMOVE Cruiser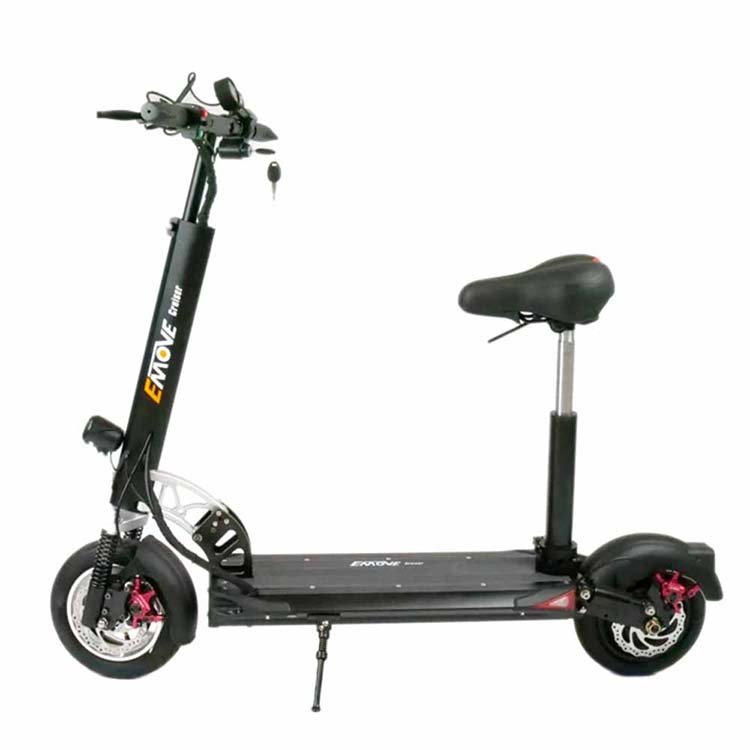 The Emove Cruiser has an IPX6 rating which means that it can resist heavy sprays of water under high pressure. It means that you can ride the Emove Cruiser electric scooter in the rain and even in the snow without worrying about any electric circuits damage.
The Emove Cruiser has a 600W (1600W peak) single hub BLDC motor capable of handling a 10-degree hill climb and a 28mph top speed.
It also has an LG battery with a 9 hour charge time and a 62-mile range. The Emove Cruiser is an inexpensive and durable winter scooter monster that you can rely on.
---
Segway Ninebot MAX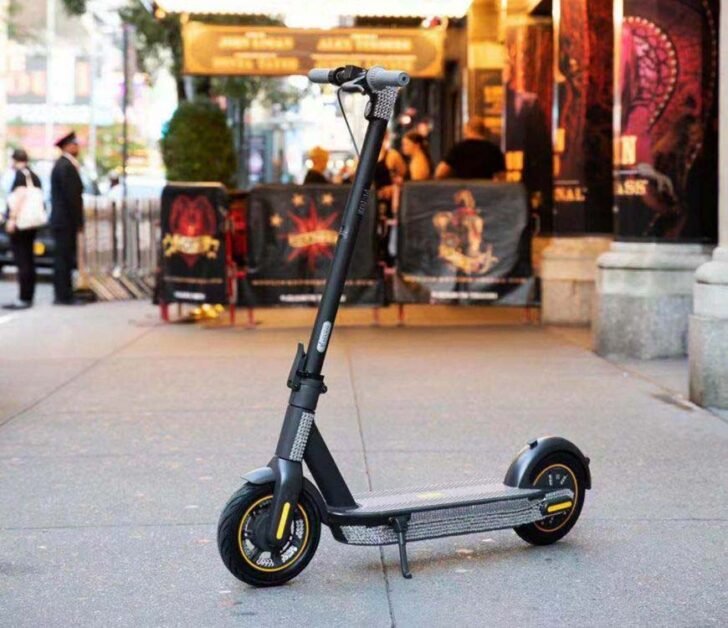 The Segway Ninebot MAX has an IPX5 rating meaning the scooter can sustain a low-pressure jet spray for an extended period. Theoretically, you could take the scooter out into the snow and ice or even under some light rain without the need to worry about damage to the internal circuitry.
The scooter has a 350-watt motor that produces 700W of peak power, a 17.8-mph top speed, and can handle 15-degree inclines.
It uses a 551Wh battery that takes 6 hours to charge and a 40.4-mile range.
You can trust the Segway to carry you through the winter as long as you take good care of its battery.
---
Dualtron Thunder
The Dualtron Thunder doesn't have a confirmed IP rating, and as such, it wouldn't be a good idea to take it out for a ride in wet conditions. You may get the scooter wet and damage its internal circuitry.
You may think why we added this scooter to the list. Dualtron Thunder is one of the most powerful off-road electric scooters. It is super fast because of its dual motors that peak at 2700W.
If you need an electric scooter that is capable to run through the deep snow, you need a powerful one. Dualtron Thunder definitely has that raw power.
The motors have a 50mph top speed, which is pretty high, and a 75-mile range. However, how far and how fast you can go depends on the terrain and riding style.
But one concern still remains. Dualtron Thunder does not have an official water-resistance rating. So, if you plan to take it out for the winter, you'll be risking potential water damage.
---
Gotrax GXL V2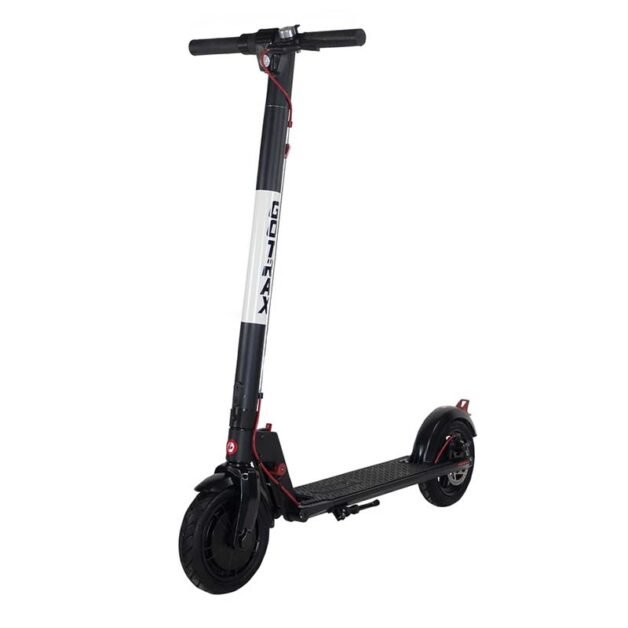 This Gotrax GXL V2 scooter is the complete opposite of the previous one. It is one of the most affordable electric scooters and doesn't have much power but it has some water resistance.
The Gotrax has an IP54 rating that protects the internal circuitry from water damage. You could ride the scooter in the snow and on ice. However, you'll have to ensure that you don't submerge it in water since this could force some water to sip in.
The Gotrax has a 250W motor that produces high torque but has low power consumption. The motor can produce speeds of up to 15mph and carry loads of up to 220 pounds. It also has a 36V 5.2ah battery that takes 4 hours to charge and has a 12.5-mile range.
---
Hiboy Titan Pro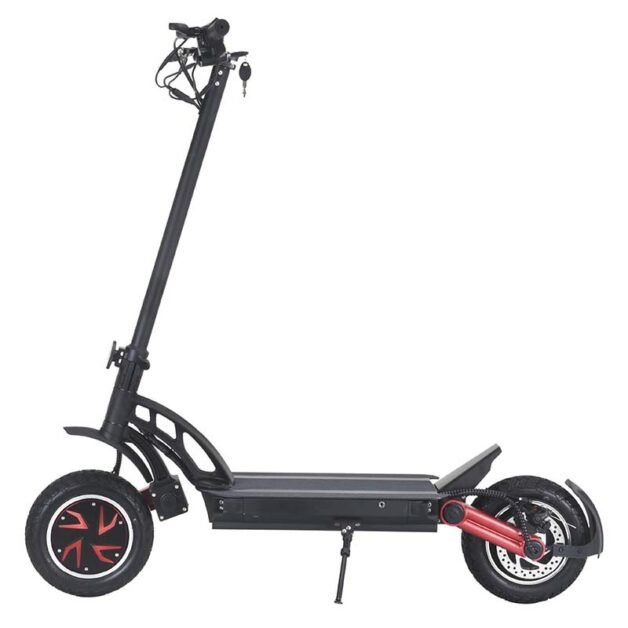 The Titan Pro has an IP55 rating, which means that it's protected from low-pressure water jets from all directions, dust, and other particles.
However, it would be good to note that the scooter isn't effectively waterproof. Thus, it won't be advisable to take it to too deep waters. Nonetheless, the IP55 rating is better than most electric scooters.
On the other hand, Hiboy Titan Pro has powerful dual motors that can take you through some deep snow. Also, climbing hills are not an issue.
The Hiboy scooter has dual 1,200W motors that produce enough power for the scooter to produce a 32 mph top speed. The scooter has a 48V 17.5Ah battery with a ~8h charge time and a 40-mile range.
---
Mercane WideWheel PRO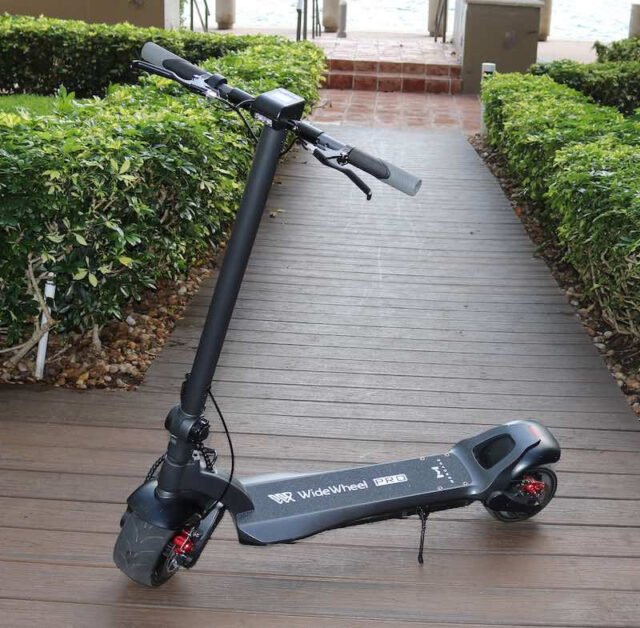 The Mercane has an IP54 water resistance rating that ensures that seals will protect the scooter from contaminations like dust and water particles. You can trust to go out with the Mercane WideWheel Pro in the snow and on ice.
The Mercane has a dual 500W motor that produces a 26mph top speed. Also, it has a 720W Li-Ion battery that provides a 30-mile range.
Mercane WideWheel Pro has a good combination of enough power and torque plus adequate water resistance. You can rely on the Mercane WideWheel Pro to take you through the winter.